The promotional video is undoubtedly one of the most effective ways to market your brand. This post will show you everything you need to know about promotional videos, like promotional video meaning, popular types of promotional videos, and winning tips on how to make one. Just dive in!
The content in this post will cover the promotional video meaning, common types of promotional videos, and how to make a promotional video (with a handy free tool – MiniTool MovieMaker). Let's get started without further delay!
What Is a Promotional Video and Why Use One?
A promotional video (also known as promo video) is a short video to promote a specific marketing initiative, sale, or event and inspire viewers to take action. Promos are often similar in style and tone to a teaser trailer does for a movie, where you draw your audience's attention and attract them to learn more.
There are many reasons why you should make a promotional video. Firstly, it is great for increasing brand awareness online for upcoming events and promotions as well as attracting new visitors.
Secondly, a promotional video is a fun and effective way to convey information, especially time-sensitive information you need your audience to easily grasp and commit to memory. It is an extra push to make the customers take the leap and try out your product or service. Just like the teaser trailers that perfectly capture the mood of a film and go viral, even with very little information about the actual plot.
Does it work? You bet.
Common Types of Promotional Videos
Now that you know what a promotional video is and the significance of making one, let's take a look at some of the most popular types of promotional videos that you can take inspiration from to create your own.
Product Videos
If you're launching a new product, you should create a product promotional video to generate buzz. In this kind of promotional video, you can highlight how your product or service benefits users with a direct approach. You can tell a story about your product - one that makes viewers feel something they want (and can get, with your product).
Event Videos
Event promo videos are a must if you want to drive interest in an upcoming event. These videos are usually about 3 minutes long and motivate viewers to attend your event so they won't miss out on the good stuff. If the event happens for the first time, use stock imagery or sourced imagery from your keynote speakers. If it is a recurring event, be sure to include clips of previous events and testimonials from your attendees.
Explainer Videos
Explainer videos, as the name suggests, do explain something. They demonstrate how something (a product, service, or a specific feature) works. In this kind of video, you can explain how your product is produced or distributed, or how your services can make their job easier.
Intro & Outro Videos
Intros and outros are important parts of the videos you share on YouTube or other social media. They often show at the beginning of a video that introduces your brand.
The intro can be all about the video's title. You can also add your logo and website URL for brand awareness. In the outro, you can ask your viewers to subscribe (if publishing on YouTube) and add a call-to-action so that they can get in touch with you or take the next step easily.
Testimonial Videos
Using testimonial videos is a great way to show your brand's influence and social proof. It is about a customer who tells the story of how your product or service solved the problems. In this case, your customer is doing the indirect promotion for you by sharing in their own words how your product or service makes a difference in their lives.
About Us Videos
These kinds of videos are a great way to let customers and potential customers know more about your brand, who you are, and what you stand for. You can talk about your core values and goals for the future or share your company culture. Keep in mind, be honest, authentic, and approachable.
The best option for your promotional video is genuinely varied depending on your promotional video content. Whether you want to make a promotional video for small business, company promotional video, or promotional video for school, the following guide is appliable.
How to Make a Promotional Video?
As we can see, promotional videos have tons of value. After knowing the common types of the promotional video, let's move on to the guide and follow these steps to make your own promotional video. It can be applied to any promotional video making.
Step 1: Do research and plan
Every successful promotional strategy requires careful planning and research. It's important to know what you'll be working towards, why you're doing it and how you plan to achieve your goals.
At this stage, you need to define goals and objectives. Write these things down in a project plan to start keeping track of what is done and what still needs doing. After that, you need to pinpoint the target audience. Next, it's time to determine which type of promotional video is most suited for your goals and objectives.
Also, you need to identify promotional channels and draft a production schedule. Think about where and how you plan to share or publish the video.
Step 2: Write a script
Next up, it's time to write the script for your promotional video. A video script is similar to an outline for a blog post or article. Start by outlining the story you came up with in Step 1. If you get stuck, return to your goals and consider what your viewers need to know for you to achieve those goals.
I highly recommend you storyboard your video at this point. It is a good way to visualize the storyline of your promotional video. This is where you get into the minutiae of your video like camera angles, special effects, voiceovers, etc.
Step 3: Produce or record video
After you've come up with the script, you're ready to move on to the next step of making a promotional video. Depending on the footage you choose, animated video, live-action video, or mixed videos (live-action + animation), the production and editing steps are separate.
As for the animated promotional video, you can choose online tools and resources to find the right visuals like Visme, Bitable, or Animoto. For live-action video, these are the elements you'll need to pinpoint for your video: camera, sound, lighting, and equipment set up, characters, voiceovers, b-roll footage filming, etc.
Step 4: Edit your video
During this step, you will put the scenes together according to your script and storyboard. It also includes adding all the finishing touches that will make your promotional video perfect.
But before you edit your video, you need to choose a video editing platform. Some online promotional video makers, like Animaker or Visme, are suitable to edit animated promotional videos with a timeline editing feature that helps you adjust the different elements of your video, like animation, sound, text, and more.
For editing live-action or mixed promotional video footage, MiniTool MovieMaker is the top recommendation here. It is a free and easy-to-use video editor designed for Windows. It supports a wide range of video, image, and audio formats.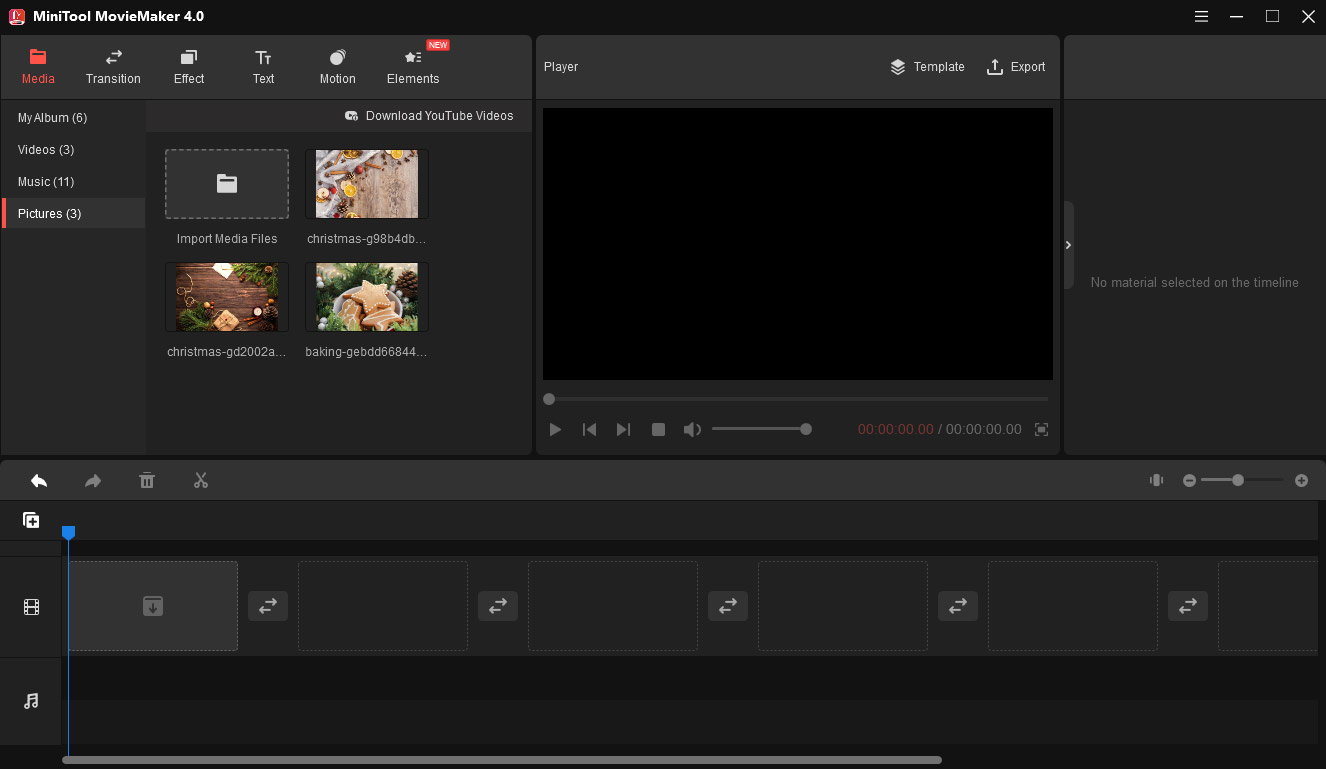 You can edit your video by trimming the clips, stitching them together, adding audio and text, inserting background music for promotional video, applying post-production elements like effects, transition, etc. to your promotional video.
Let's see how to edit your promotional video footage with MiniTool MovieMaker.
1. Launch MiniTool MovieMaker.
You can download MiniTool MovieMaker by clicking the button below and installing it on your computer. Launch the program and shut down the popup window to enter the main interface.
2. Import the recorded video clips and photos files.
Once you get the main user interface, click Import Media Files to import the video and image files. And then drag and drop them onto the timeline.
3. Edit the promotional video
Cut video: Select the target video clip on the timeline, drag the playhead to the place you want and click the scissor icon to split, or click the scissor icon and choose Quick Split. Right-click the clip you want to remove and select Delete.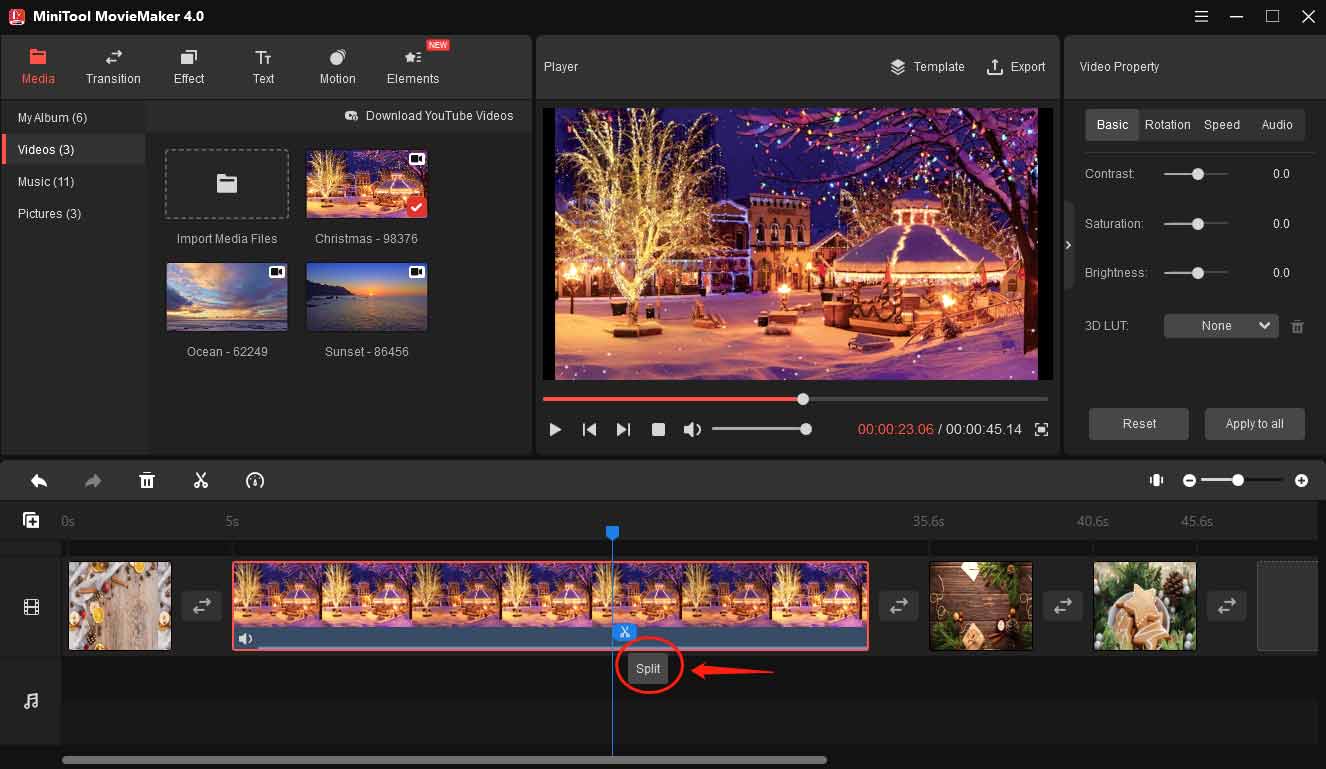 Trim video: Locate and select the clip you want to trim on the timeline, then hit the Split (scissor) icon on the toolbar. Choose Full Split and click the TRIM table to open the Trim window.
Hover your mouse to the desired start place and then click the scissor icon on the Start, move the end point to the desired location, and then click the scissor icon on the End. When done, click the OK to save these changes.
Add effect: Target the clip on the timeline where you want to apply an effect. Click Effect, choose the desired effect. Click the + icon to add the effect to the video. Or drag and drop the desired effect to the target clip.
Apply transition: Select the clip where you want to add a transition next to it. Head to Transition. Drag and drop the desired transition to the location between two clips. Or right-click the transition, select Apply to All to add the same transition to all clips on the timeline.
Add background music: Go to the Music option under Media, and then use the built-in music tracks. Click the + icon to add the music to the video, or drag and drop the music to the video on the timeline. Or tap on Import Media Files to import music files. Click Open to import the music. Then, drag the imported music into the timeline.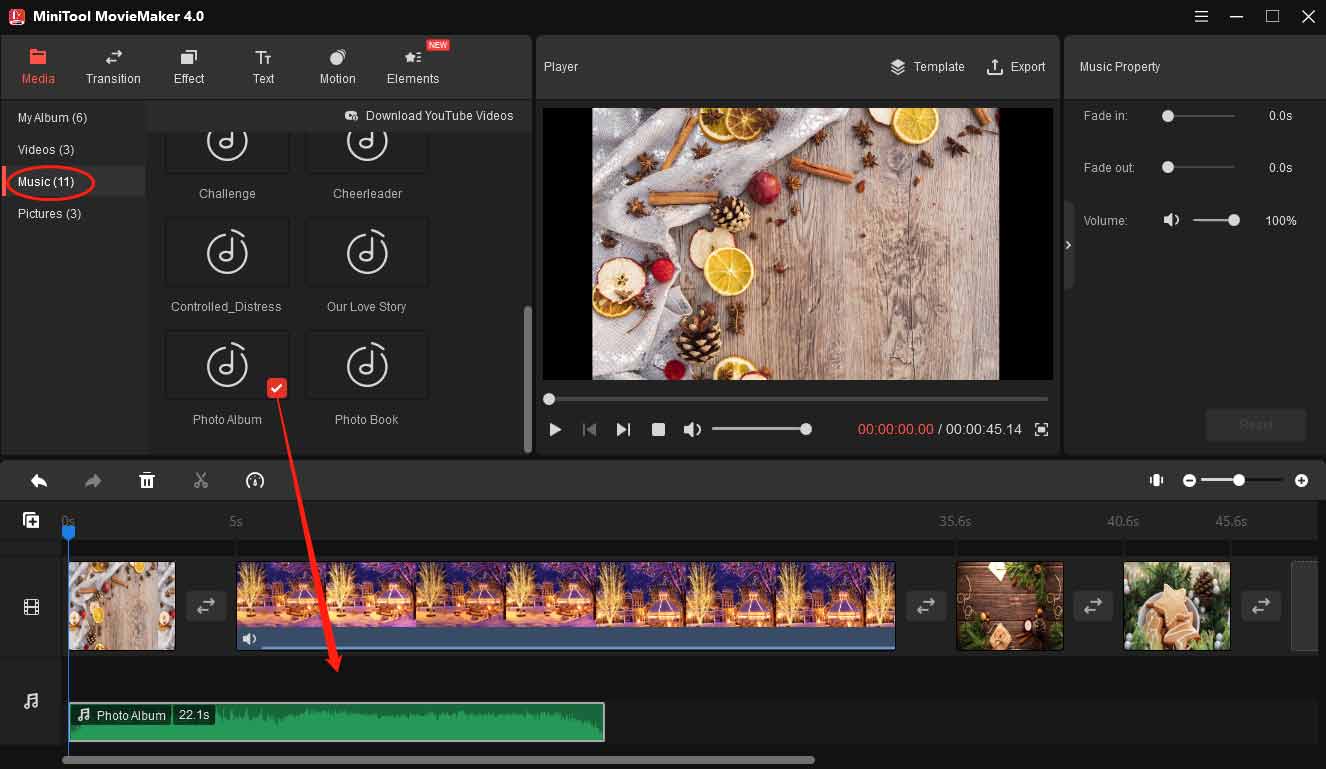 4. Export the promotional video
After editing, tap on Export to open the export window. Here you can rename the video file, change the video format, specify the destination folder, and adjust the video resolution. Remember: HD is a great option if you want top-class visual quality. Once you're done, click on Export to save the final promotional video.
MiniTool MovieMaker is an awesome video editing software to polish my promotional video.Click to Tweet
Congratulations, you have made the promotional video! Hold on! The work is not finished yet! Here comes the final step.
Step 5. Publish and share the video.
Now that your promotional video is done, it's time to publish and share it! You can post the promotional video on social media platforms like Facebook, YouTube, and Instagram, or on Twitter with a link to view the full version.
You can also send it out in your email newsletter to followers and subscribers, and post it to your company's website to get engagement. The more people view your video, the better opportunity it offers for your business.
You can refer to the post 5 Best Vlogging Platforms Worth Checking Out to get more share platforms.
Conclusion
Congratulations, you're ready to take the leap and create the first promotional video for your business. Now, you must have a better idea of the promotional video meaning, common types of promotional videos, and the steps of how to make a promotional video.
Welcome to share your ideas about promotional videos in the comments area. You can also contact us via [email protected] if you encounter any problem while you using MiniTool MovieMaker.