This article developed by MiniTool MovieMaker offers a complete list of the best video marketing software tools. To find the video maker for marketing that is ideal for your needs, read below.
One of the most popular methods of branding today is digital video marketing.
In addition to showcasing all your content, video is an effective medium for educating and influencing your audience. Over the past few years, there has been a dramatic increase in the use of video on social media sites to attract online visitors and increase sales and traffic.
According to new research from HubSpot (a content management system for video), four of the top six channels on which consumers worldwide watch videos are social channels. In another word, videos have had a significant impact on social media platforms, with approximately 4 billion viewers watching videos on Facebook and YouTube.
Besides, it was found that people spend an average of 5.5 hours per day watching videos online. You can now feel the power of the video maker for marketing.
What's Video Marketing?
Video marketing is the use of video to promote a product or service, increase engagement on websites and social media platforms, and show the target audience how the product or service is actually used.
To put it simply, it involves creating compelling video content for any product or service and spreading the video to all social media platforms to increase traffic and sales.
Recommended List of the Best Video Makers for Social Media Marketing
#1. MiniTool MovieMaker
MiniTool MovieMaker is a 100% free video maker for marketing. Thanks to its intuitive and simple-to-use interface, you can generate enticing marketing videos quickly and easily.
Depending on your imagination and creativity, you can use a set of video clips to make a full movie. It also allows you to produce superb videos using video templates in just a few clicks.
As one of the best video marketing software tools, it provides you with optional buttons to customize your video by adding transitions, text, filters, stickers, and other design elements. Moreover, MiniTool MovieMaker is the ideal tool for watermark-free video marketing.
Easy Steps to Make a Marketing Video
MiniTool MovieMaker makes "how to edit marketing videos on your computer" a breeze. Now, you can make it by following the steps below whether you want to sell products or drive engagement.
Step 1. Open MiniTool MovieMaker
Download and install it on your computer. Open it to go to the following editing interface. Click on the Import Media Files dotted box to upload product photos and video material from your PC for marketing purposes.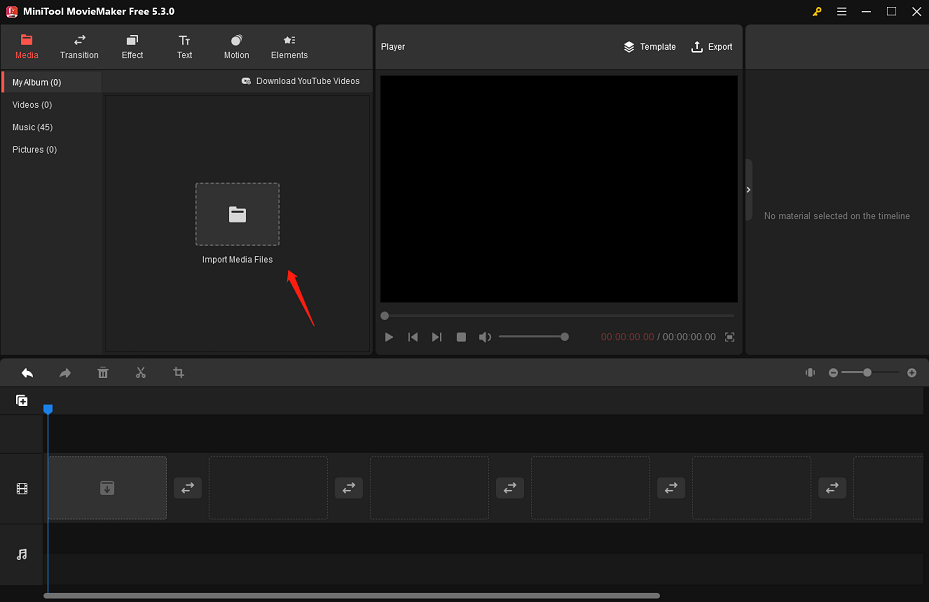 Step 2. Arrange your material in sequence on the timeline
Click on the "+" icon to add your materials to the timeline below and arrange their order. Alternatively, you can drag and drop them sequentially to the target location.
Step 3. Add your description for the product
The best text for a marketing video is short and to the point. To describe your product, you first need to click on the Text tab and select the Title option to find your preferred title mode, then drag it to the desired position on the timeline.
At this moment, you can add your description by typing the words in the Text Editor. Next, you can adjust the description's font, size, color, alignment, and more.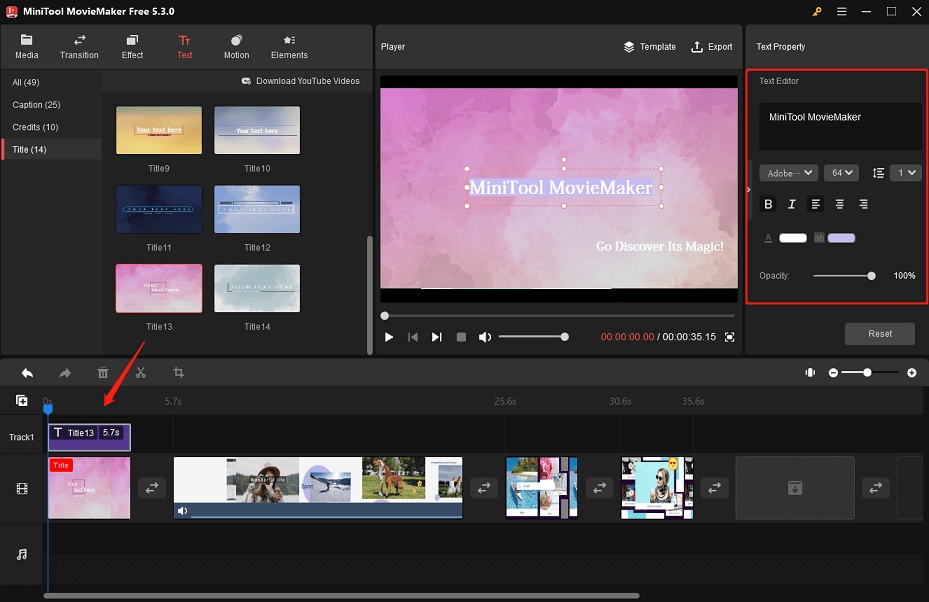 Step 4. Enhance with transitions, filters, or stickers
You have the option to click on the Transition/Effect/Elements tab to choose your favorite transitions, filters, or stickers to embellish your marketing videos.
Related article: How to Add Stickers to Video + 5 Free Places to Get Stickers
Step 5. Preview your marketing video
This video maker for marketing comes with a Player window that lets you preview your edits as they go.
Once all the editing is done, you can drag the playhead to the beginning of the video, then click on the Full Screen icon at the bottom right of the Player window to browse through the entire video to make sure everything is correct.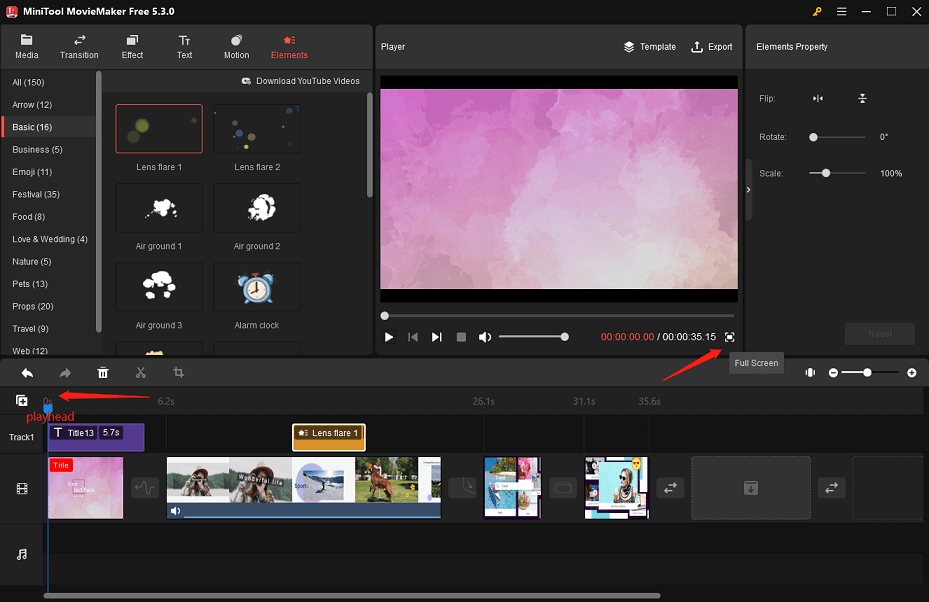 Step 6. Save the video on your PC
Click the Export button at the top right of the Player window for exporting settings. By default, the PC tab allows you to rename the video, choose the video format (such as MP4, AVI, MOV, WMV, MPEG2, GIF, MP3, etc.), and customize the video's quality, encoder, resolution, bit rate, and frame rate.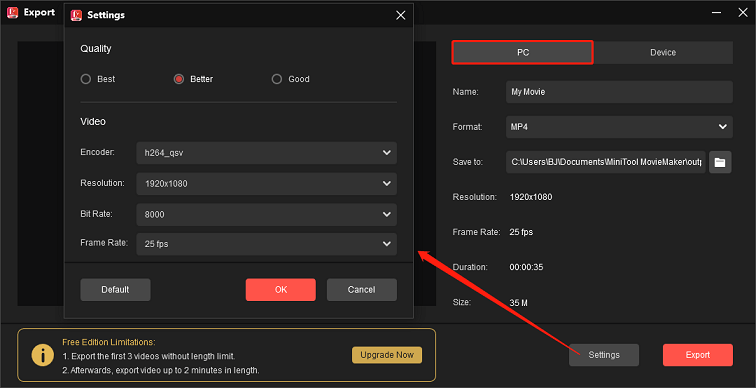 Then, share the saved video on your company page or social media channels.
MiniTool MovieMaker is the best video maker for social media marketing. This is one of the best video editing apps I've used in a long time. If you haven't tried it yet, do so!Click to Tweet
#2. Filmora
Filmora is another video maker for marketing. It gives you a variety of effects, styles, and customization in videos. Additionally, it is useful for people who would rather spend their time making and editing videos than learn the fundamentals of video editing.
Features:
It features Advanced text editing, Split-screen, Video stabilization, Scene detection, and others.
There is GIF support, Screen Recording, Layer multiple video clips, Audio mixer, Noise removal, and Audio separation available.
You can create backgrounds with frame-by-frame preview, Chroma key, speed control, social import, and so on.
#3. Videoshop
Videoshop is a quick and simple video editing program with user-friendly editing tools for personalization. It works on Android, iPhone, and iPad devices. Besides, its tool includes cool effects and easy features that can help boost the impact of your videos. Moreover, you can download the app for free.
Features:
Integrate music, remove unnecessary scenes, add sound effects, subtitles, etc.
Apply filters, slow it down, combine videos, and publish it on social media.
Add an animated title, select the transition, add a voiceover, and adjust the display.
Add stickers, make slideshows, tilt-shift your videos, and more.
#4. Vimeo
Vimeo is an online video distribution and collaboration platform that helps you build your video brand. It has a fast, highly customizable, easy-to-embed ad-free player. With its advanced controls, you can know exactly who is watching your videos when, and where.
Furthermore, it enables you to invite your team members to collaborate, develop and share work.
Features:
Good video quality, Vast storage, Privacy settings, Video management, Speed controls, Version history, and more.
Post-production and collaboration with Password protection, Professional integration, Review tools, and Team collaboration.
Marketing and monetization cover Tools, Customized players, Custom end screens, Geo-restrictions, Lead generation, and so on.
Advanced stats, Calls to action, Google analytics, Engagement graphs, Social sharing, Email marketing, and Worldwide distribution are all available.
Auto archiving, Cloud transcoding, Customer support, Simultaneous events, and others.
#5. Vidgeos
Vidgeos is a video editing and marketing application that can help you create videos and animation with ease. It is compatible with Windows and Mac devices.
Also, it can be used for Affiliate Marketing, Global Marketing, Email Marketing, selling videos, instant video publishing, interactive & live videos, and up-sell video marketing.
Features:
With the help of its auto-translate feature, you can market internationally in any language.
It comes with email option forms, live interactive c.t.a buttons, and live countdown timers.
It allows you to edit the videos in real time.
It also includes features, such as smart elements, ready-to-use slides, voiceover recording & audio editing, and so on.
#6. Hippo Video
Hippo Video is a video platform for video distribution and personalization that offers services including video hosting, ABM & video selling, video email campaigns, video support, and success. With an excellent portfolio of clients, it makes the most of your video projects to improve your email, marketing, and sales campaigns. Hippo Video's integration is really nice and it has highly reliable customer support.
Features:
Quickly create and edit videos with one button launch for quick editing (add, trim, cut, and crop) and professional editing (narration, unlimited tracks, and background music).
Embed or export videos to YouTube, Google Drive, Vimeo, and Websites, adapting to each screen.
Share your content with strong privacy by password-protecting it and specifying an expiry date for the video link.
User views, Analytics with real-time engagement graphs, and Hosts your videos on the cloud using the highly secure infrastructure.
Guest recording, video categorization, smart integrations, and marketplace integrations are all available.
#7. Shakr
Shakr is an online video maker for marketing designed for large-scale advertising and branding for all types of businesses. Businesses can use its features to create engaging and compelling videos that attract their customers and drive more traffic. Plus, it is simple to use and you can quickly make a video and share it on social media platforms.
Features:
Brand overlay, privacy options, video duplication, and social media sharing.
Digital signage videos, account manager, business orientation, and reseller's rights.
Shakr market, custom video designs, video marketing, and uncompromising creativity.
#8. Wideo
Wideo is an online video animation tool that allows businesses to quickly and easily produce marketing videos. With the help of built-in templates, users can quickly get started and create professional animated videos. Also, the tool is suitable for making all types of videos as it has a wide range of powerful features.
Features:
There are more than 80 built-in templates, Animation speed control, and a Drag-drop interface available.
It consists of Scene templates, Video embedding, Spell check, and Folder management.
You can also use the Upload button, Object searching, Keyframe removal, YouTube sharing, and so on.
Related article: How to Make Animated Videos [Step-By-Step Guide]
Conclusion
Reading the above, you may have noticed that these tools for video marketing have basic functions in common. But keep in mind that all of these tools have their uses. You can now choose the best video maker for marketing based on your requirements.
If you have other questions or suggestions about these video makers for marketing, please email [email protected].
Video Marketing FAQs
1. Why is video marketing so important?
Consumers prefer watching videos to reading text because videos are easier to digest, engaging, and entertaining.
2. What are the types of video marketing?
There are different types of video marketing, including:
Pre-roll, mid-roll, or post-roll video ads. They play before, during, or after online videos or videos posted on social media.
Video banner ads. They appear as ads on landing pages or websites.
Live Video. It covers real-time streaming of events, conversations, or product launches.
TV video ads. They run traditional commercials on streaming services or linear TV outlets.
Sponsored product placement. It is a form of self-referential video marketing in which a company's brand or product is placed within another type of video.
Sponsored video. It is easily recognizable because it has an obvious disclaimer, "This video is made possible by ..." This category also includes explainer videos on companies and products.
3. How to make a viral marketing video?
Here are some things you can try to make your video go viral:
Stay focused on a clear message.
Don't be controversial.
Do it emotionally.
Downplaying self-promotion.
Develop a marketing strategy for your video.
Optimize the video for social sharing.
Pay attention to the results of your analysis.
4. How to promote a video on social media?
It is both simple and difficult as you believe. Simply make a simple, original, high-quality video, post it on a native site, niche optimize it, use promotional tools and services, and SEO optimize it.