Video special effects have come a long way since the days of practical effects like miniatures and animatronics. With the advent of digital technology, it is now easier than ever to add special effects to videos. Special effects can make videos more engaging, interesting, and visually stunning. In this article offered by
MiniTool movie production
, we will look at the best special effect video apps and software available, how to add special effects to videos, and some tips and tricks for making special effects in your videos.
Video Special Effects Apps and Software
There are many video special effects applications and software available, each with its own unique features and capabilities. Here are some of the best options.
#1 MiniTool MovieMaker
An easy-to-use and free special effects video editor for Windows PCs that has no watermarks. It contains all basic video effects as well as special ones that can be used to decorate a video during the video editing process including:
Transition (reveal, wipe, etc.)
Filter (Instagram-like effects)
3D LUT (movie-style filters)
Text (captions, titles, or credits)
Motion (pan and zoom)
Animation (funny stickers for special moments)
Contrast, saturation, and brightness
Flip & rotation
Speeded-up, slowed-down, or reversion
Audio fading
Audio volume change and mute
…
Besides, the embedded templates in MiniTool MovieMaker enable you to quickly make personal slideshows and share them with your friends!
MiniTool MovieMakerClick to Download100%Clean & Safe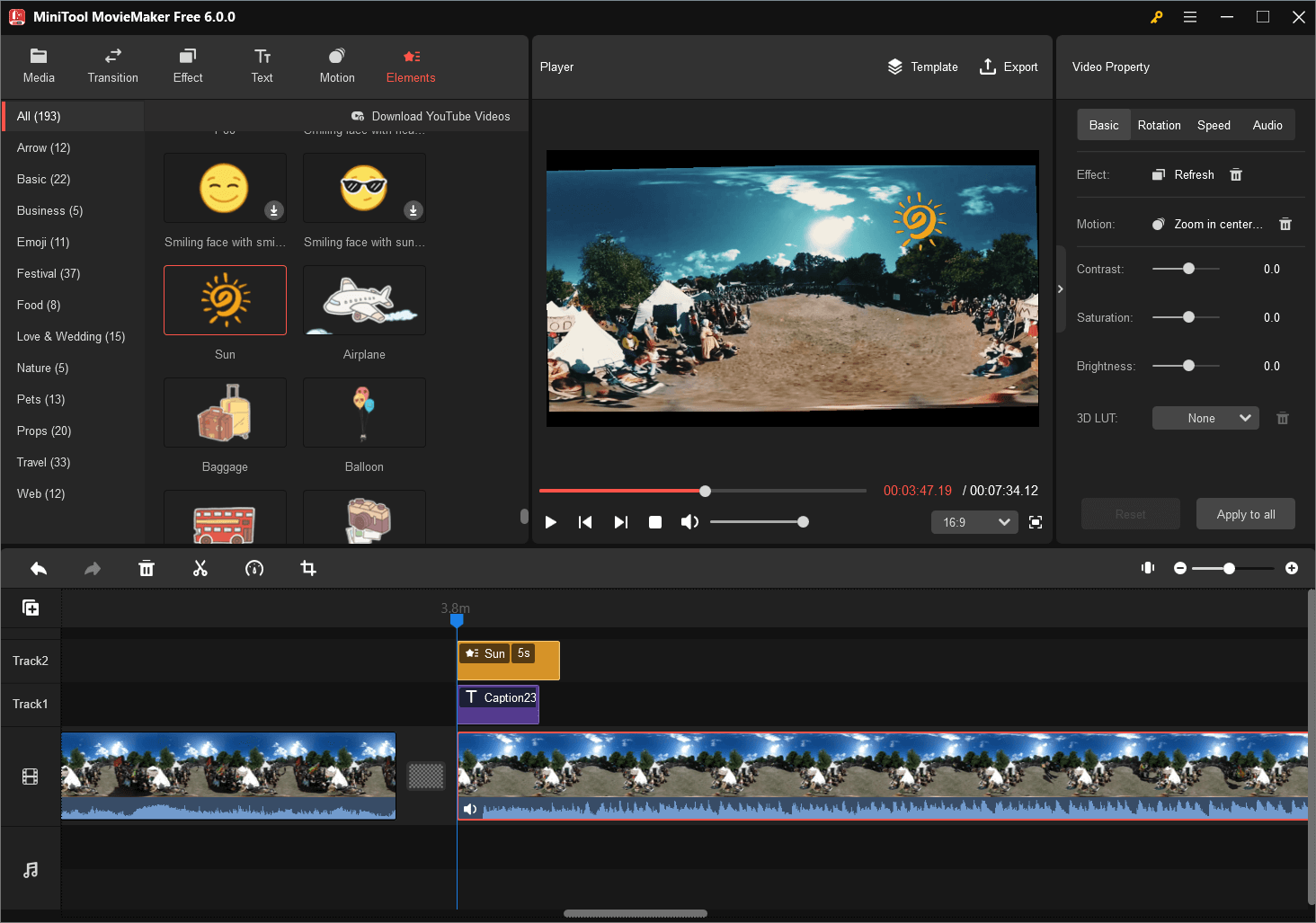 #2 Wondershare Filmora
This is a popular special effect video maker that offers a wide range of special effects, transitions, and filters. It is easy to use and suitable for both beginners and professionals.
#3 Adobe After Effects
This is a powerful video special effects software used by professionals in the film and TV industry. It allows for complex visual effects and animation.
#4 iMovie
This is a video special effects software free Mac that comes pre-installed on all Mac computers. It is also a special effects video app iPhone. iMovie is a great option for beginners and offers a range of special effects and transitions.
#5 VivaVideo
This is a video special effects app for Android that offers a range of special effects, filters, and transitions. It is easy to use and suitable for both beginners and professionals.
#6 PowerDirector
This is a video editor with special effects for Windows that offers a range of special effects and transitions. No matter you are a novice or a professional, you will be fond of the profuse features offered by PowerDirector.
#7 VEED
VEED.io is a special effects video editor free online. It enables you to add real-time video effects including VHS effects, filmic filters, glitch, snow, black and white, and so on.
Adding Special Effects to Videos
How to add special effects to a video for free? It is easier than you might think. Here it takes MiniTool MovieMaker for example to show you a step-by-step guide to make a video with special effects.
MiniTool MovieMakerClick to Download100%Clean & Safe
Step 1. Download and install MiniTool MovieMaker on your Windows computer.
Step 2. Launch it and enter its main interface.
Step 3. Under the default Media tab in the upper left section, click Import Media Files to upload your video clips, photos, or songs.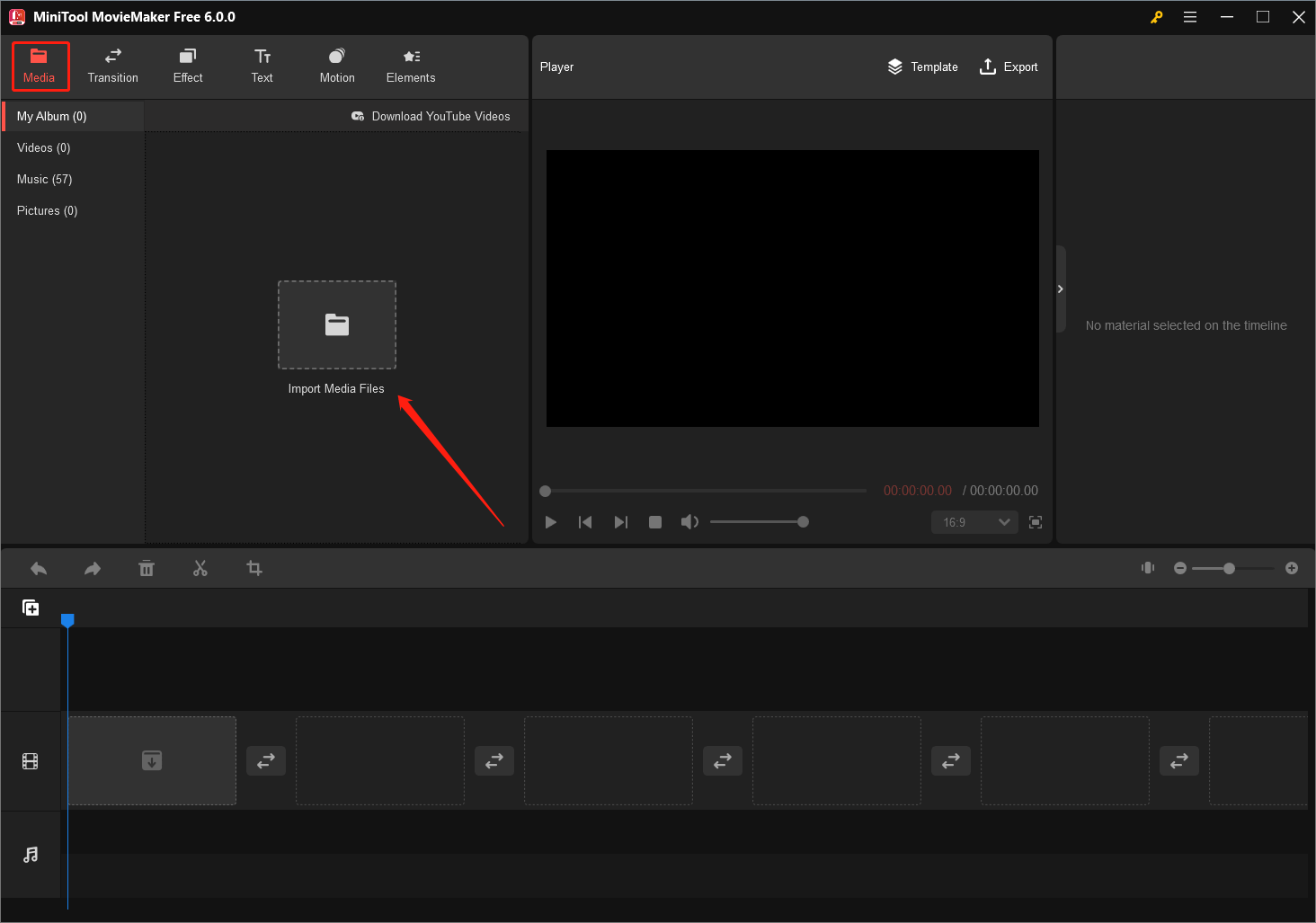 Step 4. Then, drag and drop the imported media files to the below timeline and onto the corresponding video (for video and photo clips) and audio (for music) tracks.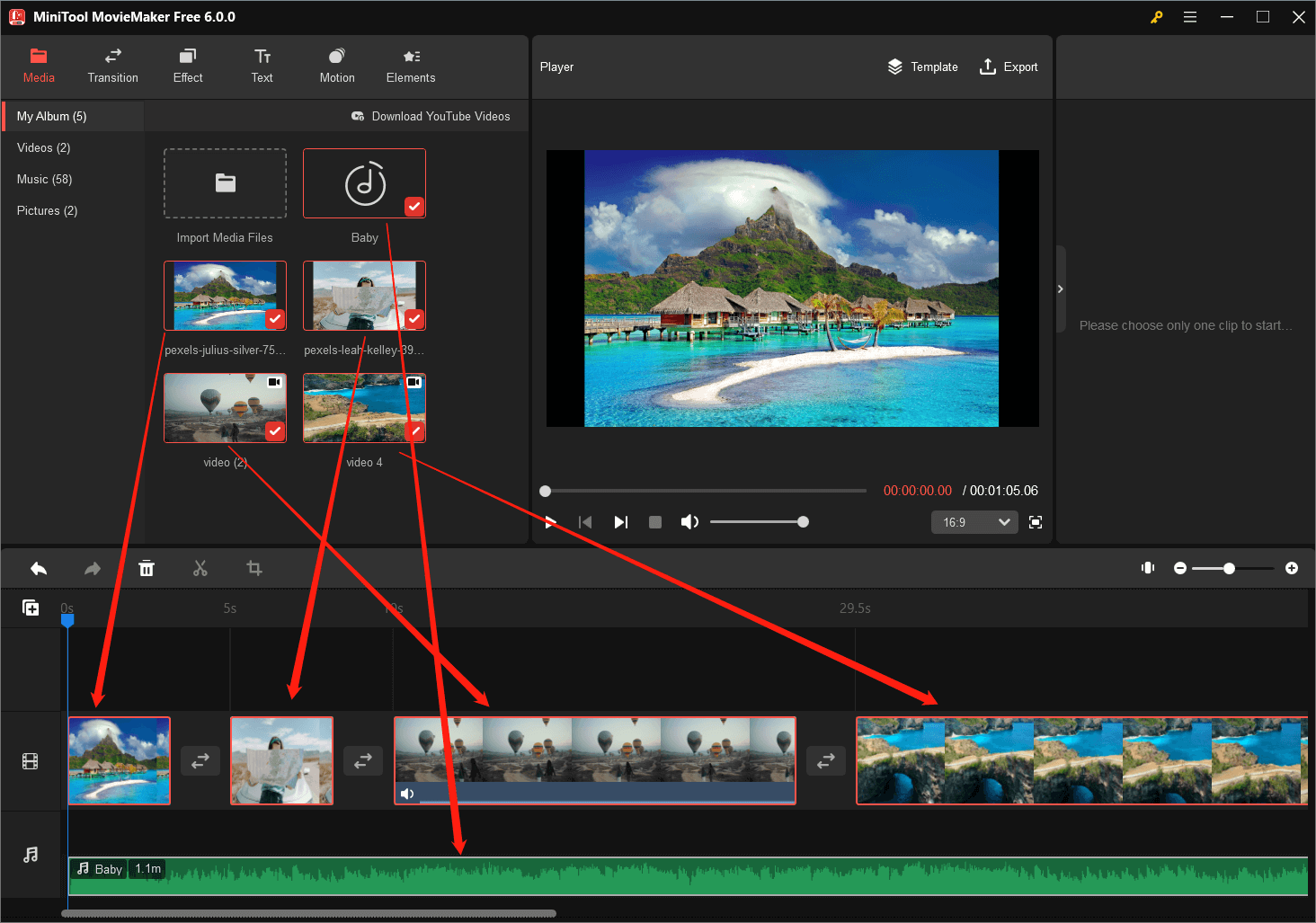 Step 5. Switch to the Transition tab in the top menu in the upper left section. There, put your mouse on one transition to preview its effect. Then, pick up one transition you like and put it between two video or picture clips. You can use the same transition among all graphic clips on the video track or apply different transitions in different gaps.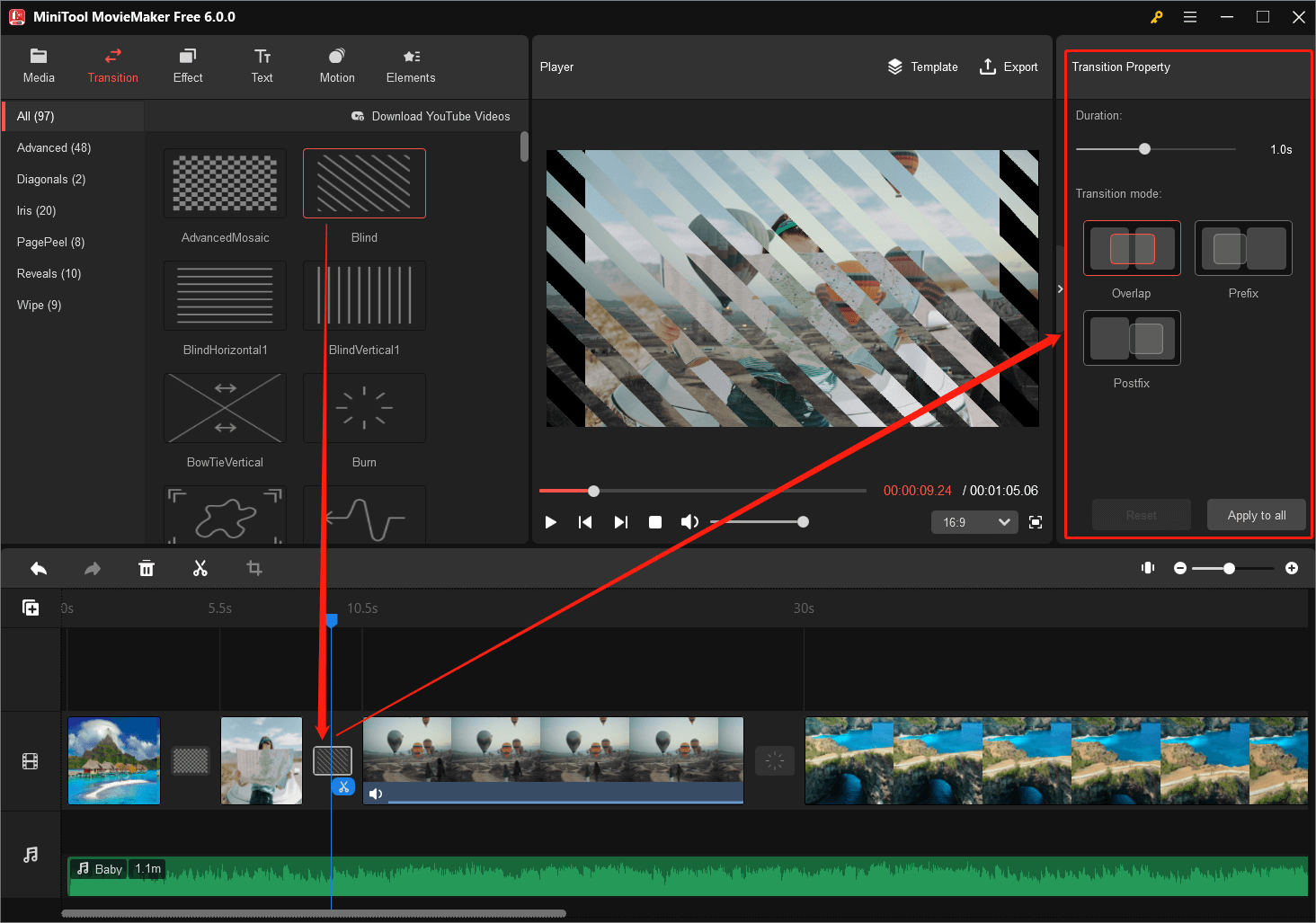 You can further customize the duration and mode of the added transition.
Step 6. Go to the Effect tab and select a proper filter for the specific video or photo clip. Many filters are online and you need to first make it offline by clicking the download icon before you can make use of it.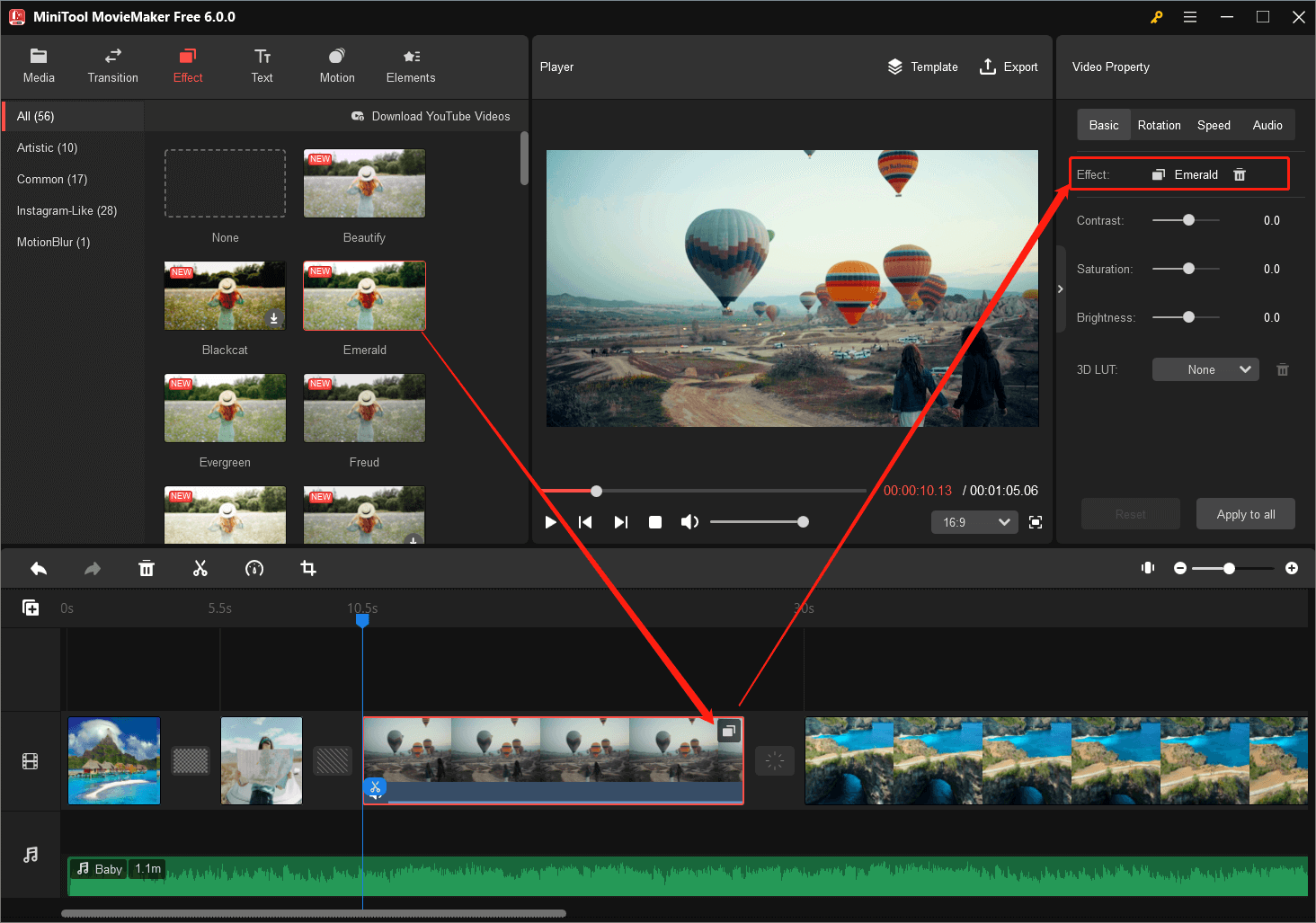 Choose the target video or image clip, you can view the added effect in the Video Property section in the upper right of the main window. There, you can also adjust the contrast, saturation, and brightness of the graphic, as well as apply a 3D LUT effect to the clip.
Step 7. Move to the Text tab and put a text in the selected clip. You can further specify the content, font, size, line space, bold, italics, alignment, text color, highlight color, and opacity of the text.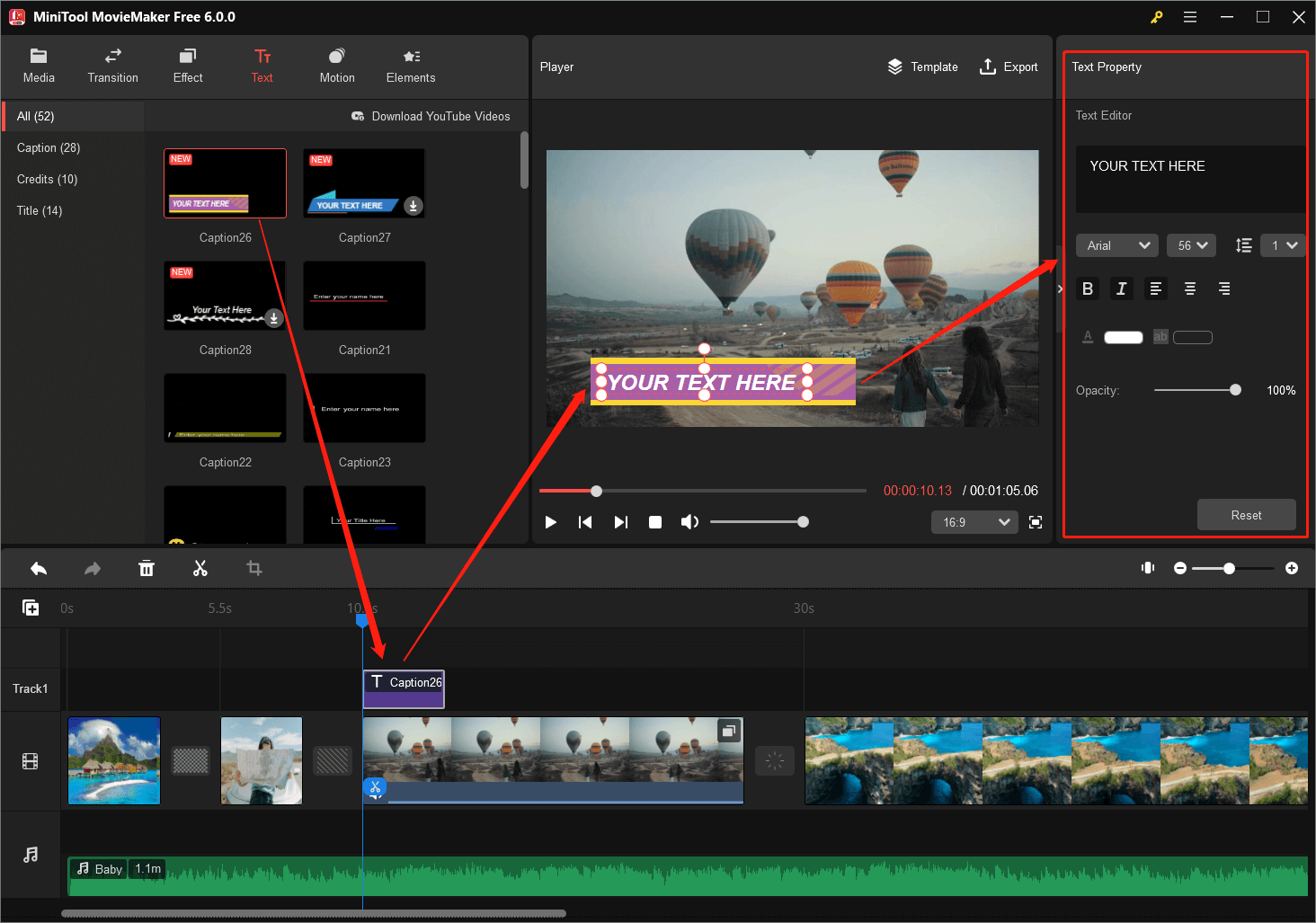 Step 8. Next, let's set up the motion of the target video clip. Just find a suitable motion under the Motion tab.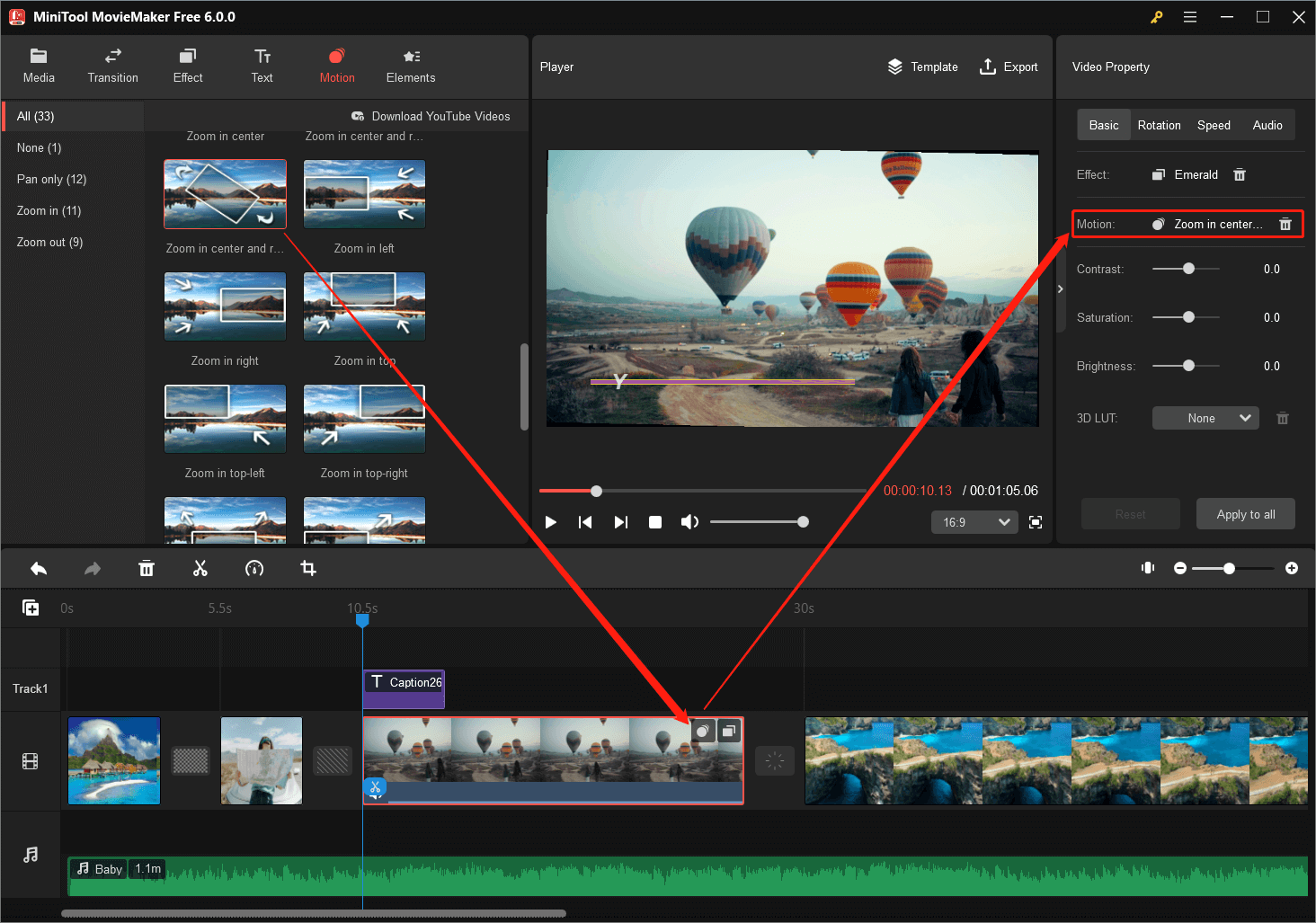 Step 9. Click Elements on the top menu and choose the proper animated stickers for your video. You can flip or rotate the added animation as you like. Or change its size and location on the screen.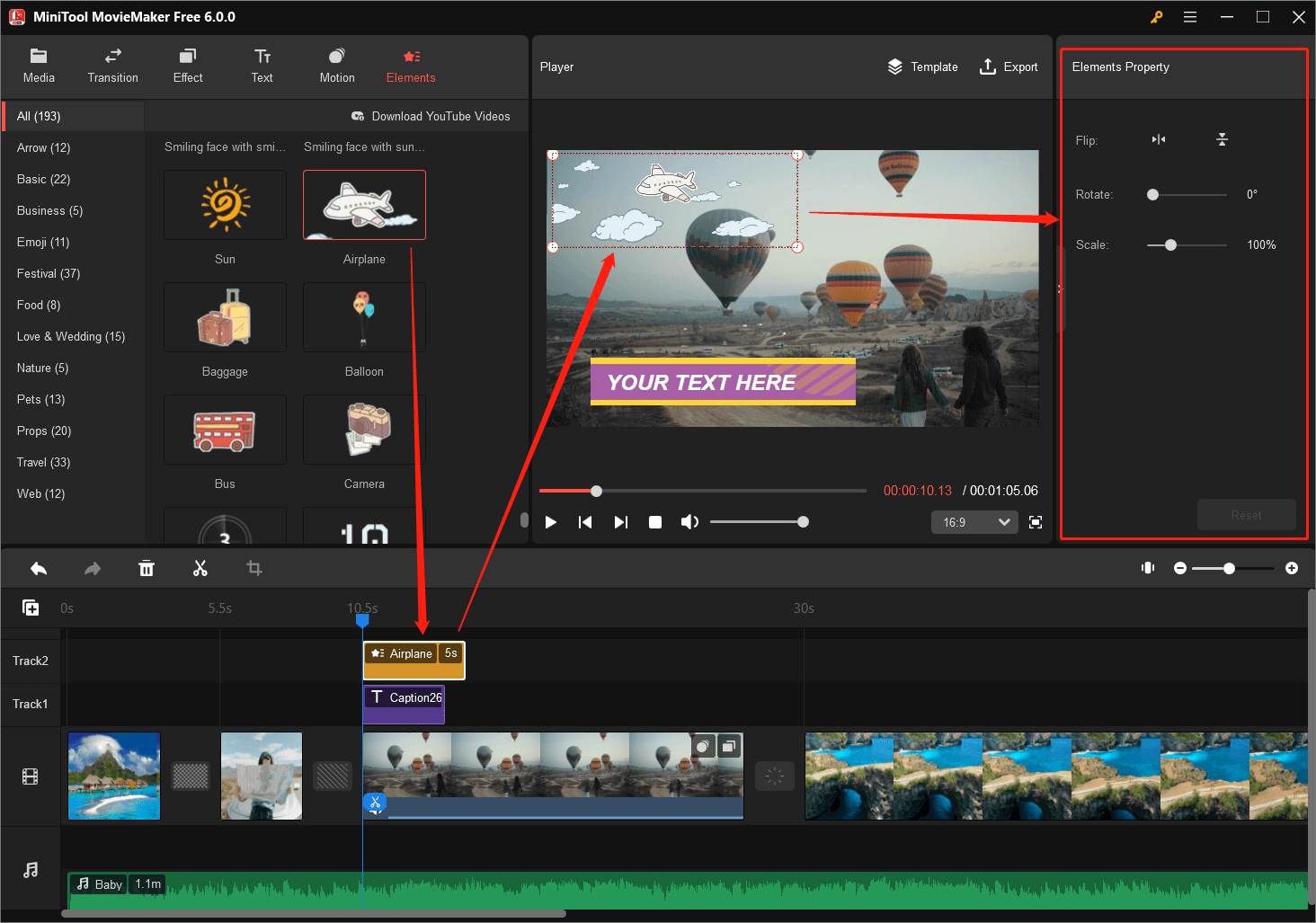 Step 10. Finally, preview the whole video and make the necessary corrections. Then, click Export in the upper right in the Player section to save your video.
Now, you have successfully created a video with various special effects. Then, you can share it with others by uploading it to popular social platforms like YouTube, TikTok, Facebook, Twitter, etc.
Tips And Tricks for Making Special Effects in Videos
If you want to create your own special effects for videos, here are some tips and tricks to keep in mind:
Start with a clear concept: Before you start creating special effects, make sure you have a clear idea of what you want to achieve.
Use the right tools: Choose a software or app that offers the tools you need to create the effect you want.
Experiment: Don't be afraid to experiment with different settings and techniques to achieve the effect you want.
Learn from others: Watch tutorials and study examples of special effects to learn from other creators.
Practice: The more you practice, the better you will become at creating special effects.
Conclusion
Video special effects can add a lot of value to your videos, making them more engaging, interesting, and visually stunning. With the right tools and techniques, anyone can add special effects to their videos. Whether you are a beginner or a professional, there are many video special effects apps and software available to choose from. By following the tips and tricks outlined in this article, you can create your own special effects and take your videos to the next level.
Related Articles