When creating videos for social media, there are many things to consider. The social media video length is one of them. How long should videos be for social media? What about the social media video length limits? What is the optimal social media video length on different platforms? In this post, all these questions are answered. Just read it now!
The content in this post will cover the social media video lengths, tips for making engaging videos, and the best social media video editor MiniTool MovieMaker.
As a content creator, you produce videos and upload them to social media. You want your audience actually watches the full length of the video you worked so hard on. But the attention spans are short. How to make sure the viewers watch through to the final frame? A key to boosting those completion rates is to craft a video that's an optimal video length for social media platforms, as it will maximize viewer rates.
As a general rule, the ideal social media video length must showcase your content. Still, there are some best practices for each platform. So, we've compiled social media video length best practices and tips to help you understand how much time you need to work with.
Best Video Length for Each Social Media Platform
The optimal social media video length and maximum length may vary on different platforms. We will break things down for some of the most popular social media platforms like Facebook, Instagram, Twitter, YouTube, LinkedIn, Pinterest, TikTok, and Snapchat.
Facebook Video Length Best Practice
Maximum video length: Facebook feed/Facebook Marketplace: 240 minutes; Facebook in-stream/Facebook Stories: 120 seconds
Optimal video length: 15 seconds to 3+ minutes
Since video is a huge part of its platform and ad network, Facebook allows for some very long video lengths. Facebook videos can be up to 240 minutes long. Click this post to get how to post a video on Facebook.
It doesn't mean you have unlimited time to grab your audience. The type of video you want to make plays a part. As the videos are designed for quick conversion and business awareness, it suggests keeping your videos less than a minute long (under 20 seconds for Facebook stories). But for longer videos like episodic series and live streams, it says over 3 minutes is best to maximize viewership.
Instagram Video Length Best Practices
Instagram is also a popular social media platform for video content. It offers many different ways to upload your videos: the feed, the story, IGTV, reels…
Maximum video length: Instagram story: 15 seconds; Instagram feed: 60 seconds; Instagram reel: 60 seconds; IGTV: 10+ minutes
Optimal video length: Instagram Stories: 15 seconds; Instagram feed: 60 seconds or less; Instagram reel: 15 seconds; IGTV: 10 minutes
Don't forget to plug your latest IGTV video in your feed or on your stories to send as many people as you can to lead them to your longer-form video. The verified accounts can post longer videos from the computer.
As for Instagram stories, the number of story slides is important. Each slide should have a single clear message or goal and your assembled story should include a clear hook. To make sure your audience sees all of your work, aim for 1-7 story slides within 15 seconds at a time.
When it comes to Instagram feed, keep it under one minute. Pick a thumbnail that makes it stand out and include on-screen text or captions to capture the interest of the viewers.
The IGTV is designed for long-form video content, so your video should be as long as it needs to get the point across. You should use the time in the best possible way to highlight your message.
You may also like The Best Instagram Video Format and Specification.
Twitter Video Length Best Practices
Maximum video length: 140 seconds
Optimal video length: 30 seconds
Twitter caps your videos at a maximum of 140 seconds, but the ideal video length for Twitter is 30 seconds. Keep your videos short and the text just as short to match the platform. Or you can try creating short teaser videos and linking people out to longer-form content on your YouTube channel or Facebook.
TikTok Video Length Best Practices
Maximum video length: 10 minutes
Optimal video length: 9-15 seconds
Initially targeted short-form content, TikTok's video length has changed multiple times since its inception to support longer storytelling. Now, you can upload your video for up to 10 minutes. While a 9-15 seconds video is recommended on this platform. You can upload local video files or capture videos right on the app to create the content.
Snapchat Video Length Best Practices
Maximum video length: 60 seconds
Optimal video length: 3-10 seconds
The video you post on Snapchat needs to be short but intriguing. You can leverage a strong hook and add in a link or hashtag to get your target audience to engage with your content further. Besides leaning on brevity, keep your key message simple because the attention spans are very low. Similar to TikTok, you can capture videos on or post local video files to the platform.
Pinterest Video Length Best Practices
Maximum video length: 15 minutes
Optimal video length: 6-15 seconds
Not only an image pinboard platform, but Pinterest is a hotspot for creative and engaging short-form video content. The Pinterest team recommends posting your video that between 6 and 15 seconds for maximum impact. You can select an image in your video for the cover image, put your branding front and center, add some text, and then you've got an enviable video pin that'll bring more peeps to your page.
YouTube Video Length Best Practices
Maximum video length: 12 hours per video
Optimal video length: under 3 minutes or around 10 minutes
Unlike other social media platforms like Twitter, Facebook, and Instagram, YouTube is a network based entirely on videos and the gold standard for video content. You can find videos of all shapes and sizes throughout. Verified accounts are allowed to upload video clips as long as 12 hours, which is the longest length of any network right now.
It's important to note that YouTube rewards videos with more watch time by showcasing them more prominently in search results. The perfect video lengths can differ wildly depending on the topic. For some videos, two minutes will be your best bet. But for others, if you can get the information across in less than 6 minutes, don't keep going just for the sake of watch time.
LinkedIn Video Length Best Practices
Maximum video length: native video: 10 minutes; video ads: 30 minutes
Optimal video length: 30 seconds
For business-oriented users, LinkedIn has evolved into a very popular site for all types of video content. LinkedIn caps its native videos at 10 minutes, and its video ads at 30 minutes depending on your purpose and objective, and content.
It observed that videos that are 30 seconds or under boast a twice lift in completion rates (meaning viewers watched the whole video instead of clicking away). It also reported that long-form videos can drive just as much engagement as they tell more comprehensive stories.
Tips to Post Engaging Videos on Social Media Platforms
With optimal social media video lengths out of the way, let's move on to get some practical tips for creating viral videos for social media platforms.
1. Prioritize quality over quantity.
To create quality video content, you need to focus on providing value when you plan a video. Every time you create a video, you can ask: does this video offer value to your target viewers? If the answer is yes, the audience is likely to watch the video till the end, even if it doesn't fall within the optimal length estimate.
2. Optimize the metadata according to each platform's best practices.
Your video's metadata is the supplementary content that goes with videos like the title, thumbnail, description, and summary. Title and description play an important role in engagement. The title and thumbnail are also essential elements that attract viewers' attention.
3. Make every second count.
Every second in your video is an opportunity for viewers to gain interest. Keep in mind: Include just the information you need to get your point across. Viewers don't have long attention spans. You need to grab your viewer's attention in the first few seconds and concisely convey the information.
4. Know your audience and hold their attention.
Since you have no real-time visual cues that enable you to decipher your viewer's reaction, your best bet is to understand your audience and analyze signs of engagement. You can analyze the following elements: comments, number of new subscribers and likes, and audience retention rate. Tweak your video content accordingly for the next time you post.
5. Know the ideal specs for each platform.
As you create content for each social media platform, you need to pay attention to the size and other specifications.
Here is a quick rundown table of each platform:
| | | | |
| --- | --- | --- | --- |
| Platform | Dimensions | Supported Formats | Maximum Video Size |
| Instagram | 1920 x 1080 pixels | MP4, MOV | 4GB |
| YouTube | 1280 x 720 pixels | MOV, MPEG4, MP4, AVI, WMV, MPEGPS, FLV, 3GPP, WebM | 128GB |
| Twitter | 1280x720 (landscape), 720x720 (square), 720x1280 (portrait) | MP4, MOV | 512MB |
| LinkedIn | 4096 x 2304 pixels (maximum) | ASF, AVI, FLV, MOV, MPEG-1, MPEG-4, MP4, MKV, WebM. | 5GB |
| Facebook | 1280 x 720 /1920 x 1080 pixels | MP4, MOV | 4GB |
| Pinterest | 1200 × 1800 pixels | MP4, MOV, M4V | 2GB |
| Snapchat | 1080 x 1920 pixels | MP4, MOV | 1GB |
| TikTok | 1080 x 1920 pixels | MP4, MOV | 287.6 MB |
If you can't keep track of the correct size dimensions of each platform, you do not need to worry about that. The right social media video editor software like MiniTool MovieMaker can help you optimize the ideal format for each platform. You can make a video and change its format and resolution in the best video editors for social media.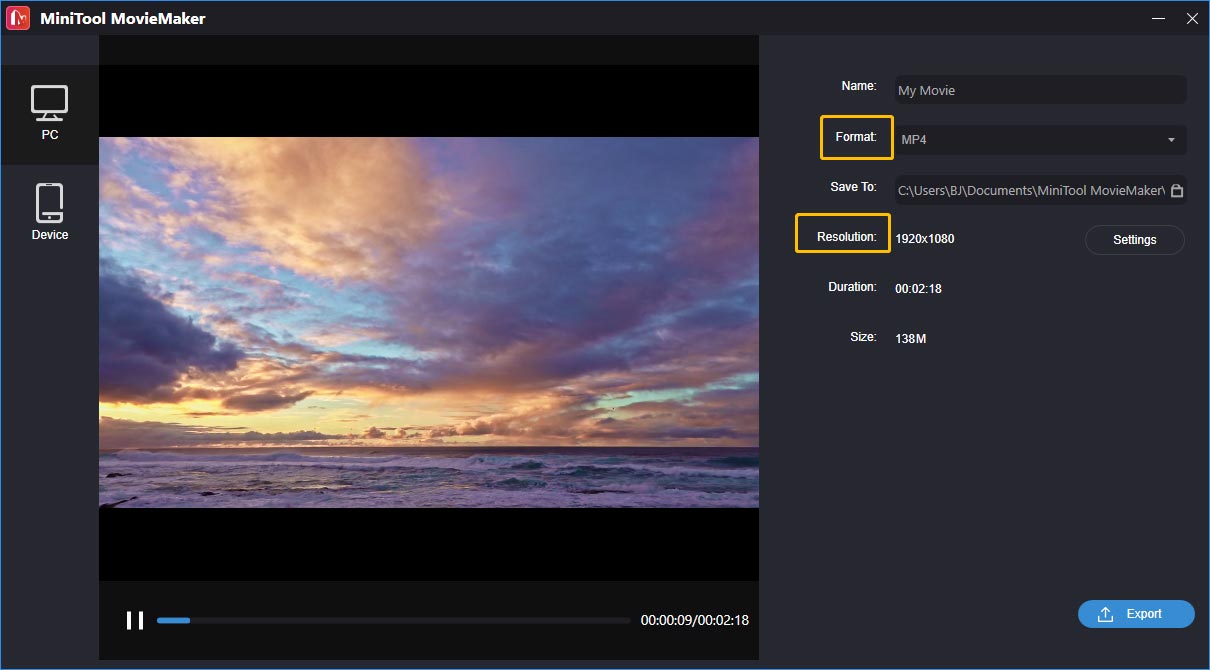 How to Create Social Media Videos with Optimal Length?
To make engaging social media videos with optimal length, you need to choose the right tool. Here we recommend you an amazing social media video editor software – MiniTool MovieMaker.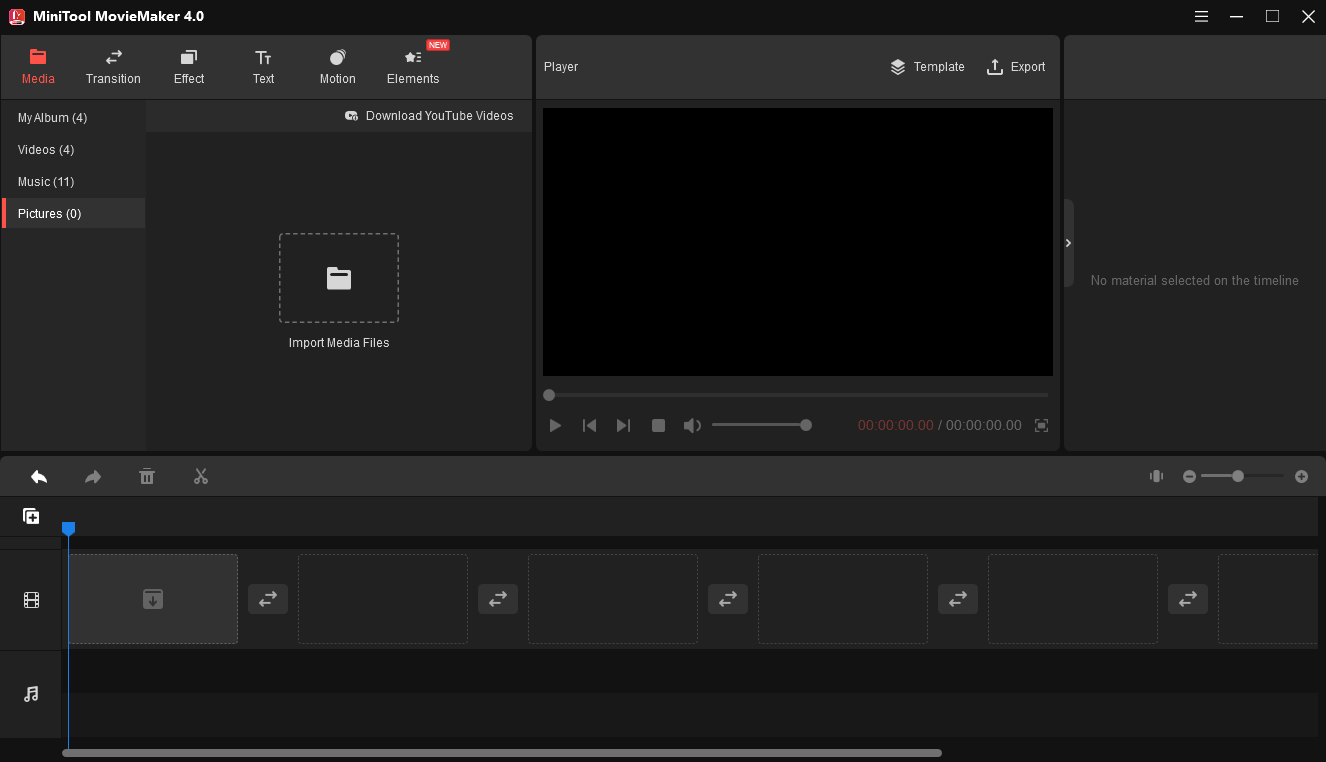 Firstly, it can help you customize the video length that suits the different platforms. Secondly, as we mentioned before, the video specs of different platforms vary. It can help you change the video resolution and format. Additionally, it is a 100% free and simple to use social media video editor. You can also create a video with no ads and watermarks.
To optimize the social media video length, you can split, trim, speed up or slow down your videos. Of course, its features are not limited to that. With a clean and initiative interface, it supports importing images, audio, video clips to the timeline, and well-organized video content for further editing.
To customize your videos and make them attractive, you can apply various pretty transitions, filters, animated elements, and motion effects to your videos. You can also merge, rotate, flip, reverse videos, adjust the contrast, brightness, saturation of the video.
Let's take a closer look at how to create a video with optimal length:
1. Launch the free MiniTool editing software.
You can download MiniTool MovieMaker by clicking the button above and installing it on your PC. Launch the program and close the popup window to access the main interface.
2. Import the Media files.
After you get the main user interface, click Import Media Files to import the media files. And then drag and drop them onto the timeline.
3. Edit the video.
Arrange videos: Drag and drop the media files to change the position on the timeline.
Split video: Select the target video clip on the timeline, drag the playhead to the place you want and click the scissor icon to split, or click the scissor icon and choose Quick Split. Right-click the clip you want to remove and select Delete.
Trim video: Target the video clip on the timeline, click the scission icon on the toolbar and choose Full Split open the Split/Trim window. Then, click the Trim table to enter the Trim window.
Move the clip's start point to the desired place and then click the scissor icon on the Start, move the clip's endpoint to the desired place, and then click the scissor icon on the End. After that, click OK to save these changes.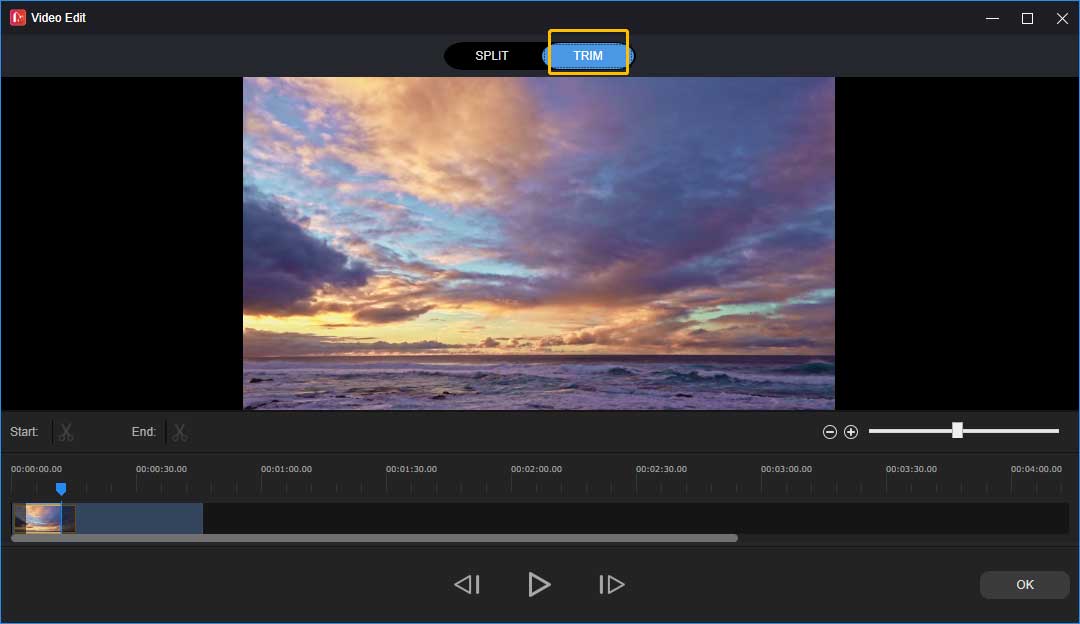 Speed up video: Select a video clip on the timeline and click the Speed icon on the toolbar. Choose Fast, and select one option from 2X, 4X, 8X, 20X, 50X, and click it. Click the Play button to preview the video.
Slow down video: Locate the clip on the timeline and click the Speed icon. Tap on Slow, pick one option from 0.5X, 0.25X, 0.1X, 0.05X, 0.01X.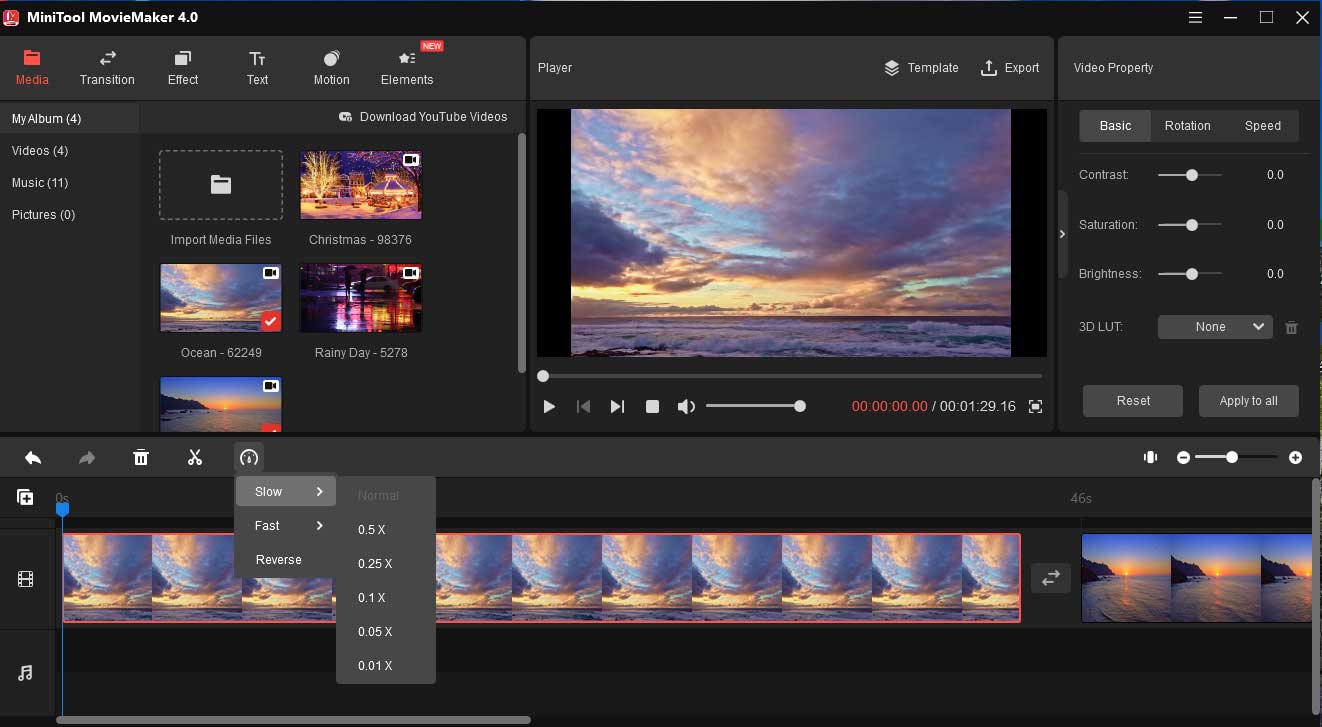 4. Export the video.
After editing, tap on Export to access the export window. Here you can rename the video file, change the video format, adjust the video resolution, and specify the destination folder. Once you're done, tap on Export to save the final video.
MiniTool MovieMaker is one of the best social media video editors for Windows. It helps me make many engaging videos on social media. Click to Tweet
Conclusion
As you can see, social media video lengths vary depending on platforms and content types. This post presents a clear picture of optimal video lengths for different social media platforms. The referable tips to create viral videos and the best social media video editor are also covered.
If you have any questions or encounter any problems while using MiniTool MovieMaker, welcome to leave your comments below or connect us via [email protected].