Pinnacle Studio is a powerful video editing software program. But it isn't free. If you want to try other Pinnacle Studio alternatives, you've come to the right place. This post will introduce Pinnacle Studio briefly and provide 7 Pinnacle Studio alternatives like MiniTool MovieMaker
Pinnacle Studio is a full-featured and professional video editing application. If you're a video creator, you may already have used it or heard of this application. Is Pinnacle Studio free? The answer is negative. Thus, many users want the video editors like Pinnacle Studio.
Fortunately, this post has compiled a list of Pinnacle Studio alternatives you can choose from. Before that, let's talk about some basic information about Pinnacle Studio.
About Pinnacle Studio 
What Is Pinnacle Studio?
Pinnacle Studio, developed by Pinnacle Systems as a consumer-level software, is a powerful and creative video editing software with numerous features. And this program is compatible with Windows 10/8/8.1/7 and iOS operating systems.
Pinnacle Studio 24 is the latest version. It lets you explore the timeline and storyboard video editing, browse for hundreds of effects, titles, and new graphics, choose from massive project templates, and enjoy many other features and tools.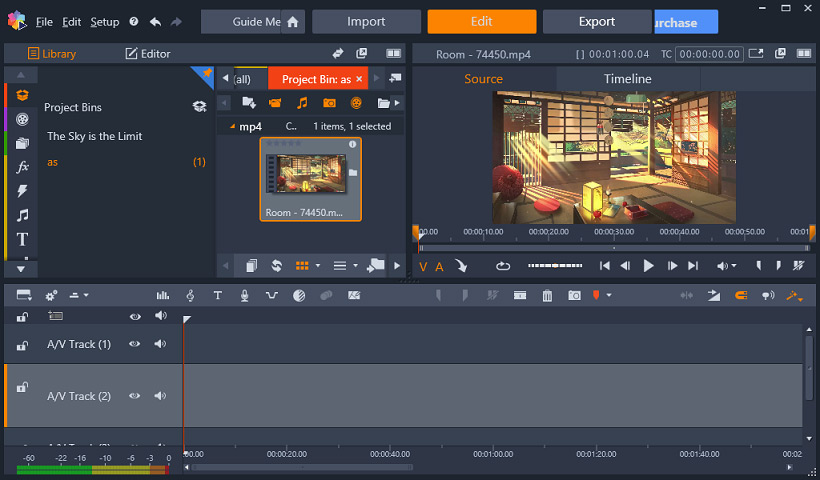 Features of Pinnacle Studio
1. Basic and Advanced Editing Tools
Pinnacle Studio is equipped with all the editing tools you need from basic tools to advanced features. It let you trim, split, crop, and rotate videos, add titles, graphics, and overlays. It also provides a library of templates, filters, and effects. And the Pinnacle Studio Ultimate has the power of color grading, color correction, LUTs, and filters.
2. Motion and Action Video Editing Tools
It can add graphics and text to the moving objects with the Motion Tracking, make fast or slow motion effects, and apply Pan and Zoom and Motion Blur effects.
3. Screen Recording and Multi-Camera Editing
Pinnacle Studio also can capture and edit videos across multiple cameras, record your screen, webcam, and system audio, record webinars, make gaming videos, and more.
4. Record and Edit Audio
With the included recording tools, Pinnacle Studio can record your narration and voiceover. And it also can fade audio in and out, apply audio filters, detach audio, mute audio. It has a sound effects library. And Pinnacle Studio Plus and Ultimate support audio ducking.
5. Supported Formats
Pinnacle Studio supports a wide range of input formats of video, audio, and image, such as AVCHD, AVI, MMOV, MP3, WAV, GIF, BMP, and more. Also, it offers many output formats, even including DVD, AVCHD, Blu-ray. Pinnacle Studio Ultimate can import MXF files and support 4K video and 360 video.
In addition to the above features, Pinnacle Studio is loaded with many other functions, such as green screen, split screen video, stop motion animation, video stabilization, lens correction, and more. Undoubtedly, Pinnacle Studio has some exclusive features like video masking, 360 video editing, keyframe effects and motion, morph transitions, paint effects, audio ducking, animated GIF output, etc.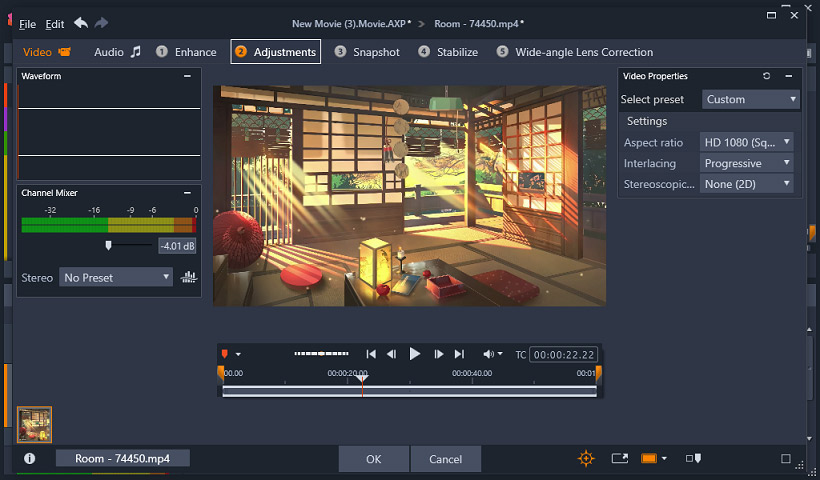 Is Pinnacle Studio Free?
Is Pinnacle Studio Free? As we mentioned before, it is developed as a consumer-level software. There's no doubt that Pinnacle Studio isn't free. It has 3 plans.
Pinnacle Studio: $49.95
Pinnacle Studio Plus: $79.95
Pinnacle Studio Ultimate: $99.95
Before considering whether to buy Pinnacle Studio, you can try the free trial version. Pinnacle Studio offers a 30-day free trial. The trial version is designed for first-time users to discover what is Pinnacle Studio. But the trial version only allows users to access a few of the key features and it is limited by formats and support.
If needed, you can select a suitable Pinnacle Studio version based on the above information. But if you want some free or cheap Pinnacle Studio alternatives, you can choose from the following Pinnacle Studio alternatives.
Top 7 Pinnacle Studio Alternatives
This part will introduce 7 Pinnacle Studio alternatives, including 5 Pinnacle Studio alternatives for video editing and 2 Pinnacle Studio alternatives for screen recording.
Pinnacle Studio Alternatives for Video Editing
#1. DaVinci Resolve
Compatibility: Windows, Mac, Linux
Pricing: Free 
DaVinci Resolve is a non-linear video editing application and a color correction program, an all-in-one software that combines video editing, color correction, visual effects, motion graphics, and audio production. Thus, it's one of the best Pinnacle Studio alternatives.
DaVinci Resolve provides various editing tools, such as 3D tools, blur tools, color tools, composite tools, effect tools, film tools., filter tools, mask tools, paint tools, warp tools, transform tools (crop, scale, resize videos, etc.), position tools, creator tools, LUT tools, Metadata tools, and more. It can create 2D and 3D titles, create a soundtrack, make picture-in-picture effects, etc.
The new release of DaVinci Resolve 17 comes with over 100 new features and 200 improvements. For example, the color page has new HDR grading tools, redesigned primary controls.
For the edit page, it also adds many new features. It lets you sync clips on the timeline and convert them to a multicamera group, make source side adjustments before editing, etc. Also, it supports motion blur on certain transitions, and more.
#2. OpenShot
Compatibility: Windows, Mac, Linux
Pricing: Free 
OpenShot is a free and open-source video editor on Windows, Mac, and Linux. If you need a free alternative to Pinnacle Studio, it's a good solution. This video editor has a simple user interface and it's easy to learn. OpenShot is also a powerful video editor, loaded with a set of editing features.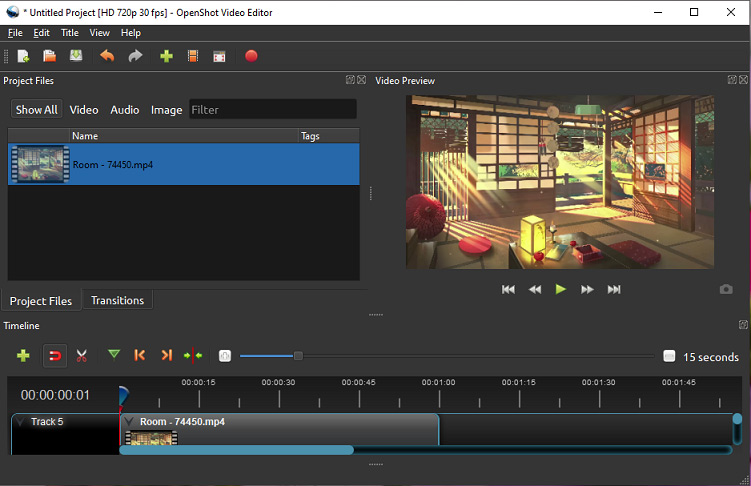 With OpenShot, you can cut a video with several methods, crop, rotate, flip, split, reverse, zoom a clip on the timeline, adjust the video playback speed, etc. It also has a powerful video effects engine that helps you to remove the background from the video, invert colors, adjust brightness, and more.
Besides, OpenShot offers more than 400 video transitions to fade one clip to another. And it has a powerful title editor that provides 40+ vector title templates and lets you edit the text font, text color, background color, etc. Thanks to the support of Blender, OpenShot can create 3D animated titles.
#3. Avidemux
Compatibility: Windows, Mac, Linux
Pricing: Free 
Avidemux is another Pinnacle Studio alternative you can try. It is a free and open-source video editor. Avidemux has the ability to crop, cut, rotate, split videos, merge video files, copy or remove portions of a video, apply video and audio filters, add subtitle and color profiles, resize and sharpen the image of a video, adjust the contrast, brightness, color, hue, and saturation of the video, extract audio streams from the video, etc. Also, it can work as a video converter.
With the built-in subtitle processing, Avidemux can recognize DVD subtitles and render hard subtitles. And the supported subtitle formats include SUB, SSA, ASS, and SRT.
Also read: How to Download Subscene Subtitles & Top 5 Subscene Alternatives
#4. Shotcut
Compatibility: Windows, Mac, Linux
Pricing: Free 
Shoucut, a free and open-source cross-platform video editor, is also one of the best Pinnacle Studio alternatives. It's one of the best free photo video maker apps that enables you to create an awesome video from multiple images.
Shotcut supports the video, audio, and image formats via FFmpeg and it lets you edit videos in the timeline. This video editor has a variety of editing features, video effects, and audio features. It can rotate, reverse, trim videos, do color correction, adjust video speed, fade in or out music, add transition or filter to the videos, change the volume of audio, apply audio filters, etc. 
Also read: OpenShot vs Shotcut: Which Video Editing Software Is Better?
#5. MiniTool MovieMaker
Compatibility: Windows
Pricing: Free
If you don't have any video editing experience and skills, MiniTool MovieMaker is the perfect Pinnacle Studio alternative for your first-time video editing.
MiniTool MovieMaker is a free and simple video editor on Windows. It's simple to use and has all the basic video editing features you need. This simple video editor can make a video from images, video clips, and background music, and it supports the most popular media formats like MP4, 3GP, MOV, BMP, PNG, MP3, and more.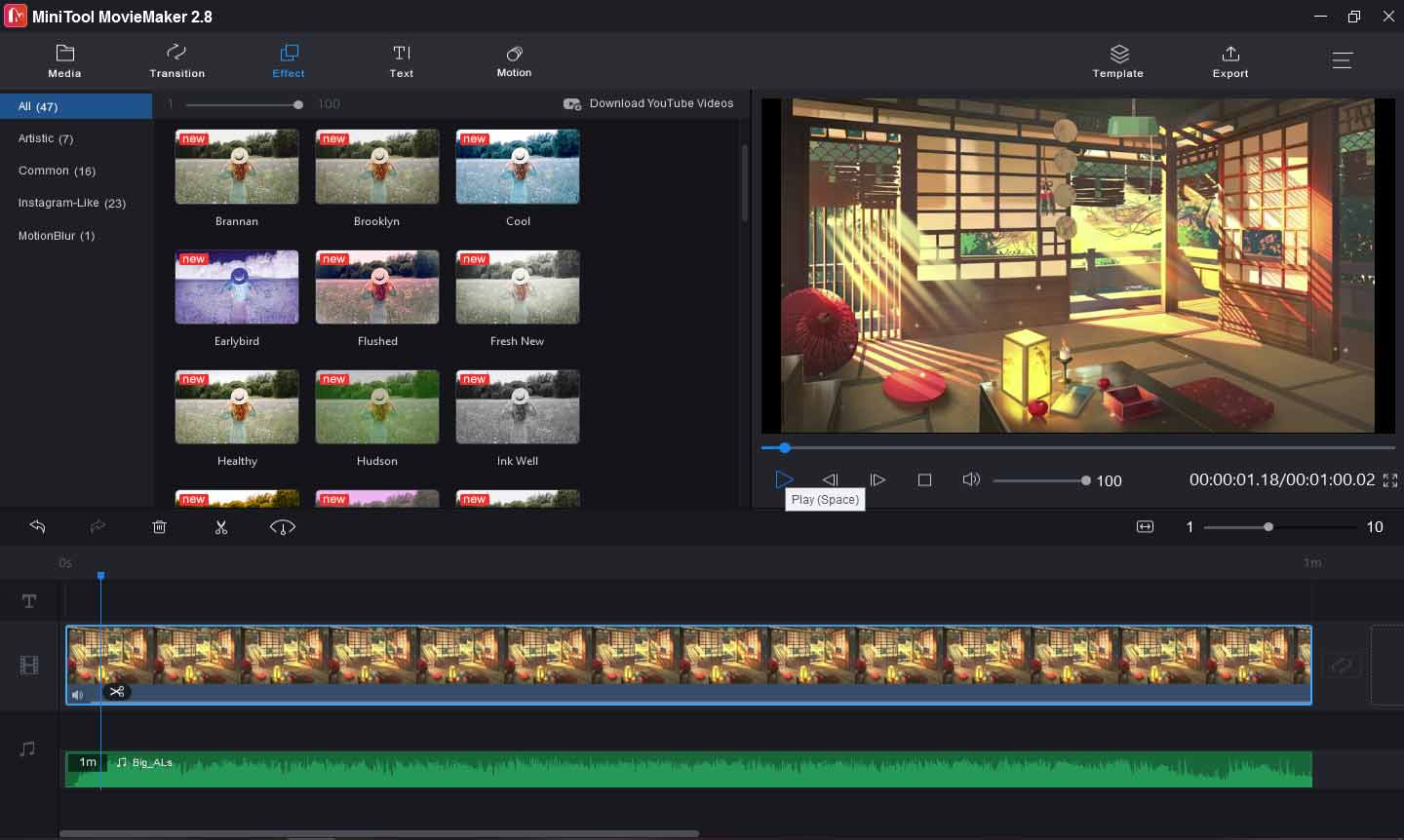 To customize your video, MiniTool MovieMaker enables you to rotate video, flip video, split video, trim video, speed up video, slow down video, reverse video, adjust the video brightness, contrast, and saturation, add music to the video. It can also remove the original music in the video. MiniTool MovieMaker offers a library of video transitions and filters.
Also, MiniTool MovieMaker offers many text templates. Thus, you can browse for your desired text template and add your own text to the video. And you're allowed to adjust the text font, color, size, position, alignment, and background color.
All in all, MiniTool MovieMaker is an easy-to-use video editor, especially for beginners. If you're a green hand in editing videos and want a free Pinnacle Studio alternative, MiniTool MovieMaker is a good choice.
Pinnacle Studio Alternatives for Screen Recording
#1. OBS Studio
Compatibility: Windows, Mac, Linux
Pricing: Free 
If you need a Pinnacle Studio alternative to record your computer screens, OBS Studio is a good choice. OBS Studio, formerly OBS Broadcaster Software, is a free and open-source recording program, used for video recording, live streaming, and online teaching. The recorded videos can be saved as FLV, MP4, MOV, MKV, TS, and M3U8.
With OBS, you can capture your screen in HD quality and record videos without a time limit. Also, it allows you to stream videos in real-time. More importantly, OBS won't add watermarks to your video. And it lets you add text or logo to the live videos. How to use the OBS screen recorder? Check this post - How to Use OBS Screen Recorder & OBS Alternative.
#2. MiniTool Video Converter
Compatibility: Windows
Pricing: Free
MiniTool Video Converter is a free audio and video converter and it can handle conversion tasks between multiple formats. And it has the screen record feature, allowing you to record all activities on your computer screen. Also, you can choose whether to record system audio or the audio from the microphone.
The recorded videos won't have watermarks. With MiniTool Screen Recorder, you can save the recorded video in MP4, WMV, MKV, AVI, MOV, FLV, TS formats. And you can convert them to other formats. Thud, MiniTool Video Converter is also a good choice of Pinnacle Studio alternative to record videos.

You may also like: How to Convert/Download/Record with MiniTool Video Converter
Conclusion
This post offers a brief introduction to Pinnacle Studio and gives 7 Pinnacle Studio alternatives. If you need an alternative to Pinnacle Studio for video editing or recording, just choose one from them.
And if you have any questions or suggestions about MiniTool MovieMaker and MiniTool Video Converter, you can contact us via [email protected] or leave them in the below comments area.