Are you looking for a great holiday video maker to create memorable holiday videos? This post from MiniTool MovieMaker will share with you some holiday video makers. Let's see it together.
You can spend your holiday in many ways. Making videos from memories that you can relive time and time again is an exciting and fun way to commemorate the best places you've been and the adventures you've had on holiday.
Holiday videos are an interesting way to share your experiences with your loved ones or boost sales. Most people now have a good camera or smartphone to record high-quality videos. However, that's not enough. What you need more are some useful tips and a good-performance holiday video maker.
Useful Tips to Make a Holiday Video
First, here are some useful holiday video tips for you to get started.
Setup your camera before the holidays
One of the most troublesome things you don't want to do is change your camera setup while you're on the holiday. This can cause a lot of unnecessary headaches throughout the process, especially if you will do the color correction.
Before you start, check which equipment is best for you and set it as the default for all modes. Avoid changing any settings during the holiday, or it will affect the footage you will get to ensure consistency.
Make the holiday video fun
When shooting video clips on your holiday, making a fun holiday video is easy. You can think about capturing what you find interesting first or prepare some jokes. In addition, you can also make it fun by adding laughing text and animations during the post-video editing process. Later on, you will make a fun holiday video, and this video content will be appreciated by its viewers greatly on social media platforms.
Don't forget to back up
If you're having a long holiday, you can prepare some spare memory cards for your camera or back up your video clips to cloud storage. Because you may undertake some adventurous projects in the air, on the water, or somewhere risky else. Or you will lose your precious holiday memories if you haven't backed up early.
Connect the footage in meaningful ways
Probably it's one of the most difficult and time-consuming parts of making holiday videos. Some holiday videos posted on social media platforms look like a bunch of clips spliced ​​together casually without any theme or story behind them. So, if you want to make the holiday video stand out from the crowd, you need to think about how could these clips be connected meaningfully.
The Best Holiday Video Makers for PC
How to make a holiday video on your PC? Now, we will share with you the best holiday video makers you can use on Windows.
MiniTool MovieMaker
The best offline holiday video maker we recommended first is MiniTool MovieMaker. It's a free holiday video maker without any watermarks, ads, or bounds.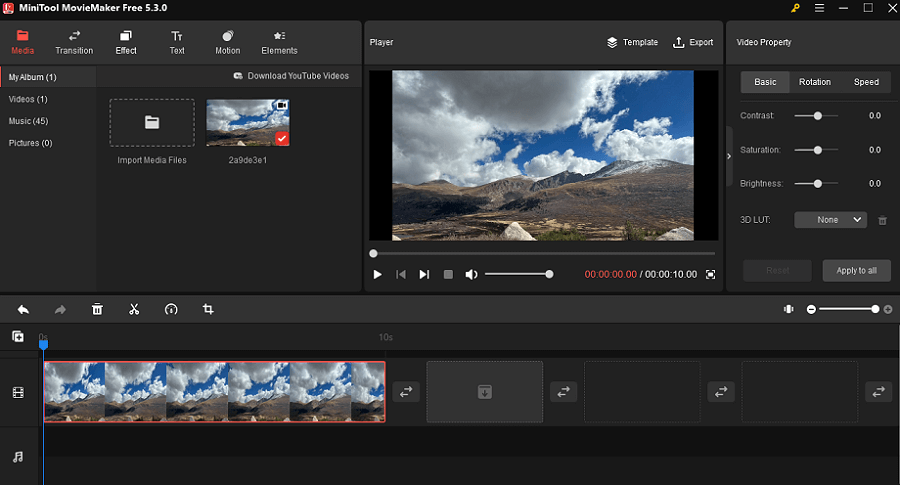 MiniTool MovieMaker is an easy-to-use and user-friendly video editor even though you are a green hand in video editing. You can use its rich features to create stunning holiday videos with filmed holiday video clips and photos.
MiniTool MovieMaker offers users templates to help them create a holiday video with only a few clicks and supports many video and photo formats.
MiniTool MovieMaker also allows you to start from scratch, you can do some basic video editing features, like trimming, splitting, cropping, flipping, reversing, and much more in the timeline.
To connect your holiday video clips more smoothly and interestingly, add transitions, filter effects, animated elements, and texts to them. Moreover, it allows you to export these videos in multiple formats.
After finishing my holiday, I created stunning holiday videos with MiniTool Moviemaker and gained many good reviews.Click to Tweet
Shotcut
Another offline free holiday video maker is Shotcut. It is an open-source, cross-platform, and non-linear video editing software. It's available on Windows, macOS, FreeBSD, and Linux. Thanks to FFmpeg, it supports multiple tracks with a timeline, which can be consisted of various video formats.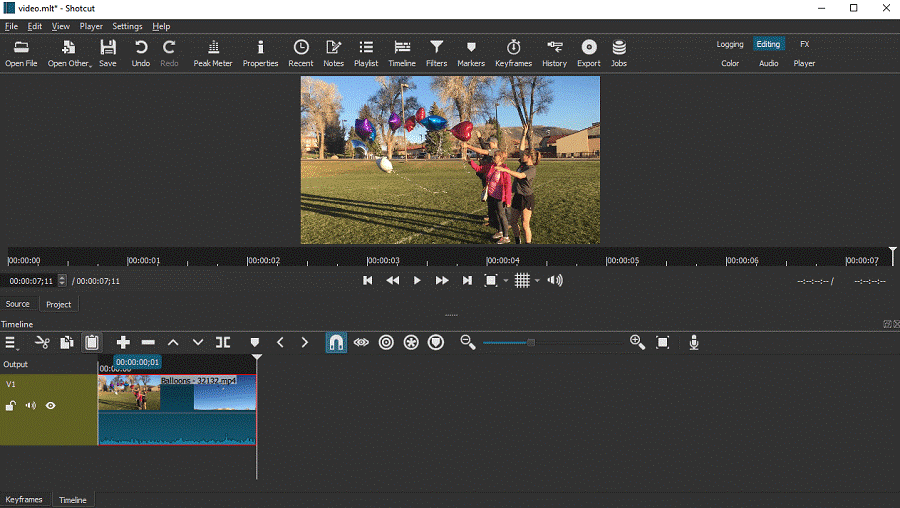 Shotcut is a multimedia editing tool with various visual and audio editing tools. You can quickly create and edit these multimedia files. With its simple and intuitive interface, you can edit holiday video clips and photos easily.
Besides, Shotcut supports multitrack timelines with thumbnails and waveforms. It also allows 4K resolutions. However, it doesn't support adding animations to the holiday video, and you can't download text animations from third-party apps.
OpenShot
OpenShot is a cross-platform and open-source video editor. It's aimed at providing a simple, stable, powerful, and feature-rich service for its users. With OpenShot, it's simple for you to do basic video editing and advanced editing to create amazing holiday videos.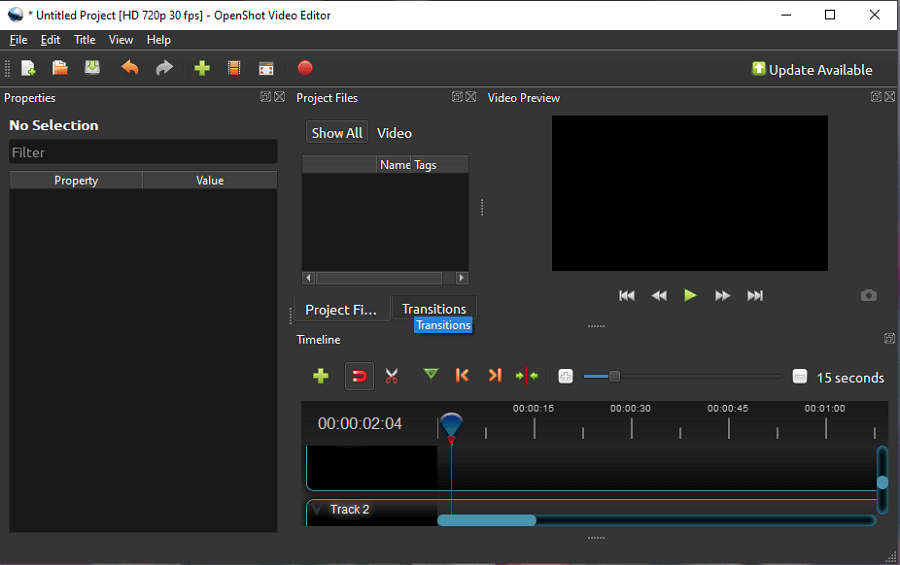 In terms of basic video editing, OpenShot supports many formats of video, audio, and image because of FFmpeg. It allows you to resize, rotate, scale, snap, cut, and trim your holiday videos. To make the holiday video more heartwarming, you can also add transitions, filter effects, and text to it.
As for advanced video editing, it supports multiple tracks, so you can add as many tracks as you need without limit. Moreover, you can fade in or out, slide, bounce, and animate in your video project with its powerful animation framework.
More importantly, you can add 3D animated titles and filter effects, display audio waveforms on its advanced timeline, separate the audio from your video clip, and much more.
You can also read: How to Use OpenShot Video Editor & Its Alternatives.
The Best Online Holiday Video Makers
In this section, we will take you to explore together how to make a holiday video with online video-making tools.
Wideo
Wideo is an online video creation platform. With Wideo, it's easy for users to create, edit and share online videos. Wideo has tons of video templates for holidays, like New Year, Christmas, and more, so that you can create high-quality videos without spending any extra time.
You can import images, backgrounds, videos, animation effects, and music to create your holiday videos faster. You can also add images to your holiday videos using Google search, which has integrated with Wideo editor.
After editing, your holiday videos will have a professional look in minutes. Then, download the holiday videos as MP4 files and share them on multiple social media platforms, or share holiday videos to your YouTube directly in Wideo.
FlexClip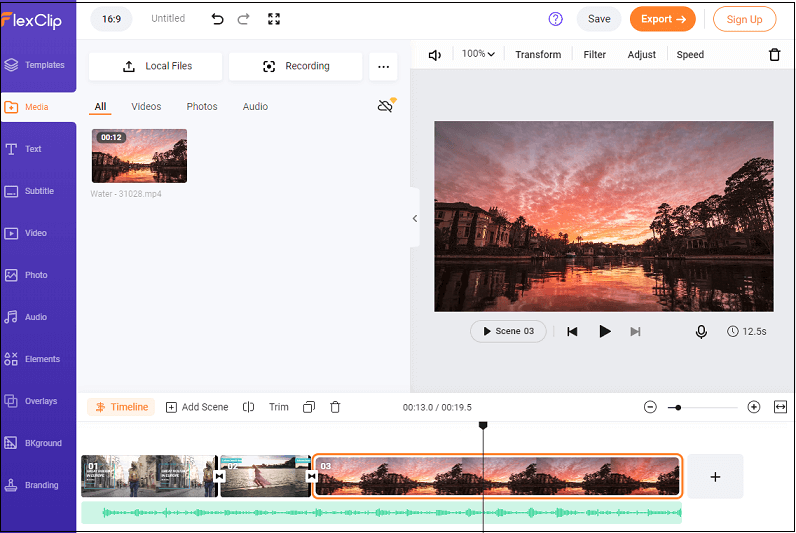 The next online holiday video maker we recommended here is FlexClip. FlexClip is a simple yet powerful video maker that lets you create stunning videos after a while. With FlexClip, you can create, edit, convert, and compress holiday videos online.
It is very friendly for beginners as it has a simple interface that makes it easy and fast for everyone to create holiday videos. What's more, you can access millions of media resources, such as video clips, photos, animated elements, and music. Then, use them to optimize your holiday videos.
Placeit
Placeit is a cloud-based platform that helps users of all business sizes create different brand assets such as logos, videos, banners, social media posts, flyers, mockups, and more. As for its holiday video maker, Placeit offers various features, such as drag and drop interface, and multiple file formats support.
Placeit is a nice holiday video maker with endless graphics and stock images for you to choose from. Moreover, you could explore its vast audio library and choose the track that suits the holiday video best. Your holiday videos will be looked better.
Animoto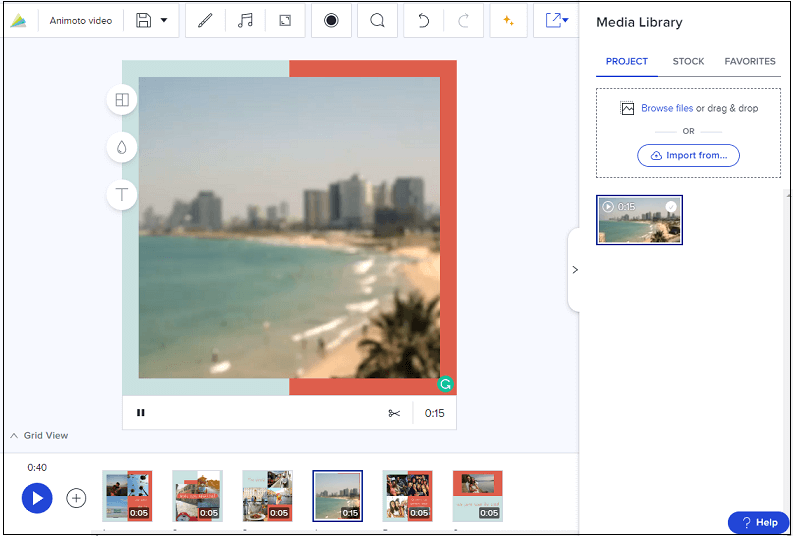 Animoto is an easy-to-use holiday video maker with which you can create a holiday video in minutes. Animoto has a wide range of video templates, like holidays, celebrations, education, tutorials, real estate, and more. It allows you to apply its growing library of licensed music.
You just choose a holiday video template, upload your holiday video clips to Animoto, and customize the holiday video by changing the layout and color, adding text, and many more. In addition, it allows you to apply its growing library of licensed music.
Animoto lets you create unlimited videos no matter the free version or paid version. If you use the free version, you'll find that there exists an Animoto brand when you export your holiday videos. To eliminate it, you need to subscribe to Animoto.
Holiday Video Maker Apps for Mobile
For some people, it may be inconvenient to make a holiday video on a computer.  So, they tend to create holiday videos on their phones. Next, we will talk about some holiday video-making applications for mobile users.
Magisto
The holiday video maker app I'd like to share first is Magisto. Magisto is a nice application for making holiday videos based on artificial intelligence. With Magisto video editor on your phone, you can create an amazing holiday video in minutes by uploading holiday videos and images.
Magisto allows you to create holiday videos with video templates, fonts, styles, footage, colors, titles, music, and other elements. It will also help you do video editing, audio analysis, post-production, and more. Besides, it allows you to take advantage of the built-in music library to add tracks with video clips.
Finally, you can download, embed, and share the created holiday videos on some business websites, YouTube, email, and other social media platforms.
InShot
InShot is a powerful and all-in-one holiday video maker app for iOS and Android with professional features. It's an ideal video editing tool for social media content creators. Because it has pre-made video templates for various social media channels including YouTube, TikTok, Facebook, and Instagram.
As we mentioned before, InShot is an all-in-one video editor, almost everything you want to do with holiday video can be done in this app. The interface of the InShot app is minimalist to get started, and the options are obvious. Then, you can upload your holiday video and photo files, apply its effects, filters, and stickers to the video, trim or split it, and much more.
Adobe Premiere Rush
Adobe Premiere Rush is a reliable holiday video creation tool that can be used to capture, edit, and share professional-looking holiday videos quickly. You can use Premiere Rush for several video project types from your smartphone.
With its simple and intuitive set of video editing tools and built-in tutorials, this all-in-one app makes it easier to get started making your holiday videos right away. You can shoot holiday videos on your mobile device, then combine clips together, add transitions and other effects to the video, and post the finished holiday video directly to social networks at last.
iMovie
iMovie was released initially in 1999 by Apple Inc. It is a simplified holiday video editing application that you can use to edit videos, music, and graphics. For users who have no video editing experience and skills, you can still create your holiday videos fast.
Similar to many other Apple products, iMovie keeps a simple and intuitive interface. You can do all the basic editing features with iMovie, like cutting, splitting, cropping, applying transitions, adding text, etc. Differently, iMovie also supports advanced video editing. By using it, you can do a green screen, color adjustment, background noise reduction, slow motion, and much more.
Bottom Line
As a holiday video is a great way to keep unforgettable holiday memories and share this experience with your friends and families, it's necessary for you to choose a holiday video maker.
We have given you some useful tips to make a holiday video. Most importantly, we have talked about the best holiday video makers for Windows users and mobile users. No matter which holiday video maker you choose, you can create memorable holiday videos easily.
If you have any questions while you use MiniTool MovieMaker, please contact us via [email protected].