Facebook is the most popular digital advertising platform. How to make compelling video ads to reach potential customers? This post gathers the 10 best free Facebook video editors (including MiniTool MovieMaker) for making and editing Facebook videos.
A good video editor is crucial to making an effective video ad. It's helpful to market your product and attract more customers. There are many easy-to-use Facebook video editors that can make your product stand out from the competition.
This post provides you with the 10 best video editors for Facebook video ads. Before that, it is necessary to know Facebook video specs.
Everything You Need to Know About Facebook Video Specs
There are various types of videos you can post on Facebook. Here are the most common Facebook video types and their specifications.
Type

Resolution

Recommended Aspect Ratio

Format

Maximum Video Size

Maximum Video Length

Facebook feed video

1080 x 1080 px

1:1, 4:5

MP4, MOV, or GIF

4 GB

241 minutes

Facebook stories

1080 x 1920 px

9:16

MP4, MOV, JPG, or PNG

4 GB

20 seconds

Facebook 360 video

Monoscopic: 5120 x 2560 px

Stereoscopic: 5120 x 5120 px

1:1, 2:1

MP4, or MOV

10 GB

30 minutes

Facebook Carousel video ads

1080 x 1080 px

1:1

MP4, or MOV

4 GB

240 minutes

Facebook collection video ads

1080 x 1080 px

1:1

MP4, or MOV

4 GB

120 minutes

Facebook in-stream video ads

1080 x 1080 px

16:9, 1:1

MP4, MOV, or GIF

4 GB

10 minutes
Facebook Video Editors for Windows and Mac
Desktop video editors usually offer more editing options than Android & iOS video editing apps and online video editors. It's best for creating long-form video content.
#1. MiniTool MovieMaker
The simple and intuitive user interface of MiniTool MovieMaker makes it the ideal choice for beginners. It supports importing videos, audio files, photos, and GIFs and offers you a set of tools for video editing. You can do some simple edits like splitting, trimming, merging, and make advanced edits including reversing, color correction, zooming, etc.
MiniTool MovieMaker is an outstanding Facebook video maker for Windows. It has lots of animated stickers, filters, motion effects, transitions, animated texts, and free background music that you can use in the video.
Price: Free
Features:
Easy to use
Support a wide range of video, audio, and image formats
Speed up video up to 50X
Create video project files
Support drag and drop
Fast export speed
How to Make a Video for Facebook using MiniTool MovieMaker
Step 1. Download MiniTool MovieMaker and install it on your PC. After installing the program, run it.
Step 2. Click X to close the popup window, or click New Project to create a project. Click Import Media Files and add the video clips to the Media library.
Step 3. Drag and drop the video files to the timeline and edit the clips.
Trim and split: Move the playhead to the target place and click the scissor icon to split the video. Then delete the unwanted part. To trim the video, you can move its start or end point to the center of the video.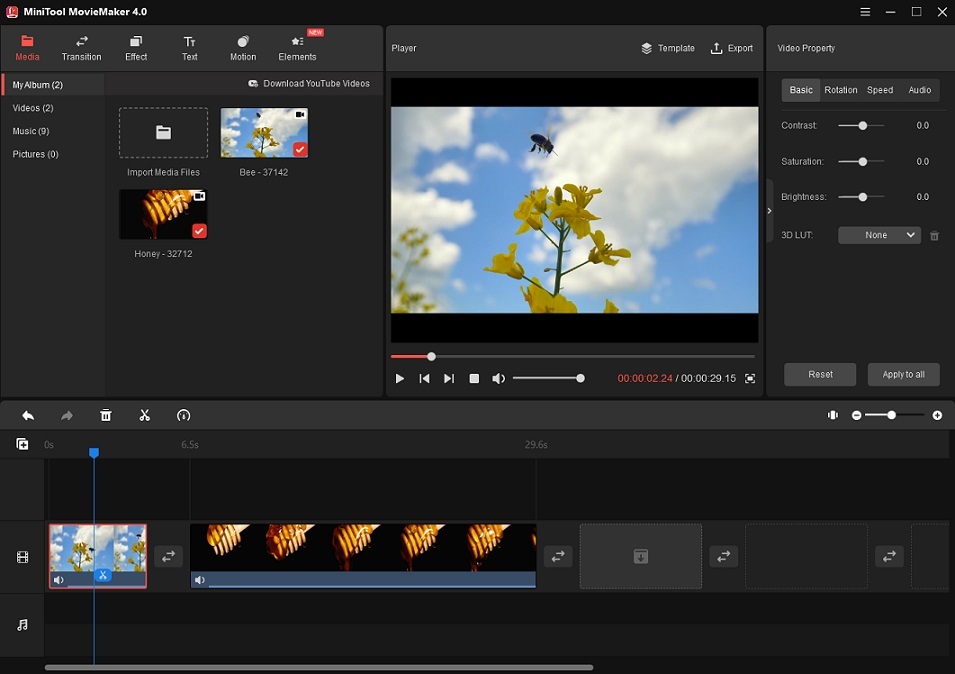 Apply effects & transitions: Click on Transition/Effect and select the right transition/effect for the clips. Click the + to apply the transition/effect to the clips.
Add motion effects: You can apply zoom in effects to highlight important parts of your videos. Tap Motion > Zoom in and add the desired zoom in effects.
Change video speed: Select the video on the timeline that you want to speed up or slow down. Click the Speed icon, choose Slow/Fast, and select a speed option.
Add text: Open the Text library and add the text you like to the clip. Enter the text and adjust its position, size, color, or font type.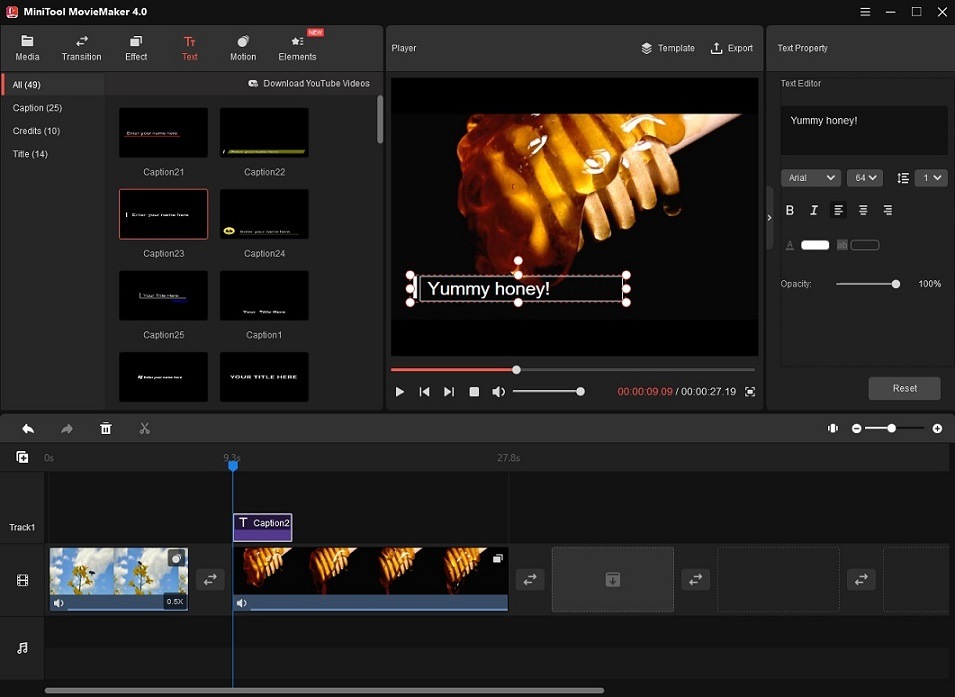 Add stickers: MiniTool MovieMaker offers some cute animated stickers and call-to-action stickers you can use in your video ads. Click Elements, download the sticker you want, and click the +. Then you can rotate the sticker at any angle and resize it.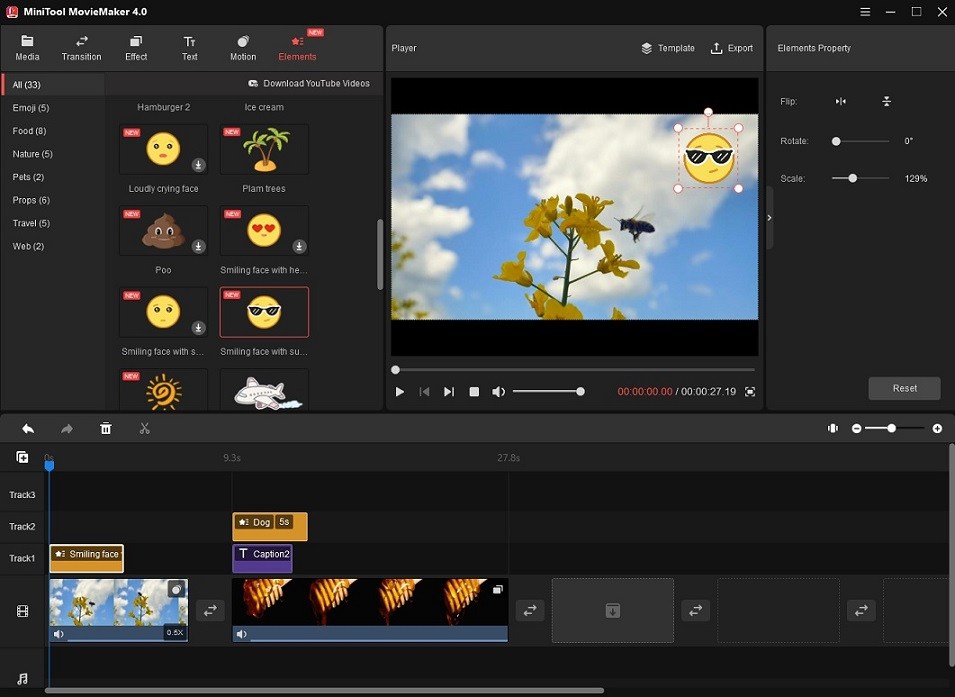 Add music: Import the audio track and add it to the timeline. Then MiniTool MovieMaker will automatically adjust the duration of an audio track to match the video length.
Step 4. Click the Export button. In the Export window, edit the file name, change the video format, choose a destination folder, and adjust the video resolution if needed. After that, export the video.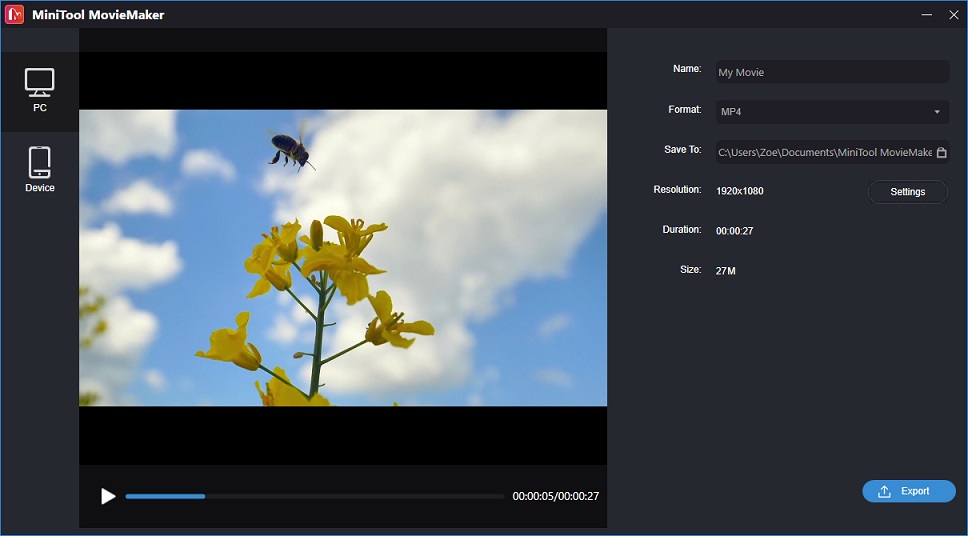 #2. iMovie
iMovie is a free video editor for Facebook developed by Apple Inc. You can make a Facebook ad video with 20 pre-made video templates and change its appearance with 13 video filters.
There are over 100 soundtracks to choose from and each audio track will be automatically adjusted to fit the duration of the video. It has sound effects and the voiceover feature. If you are not satisfied with the video sound, you can mute the video and record a voiceover or upload the audio track.
This video editor comes with some special effects like picture-in-picture, split-screen and green screen effects. The picture-in-picture effect lets you place a video on top of another video. The split-screen effect can display two or more videos in one frame. The green screen effect can replace the green background of a video with a virtual background.
The greatest advantage of iMovie is that it lets you edit videos across iPhone, iPad, and Mac.
Price: Free
Features:
4K video output
Offer 20 storyboards
Create videos in a few steps with Magic Movie
Support Multi-Touch gestures
#3. OpenShot
OpenShot is a free and open-source Facebook video editor for Windows, Mac OS X, and Linux. It's equipped with powerful video editing features that fully meet the majority of users' needs. The minimal design makes it easy to learn and use for those who don't have any experience in video editing.
This video editor can handle complex editing tasks like motion tracking, keyframe animation, etc., and do simple edits like trimming, snapping, cutting, rotating, scaling, resizing, and so on.
Besides, OpenShot offers a bunch of title templates, 3D animated titles & effects, audio effects, and digital video effects that you can use to enhance your video.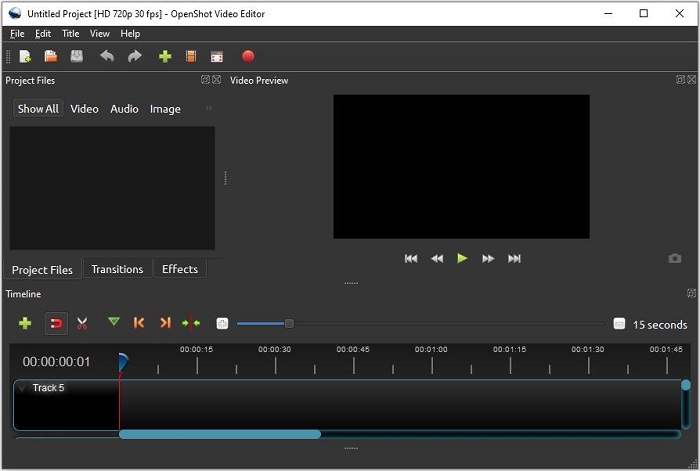 Price: Free
Features:
Create as many layers as you need
Support real-time preview
Support Keyframe animation
Provide digital video effects including greenscreen, bluescreen, gamma, hue, etc.
3D video editing
Support most common video, audio, and image formats
Facebook Video Editors for Android and iOS
There are some recorded videos on your phone that you need to post on Facebook after editing them. To edit videos on a mobile phone, you can try the following Facebook video editors.
#4. InShot
InShot is a free video editing app designed to make and edit videos. It supports different aspect ratios including 1:1, 9:16, 16:9, 4:3, and 21:9, which is suited to creating social media videos. You can easily split a video into serval clips, combine multiple videos into one, blend videos, remove video background, create a photo slideshow, make video collages, and more. It's a nice Android and iOS video editor for Facebook.
This app can also function as a photo editor used to retouch photos and create photo collages.
Price: Free, Pro: $3.99 per month, $14.99 per year, one-time purchase: $34.99
Features:
Apply movie style video filters and glitch effect
Many animated stickers, emojis, fonts are available to use
Offer free music and sound effects
Support Chroma key
#5. KineMaster
This is a Facebook video maker available for both Android and iOS devices. It has a rich set of built-in functions such as blending modes, reverse, chroma key, speed controller, and voiceover. You can add up to 9 layers at a time, create videos from different aspect ratios, and decorate videos with cool effects and stickers.
The free version will put a watermark on your output video.

Price: Free, Pro: $4.99 per month, $39.99 per year
Features:
Apply blending modes
Color correction
4K export
Share videos on Facebook, Instagram, TikTok, and more
#6. Splice
Splice works on Android and iOS. It's a handy Facebook video maker that can create a video from multiple clips anywhere. You can use the built-in music library of 6,000+ free songs if you cannot find suitable music on your device.
Splice video editor includes all the necessary tools needed to create and edit videos.
Price: Free, Pro: $9.99 per month, $69.99 per year
Features:
Trim, split, and crop videos
Remove background from video
Add transitions, filters, text overlays, title slides, outros
Choose from thousands of royalty-free audio tracks
Online Facebook Video Editors
Here are the 4 best online video editors for Facebook ads.
#7. Clipchamp
Clipchamp is the most popular online Facebook video editor with all the needed editing features. It lets you access millions of royalty-free stock assets including videos, songs, and sound effects. You can also turn text into speech in 70 languages.
Some functions are only for Pro users.
Price: Free, Creator: $9 per month, Business: $19 per month, Business Platinum: $39 per month
Features:
All basic editing tools
Record your screen and webcam
Video templates
Free stock videos, audio files, and images
Free export 1080p videos
#8. Animaker
It's the best video editor for Facebook ads offering more than 100M+ stock videos and 1,000 video templates. You can use it to create custom characters for videos and bring characters to life with over 20 facial expressions. It also supports auto lip-sync.
Price: Free, Basic: $10 per month, Starter: $19 per month, $49 per month.
Features:
Character builder
Free music tracks
Lip sync
Team collaboration
#9. Canva
Canva is a graphic design platform and a Facebook ad video maker. You can create Facebook video ads with many video templates, elements, and royalty-free stock videos, and download them in MP4, GIF, JPG, PNG, or PDF. In addition to Facebook video ads, Canva can create YouTube video ads, LinkedIn video ads, TikTok videos, slideshow videos, and more.

Price: Free, Pro: $12.99 per month, $119.99 per year
Features:
Make designs using templates
Capture videos
Create social media videos
Animated text
Resize videos
Video transitions
To learn more about how to use Canva to create a video, see this post: How to Make a Video in Canva.
#10. Wave.video
Wave.video enables you to create videos for social media platforms such as Facebook, Instagram, and YouTube. It can be used to edit videos, go live, make thumbnails, etc.
Price: Free, Streamer: $16 per month, Creator: $24 per month, Business: $48 per month
Features:
Video editing
Over 2M assets and templates
Live streaming
Screen recording
Automatic captions
Text to speech
Conclusion
Now, you can choose a suitable Facebook video editor and create an appealing Facebook video ad to market your product!
If you have any suggestions about this post, you can contact us via [email protected] or leave a comment below!