Video is a powerful marketing tool. Whether it's explaining your company/product or something like a user guide, nothing is better than an animated video. How to make animated videos? Check out this guide to discover everything in making a great animated video.
Animated videos can easily attract the attention of online video viewers and convey information or complex ideas in the simplest way with their eye-catching visual effects, interesting themes, and actions that go against reality. Animated videos can help companies easily brand and market their products.
Most importantly, digital animation videos are affordable for companies and individuals. All you need to do is to find a suitable animation tool, such as MiniTool MovieMaker, and convey your message to the audience.
How to make animated videos? In this article, we're going to introduce the main points you need to know about animated videos and guide you through the process of making an animated video from scratch.
Common Types of Animated Videos
# Animated Marketing Videos
Animated videos are particularly convenient for achieving marketing goals and are very suitable for conveying simple messages. With animated marketing videos, you can introduce your new product or service in a fun and engaging way.
# Animated Infographic videos
One way to make the most of written content is to repurpose it as a video. Just add animations and transitions to turn your infographics into an animated video, and this would save you plenty of time to work on other stuff.
# Animated Video Intros
Most professional YouTube channels will have their own custom animated video intros before each video starts playing. Creating a personalized intro can help you brand all video content to create consistency, which can save a lot of time in the long run.
# Educational Videos
Most educational videos are published by non-profit organizations. Since the core purpose of educational videos is to improve the awareness of the audience, the visual effects must be kept simple so as not to interfere with the output of key information.
# Explainer Videos
Explainer videos are the basis for any product or service release. They are very useful for recruiting new customers or introducing product updates. The key to explainer videos is to keep them as short as possible because the audience is not looking for a documentary of your product or service.
How to Make Animated Videos?
Step 1. Write your script
Just as the blueprint of a building is the basis for its construction, so is the script of an animated video. Before making a video, you should determine what will appear in the video.
If you only post videos on YouTube, you should write some YouTube specific content into a script. If the main purpose of your video is to be the appearance of the homepage, then you will want to focus on the essence of the product or service-its use, function, and purpose.
In any case, you should spend time at this stage because powerful scripts can make the video creation process faster and easier and help you make more effective videos.
Step 2. Choose a powerful animated video maker
After writing the script, you need to choose a video creation software. Interface and ease of use are very important. Also consider other resources it provides, such as material libraries (pictures, text, logos, templates, and audio files (background music and sound effects).
If you want to make excellent animation videos, you need to choose a powerful animation production tool that suits your device. Online animated video maker enables you to easily create videos in the browser, while desktop software is more stable.
Step 3. Choose a template for your animated video
Not everyone has time to create animated videos from scratch. Therefore, most animation video makers provide a series of animation templates, which you can completely customize for your purposes.
Browse through the broad set of professional animated video templates to pick the one that fits your needs best. If you don't have to find the pre-designed template you want, you can start with a blank canvas and build the scene the way you like.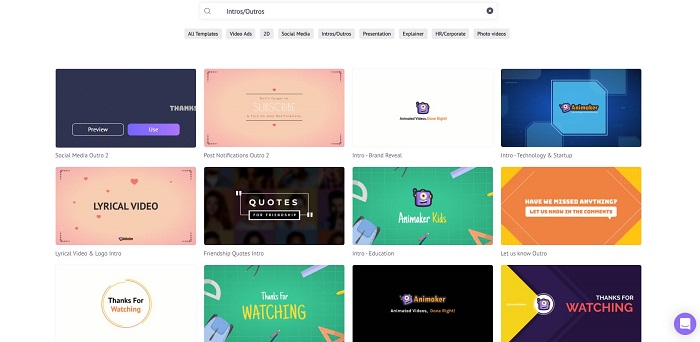 Step 4. Customize your animated video
Now that you have found the right template, it is time to customize it and make it your template. Choose the clips you want, place them in the proper locations, and modify their content to suit your story.
You can change anything you want in these clips: color, illustration, text, sound, size, time, animation effects. Combine the scene with your brand style and create an animation that shows its essence.
Step 5. Add background music or voice-over
Add background music to your animated video can greatly increase the attention of your audience and even set the tone of the video.
To do that, you can pick from hundreds of tracks available in the animated video makers, or upload your own music or voiceover. It is recommended to select a few music tracks, apply them one-by-one to your video, and see which suits your video the most.
Note: Make sure that you are using royalty-free or uncopyrighted music.
Step 6. Download, publish and share your animated video
After finishing all editing, preview the entire animated video. Once you are satisfied with the final video, it's time to show the video to the audience. You can download it to your device to use it at any time, or you can share it on YouTube, Vimeo, Facebook, or other social platforms.
Recommended Animated Video Makers
If you're aiming to make a great animated video, you might need a powerful animated video maker.
Here are the 9 best animation software that you can try.
Wideo
Wideo is an online platform dedicated to creating professional animation videos and presentations. Using this site, you can get more than 80 ready-to-edit video templates for business, or build them from scratch to suit your business needs.
All projects created in Wideo can be downloaded in MP4 format or shared on social media such as Facebook and YouTube. However, the free trial period is 7 days and the projects you created cannot be downloaded during the trial period.
Powtoon
Powtoon is another web-based platform that gives users the freedom to create professional and fully customized animated presentations and animated explainer videos. The page with tutorials is handy for beginners and experienced users as well.
It has a huge library of animated characters, templates, video backgrounds, and soundtracks to cover different goals. In addition, it provides users with a free version, which is extremely limited. The length of the video could be only 3-minute long, a branding watermark is included, and storage is only 100 MB.
Moovly
Moovly is a cloud-based platform that enables users to create animated videos, video presentations, animated infographics, and any other video content that includes a mix of animation and motion graphics.
Besides, the service offers royalty-free illustrations, photos, footage, music, and sounds. There is a free trial available for 30 days. However, during the period, you can make a video only to 3-minute long.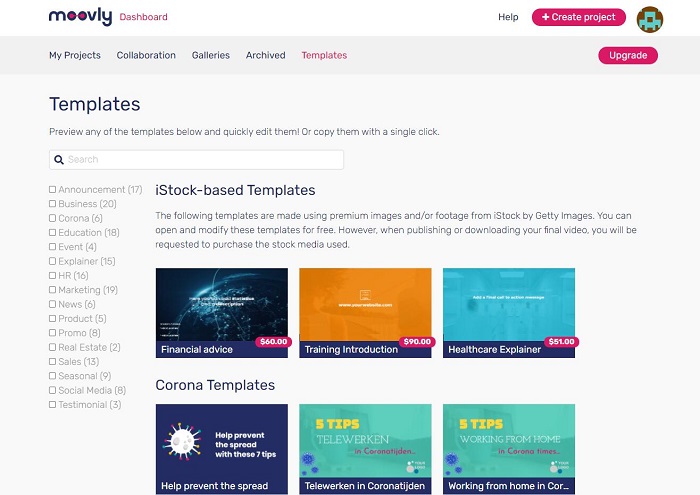 Renderforest
Renderforest provides you with the best online tools to create high-quality videos, logos, mockups, and websites with minimal time and effort. And all tools on the platform are intuitive and easy to understand even for first-time users.
The site provides 300 templates and frames, as well as numerous sound effects, music tracks, and graphics. Regardless of your video editing experience, you can create animated videos from education to launching promotional animations within minutes. However, the free version watermarks on everything.
Biteable
Biteable is a very popular online animation tool, very suitable for making explainer, educational, training, and promotional videos. With a huge audio and video database, Biteable can be used for any purpose.
To help you make great animated videos, Biteable comes with a complete ready-to-use template. The site also has many other features so that you can add text, sound effects, music, graphics, GIF, or images.
Animaker
Animaker is a platform that helps beginners, non-designers, and professionals create animations, with easy drag and drop features and an intuitive interface. The animation software comes with a large library of templates and pre-animated elements, including illustrations, characters, and gestures.
Audio features include text-to-speech, options for adding background music and sound effects, and voice over. You can choose from Animaker's sound library, or upload your own music. No matter what occasion, you can create your animated videos in just 5 mins.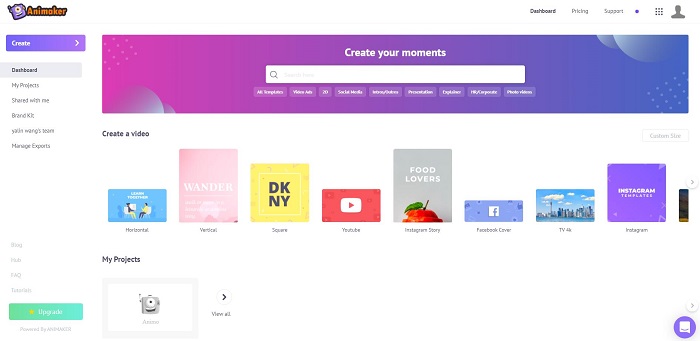 Animatron
Animatron is also an easy-to-use and powerful online animation tool that allows users to create beautiful animations and videos directly in the browser. The platform also allows you to adjust the video size to fit all social media.
Animatron provides an impressive template library – 200 million video and audio clips. If you have footage, the program allows you to upload them in a paid version. However, in the free version, you can only make five videos per month, and the video length is limited to 3 minutes.
Vyond
As an excellent online animation program, Vyond makes it easy for you to create professional animated videos for marketing, training, and e-learning in all industries. With it, you can create professional, branded animated videos fast with free templates.
Vyond is so popular and has a real advantage because it suits a variety of audiences. Small and medium enterprises, people working in the education system, or tech giants can all find the right tools to convert universal content into dynamic results in minutes.
MiniTool MovieMaker
Apart from using the above-mentioned online tools to create eye-catching animated videos, you could also use MiniTool MovieMaker.
MiniTool MovieMaker is a 100% free animated video maker with no watermarks that offers a variety of cool templates, movie credits, texts, transitions, effects, and motions for you to personalize your video.
This freeware also lets you import audio or voiceover files to make your videos complete and its color correction tool will raise your animated video to a new level.
Free download it on Windows to have a try!
MiniTool MovieMakerClick to Download100%Clean & Safe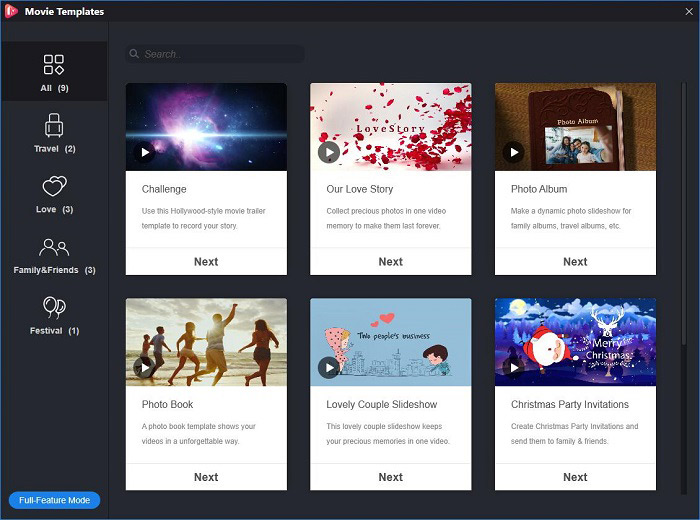 Bottom Line
How to make animated videos? Just choose your preferred animated video maker and follow the guide above! If you have any questions or suggestions about it, please let us know via [email protected] or share them in the comments section below.
How to Make Animated Videos FAQ
Is Animaker free to use?
Animaker offers free and paid versions. The free version supports only 5 downloads with watermarks per month, while the paid version supports downloading watermark-free videos, but the price starts at $10 per month.
Where can I animate online for free?
There are many free online animation websites, such as Wideo, Moovly, Powtoon, Renderforest, Biteable, Animatron, Animaker, Vyond, etc. However, when you choose a free trial, most of them have limitations.
How do I make an animated video for free?
Select a free animated video maker.
Choose a suitable template to get started.
Customize your animated video.
Add background music or voice-over.
Download, publish, and share your animated video.
How do you make a YouTube video for free?
Run MiniTool MovieMaker on your Windows.
Select a cool template or start from scratch.
Upload your photos, video clips, and music tracks.
Add transitions, effects, as well as motions if needed.
Download the video and upload it to your YouTube channel.