AVI format is one of the most popular video formats. How to play AVI files? This post offers you 10 AVI players and lists their key features in detail. All these AVI players can help you play AVI files without any quality loss.
Unlike MP4, not all media players support AVI format. To solve this, we will introduce 10 AVI players for Windows, Mac, Android and iPhone. Also, this post will show you how to convert AVI to other formats with MiniTool software – MiniTool MovieMaker.
Here's a List of 10 Best AVI Players
MiniTool MovieMaker
RealPlayer
PotPlayer
VLC Player
Elmedia Player
JustPlay
MX Player
BS Player
KM Player
OPlayer Lite
Best AVI Players for Windows
MiniTool MovieMaker
MiniTool MovieMaker is not just a video editor, but a media player. It can play the most popular formats like AVI, MP4, WMV, MKV, F4V, VOB, MOV, GIF, etc. By using this software, you can add music to video, apply effects to video, add titles to video, flip video, add text to GIF and delete the original audio from video.
When playing an AVI video you can watch it frame by frame to find the details you have not noticed. Of course, this free AVI player allows you to watch the video in full screen. Besides, wonderful moments can be saved on your computer by using the split feature.
After playing the AVI file, this video can be converted to MP4 and other formats, or exported in different devices such as Android, iPhone, Xbox one and more.
MiniTool MovieMakerClick to Download100%Clean & Safe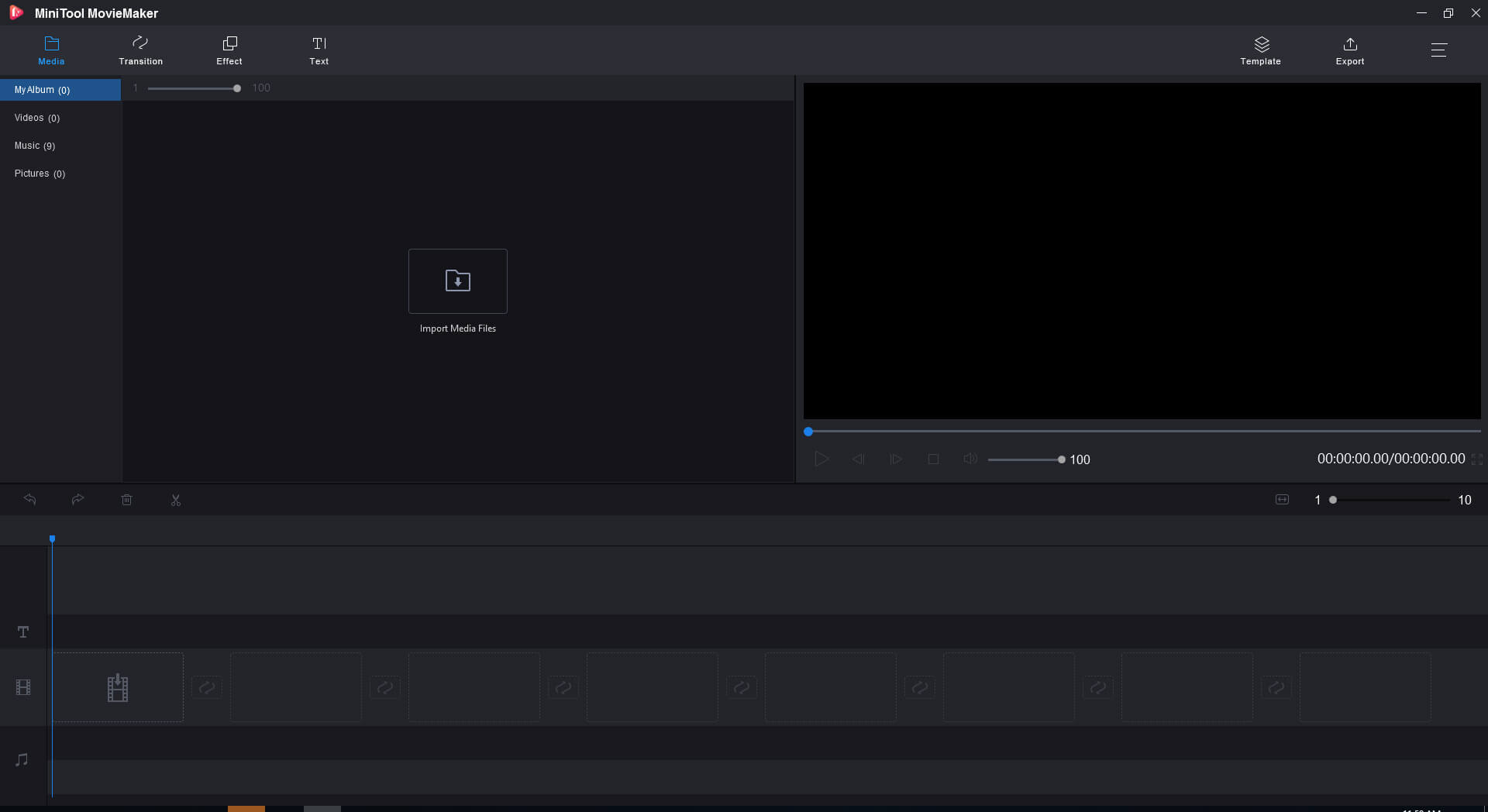 Key Features
Free to use, no watermarks, no bundles and no ads.
Support a wide variety of formats.
Offer plenty of effects, titles, captions and transitions.
Provide cool movie templates.
Come with basic editing features.
Export videos in popular formats.
Minitool MovieMaker is the best AVI player that I've ever used! Try it now!Click to Tweet
RealPlayer
RealPlayer, developed by RealNetworks, is a cross-platform AVI player for Windows. It's compatible with multiple formats such as AVI, MP4, MPEG, WMV, MOV, SWF, FLV, MP3, WAV, etc. To get a better view experience, you can use it to stream your AVI videos on a bigger screen.
Apart from that, it allows for downloading videos from video streaming sites including YouTube.
Related article: Here Are Top 5 Google Chrome Video Downloaders.
Key Features
Support numerous formats.
Stream your videos to TV.
Allow for downloading online videos.
Support converting videos.
Allow for burning Music CD and Hi-Def video.
Back up and store AVI videos in the Cloud.
PotPlayer
PotPlayer is an AVI video player for Windows. It plays AVI file smoothly as well as other formats (MKV, WMV, MP4, FLV, MP3, WAV, AAC, etc.). Then you can enjoy your movies without worrying about compatibility problems.
This AVI file player features with needed playback options, volume controller and preview panel. More importantly, it supports 3D glasses, so you can get the immersive viewing experience.
Key Features
Support a variety of codecs.
Support different subtitles formats such as SRT, SMI, Vobsub, blue-ray subtitles and ASS.
Preview the scene.
Mark the memorable moment or your favorite scene.
Support DVD, TV and HDTV.
Best AVI Players for Mac
VLC Media Player
VLC Media Player is a cross-platform multimedia player and it's also the best AVI player for Mac. You can use it play AVI files as well as DVDs. When you watch videos, you can adjust playback speed, take screenshots and convert the video file.
If you are not satisfied with the skin of the player, you can customize it with VLC skin editor. This AVI player is completely free and has no ads, no spyware.
Key Features
Support all formats including AVI, WMV, WebM, MKV, MP4, MP3, OGG and more.
Allow for streaming online videos and downloading web videos.
Works on all platforms.
Record your favorite video clips.
Play videos with external subtitles.
Elmedia Player
Elmedia Player is a multifunctional AVI video player. You can play videos in AVI, MP4, MOV, MKV, FLV, M4V, MP3, FLAC and so on. Elmedia Player allows you to adjust playback speed, loop video, bookmark your favorite parts of a video. Whenever you listen to music or watch video, you can arrange them in your preferred order by creating a playlist.
On top of that, this AVI player streams videos from your computer to Smart TV or AirPlay devices.
Key Features
Play videos in different formats.
Feature with full-screen mode and convenient video & audio playback.
Allow you to stream videos from Mac to Smart TV.
Support DLNA technology and Chromecast.
Support 4K resolution.
Allow for watching videos from YouTube, Dailymotion and Vimeo with no ads.
JustPlay
JustPlay is a small but versatile media player. All popular formats are supported by this player, such as AVI, MP4, MOV, SWF, FLAC, M4V, Blu-ray and more. No need to install additional codecs, it still plays 4K and 8K videos smoothly.
It allows you to adjust saturation, brightness, contrast and sharpness of the video. Not matter what size your video is, this AVI file player can fit the player window to the video size.
Key Features
Commonly used formats are supported.
Allow for playback speed adjustment.
Support previewing the video frames. You may like: 2 Ways to Play and Watch YouTube Frame by Frame.
Choose video quality when playing flash files.
Support changing the font, size, color of subtitles and choosing the preferred language.
Best AVI Players for Android
MX Player
MX Player is an Android AVI player with subtitle support. Videos can be played easily because of hardware acceleration and multi-core decoding. You can move to next text or previous while watch AVI videos with subtitles. Also, changing the size of subtitles is OK.
There is a useful feature that some AVI players don't have, this tool lets you share music, video, files without mobile data usage.
Key Features
Support mostly all types of formats.
Support multi-core decoding.
Support subtitles formats including DVD, ASS, SRT, SUB, TXT, VTT, MPL, etc.
Zoom and pan is available.
Transfer files without mobile data usage.
BS Player
BS Player has over 70 million users around the world and it comes with more than 90 languages. You can use it to enjoy AVI videos in high resolution with minimal system requirements.
Most importantly, it's a free Android AVI player that is equipped with advanced features. It can help you search and download missing subtitles for currently playing video. This player is small but powerful. It supports all popular formats and less known formats such as AVI, MPEG, WebM, MKV, MP4, VOB, M2V, OGG, WMA, MP3 and more.
Key Features
Free to use.
Support multiple file formats.
Support various types of subtitles.
Allow for playing YouTube videos.
Allow you to rotate video 90 degrees.
Offers different skins.
Best AVI Players for iPhone
KM Player
Firstly, KM Player is just an AVI player for Windows. Now, this AVI player can run on any operating systems such as OS X, Android and iOS. Unlike the above-mentioned AVI video players, KM player is adware. That means it is supported by ads. But this software still has many users.
KM Player can play most types of formats like AVI, WMV, OGG, MKV, 3GP, DVD, VCD, etc.
Key Features
Support all types of formats.
Allow for capturing video and save it in the format you want.
Support 3D, 4K and UHD.
Offer advanced options like movie menus, subtitle menus and contrast.
Damaged AVI files can be played.
Watch movies efficiently.
OPlayer Lite
OPlayer Lite is the most popular AVI player for iOS and has over millions of users. It enables you to change the playback speed as you like or play videos in the background. In order to protect your privacy, you can encrypt your app and folders.
It has all necessary features that an AVI player has. For example, it will automatically load subtitles of the playing movie and repeat video or audio file.
Key Features
Support almost all video and audio file formats.
Support almost all subtitle file formats.
Feature with privacy protection and less battery consumption.
Offer single hand mode.
Support NAS, Router and network storage.
Allow for rendering on TV.
Bonus Tip: How to Convert AVI to Other Formats
There is another way to help you play AVI videos without AVI players. You can convert AVI file to other formats that can be played on your device.
Related article: How to Convert AVI to MP4? 2 Excellent Ways.
If you want to convert AVI to other video formats, here recommend MiniTool MovieMaker.
Below are the detailed steps on how to convert AVI to other formats.
Step 1. Download MiniTool MovieMaker and follow the instruction to install this program.
MiniTool MovieMakerClick to Download100%Clean & Safe
Step 2. Launch the program and close the pop-up window to get the main interface.
Step 3. Click on Import Media Files to import the AVI file from your computer.
Step 4. Drag and drop the AVI file to the timeline.
Step 5. Then you can choose to split, trim and add text as you like.
Step 6. Tap on Export to open the Export window.
Step 7. MP4 format is the default output format. Here you can change the format you like and edit the file name and change the destination folder. You can also change the video resolution you want.
Step 8. After that, you can hit the Export button to start the conversion.
Step 9. In the end, when the conversion is done, you can choose Find Target to locate the converted file.
Conclusion
This post gives you a list of AVI players and shows you how to convert AVI to other file formats. All of these AVI players have their own characteristics. Choose an AVI player that suits you best and have a try! Hope this post is helpful to you.
If you like this post, don't forget to share it with your friends!
If there is any questions or suggestions about this post, please contact us via [email protected] or share your ideas in the comments section.
AVI Player FAQ
? What can play AVI files?
If you need an AVI player, here recommend VLC player. It's a powerful video player. It supports almost all video formats. Also, it runs on any operating systems including Windows, Mac, Android, iOS and Linux.
? What is the best AVI player?
MiniTool MovieMaker
VLC Media Player
Feather
Gplayer
Dice Player
BS Player
?️ Which is the best video quality?
? Is AVI better than MP4?
AVI has better video quality than MP4, but MP4 can be played on every media player. AVI and MP4 format has their own strengths. For video quality, AVI is better. For compatibility, MP4 is better.