Gfycat is an ideal destination where you can browse through millions of GIFs, videos, and stickers. But how to download GIF from Gfycat? How to download videos from this site? Just check out this Gfycat download guide and you'll find it easy to download from Gfycat.
This step-by-step guide for Gfycat download will show you how to download GIFs and videos from Gfycat. And if you want to make a video or GIF by yourself, try the free video editor – MiniTool MovieMaker. Now, let's focus on this guide.
MiniTool MovieMakerClick to Download100%Clean & Safe
How to Download GIFs from Gfycat Directly?
Gfycat is a major platform for short videos and GIFs. It offers tons of featured trending GIFs, popular GIFs, gaming GIFs, reaction GIFs, sticker GIFs, and also allows you to search GIF.
And when you play a video or GIF on Cfycat, you can increase or decrease its speed, and adjust the quality. But how download GIFs from Gfycat? Here's the tutorial.
Step 1. Open Gfycat, then sign into this site, and then find the GIF you need.
Step 2. Click this GIF to open it in a new window.
Step 3. Tap on the More Share Options menu on the right side.
Step 4. Once the link shows, click the Download button with the GIFs.

Step 5. Copy and paste either of the two links and open the link in the browser's address bar.
Step 6. Right-click the GIF, then choose the Save image as.
Step 7. Rename the GIF and choose an output folder, and click on Save.
Also read: The Best 7 Dailymotion Video Downloaders You Should Try
How to Download Videos from Gfycat Directly?
Step 1. Go to the Gfycat website and log in.
Step 2. Browse for the video you want to download.
Step 3. Play this video on Gfycat.
Step 4. Right-click the video and then select the Save video as… from the dropdown menu.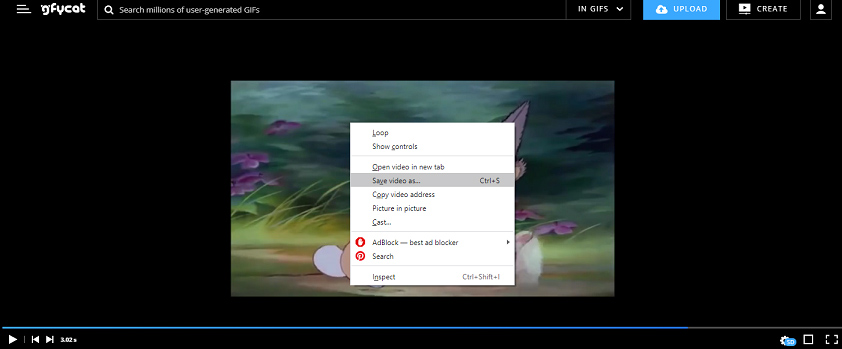 Step 5. Give the video a name, then choose a folder to save the video, and then click the Save.
Also read: How to Make a Happy Anniversary GIF & Where to Download It?
The downloaded video from Gfycat is in MP4 format. If you want to convert the MP4 to GIF, you can try MiniTool MovieMaker. It's free and simple to use, and it won't watermark your GIFs. Before the conversion process, you can add music to the video, add captions, titles, and credits to the video to create an amazing GIF. In addition to GIF, MiniTool MovieMaker lets you convert MP4 to AVI, MOV, WMV, 3GP, MKV, etc.
MiniTool MovieMakerClick to Download100%Clean & Safe
How to Download from Gfycay Using a Website?
There're many online video tools, and here we take Clip Converter as an example. Clip Converter is one of the best KeepVid alternatives to download videos from many websites. And this site enables you to save Gfycat as a video or GIF.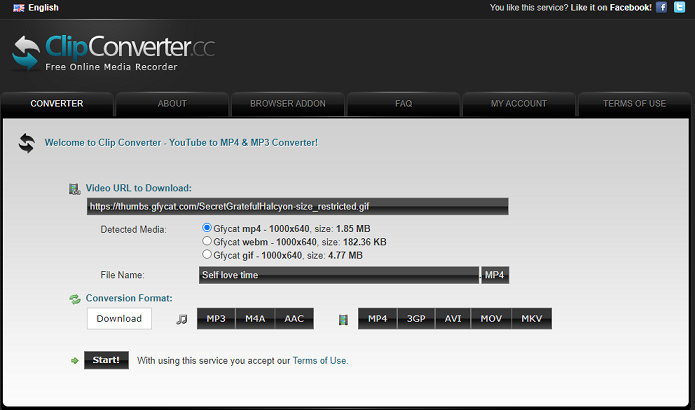 Here's how to download from Gfycat using Clip Converter.
Step 1. Navigate to the Clip Converter website.
Step 2. Go to the Gfycat website and get the video URL as mentioned in the first section.
Step 3. Copy and paste the URL in the Video URL to Download box, and hit the Continue.
Step 4. To save Gfycat as a video, select the Gfycat mp4 or Gfycat webm. To save it as a GIF, choose the Gfycat gif.
Step 5. Click the Start to start the process. Once the conversion is done, click the Download button to download the video or GIF on your computer.
Conclusion
With this guide for Gfycat download, you can download videos and GIFs from Gfycat with ease. Now, follow the above steps and try to download your favorite video or GIF from Gfycat.