Over the past few years, TikTok has gained tremendous popularity. Many people have started using the TikTok video maker to create their videos to upload to TikTok and have gained a lot of likes. If you are interested in this and want to make some interesting and creative TikTok videos, please continue reading this article.
TikTok Editing Features and Video Specs
This part will give you a brief introduction to TikTok editing features and video specs
TikTok Editing Features
TikTok is a popular social media app that allows users to watch, create and share videos. Additionally, the TikTok app has many editing tools and resources to help users create awesome videos. Here are some editing features of TikTok.
Millions of free music clips and sounds
Tons of filters, effects and AR objects
A wide range of editing tools including trim, cut, merge and copy video clips
Audio editing such as fade in and fade out, and more
TikTok Video Specs
You need to know something about TikTok video specs before you create videos for TikTok. The following will show you the TikTok video specs:
Aspect ratio: 9:16(recommended) or 1:1
Video orientation: vertical
Recommended dimensions: 1080 x 1920 pixels
Video length: from 5 to 60 seconds
Standard file: the maximum video size is 287.6MB for iOS, while 72MB for Android
Accepted file format: MOV and MP4
4 Best TikTok Video Makers for PC
There're many video makers for TikTok in the market for you to choose from, and this part picks up some of the best options for you. Now, let's check them one by one.
MiniTool MovieMaker
MiniTool MovieMaker is a free TikTok editor for PC with many features. It provides the 9:16 aspect ratio which is recommended for all TikTok videos and it supports the MP4 and MOV output formats required by TikTok.
As an excellent video maker for TikTok, MiniTool MovieMaker not only provides you with basic editing tools such as trim, split, crop, rotate and flip, but also offers a wide range of transitions, filters, motion effects and animated stickers. Also, you can add text including titles, credits and captions to your video and change your video speed, and more.
Here are two methods for you to create TikTok videos in MiniTool MovieMaker.
MiniTool MovieMakerClick to Download100%Clean & Safe
Method 1. Manually edit the video by yourself
Step 1. Download and install MiniTool MovieMaker. There will be a popup and you can choose 9:16 aspect ratio recommended by TikTok in the upper-left corner.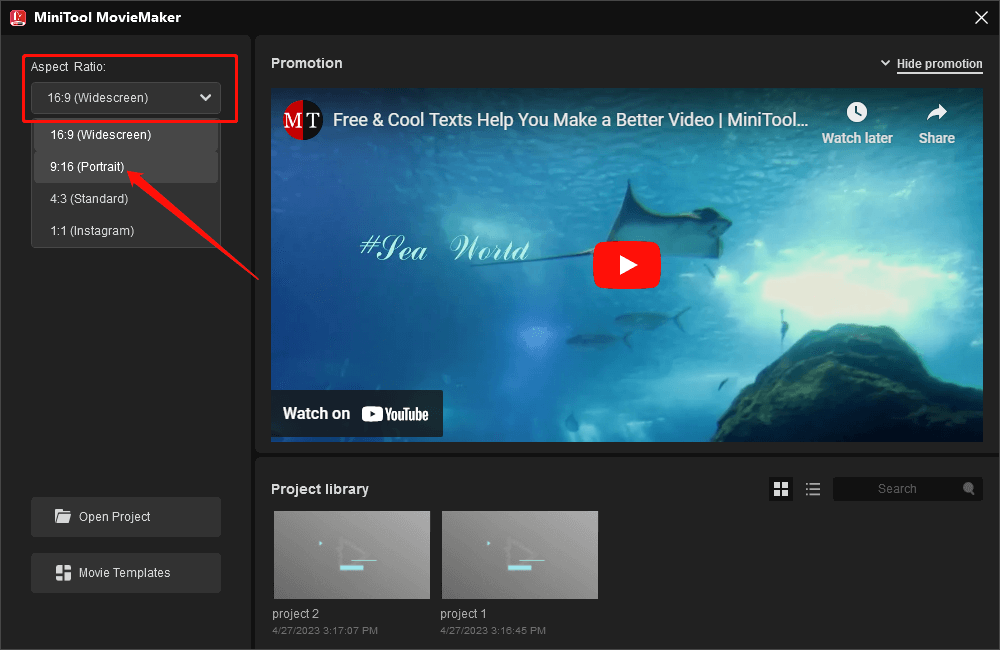 Or, change the aspect ratio in the lower-right corner of the Player section.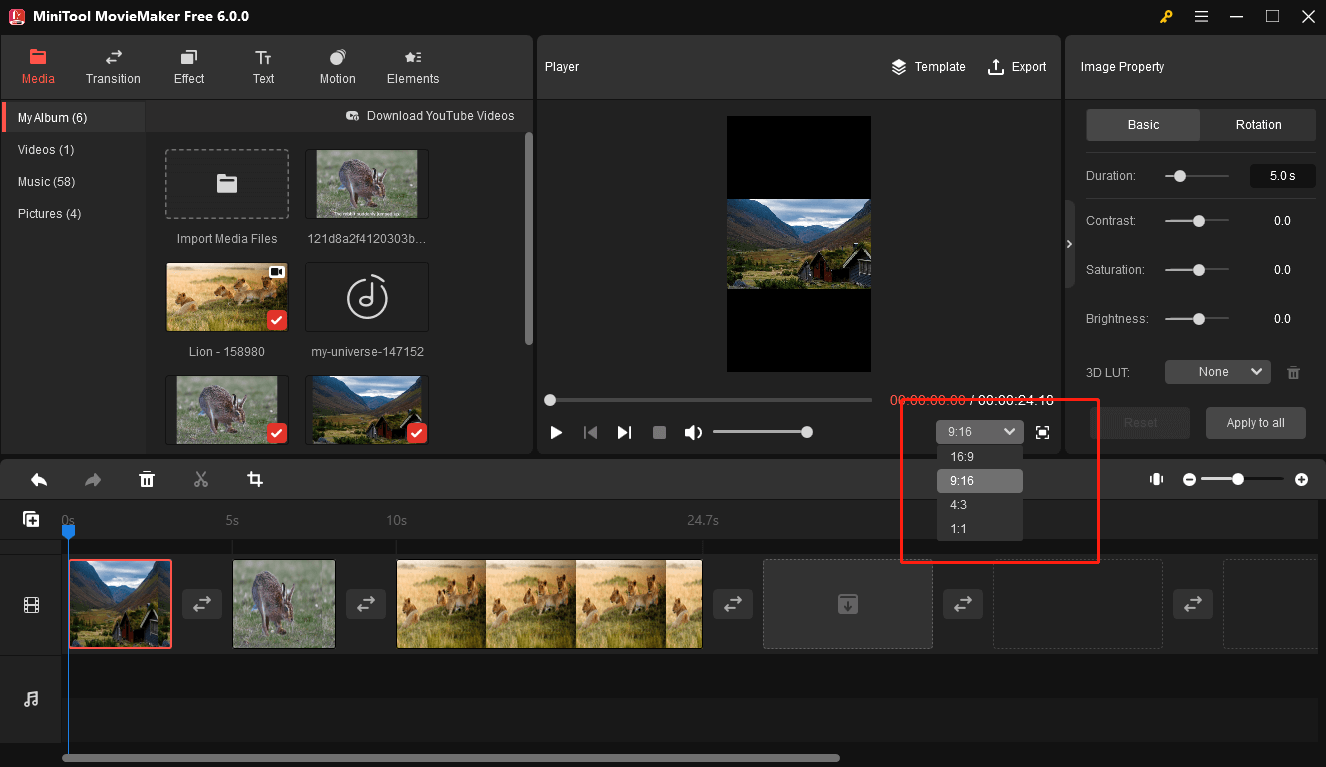 Step 2. Click Import Media Files to import videos, audio and pictures from your PC, and then click Open to import them. Next, click plus icon or drag target items to add them to the timeline.
Step 3. Add a filter: Click the target clip on the timeline to highlight it, go to the Effect tab, choose the effect you like, and click the plus icon or drag it to add this effect to the target clip.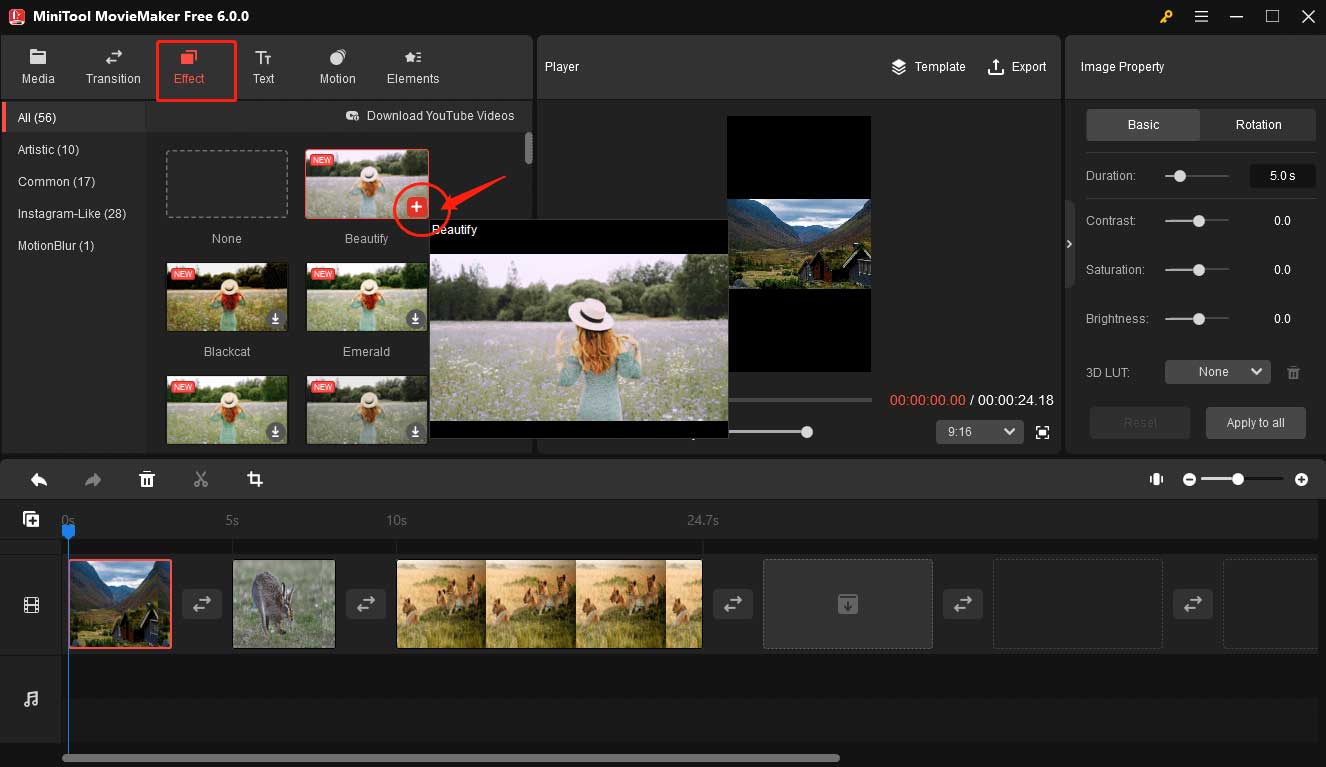 Or, you can right-click on the desired effect and then choose Apply to All or Apply to Selected Clips if you want to add the same effect to all or selected clips.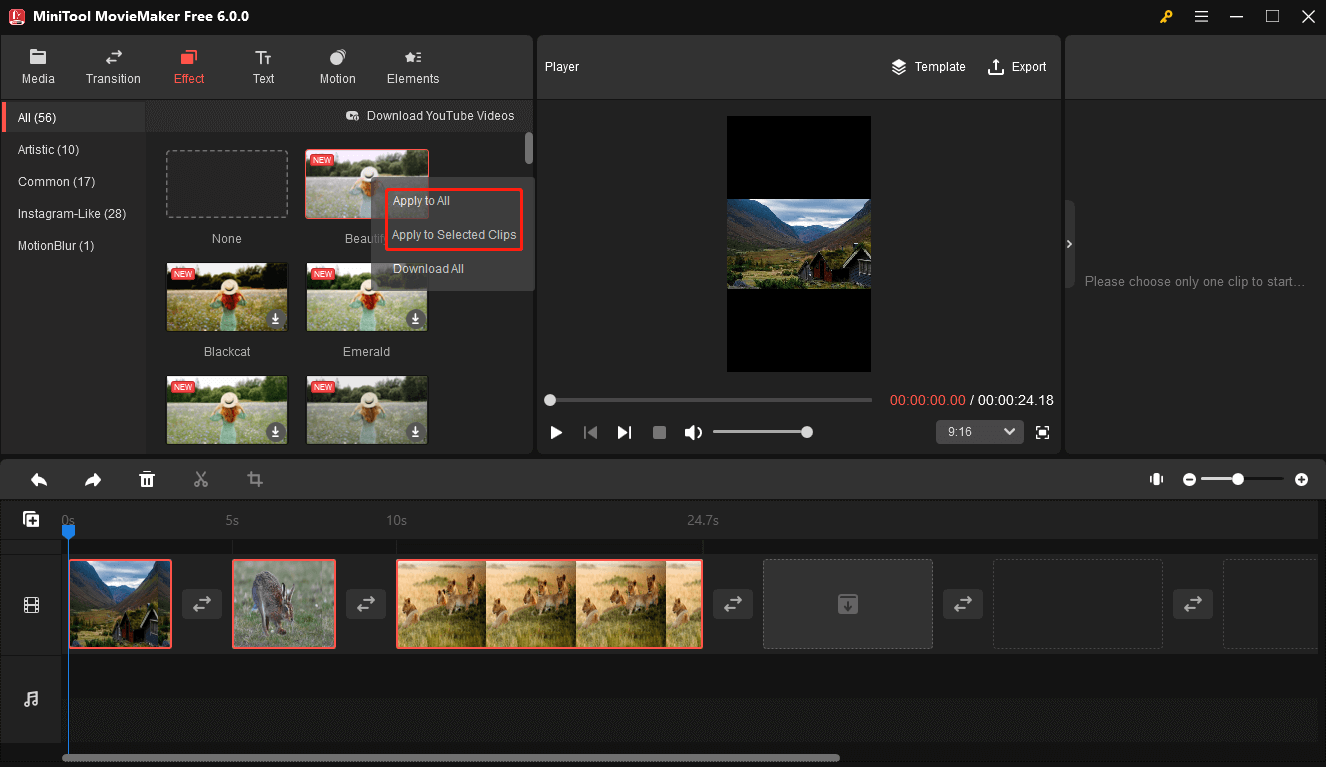 Step 4. Add a motion effect: Click the target clip on the timeline to highlight it, go to the Motion tab, choose one motion you want, and click the plus icon or drag it to add this motion to the target clip. Or, you can apply this motion to all pictures or videos by clicking Apply to All in the Image Property or Video Property.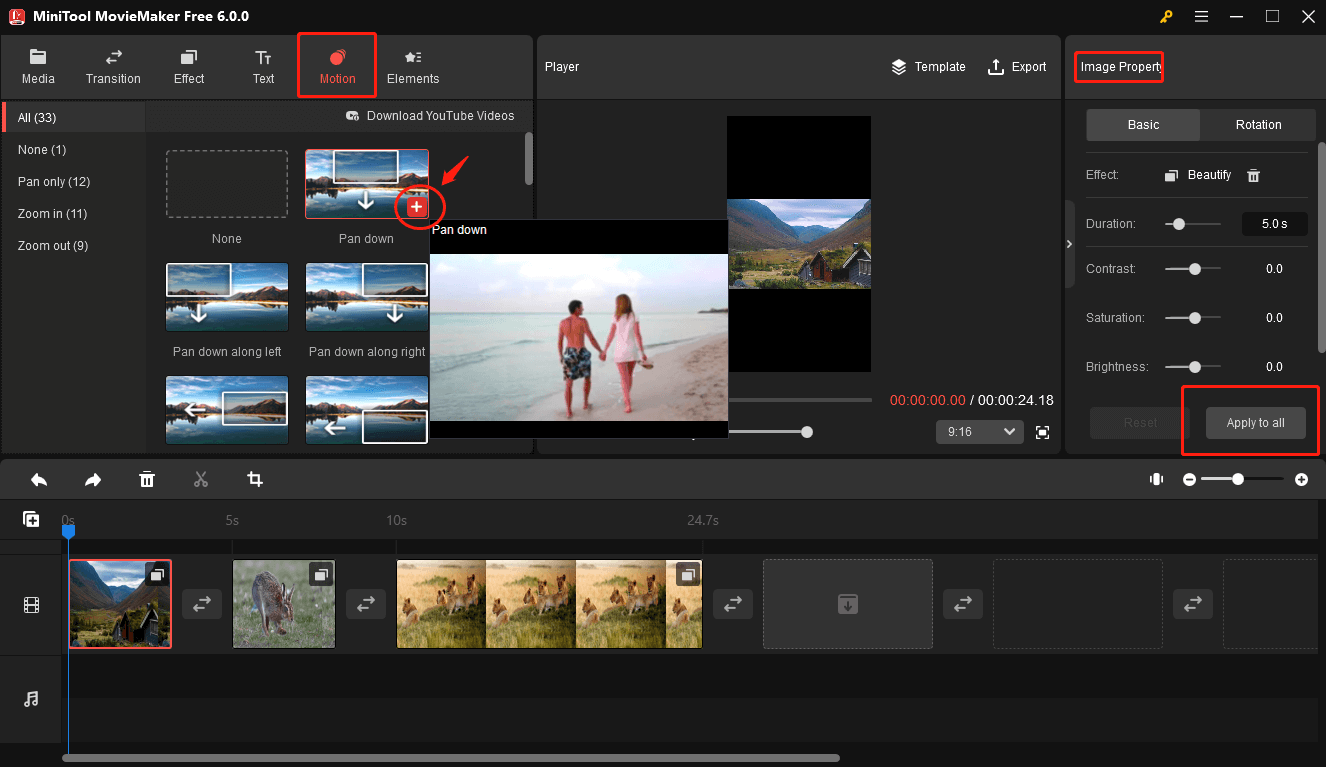 Step 5. Add an element: Locate the playhead on the video or photo clip where you want to add an element, go to the Element tab and click the plus icon or drag it to the track above the target clip. Then you can adjust its scale, rotate and flip it in the Element Property window.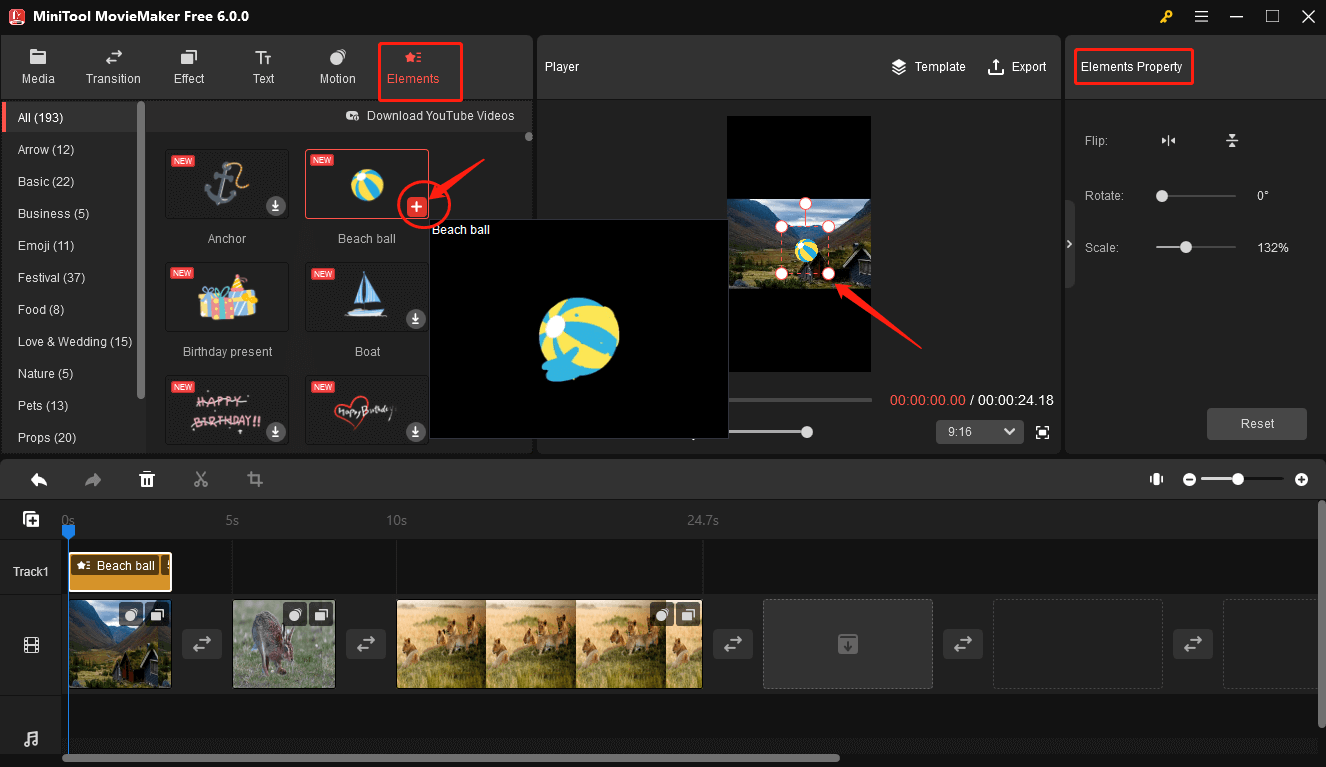 Step 6. Click the Export button after your editing, and you can choose the output format and change the settings of the video. You can click the Export icon in the lower-right corner.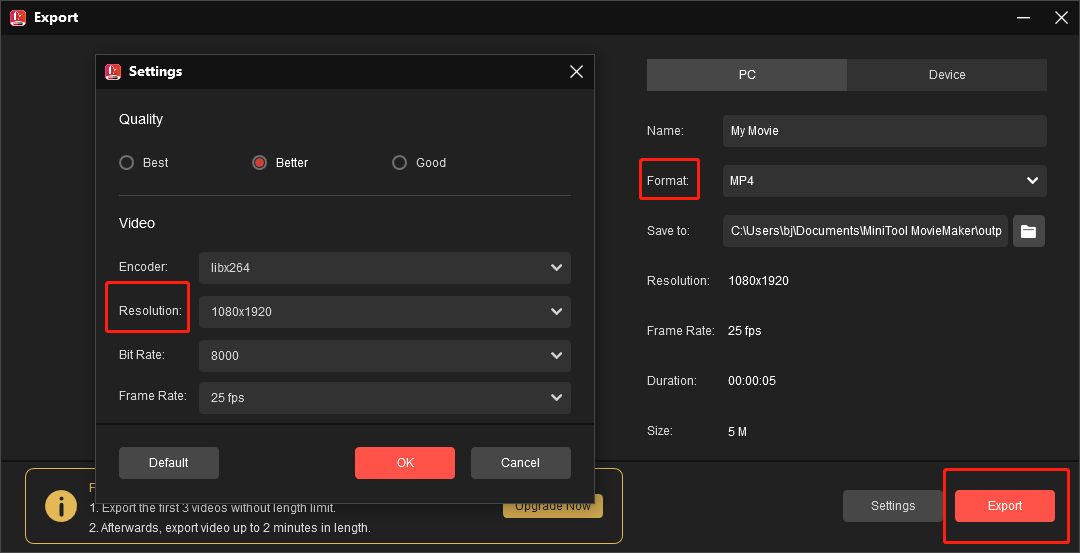 Method 2. Use movie templates
Step 1. Launch MiniTool MovieMaker. There will be a new popup when you open it, then click Movie Templates.
Step 2. Choose one template you like and click the Next button, then click Open to import the source files.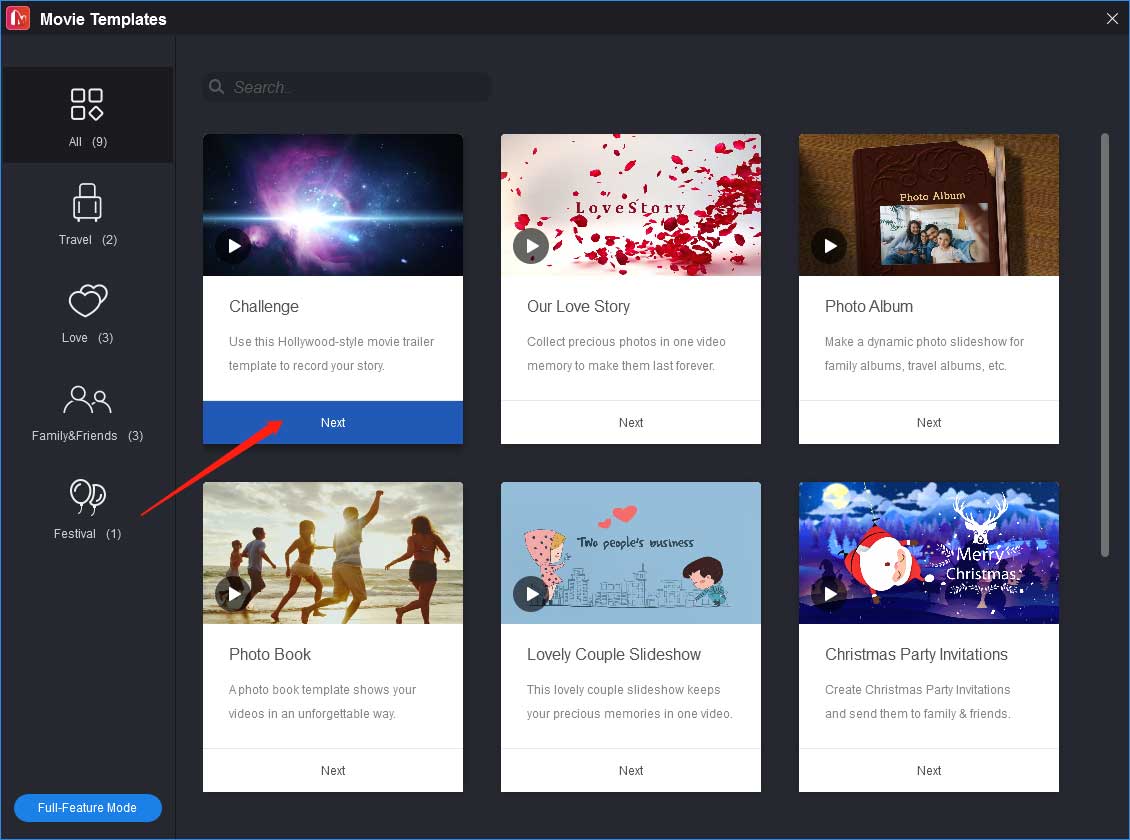 To avoid the following scene in your video, you need to upload enough source files to fill in all the empty positions.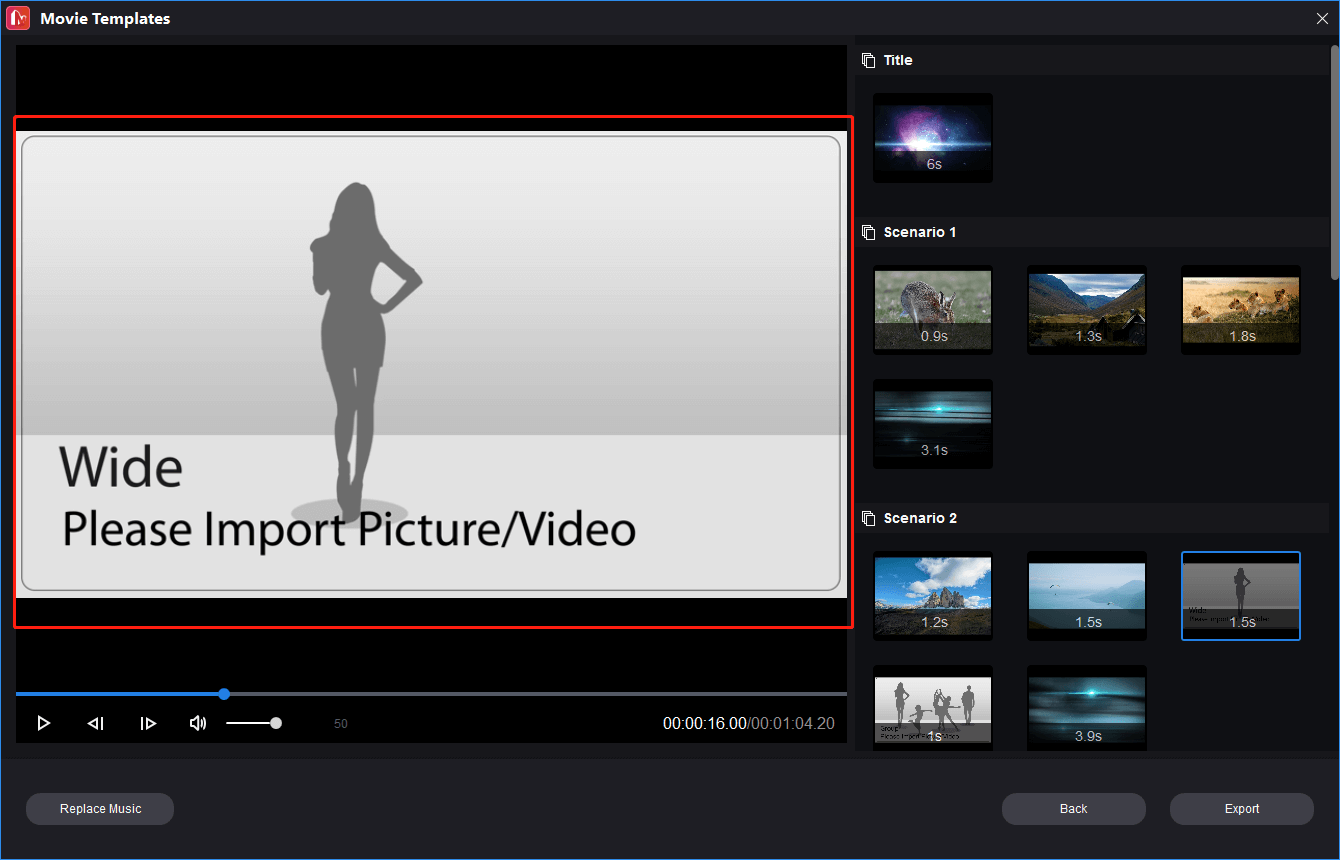 Step 3. Click the Export button, and you can choose the output format and change the settings of the video. You can click Export after your operation.
If you need an excellent TikTok editor for PC, MiniTool MovieMaker is the best choice.Click to Tweet
Windows Movie Maker
Windows Movie Maker is a free Tiktok video maker developed by Microsoft Windows Live. This TikTok editor for PC has a simple interface and the editing process is relatively easy even for beginners. You can use it to create and edit videos with special effects, music and narration.
OpenShot
OpenShot is an open-source and free TikTok video maker that allows you to contribute some very interesting videos to your TikTok account. As a good TikTok editor for PC, OpenShot has many features such as crop, trim or cut video, and has live preview, rich title templates, video decoding, digital zoom, audio mixing and editing, and digital video effects. In short, it has most of the features you can imagine for video editing.
Clideo
Clideo is an easy-to-use online video tool working as a TikTok video maker. This means you don't need to download, install and set up any application. You can also use it immediately on any device, just make sure your internet connection is fast and stable.
It comes with all the features you need to create a great TikTok video. You can add any text to your project and personalize it. As well as you can change fonts, sizes, thicknesses, colors, add backgrounds and much more! You can manually change the position of images and videos, create a picture-in-picture, a split-screen video or a collage of any other composition.
4 Best TikTok Video Makers for Phone
In addition to TikTok video makers for PC, there're also many TikTok video makers for phone in the market for you to choose from. The following four choices are recommended, and you can choose one from them.
CapCut
CapCut is the official free video editor and video maker with music for TikTok, which is versatile and easy to use. It not only has the basic features such as text, stickers, filters, colors and music, but also provides free advanced features including keyframe animation, smooth slow-motion effects, chroma key, Picture-in-Picture (PIP), and stabilization to help you capture and snip moments.
CapCut is easy to use and its video editing features are very useful. It optimizes tedious video editing with technical means so that even a video editing novice can easily use rich editing effects.
Features:
Easy-to-use features including cut, reverse and speed changer
Advanced and rich filters and effects
Massive music library resources and an exclusive TikTok song library
Trending stickers and custom TikTok fonts
A wide range of magical effects
A wide variety of video templates
Movavi Clips
Movavi Clips is an advanced TikTok video maker with intuitive control and a user-friendly interface. It also has a variety of editing tools such as crop and rotate. You can enhance your videos with unique color filters, transitions and themed stickers besides. You can also create a wonderful slideshow with music tracks from the free built-in library and pictures from your albums. But its professional themes and effects need to pay.
Features:
Video maker with an intuitive interface
Fast and precise cutting
Special Chromakey color selection tool
A wide range of effects and transitions
Vizmato
Vizmato is an easy-to-use video maker for TikTok that enables you to add filters, music, effects and text to make your videos super cool. Vizmato is a wonderful TikTok video editor that can trim and edit multiple videos to create the perfect video. Vizmato gives you some of the coolest video effects for your videos. Choose from over 40 visual effects, including some used in Hollywood movies! These video effects can instantly enhance your videos.
Features:
More than 20 video themes and 40 visual effects
Voice changer to process the audio
HD video recorder with live effects
Custom text and stickers
Videoshop
Videoshop is a free and easy-to-use TikTok video editor with quick editing tools, filters and many other effects to personalize your videos. You can use Videoshop to edit your shaky videos, for example, you can make your videos look professional by cutting and merging clips. Besides that, you can use Videoshop to add music, subtitles and sound effects to your TikTok videos and adjust the speed of your videos.
Feature:
Comprehensive filters, transitions, and animated titles
Cut and trim videos with a few clicks
Change video speed into slow-motion, fast-motion, and stop-motion
Create Vine videos with stop-motion recording
Conclusion
A comprehensive, easy-to-use and suitable TikTok video maker can help you create high-quality and creative TikTok videos, and you can choose from the above eight TikTok video makers.
If you have any questions or comments about MiniTool MovieMaker, please don't hesitate to email us at [email protected].