InShot is a video editing application for Android and iOS devices, specifically designed to polish videos. Because of its simple interface and excellent functions, many people want an InShot for PC. Therefore, this article lists the 7 best InShot alternatives for Windows and Mac users, such as MiniTool MovieMaker.
With the rapid popularity of InShot, many people hope to use this full-featured application on their PCs. Unfortunately, there is no PC version of the application. The only way to use InShot on PC is to find its replacement. Here, we will introduce the 7 best alternatives to InShot for PC.
What Is InShot?
InShot is a simple and powerful video editor and video production application that can be used on Android and iOS platforms. The app has all the basic editing tools to help you easily create videos, edit videos from YouTube, Instagram, Facebook, Twitter, TikTok, Whatsapp, etc.
Key Features:
Trim video
Cut/remove the middle part of a video
Split video
Merge multiple clips into one
Adjust video speed
Reverse video by one click
Free music and sound effects
Animated stickers and texts
Video transitions and effects
Add your own music or voice-overs
Fade in/out music
Export video in HD quality
InShot for PC
MiniTool MovieMaker
If you are looking for InShot for Windows, MiniTool MovieMaker is your first choice. It is a free and safe video making and editing program that provides you with all the tools you need, and it supports a wide range of image, audio, and video file formats.
Through its intuitive user interface and simple timeline, you can easily trim video, split video, rotate video, flip video, reverse video, change video speed, and add transitions, effects, motions, text as well as music to your video.
Most importantly, this free program allows you to change the video resolution and video format. After finishing all the editing, you can change the format of your video file to make it playable on more devices and media players, and you can even extract the audio track from the video.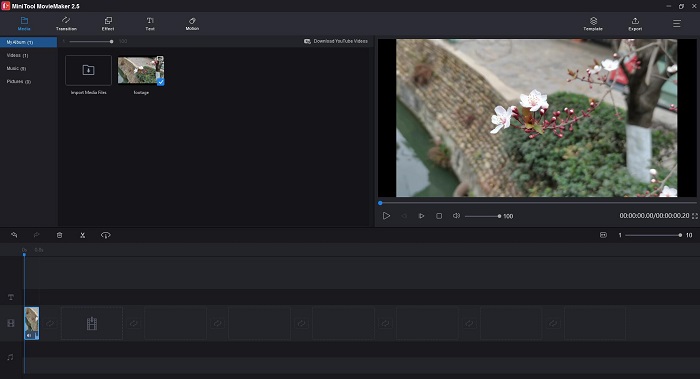 Key Features:
Pre-made video templates
Tons of transitions, effects, and motions
Split, trim, and merge video clips
Add animated text to video
Change video speed
Rotate, flip and reverse video
Add audio to videos
Fade in/out music
Color correction
Change video resolution
Change video format
Microsoft Photos
The next desktop alternative to InShot is Microsoft Photos. It is the app you can use to view media, both still and animated, as well as make edits to various supported file types.
The main benefit of using Photos is that it doesn't cost you anything and is pretty lightweight. However, you'd better not expect too much because it doesn't have a timeline and its video editing tools are limited to the essentials.
You can easily perform tasks such as trimming the clips, adding music, applying visual effects, combine photos and videos into a single file instantly, etc. This program is an option best suited for beginners.
Key Features:
Add motion and filter to video
Create a video with text, music, and 3D effects
Trim video clips
Draw on a photo or video
Apply slo-mo to videos
Add animated text to video
Add subtitles to video
Corel VideoStudio
Another alternative to InShot for PC is Corel VideoStudio. It is a convenient and feature-rich video editor that can help you easily complete various editing tasks. More importantly, it has almost all the functions of other products in this list.
This powerful video editor has a very clear and intuitive interface that makes it easy to get started. In just 3 simple steps, you can turn any image into a fascinating animation. Using its excellent editing tools, you can turn every video into a Hollywood blockbuster.
After mastering the basics, you will find some more powerful features, including motion tracking, 4K support, 360-degree video support, multi-camera support, etc. In addition, you can import multiple formats for the source clip, and then export the video to various output formats.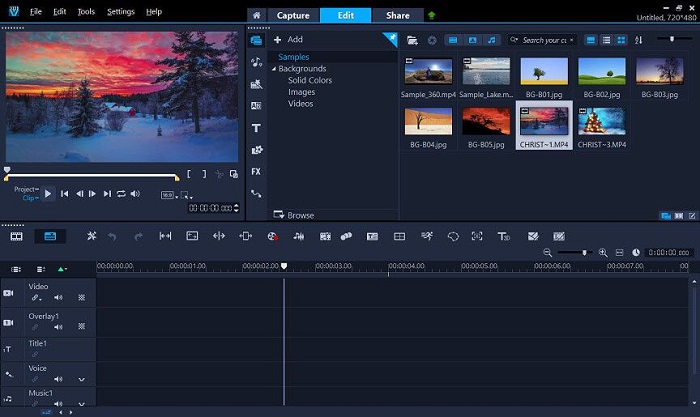 Key Features:
Tons of templates, filters, and effects
Drag-and-drop overlays, titles, graphics, and transitions
Face-tracking AR stickers
Crop, trim, split, and rotate videos
Change the aspect ratio
Apply lens corrections to remove fisheye distortion
Color correction
Speed up, slow down, and reverse videos
Multi-camera editing and 360° video editing
Video masking
Convert video formats
VSDC Free Video Editor
VSDC Free Video Editor is also a great InShot alternative. The software aims to provide users with a smooth editing experience, so even beginners can enjoy creative media projects. It has various functions for you to enhance your video quality.
VSDC is a non-linear video editor, which means you can freely place video clips in the timeline. Thanks to its extensive format support, you can easily handle all popular media files. And you can convert your video files to other formats.
It has free and pro versions. If you need more advanced tools, just upgrade them to the Pro version. VSDC Pro allows you to use motion tracking, work with audio waveform, mask videos, stabilize shaky footage, record real-time voiceovers, apply multi-color chroma keys, etc.
Key Features:
Lots of popular video filters and transitions
Apply picture-in-picture effect or split-screen effect
Motion tracking
Work with audio waveform
Make use of video masking
Stabilize shaky footage
Record real-time voiceovers
Apply multi-color chroma key
iMovie
The first InShot for Mac on our list is iMovie. It is undoubtedly the most popular video editing software on the Mac. First of all, it has an intuitive interface, which is easy to use for novices. Besides, professionals can also use advanced options to optimize their videos.
It has a simple drag-and-drop function and supports multiple video formats. With iMovie, you can browse through clips, create Hollywood-style trailers, and even process 4K videos to get amazing movie-quality videos.
The biggest highlight of iMovie is that all your projects will be stored in Apple's cloud, which means you can interactively edit the same video file on your iPhone, iPad, and Mac. Overall, it is difficult to find a better video editor than iMovie on the Mac.
Key Features:
A wide range of video formats supported
Crop, trim, rotate and merge videos
Various video transitions and filters
Add built-in sound effects or record real-time voiceover
Split-screen effect
Change video speed
Video stabilization
Fade in/out music
Add subtitles to videos
Color correction
Multicam editing
Green/blue screen
OpenShot Video Editor
Another excellent InShot for PC is OpenShot Video Editor. It is a free and open-source video editing program, available on Windows, Mac, and Linux. Besides, it supports all types of image, audio, and video formats.
It provides you with basic video editing functions, such as trimming and slicing, as well as many transition effects and audio effects. You just need to drag and drop video clips, audio tracks, and images from your file manager into OpenShot to start editing.
Also, this freeware is equipped with a rich library of video effects and animations, which can help you make your videos look more professional. It also enables you to add as many layers as you need for watermarks, background videos, audio tracks, and more.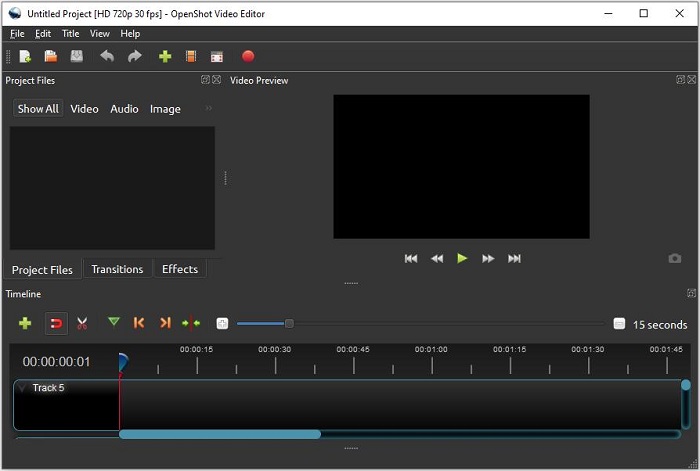 Key Features:
Support for multiple image, audio, and video formats
Resize, scale, trim, snap, rotate, and cut video
Video transitions with real-time previews
Fade, slide, bounce, and animate anything in your video project
Add as many layers as you need
Visualize your audio files as waveforms
Add titles to your video
Render beautiful 3D animated titles and effects
Reverse, slow down and speed up video
Lightworks
Lightworks is the last InShot for PC on the list. Like OpenShot, it is also a free and open-source video editor. It provides you with two versions: Free and Pro. In the free version, you can get almost all functions, but you can only export web-compatible files in 1280x720.
Lightworks has a set of original stock videos and music clips, which are licensed for use in any video you edit on the program. Although it cannot be compared with programs like Adobe Premiere Elements, it supports multi-track video.
As a result of its complex interface, it will take some time to learn how to use Lightworks. Fortunately, the program provides a set of detailed video tutorials to help you quickly master the software. You can also set custom keyboard shortcuts to speed up your editing task.
Key Features:
Customizable user interface
Set custom keyboard shortcuts
Wide file format support
Create high-quality videos
Access awesome royalty-free audio and video content
Easy timeline trimming and splitting
Add 2D and 3D title animations to video
Export videos for YouTube, Facebook, Vimeo, and Instagram
Here is a list of the best PC alternatives to InShot. Share it with all of you!Click to Tweet
Which InShot for PC Is Best?
| | | |
| --- | --- | --- |
| | Price | Compatibility |
| MiniTool MovieMaker | Free | Windows |
| Microsoft Photos | Free | Windows |
| Corel VideoStudio | Paid with a free 30-day trial | Windows |
| VSDC Free Video Editor | Free and Pro | Windows |
| iMovie | Free and Pro | macOS, iOS |
| OpenShot Video Editor | Free | Linux, macOS, Windows |
| LightWorks | Free and Pro | Linux, OS X, Windows |
Bottom Line
Among the above 7 best alternatives to InShot Video Editor for PC, which one do you prefer? If you have any problems when using MiniTool MovieMaker on your Windows, please let us know via [email protected] or share them in the comments section below.
InShot for PC FAQ
Can you use InShot on PC?
Sorry, you cannot use InShot on PC, because there is no PC version of InShot. Currently, InShot is only available on the Apple Store and Google Play.
Is the InShot app free?
InShot is a free video editor app with ads and it offers in-app purchases.
Is InShot safe to use?
Yes, InShot is 100% safe to use.
What is the best video editing app?
There are many powerful video editing apps on the market, like Adobe Premiere Rush, iMovie, Quik, KineMaster, VivaVideo, etc.