Have you ever thought of converting a video to a sequence of PNG images? A lot of tools claim that they are capable of converting MP4 to PNG, but the truth is frustrating. Most of them can not convert video to image sequence. Don't worry. Here's how to extract frames from MP4 and save them in PNG format.
PNG, short for Portable Network Graphics, is a raster graphics file format that supports lossless data compression. And it was developed as an improved, non-patented replacement for GIF.
Looking for a way to convert MP4 to PNG? Then you've come to the right place. Here, we are going to show you how to convert MP4 to PNG at a fast speed. If you want to turn multiple PNG images into an MP4 video, MiniTool MovieMaker is recommended.
Online-Convert
Online-Convert is an online file converter that can easily convert archive, audio, CAD, device, document, ebook, hash, image, software, video, webservice with no software installation needed.
It is the best option to convert video to frames. Just upload the MP4 video file from Dropbox, Google Drive, or your local computer, and then every frame of the video you uploaded will be converted into a PNG image.
However, in the free plan, you can only convert files up to 100MB in size and complete 20 conversions per day.
How to:
Navigate to online-convert.com on your web browser.
Open the Select target format dropdown list at the Image converter section and select Convert to PNG.
Click Choose Files to upload the MP4 video file that you'd like to convert. Alternatively, you can add the file from Dropbox, Google Drive, or by pasting its URL.
Now, you can adjust the image quality, change image size, etc.
Tap on Start conversion and wait patiently.
Click Download selected files as ZIP to save all the PNG images.
Related article: How to Make a Video from Images for Free
Ezgif
The next MP4 to PNG converter we'd like to introduce is Ezgif. As its name suggests, Ezgif is an online platform where you can make GIF, resize GIF, reverse GIF, crop GIF, cut GIF, optimize GIF, split GIF, add text to GIF, and so on.
Apart from this, it also enables you to convert any type of video to a sequence of PNG images and download them in a zip archive. If you prefer to extract frames in JPG format instead of PNG, then you can its Video to JPG tool. However, the maximum file size supported by this site is 100MB.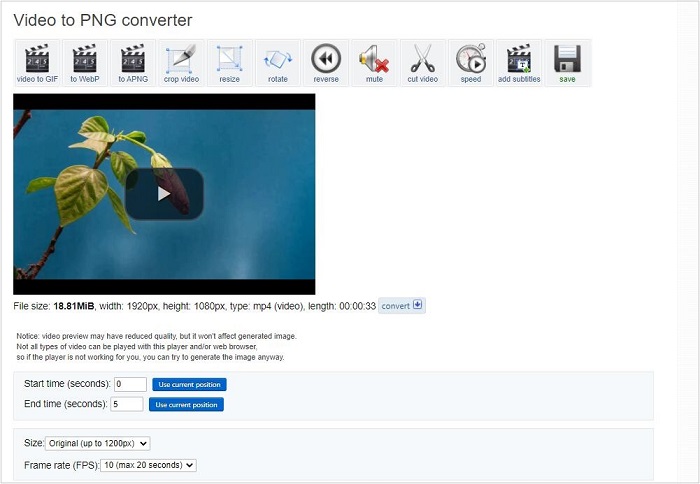 How to:
Visit ezgif.com on your web browser.
Go to Video to GIF > Video to PNG.
Click Choose File or paste the video URL to upload the target MP4 file.
Hit Upload video!
Then you can trim the video, change the size of the output images, adjust the frame rate, etc.
Tap on Convert to PNG!
Click Download frames as ZIP to save the extracted PNG images.
Also read: How to Convert PNG to GIF in Seconds
Bottom Line
Have you mastered how to convert MP4 to PNG after reviewing this tutorial? If you have any questions or suggestions when using MiniTool MovieMaker to turn PNG images into a video, please let us know via [email protected] or share them in the comments section below.