Do you want to make a perfect workout video? This post from MiniTool MovieMaker provides a full guide on how to make workout videos.
Are you curious about how to gain more popularity on social media platforms? Why not try to post workout videos or also be called fitness videos? Workout videos are an effective way to grow viewers and subscribers on social media platforms. Here, we will tell you how to make workout videos.
Workout Video Ideas
Coming up with creative workout video ideas isn't easy for some people. The first step is to choose a style that suits you best. We'll talk about some workout video ideas to make it easier for you to choose which style is best for your videos.
Demonstration workout videos
If you are a professional fitness coach or have much experience in fitness, you can consider making demonstration workout videos. Most people don't know professional fitness knowledge. Demonstration workout videos can convey how to work out properly, the correct techniques, and body gestures.
This kind of video could be cut into small parts for viewers to follow, and you don't need to go over the entire exercise process of multiple repetitions. You just focus on explaining how to work out. It's like an explainer video.
Promotional videos
If you have a product or brand in the fitness industry, promotional videos are a great marketing strategy to promote your products or brands on social media platforms.
Most customers are more likely to trust what other customers said. So, you can choose to interview and film your customers. Promotional videos can involve how long they have been using the product and describe their feelings about getting started with fitness products and how it has benefitted them.
Full-length workout videos
Full-length workout videos contain the entire workout process from the beginning to the end. Compared to demonstration workout videos, it's more comprehensive. It often includes an overview of how to do Pilates, cardio, stretching, or injury rehabilitation exercises. So, full-length workout videos are always more than 30 minutes.
Your workout journey
Your workout journey is a great way to get closer to your viewers and let them know more about you. You can share with your viewers what your daily exercise routines look like and interesting stories during this process in a fitness vlog.
No equipment workout videos
It's getting more and more popular to work out at home without extra equipment. No equipment workout videos promote a new fitness style that you can easily stay fit without extra cost as long as you stick to it. These videos could present simple workout routines or dance routines.
Health advice videos
Fitness is not only related to exercise but also related to adopting a healthy lifestyle. You can give some health advice in your videos, which can include nutrition, weight loss, diet plans, Vitamins, supplements, and more.
Tips for Making Workout Videos
If you have chosen what style your workout video will be, here are some useful tips for you before you start it.
1. Make a plan in advance
You should have overall preparation before you do everything. Before you film and edit the workout video, make a plan. First, decide on the content for your workout video. Then, think about how much budget you will use, what equipment to film, the best lighting, and whether you need someone to help you film.  Next, write out a script or make an outline involving all exercises and points you want to discuss.
2. Don't keep it too long
Too-long workout videos can't attract viewers better than shorter videos. Most people are extremely busy and have little spare time used to exercise. Studies also show that short, high-intensity workouts are better to keep people in shape. This means your fitness videos should be short and interesting and don't take too long to get to the point.
3. Set the vibe with music
A workout video based on endless narration can get pretty boring. Adding music is a great way to make it seems more watchable. What kind of music to add depends on what type of workout video is. For example, if you're making a full-length workout video, the music should be energetic and enthusiastic to encourage them to keep on.
How to Film Workout Videos
After making good preparation, now, let's get started with how to film workout videos. It's essential to prepare 2 pieces of equipment for recording a workout video: the camera for filming, and the audio recorder.
1. Camera setup
You need to set up your camera first. Any cameras that are capable of recording at least 1080P video with 30FPS, can be used for filming a workout video. Luckily, many mobile devices support recording videos with 1080P to 4K resolution, and even up to 60 FPS. So, you can even rely on your mobile phone to film workout videos. We recommend filming video clips and combining them into one video by editing finally.
2. Audio recording
It's difficult for you to record clear audio during your exercise process. Because you're moving all the time. It's hard to capture. Unless you record audio by using a wireless microphone that connects to your camera, or you can use a mini audio recorder put to your lapel or inside your clothes.
3. Practice more
The next step is to practice more and more. If you're a beginner, you could be nervous to perform in front of the camera. The more you practice, the calmer you will be. It can help you remember what you will say and what content you will teach. More importantly, you will know whether the movement has an effect only if you have practiced before you teach them.
How to Make Workout Videos
Now that all things have been prepared well, it's time to make workout videos. How to make good workout videos? You need to choose a good workout video maker.
Workout Video Maker on Windows
We recommend MiniTool MovieMaker to make workout videos on Windows. To make good fitness videos, the video editing tool should be professional and simple. Coincidentally, MiniTool MovieMaker is such a video editor.  It's free and friendly to users even if you have no video editing experience.
MiniTool Moviemaker allows you to import video clips with multiple video formats and turn them into stunning videos with its rich features.
With its help, you can easily split, trim, and crop the video. Moreover, it supports you in adding subtitles, filters, transitions, and animated elements and exporting your workout videos at high resolution without any watermark.
Next, let's have a look at the step-by-step guide on making workout videos.
How to make workout videos with MiniTool MovieMaker:
Step 1. Download and install MiniTool MovieMaker.
Click the Free Download button below. After finishing downloading and installing, open it and close the pop-up window.
Step 2. Import your video clips.
Click on Import Media Files to import your workout images and video clips to MiniTool MovieMaker. Remember many video and image formats are supported.
Then, choose files under the Media tab and click + on the bottom right corner of the file or drag it to the timeline.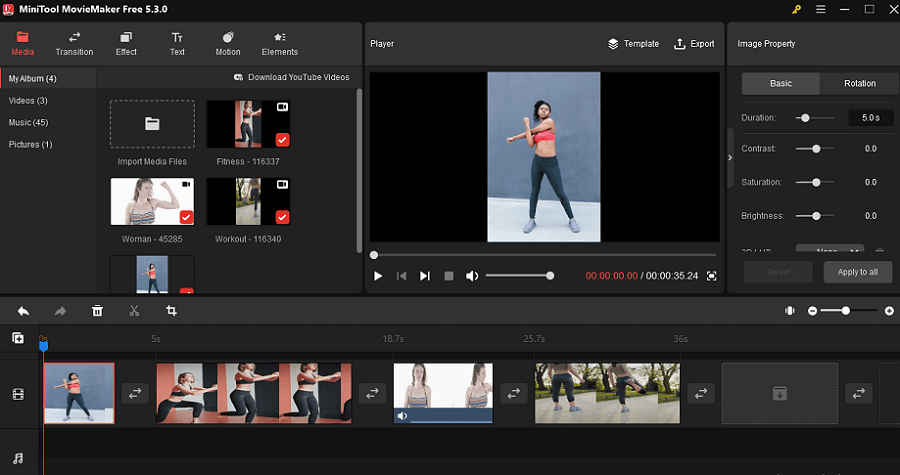 Step 3. Edit the workout video clips.
Split: To separate a workout video into several clips, drag the playhead to the place where you want to split, and click the scissors icon on the timeline or toolbar. To split more concisely, tap Full Split.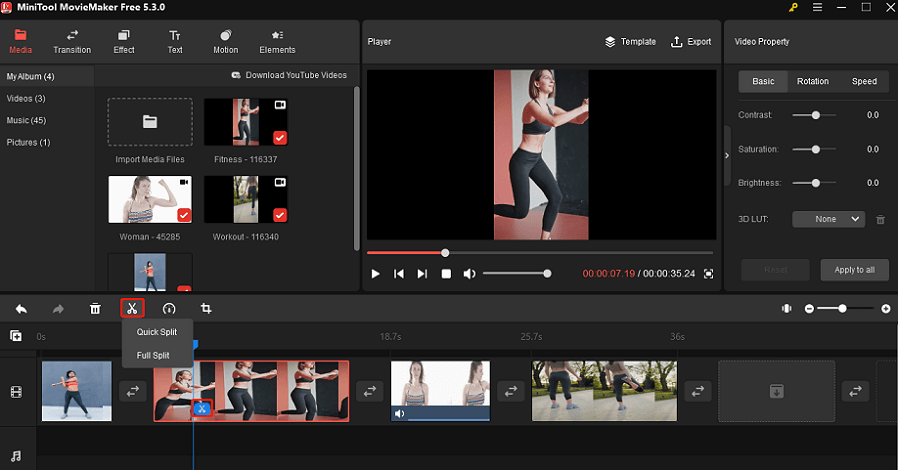 Trim: To delete the unwanted part in your workout video, click TRIM beside the SPLIT tab.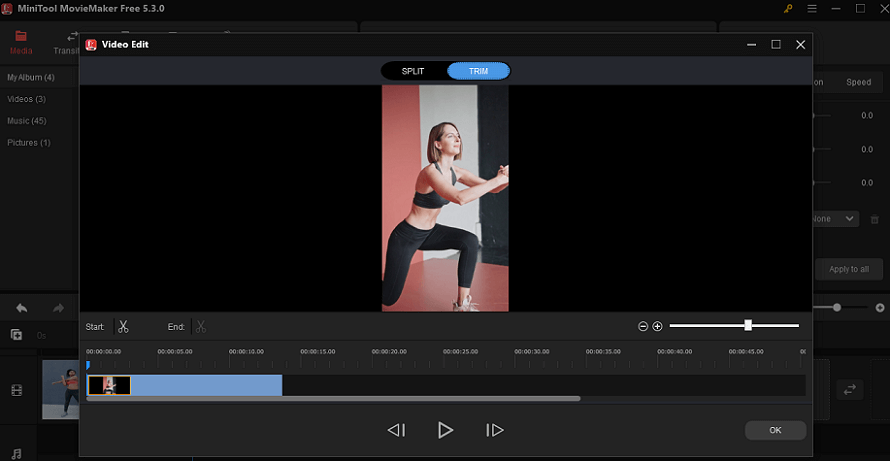 Crop: To crop a workout video clip, click Crop on the toolbar. Then, you can choose to custom-crop videos or use a preset aspect ratio (16:9, 4:3, 1:1, 3:4, 9:16).
Add transitions: If you want your video clips to switch more smoothly, you can add transitions. Just click on Transition, select one transition effect you like, and drag and drop it between two workout video clips, or click + on the bottom right corner of the transition.
Add filter effects, motion effects, and animated elements: Click on Effect or Motion or Elements, choose the one you'd like to add, and drag it to a video clip directly or click + on the bottom right corner of it.
Video property: To change the video property, select a workout video, then the Video Property tab will appear on the right. You can adjust the video contrast, saturation, and brightness. And you can flip or rotate the video and change the video speed.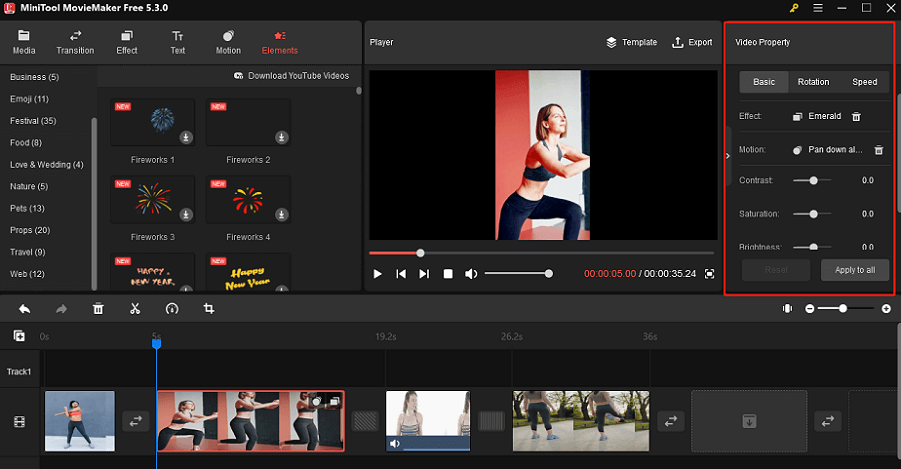 Add text: You can add captions, titles, and end credits to your workout video. Tap on Text, choose a caption, title, or credits template you prefer, and click + or drag it to the text track. Next, enter and edit the text under the Text Property tab.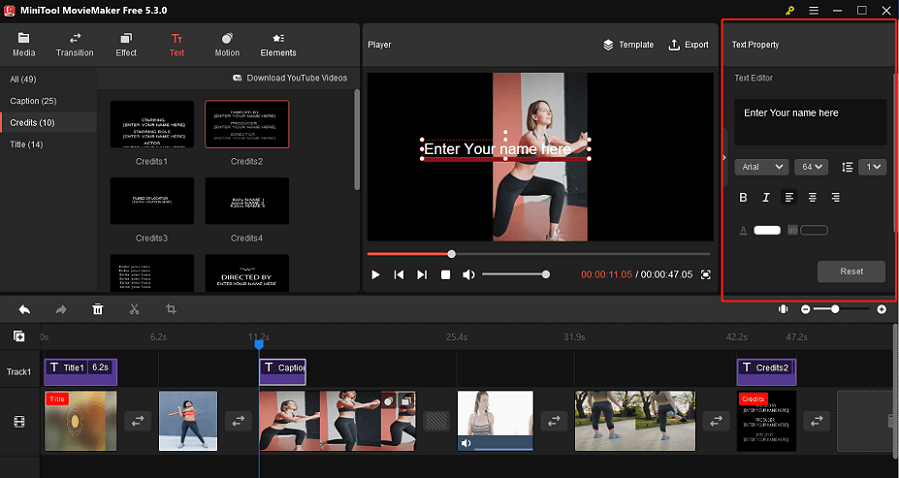 Add music: Now, it's time to add background music to create the vibe. You can choose the free built-in music by selecting Music under the Media tab. Or import music files from your desktop. Then, click + or drag it to the soundtrack.
Make sure the music isn't too loud to interfere with the narration.
Step 4. Export the workout video.
Once finished editing, you can export the workout video to your PC. Click Export on the toolbar. Then, you can rename the video, and choose the video format and storage location. If you need to change video quality, encoder, resolution, bit rate, and frame rate, click Settings.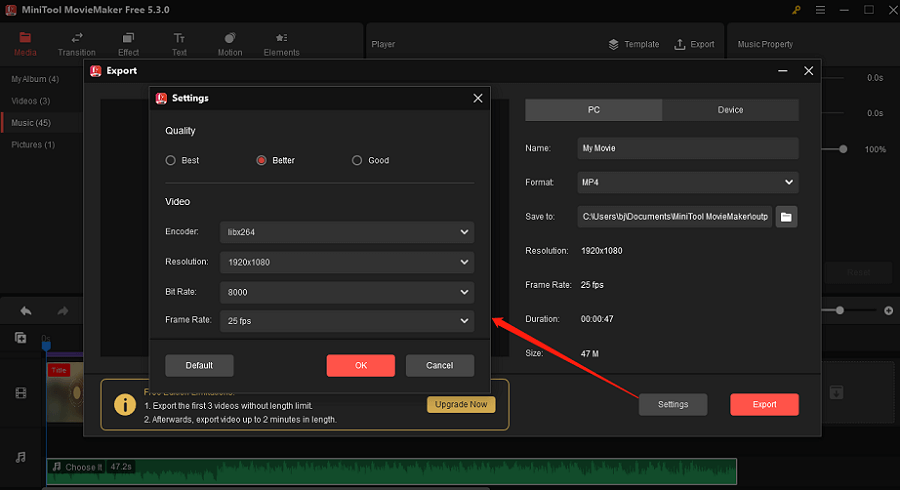 MiniTool MovieMaker is a powerful workout video editing tool on Windows. With its help, I created an amazing workout video.Click to Tweet
Online Workout Video Maker
In this section, we will explore how to make workout videos with the online tool. Animoto is a good choice.
Animoto is a good online workout video maker with which you can make a workout video in minutes. Because it has a range of workout video templates, like the company overview, follow-along workout, and online fitness promo.
How to make workout videos with Animoto:
Step 1. Visit the Animoto website and log in to it.
Step 2. Select a workout video template.
There are many customized video templates. Choose a workout video template from a library. Or if you want to be more creative, start from scratch.
Step 3. Add workout files.
Upload your workout photos and video clips into Animoto's template.
Step 4. Customize the video template.
Customize your workout video with text, transitions, and more. You can add and edit the text to make titles, introduce yourself to viewers, and caption your workout video. In addition, you can add transitions and animations by using video styles.
Step 5. Add music to the video.
Animoto has a music library and allows you to sort copyright-free music by mood, and genre. Or you can add your own music.
Step 6. Save and export the workout video.
You can also try other workout video makers as long as they satisfy your needs.
Share the workout video
Now, you have finished making the workout video, why not share this stunning video with others? You can upload it to social media platforms, such as YouTube, Instagram, Facebook, and others. It's a useful way to engage with your audience and grow in popularity across multiple platforms.
Conclusion
In a nutshell, we shared some ideas and tips for making workout videos. And we offer a step-by-step guide on how to film workout videos and how to make workout videos. Now that you've read our guide, you're ready to get started.
While you using MiniTool MovieMaker, if you have any problems or questions, please contact us instantly via [email protected].