In this article from MiniTool MovieMaker, we have covered the four best business video makers and eight business video ideas. Depending on your preferences, you can choose the app that you believe is best for you and use it for your business. If you find yourself in this category, then you're in the right place. Go see it now!
When your business videos go viral, they can play an important role in boosting your content marketing. At the same time, it is a great opportunity to post your creative business videos on different social media platforms to attract your target customers and motivate them to take action.
4 Best Business Video Maker
The following is a list of the four best business video makers to match your desire.
MiniTool MovieMaker
MiniTool MovieMaker is an excellent video maker for the business you must explore. You can use it to craft visually stunning compositions. As an easy-to-use and feature-rich video maker, it can give your video a polished look and turns it into a work of art.
There are a variety of embedded video templates available, allowing you to freely upload videos and pictures, add subtitles or choose your favorite music. Plus, you can choose from continuously updated resources that keep up with current trends.
Moreover, users can use it to make outstanding vlogs, e-albums, photo slideshows, game commentary, online lessons, social media videos, and so on.
If you want to learn how to make a business video with MiniTool MovieMaker, all you have to do is to follow the process stated below:
Step 1. Download, install and open this business video maker app on your computer.
Step 2. Close the pop-up window to directly access MiniTool MovieMaker's main panel.
Step 3. Click Import Media Files under the Media tab to upload your media files including videos, images, and audio.
Step 4. Click the + icon to add media files to the timeline or drag and drop them into the timeline.
Step 5. Click the + icon or drag and drop to add desired text, elements, transitions, effects, and motions.
Step 6. Click the video, image, or audio you want to edit on the timeline to highlight it. Edit your business video in detail using the toolbar options above the timeline, such as cropping or reversing the video.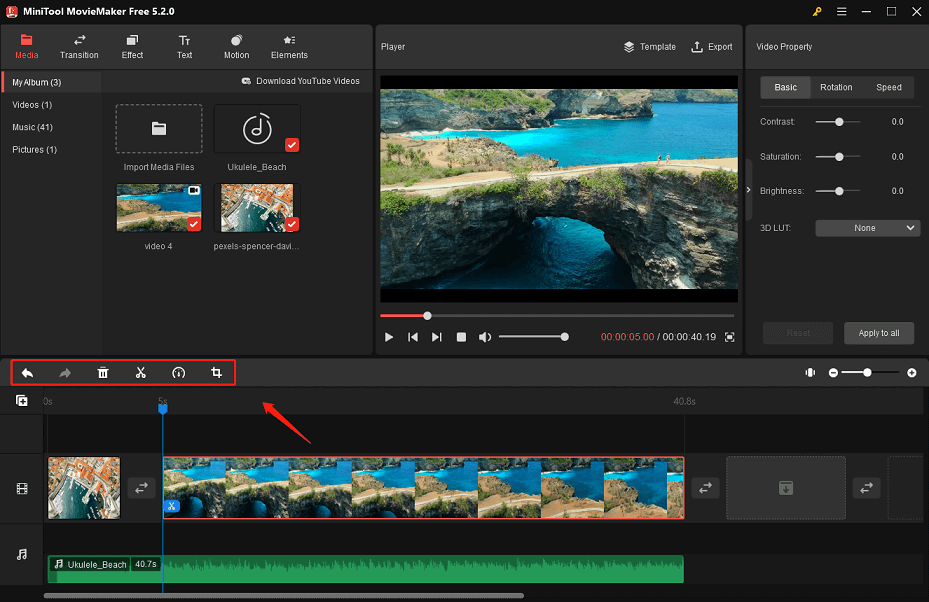 Step 7: Click the Play icon in the lower-left corner of the Player window or press the Space on your keyboard to preview the editing results.
Step 8. Click Export in the upper right corner of the Player window. By default, you'll be taken to the PC tab where you can rename the video, choose an export format, change the save location, customize the video resolution, video quality, video bitrate, and more.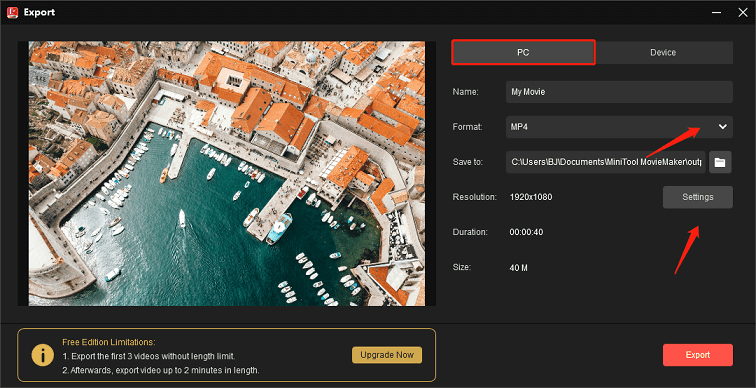 Everyone can create business videos using its user-friendly interface, regardless of previous video design knowledge. The following are a group of features of MiniTool MovieMaker:
Free, no bundling, no ads, clean and safe.
Add awesome text and animated elements.
Add stunning video transitions, effects, and motions.
Apply embedded templates.
Change the speed of the video.
Split/trim/crop videos.
Reverse/rotate/flip videos.
Batch process images, videos, and audio.
Export the video without a watermark.
Support Windows 7/8/8.1/10/11.
The features go on...
MiniTool Movie Maker is an easy-to-use video editing app for a business that delivers great results in no time.Click to Tweet
Animoto
Animoto makes it simple to develop business videos that promote your company, whether you're a newbie or a pro. With this business video maker, you can wow your audience by sharing your business videos on various social media platforms.
There are more than one million photos and video clips available in the Getty Images stock library. You can choose a tune for your business video from the library of licensed tracks.
It lets you store your logo, font, and colors all at once and apply every brand with a single click. Plus, you can use your voice to create a personal connection and record, upload, and edit your voiceovers with ease.
Canva
Canva is a free online business video maker. To enhance your brand advertising and promotion, you can use it to produce appealing business videos.
With the help of this business video maker, you can create attractive banners and promotions for your products and services, along with video content about your team and company culture. You can produce amazing promotional videos in only a few minutes by using its user-friendly editing and professional-designed templates. You can also share commercial videos on social networks to spark curiosity among new customers.
Here is the guide on how to make a business video with Canva:
Step 1. Access Canva
Go to the Canva homepage and type Business Video into the search box on this page.
Step 2. Choose a Template for Business Video
Specify a theme, style, or category to narrow your search. Additionally, you can choose which social media network you would like to use: YouTube, Facebook, TikTok, or Instagram Reels.
Step 3. Edit the Business Video
Add your video or browse the stock video collection in Canva. This business video maker allows you to trim, crop, and merge your videos. Then, you can add transitions between videos to give your visual storytelling a smooth flow.
Step 4. Make It More Distinctive
Use readable text to add a useful call to action. Make it lively, engaging, and resonant. To give your audience an immersive experience, you can also use appropriate animation effects, sound effects, and background music.
Step 5. Share the Business Video
Save an MP4 version of the business video to your computer and share it on any of your social media channels.
FlexClip
FlexClip is a free business video maker app that allows you to create compelling videos to enhance brand recognition or publicly display products and services online. Many specific business video templates can help you quickly and easily produce a business video from sales to explainers to business promos.
How to make a business video with FlexClip in these 3 simple ways:
Step 1. Upload Media
Upload videos or pictures from your PC and add them to the storyboard. Or, add videos or pictures from the stock libraries.
Step 2. Edit Freely
Insert music, text, and voiceover to enrich your business video.
Step 3. Export the Video
Share your business video with the world online or download it in different ratios and definitions.
Some of the FlexClip Business Video Templates Include:
Ad Amazon Shop Promo
Business Brand Promo Slide
Creator Shopping Haul Reel
Corporate Introduction Slideshow
Final Sale Promotion Facebook
Simple Skincare Promotion Sale
Market Product Promo Slideshow
Minimalist Home Decoration Promo
8 Video Ideas for Your Business
Sharing a video can help you attract new clients, enhance engagement, or simply promote awareness about your business. There are eight video ideas for your business. Consider one of the following:
Business Explainers
If a picture is worth a thousand words, a video is most likely worth a million. If you need to convey something new or complex, an efficient method for doing this is using business explainer videos.
Whether you're running an established company or a promising new startup, having an explainer video on your website will encourage visitors to stay there longer. Without the giant walls of text that some businesses rely on, short videos can summarize your company's services and target market.
Branding
It's crucial to stay true to your brand when at a conference. Videos serve to highlight your brand identity and guarantee that your brand colors, messaging, and personality is consistent throughout the event.
Onboarding
To inspire enthusiasm for joining the team, impress new hires with a concise onboarding video. A video conveys the essence of your company's values and culture far more effectively than an otherwise dull email or onboarding information package.
Facebook and Instagram Ads
Instagram and Facebook ads are ideal places to showcase the prowess of your commercial video. If you're paying for ad space in your company's marketing plan, it's important to remember that videos get more attention than static images. If you're creating an ad for a seasonal sale, new product, or special sale, this is an effective way to stop thumbs rolling and encourage people to watch your ad by adding a video.
LinkedIn Ads
There is no doubt that LinkedIn's algorithm favors video. Additionally, 59% of executives enjoy watching movies on the platform according to data. If you need to connect with important people to promote your B2B products and services, video content is a great choice to help you grow your business.
Twitter Ads
For B2C marketers, Twitter is among the most well-liked channels. It's a wise strategy to make some catchy Twitter ads if your company caters to consumers. Moreover, videos receive three times the amount of attention as the average tweet.
Tell Your Business Story
What sets you apart? Why do you start a business? Story sharing is more popular than advertising. Users can make a video that shares a story with their audience to engage, motivate, or inspire them. Describing a trend is what we do in the YouTube Trends, or look for Instagram Story Ideas that can help you get more followers.
Try to share a story about your business rather than a broader story about your industry or a trend. This could be a great introduction to your website's "About" page, or a highlight video for your Facebook or YouTube channel.
Video Content on Social Media
Video content is now prioritized over text and static images on social media platforms. Simply publishing a video on your feed rewards your business with more views in people's feeds. Users can also create some social media material that stops scrolling to boost interaction.
Conclusion
In a nutshell, we have introduced how a business video maker can enhance your video content and some video ideas for your business to expand your business career.
FAQs
1. Why Do You Need a Business Video?
There's no denying that an engaging business video can influence consumers' purchasing decisions, boost sales and dramatically increase website traffic. In this case, a video posted on a social networking site may get more likes and shares.
2. Why Video Marketing Is So Effective for Businesses?
For good reason, social media platforms are giving video content priority. Marketing videos not only increase conversions and sales by about 80%, but they can also establish trust, promote engagement, and increase brand recall, as well as being more likely to be shared than static photos.
3. What Would Make Good Video Ideas?
Align representatives with sales-enabling content
Create a video to explain your product
Land your next customer by using a video pitch
Put together a YouTube how-to series
Provide video updates to your team
Send a compelling event invitation
Thank staff members formally
4. How Do You Create a Trendy Business Video?
Choose your target market
Consider more business videos for inspiration
Choose your style
Create a script or outline
Make ready-made content using a business video maker
Use a trackable link to distribute your video
Pay attention to your video analytics
Adjust your content as necessary if engagement is low