You could get into trouble for using photos found on the internet without permission, even if you didn't mean to infringe. In this post, I've compiled a list of free and cheap stock photo download sites where you can get non-copyrighted images.
To avoid copyright infringement for images on your blog, you need to buy stock photos or create original images. There are many stock photo websites offering free and paid photos. If you want to get or buy high-quality stock photos with a limited budget, then you should take a look at this post.
This post lists 10 best websites where you can find free and cheap stock photos for your blog. Additionally, it provides you with 3 photo editors and an excellent photo video maker – MiniTool MovieMaker.
Part 1. Best Places to Find Free Stock Photos
This part introduces 5 places to download free stock photos without paying.
#1. Pexels
Website: https://www.pexels.com

Pexels is a popular source of public domain images and videos. All photos and videos on Pexels can be downloaded and used for personal and commercial purposes without giving credit to the photographer or Pexels. More importantly, you can download free stock photos at any resolution like 720p, 1080p, and 4k. No registration is required!
Just enter the keyword and filter these photos by orientation, size, and color.
Also read: Top 15 Websites to Download Free Stock Footage with No Watermark
#2. Unsplash
Website: https://unsplash.com
Unsplash is a free stock photo site that offers high-quality and non-copyright images. It groups photos into different topics such as Wallpapers, Experimental, Fashion, Film, Travel, Family, Friends, Animals, Business & Work, etc. You can choose the topic you're interested in and download the wanted photos without signing up.
#3. Gratisography
Website: https://gratisography.com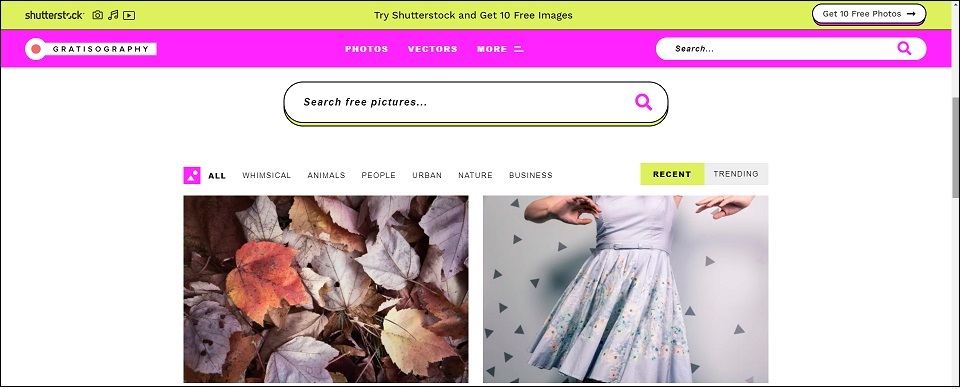 It's another website to download free stock photos and vectors. You can use these images for both commercial and non-commercial projects. Images on this website are whimsical and unique, and categorized into Animals, Fashion, Nature and more. With the intuitive interface, you can quickly find the photo you want.
Related article: The Best Royalty Free Stock Video Footage Websites
#4. Pixabay
Website: https://pixabay.com
Pixabay, one of the biggest stock footage websites, not only offers free stock photos but illustrations, videos, vectors, music, and sound effects. It lets you filter results by orientation, category, size and color. It allows you to modify photos and use them for commercial and non-commercial purposes without copyright restrictions. This free stock photo site requires no registration.
#5. Morguefile
Website: https://morguefile.com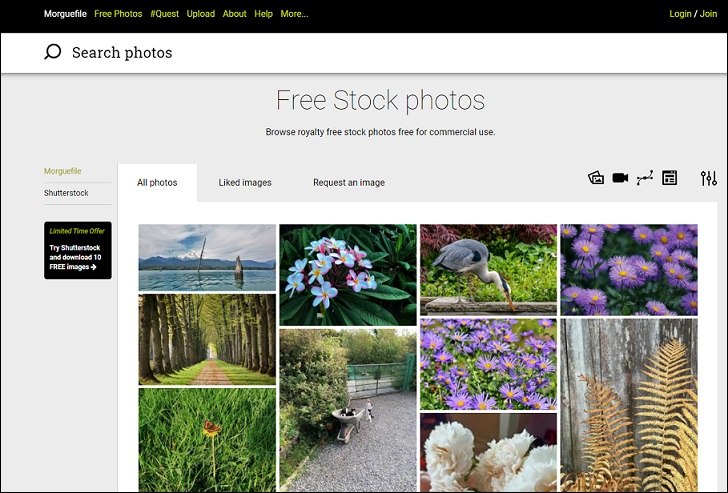 Morguefile holds over 400,000 free high-resolution stock photos. It aims to provide free images for designers, comic books, illustrators, teachers and other creators. If you have a Pro account, you are able to edit images online by adding filters, cropping, making enhancements, etc. All free stock photos can be used for commercial purposes with no watermarks, no login required.
Part 2. Best Places to Find Cheap Stock Photos
Free stock photo websites do have lots of high-quality photos, but you need to spend much time searching for the photo you want. To help you quickly find the wanted photos, you can try paid stock photo websites. Here are 5 best places to find cheap stock photos.
#6. Shutterstock
Website: https://www.shutterstock.com
Shutterstock provides more than 350 million royalty-free stock photos, vector graphics, illustrations and over 400 templates for your social media platforms and print projects. Besides that, this website also offers stock music, 3D models and editing tools like image resizer, file converter, collage maker, etc.
The advanced image search filters can help you narrow the results by image type, orientation, color, people, ethnicity, age, gender, number of people, category, artists, usage, and image size. Another advantage of Shutterstock is that it lets you search by image.
Now, let's take a look at Shutterstock's subscription plans.
10 images per month at $49 or $29 with annual plan.
50 images per month at $125 or $99 with annual plan.
350 images per month at $199 or $169 with annual plan.
750 images per month at $249 or $199 with annual plan.
Note: The annual offers a 1-month free trial that lets you download 10 free images. If you cancel the annual plan, you can continue to use the 10 free images.
#7. iStock
Website: https://www.istockphoto.com
iStock is one of the biggest online royalty-free photography providers founded by Bruce Livingstone. This website owns millions of photos, illustrations, clip art, videos and audio tracks.
Your search results are sorted by All, Essentials (Lowest price), Signature (Best quality) and can be restricted by license type, orientation, number of people, age, ethnicity, color, size and upload date by clicking the Refine button.
iStock offers 4 subscription plans. The basic subscription plan is cheaper than other plans.
10 images per month at $40 or $29 with annual plan.
25 images per month at $65 or $49 with annual plan.
50 images per month at $99 or $90 with annual plan.
750 images per month at $199 or $166 with annual plan.
Note: Every week, iStock will choose a photo from the best authentic stock images and make it available for you to download free of charge. Sign-up is required!
#8. Canva Pro
Website: https://www.canva.com/pro/
Canva is one of the best graphic design platforms that I have ever used. It offers many beautiful templates and free stock photos and graphics. If you want to create professional designs online, Canva Pro is always a good choice.
Canva Pro provides more features than Canva Free. Canva Pro gives you access to over 100 million premium stock photos, graphics, video and audio tracks, 610,000 premium and free templates. It also lets you edit photos by removing background, resizing, and more.
Canva Pro offers two plans:
The monthly plan costs $12.99.
The annual plan costs $119.99.
Note: Canva Pro offers a 30-day trial. You can cancel at any time during your trial.
#9. Dreamstime
Website: https://www.dreamstime.com
Another website to get cheap stock photos is Dreamstime. It's a photography community with more than 171 million stock photos and 37 million users. All images are available in different sizes and formats. You can purchase these photos and use them for books, magazines, ads, flyers, booklets, websites, blogs, etc.
The search engine lets you filter results by people, pricing, license, media properties, most relevant, best selling and latest upload.
Here are the subscriptions plans on Dreamstime:
5 images per month at $18.
10 images per month at $27.
15 images per month at $18.
25 images per month at $27.
100 images per month at $49.99.
750 images per month at $153.
750 (prepaid) images per month at $118.33.
#10. JumpStory
Website: https://jumpstory.com
JumpStory is a great stock photo website where you can find the right photo, illustration, vector, icon and video from its stock photo library. This website has hundreds of categories and collections.
JumpStory comes with a photo editor that can crop and resize images, add text and make image transparent, and an image converter that can convert any image to PSD, TIFF, EPS and PDF.
The monthly plan costs $39 and the annual plan costs $19 per month.
Part 3. 3 Best Photo Editors That You Should Know
Wondering how to make great designs with your stock photos? Here are 3 best photo editors for you. They are the best graphic design tools.
Photoshop
Photoshop is the most popular graphics editor for Windows and macOS. This professional graphics editing software can handle various complicated photo editing tasks. With Photoshop, you can draw paths freehand, duplicate objects in an image, crop image, remove background from image, erase objects in an image, convert video to GIF, and many more.
However, Photoshop is expensive and costs $20.99 per month.
Also read: Top 4 Methods on How to Remove Objects in Photoshop
GIMP
If you want to edit photos for free, you can use GIMP. It can be regarded as the best free alternative to Photoshop because it has almost all the editing tools that a professional photo editor should have. GIMP is free and open-source available for most operating systems including Windows, macOS, GNU/Linux and so on.
Do you want to know the difference between Photoshop and GIMP? Check out his post know: GIMP vs Photoshop - Which Image Editing Software Is the Best?
Lunapic

This is a free online photo editor with many editing options. You can use it to apply filters to photo, blur photo, crop photo, convert video to GIF, edit GIF frames, optimize GIF, draw on photo, etc. All editing happens online. After creating your design, you will get a watermark-free photo of high quality. No registration is required! No viruses!
Part 4. How to Make a Video from Photos on Windows
MiniTool MovieMaker is an excellent video editor that can help you make and editing videos by splitting, trimming, speeding up, slowing down, reversing, adding text, muting audio, adding music, zooming in/out, and more.
It's also a video converter that converts video, image and GIF to any popular format such as MOV, WEBM, MKV, MP4, WMV, and AVI.
Here's how to make a video from photos with MiniTool MovieMaker.
Step 1. Download and install MiniTool MovieMaker.
Step 2. Launch this software and shut down the popup window to access the main interface.
Step 3. Click on Import Media Files to import the needed photos from your computer.
Step 4. Next, choose the first image, press the Shift key and choose the last photo to select all the imported photos. Then drag and drop these photos to the timeline.
Step 5. Now, you can rearrange the photos in the timeline. After that, click Transitions in the top menu bar and apply the desired transitions to photos.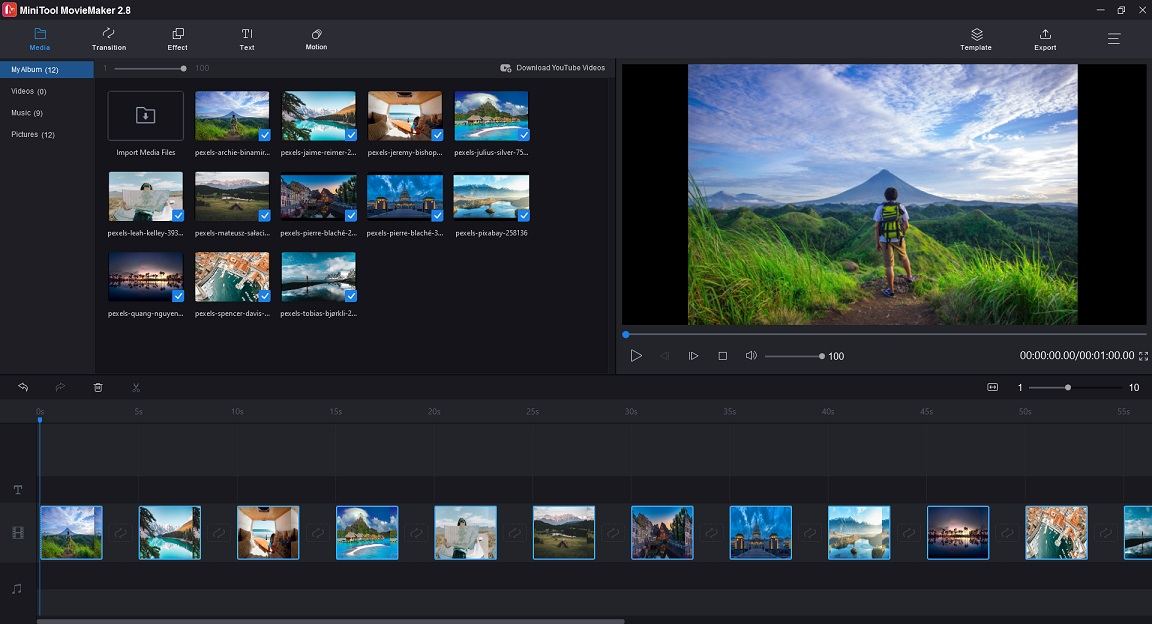 Besides that, you can add music to photos, zoom in/out photos, add text to photos, etc.
Add music to photos: Import the audio track and drag the file to the timeline. The audio file will automatically adjust its length to fit photos.
Add text to photos: Tap Text and choose a text template. Then add the text to the desired photo. Enter the text, change its color, size and location.
Zoom in/out photos: Choose a photo and click Motion. Choose the zoom effect you like and click the + to apply the zoom effect
Step 6. After editing your photos, click Export to open the Export window. Here you can change the file name, choose a new save path, and select MP4 or other format as the output format.
Conclusion
This post introduces 10 best websites to get free and cheap stock photos and 3 photo editors to create stunning designs. The last part also tells you how to make a video from photos on Windows.
If you'd like to recommend some stock photo sites to us, please comment on this post and share them with us or contact us via [email protected]!