This article introduced by
MiniTool Software
mainly discusses how to download, transfer, copy, move, migrate, get, export, sync, import, save, store, upload, put, retrieve, or back up iCloud photos to your local computer. It also answers some questions about photo transferring among iCloud, PC, and iPhone.
If you have set up the iCloud Photos application on your Windows 11, you will directly see photos and videos saved in iCloud Photos from your computer. Yet, what you see on a local PC are only thumbnails of the media files in iCloud Photos. If you want to open, use, or edit them locally, you have to first get them from iCloud to your PC. Once exported, you can view those photos in other apps like Microsoft Photos.
Furthermore, if a photo or video is changed or removed on icloud.com or any Apple device with the same Apple account as iCloud Photos on Win11, the changes will automatically be synced to the corresponding items on the PC. However, vice versa, the changes won't be synced to your Apple devices or on iCloud.com. If you want the changes to be saved to iCloud Photos, you have to upload the edited photos to the cloud storage as new files.
Then, how to download photos from iCloud to computer? Please continue reading!
How to Download Photos from iCloud to PC Windows 11?
If you are not having the iCloud Photos app on your current computer, you have to download and install it now. Next, sign into your iCloud Photos account. Then, you can follow the following guide.
Step 1. In Windows 11, launch File Explorer.
Step 2. Select iCloud Photos in the left panel. Sometimes, it may hide under the Pictures folder.
Step 3. Right-click on the photos that you want to put onto your computer and choose Always keep on this device.
The icon next to the photo filename indicates the status of the item. By default, it is a cloud icon, meaning that the photo is only stored online. If the icon turns into a green circle with a tick within it, it means that it has been successfully downloaded to your PC.
How to download multiple photos from iCloud to computer? How to download all photos from iCloud to Windows PC? Just right-click on the target image and choose to download it; repeat this action to all the photos you want to retrieve.
Viewing iCloud Photos on Windows 11?
Microsoft has brought iCloud Photos integration directly to the updated Microsoft Photos app that began rolling out to Windows Insiders early in September 2022.
The Photos app enables you to view, organize and share photos from your local computer, OneDrive, as well as the new iCloud Photos. Now, you can directly add and access your iCloud Photos from within the tool. Your iCloud Photos will appear alongside pictures from other sources under the All Photos gallery view and on a dedicated page, you can access from the side navigation pane.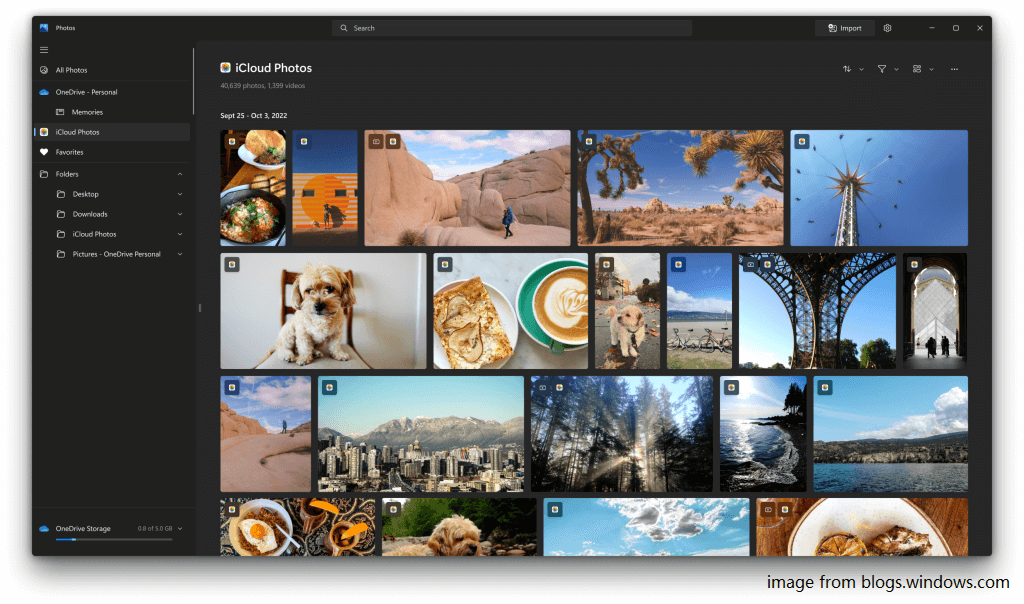 Download Photos from iCloud to PC FAQ
How to transfer photos from iPhone to iPhone without iCloud or computer?
If the two iPhones are close to each other, you can take advantage of the AirDrop feature.
Go to the Photos app on the source iPhone and select the photos you want to transfer.
Tap on the Share
Select AirDrop.
Choose the target iPhone.
On the target iPhone, click Accept.
You can also make use of QuickStart or Migration utilities to help you transfer files between two iPhones.
How to transfer photos from iCloud to Android without computer?
Visit icloud.com on your Android phone and sign into your account. Then, go to Photos on your iCloud. There, you can choose to download pictures on your Android device.
How to transfer photos from iPhone to computer without iCloud?
Connect your iPhone to the computer with a USB cable. When it pops up asking for your permission to let the PC access the photos stored on your phone, click Allow. Then, you can see and access the iPhone pictures on your computer. Thus, you can copy photos from iPhone to PC.
How to transfer photos from iPhone to iCloud on computer?
Make sure you have iCloud installed on your computer.
Connect your iPhone to your computer and allow your computer to access your iPhone.
On PC, copy photos from your iPhone to the iCloud folder in File Explorer.
Then, the copied photos will be automatically uploaded to iCloud.
How to transfer photos from computer to iPhone iCloud?
First of all, you have to have the iCloud app installed on your PC. Then, sign into your iCloud account. Open File Explorer and located the iCloud folder from the left menu. Finally, copy and paste the target photos into the iCloud folder. When it is done, you can access iCloud on your iPhone and see the transferred images there.
How to turn off iCloud Photos on computer?
Just sign out of your account on the desktop iCloud app. Or, completely uninstall the iCloud app.
How to delete iCloud Photos from computer?
As for how to delete photos from computer but not iCloud, just click on the target photos and select Free up space.
For how to delete photos from iCloud but keep on computer, you need to first turn off sync between iCloud and computer by signing out of your account on desktop iCloud. Then, you can delete photos on iCloud on iPhone or icloud.com. Or, if you want to keep sync between iCloud and PC, you can first move those photos to another place on your computer (not in the iCloud folder) and then delete them in the cloud.
To remove the iCloud Photos icon from your computer, you can just uninstall the iCloud Photos windows app.
Videos/Audio/Photos Management Tools Recommended
These applications are completely compatible with Windows 11/10/8.1/8/7.
MiniTool MovieMaker
An easy-to-use and free video editing software without watermarks. The embedded templates enable you to quickly make personal slideshows and share them with your friends!
MiniTool MovieMakerClick to Download100%Clean & Safe
MiniTool Video Converter
Quickly convert videos and audio from one file format to another to apply to more devices. It supports 1000+ popular output formats and batch conversion. Besides, it can also record PC screens without any watermark and download YouTube videos.
MiniTool Video ConverterClick to Download100%Clean & Safe
Also read: