Part 1. 6 Best Amazon Video Makers
#1. MiniTool MovieMaker
MiniTool MovieMaker is an easy-to-use and feature-rich video editing app for Amazon products and ads. It has a simple, uncluttered user interface, making it easy to create attention-grabbing Amazon product videos and video ads.
This Amazon video maker software amazes a large collection of movie templates, music, transitions, motion effects, filters, and 3D LUT effects. In addition, MiniTool MovieMaker allows you to split, trim, crop, flip, rotate, reverse, combine videos, add text to video, do color correction, change the video speed, and much more.
Another plus is that there are popular aspect ratio options, containing 9:16, 16:9, 4:3, and 1:1. It is also capable of designing high-quality videos that are appropriate for any situation, such as business videos, infographic videos, marketing videos, hype videos, promotional videos, and so on.
MiniTool MovieMakerClick to Download100%Clean & Safe
Features we enjoy:
One-click & drag-and-drop capabilities.
Easy-to-use redo and undo tools.
Hundreds of customizable fonts.
Slider-style adjustment tools for video brightness, contrast, and saturation.
Adjustable video quality, resolution, frame rate, and bit rate.
Create slideshows with images and music.
Images and videos are processed in bulk.
Export 1080P videos with no watermark.
Pricing:
Currently, you can try out MiniTool MovieMaker for free or take advantage of one of our three paid plans:
Monthly Subscription – $12.99; one license for one PC; and one-month free upgrade.
Annual Subscription – $35.99; one license for one PC; and one-year free upgrade.
Ultimate Plan – $59.99; one license for three PCs; and lifetime free upgrade.
If you are on the lookout for a handy and decent Amazon video maker app, MiniTool MovieMaker is the go-to choice for you to create dynamic Amazon video ads and product videos in a jiffy.Click to Tweet
#2. Biteable
Biteable serves as an easy-to-use Amazon product video maker, offering animations, images, and stock footage so you always obtain studio-quality results. The platform is also an excellent option for marketers in all industries yet will do wonders for your Amazon ads.
Features we enjoy:
1.8 million photos, clips, and animations are available.
Limitless video exports.
Limitless team members (on the Ultimate plan).
Commercial use rights and high-definition 1080P video resolution (on the Plus and Ultimate plans).
Pricing:
Biteable offers a free and two paid plans:
Plus – $19 per month when billed yearly; $29 per month for month-to-month.
Ultimate – $49 per month when billed yearly; $99 per month for month-to-month.
#3. Promo.com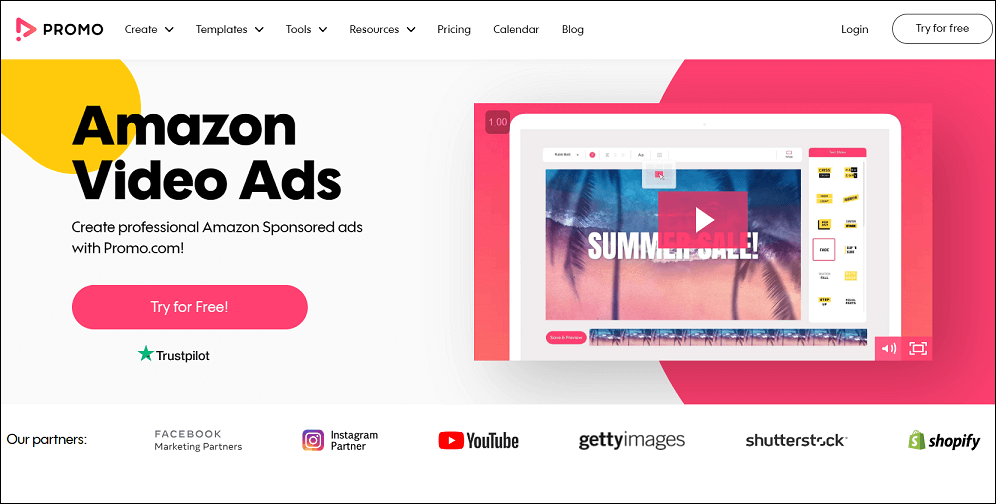 Promo.com is popular with users since it makes it very easy for them to create professional-grade Amazon video ads. The platform features simple-to-use video editing tools, skillfully crafted video templates, and a collection full of images, video clips, and music you can use to make and customize your video. You only need to add a logo and text to go live!
Features we enjoy:
Ready-made and customizable video templates.
Upload your music, videos, and photos.
Social media calendar.
Post videos to different social networking sites directly.
Unique sharing links for getting feedback.
Unlimited content, new downloads weekly.
Pricing:
Users can try Promo.com for free or choose from one of three paid plans:
Basic – $25 a month when charged yearly; $49 a month for month-to-month.
Standard – $43 a month when charged yearly; $99 a month for month-to-month.
Pro – $155 a month when charged yearly; $359 a month for month-to-month.
#4. Filmora
Filmora is a powerful Amazon video maker designed for eCommerce marketers who have limited technical skills. Even so, it still includes features that are strong enough for professionals. Apart from that, you can use Filmora to make compelling Amazon video ads with a broad visual effects library, over 300 templates, overlays, and filters, rapid processing speeds, and green-screen effects.
Features we enjoy:
Audio ducking.
Object tracking.
Split-screen.
Create custom animations using keyframing.
Color correction for several clips simultaneously.
Pricing:
You can purchase Filmora for as little as $44.99 per year; the Business plan costs $155.88 per year.
#5. InVideo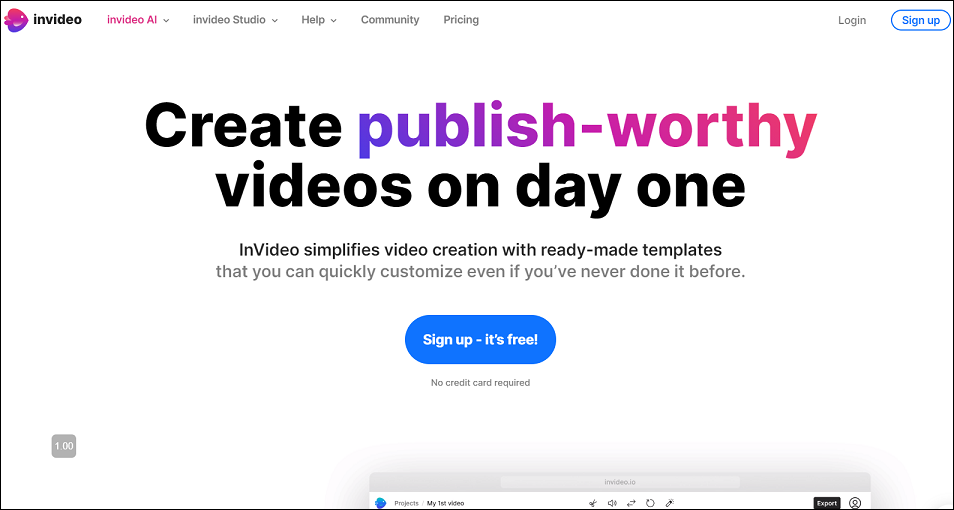 InVideo is an Amazon video ad maker powered by AI and it has a large library of fully customizable, professionally crafted templates that make it simple to quickly make Amazon video ads. Furthermore, you can use music, animations, and images to make your video ads even more appealing and get access to the platform to create YouTube Videos and videos suitable for other social media sites.
Features we enjoy:
3,000+ professionally-created templates.
Over 1M premium videos and photos.
Automated text-to-speech (TTS) technology.
One-click upload to different social media sites.
24/7 support via phone or live chat.
Pricing:
InVideo also provides free and two paid plans:
Business – $15 a month when charged annually; $30 a month for month-to-month.
Unlimited – $30 a month when charged annually; $60 a month for month-to-month.
Related article: 4 Steps to Easily Make A YouTube Video with Pictures
#6. Wave.video
Wave.video is another Amazon video ad maker that comes with a drag-and-drop and easy-to-use interface. It is equipped with features that provide tools to add images and videos, resize videos, change layouts, and add stickers, captions, graphics, music, and watermarks. Also, there is a collection of over 2 million royalty-free video clips and images.
Features we enjoy:
600+ professionally-made templates.
350 fonts.
Audio library with 300,000 royalty-free audio tracks.
Auto-resizing for more than 30 video formats.
Pricing:
Wave.video also has free and two paid plans:
Creator – $20 per month when billed annually; $39 per month for month-to-month.
Business – $40 per month when billed annually; $79 per month for month-to-month.
Part 2. 8 Tips to Make Amazon Video Ads Shine
In addition to choosing the right Amazon video maker for you, it is also necessary to understand the techniques of making such videos. Here are eight tips to help you out:
#1. Follow Amazon's Video Specs
If you're like most people, you do a double take when you hear the word "specs." When creating Amazon video ads, it's crucial to ensure that you follow established guidelines in terms of format, size, and content. You certainly don't want to make a stunning ad only to find that it will not work for Amazon as you cannot size it properly without compromising the quality of the ad.
Amazon Video Advertising Placement
Find out where you can see Amazon video ads and how big they are.
Home Page – Tablet Shopping App – 300 x 250
Home Page – Smartphones (Below the Fold) – 300 x 250
Home Page – Desktop – 300 x 250
Fire tablet (beta) – available in the DE, UK, US – needs custom background
Detail Page – Smartphones – 414 x 125
Detail Page – Desktop – 970 x 250
Video Guidelines
Ads must meet the below specifications. Videos will be transcoded for appearance and size in the placements described above.
Video sizes: 1920 x 1080 pixels (16:9) recommended
Audio: 128 kbps/44 kHz
Frame rate: 15 FPS minimum
Bit rate: 2 MBps recommended
Recommended codec: H.264, MPEG-4 or MPEG-2 for video; AAC or MP3 for audio
File size: Under 500MB
Video duration: Up to 3 mins for mobile and desktop (15 secs or less strongly recommended); up to 15 secs (Fire tablet)
Letterboxing: Black bars should not show up on any side of the video content
#2. Make High-Quality Amazon Video Ads
Needless to say, Amazon video ads should come out on top in terms of quality and content. The Amazon video maker you select will help you do this, however, you can also take inspiration from your competitors and then add the personality of your brand to the finished product.
#3. Keep Your Videos Short
You should make your Amazon video ads short (15 to 30 seconds is recommended) as well as communicate your offer or value in the first five secs. That's not much time to get going. Present your key selling point directly to buyers and keep things moving so that they stay involved. Amazon video ads are not appropriate for the slow build. Enter the scene, set the mood, and direct customers to the next step.
#4. Highlight Your Product
You are already aware that you don't have much time. Thus, rather than explaining the history of your product, you should definitely get right to the point (your product does something fantastic and fills a need).
Ads that introduce your product within the first second of the ad do better than those that do not. So, focus on the product immediately, demonstrate why it is cool, and save the history of that product for the onboarding emails.
#5. Optimize Videos for Silence
Amazon video ads automatically play on mute, so ensure that you add on-screen text and avoid relying on audio to convey your message. The subtitles should be simple to read and highlight the most significant aspects of your products, including sizes, benefits, features, etc. If you do include audio, ensure it's well mixed so that if someone plays it by accident, it doesn't ruin the listening experience.
#6. Educate and Showcase
Amazon video ads should be totally centered on the product and what it accomplishes. Demonstrate to customers the features and benefits of the product instantly. Even if you just have a short amount of time to convey this message, you can still showcase the benefits and features that are significant to consumers who are interested in the product. The video ads should begin with the best and most engaging perks and progress from there.
#7. Utilize the Flywheel Effect
If you're familiar with the marketing world, you've probably heard of the flywheel effect. This is the idea of generating earned media through paid advertising to achieve overall growth.
It begins with paid advertising to attract the audience to product pages and raise your ranking in search engine results pages. In turn, it boosts your chances of receiving the coveted Amazon's Choice designation, which results in increased attention and traffic. And we're back where we started.
#8. Make an Outstanding Landing Page
Amazon video ads will get customers from the ad to the product page. Your product page must then perform the heavy lifting of making the sale.
That is why it is critical to focus on the landing pages you're making. The buyer should move from ad to page seamlessly and be displayed a landing page that fits the voice and feel of the ad from which they came. The landing page, like the ad, requires to hit heavy straight away, providing the customer with the information they need to convert.
Conclusion
If you are considering designing Amazon video ads and product videos, choosing a suitable Amazon video maker will help you. Hope the apps and tips provided above will make your creation fun!
Please feel free to email us at [email protected] if you have any questions about MiniTool MovieMaker.