Want to make YouTube video which can be as casual or as high-quality as you prefer? This post shows how to easily make a wonderful video and then publish it on YouTube. Windows Movie Maker is a wise choice for you because of its powerful functions as well as simple operations. With the best video editing software, you can easily and quickly make a YouTube video.
YouTube, originally created in 2005, is a free video sharing website that makes it easy to watch online videos. As one of the most popular sites on the web, you can create and upload your own videos to share with others.
However, how to make a YouTube video with pictures? Generally, within only 4 steps, you can easily and quickly create your own YouTube video.
Step 1. Download Free Windows Movie Maker
A lot of video editing software are now made available in the market which can help you create your own videos. However, unfortunately, most of them require payment.
Windows Movie Maker, a free video editing software released by Microsoft, can help you create and edit videos as well as publish them on YouTube, OneDrive, Facebook, Vimeo, and Flickr. More importantly, the best free video editing software offers wizard-like interface, thus even a new user can easily create a movie.
Windows Movie Maker – the best free video editing software
The big problem, however, is that Movie Maker is no longer available for download from the Microsoft website. Now, I guess you might be wondering:
"Where to download free Windows Movie Maker on Windows?"
You can click the following button to get free Movie Maker software.
MiniTool MovieMakerClick to Download100%Clean & Safe
If you want to know more details about the best free video editing software, please see this post: Windows Movie Maker Free Download.
After downloading, you are supposed to install it on your PC and then launch it to make a YouTube video with pictures and videos. How to make a YouTube video via Windows Movie Maker?
Step 2. Import Media Files for Your YouTube Video
The first step of making YouTube video is to import pictures, videos, and music into Movie Maker!
Free Windows Movie Maker allows you to import videos and photos from Photo Gallery, a DVD, a digital camcorder or a smartphone to create your own video. Make sure that the media files is yours. (You might be interested in this post: How to Add Pictures and Videos to Windows Movie Maker.)
To add photos and videos that are on your hard drive to Movie Maker, you can click on the Add videos and photos button in the Home tab on the ribbon, and then browse media files you'd like to add.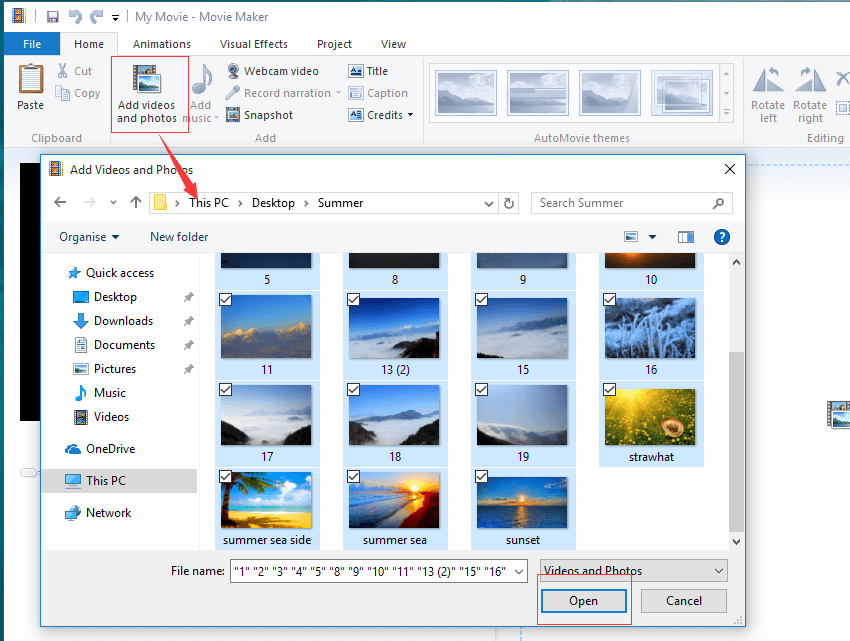 Windows Movie Maker supports many file types including:
List of Supported File Formats
Video Files: mp4, mov, 3gp, avi, rmvb, swf, flv, mkv, mpg, vob, wmv
Audio Files: mp3, aac, amr, flac, m4a, m4r, mmf, wav, wv, ape
Image Files: jpg, png, gif, bmp, ico, jpeg, pcx, tga, tiff, webp
List of Output File Formats
mp4, m4a, wmv
To import photos and videos from a device connected via USB, you can press the File button from the upper left corner, and then select Import from device.

Next, click or tap OK when you see the message "Photos and videos will be imported into Photo Gallery".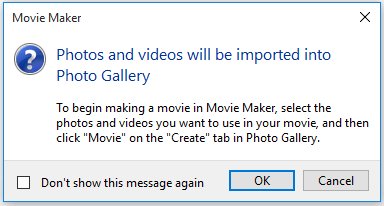 Select the device you like to import photos and videos and then click Import button.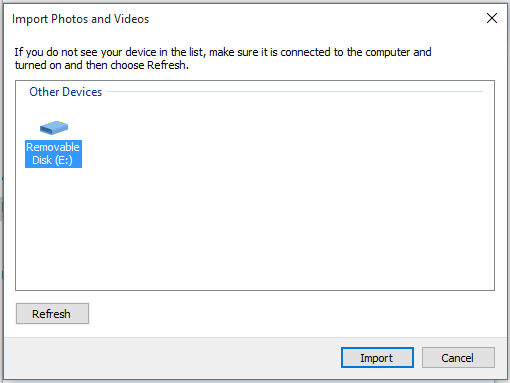 After that, you have two options: Review, organize, and group items to import, and Import all new items now. Now, you can select a suitable one according to actual needs to import media files.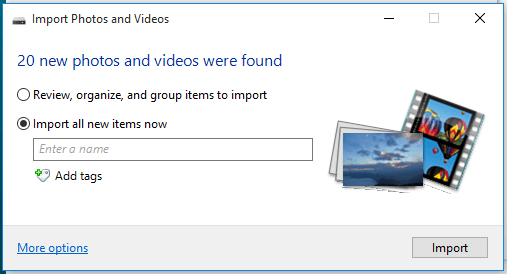 Within a few clicks, you can simply import your files to Windows Movie Maker. Click to Tweet
Step 3. Add Some Special Effects to Make Your Own YouTube Video
After importing files, you can see them in the right Storyboard Pane, as shown below. Select the video or picture and drag it into the proper position within the timeline to change the order of these clips. Now, you need to style up your video to get the best result.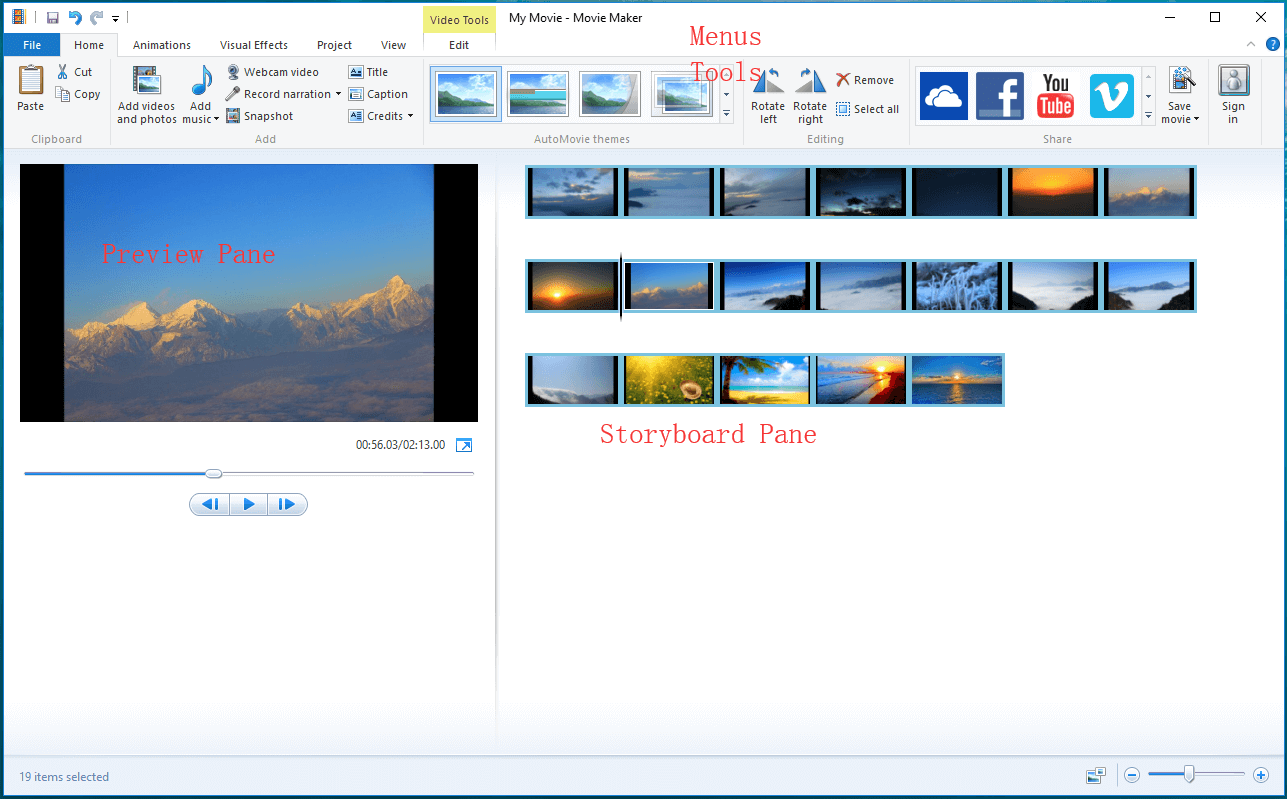 1. Split and Trim Video
How to split video
To divide up a long clip of footage, you can drag the vertical bar to the point where you want to split and then click on the Split tool. Movie Maker will now split the clip at the exact time you've chosen.
After splitting, you can insert another file such as a picture or add a transition between the two sections of the video.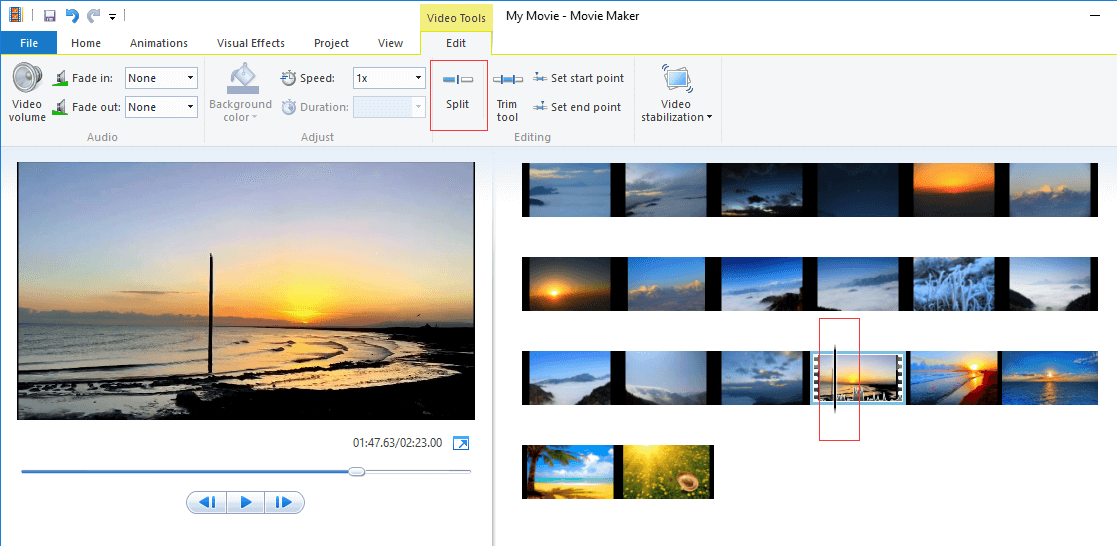 How to trim video
Windows Movie Maker allows you to remove pieces at the beginning or end of the clip to make it shorter, leaving the best part of a clip in your movie.
Select the clip you want to trim.
Click the Trim Tool.
Drag the slider left or right at any time to locate the trim points precisely
Click Save trim to get the video between those handles.
This tool serves the same purpose as the "Start/End Point" feature. And, the trimmed part of the clip will be hidden instead of deleted.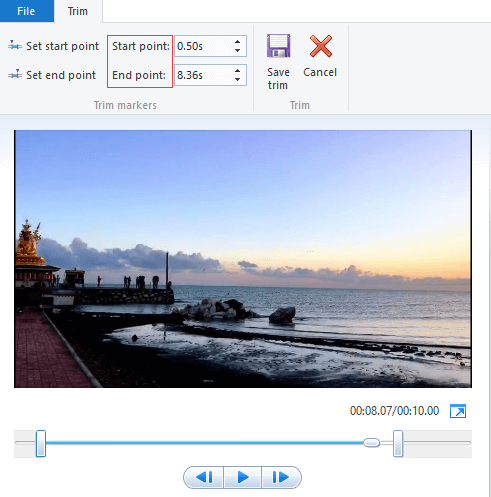 2. Add Transition and Effects
Now, let's add some transitions as well as effects to make your video look more professional.
Adding Transitions
To cater to the needs of different people, Windows Movie Maker offers 9 transition types including Diagonals, Dissolves, Shapes and Patterns, Reveals, Shatters, Sweeps and Curs, Wipes, Cinematic, and Contemporary to help create seamless transitions for any of the clips in sequence.
Select the clip you'd like to use a transition on. Note: Windows Movie Maker will attach the transition to the clip directly in front of the cursor.
Click on the Animations tab on the ribbon toolbar to bring up the dozens of transition choices.
Move the mouse to a specific transition to see what it looks like in the preview window.
Select the desired transition type and then it becomes attached to the clip.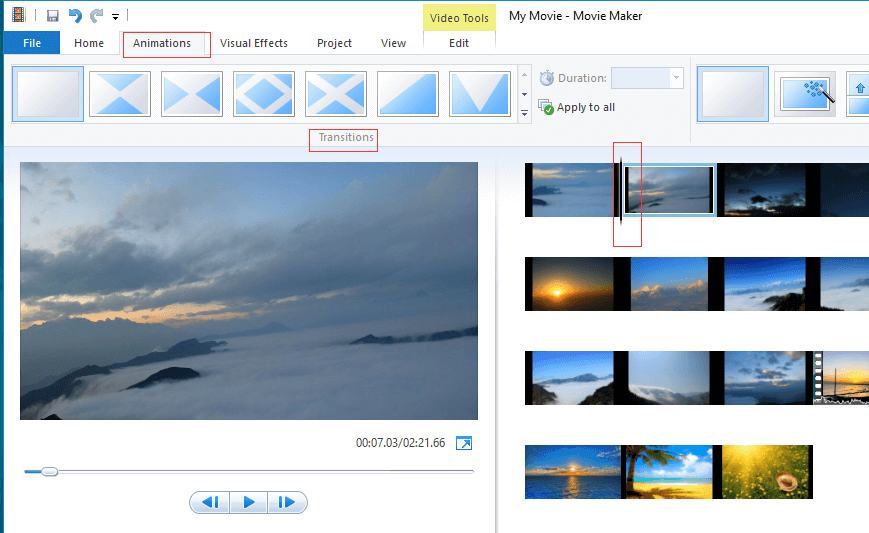 Adjust the duration of the transition from a quarter of a second to two seconds.

If you want to remove the added transition, you just need to add the No transition to the desired place.
Adding Effects
With free Movie Maker, you can also add a deep set of visual flair to your sequence via effects.
Click Visual Effects tab, and then you can see the wide number of effects. Now, you just need to hover your mouse over a specific effect and see what it looks like in your movie. If you are satisfied with the effect, just click on it to attach it to the desired clip.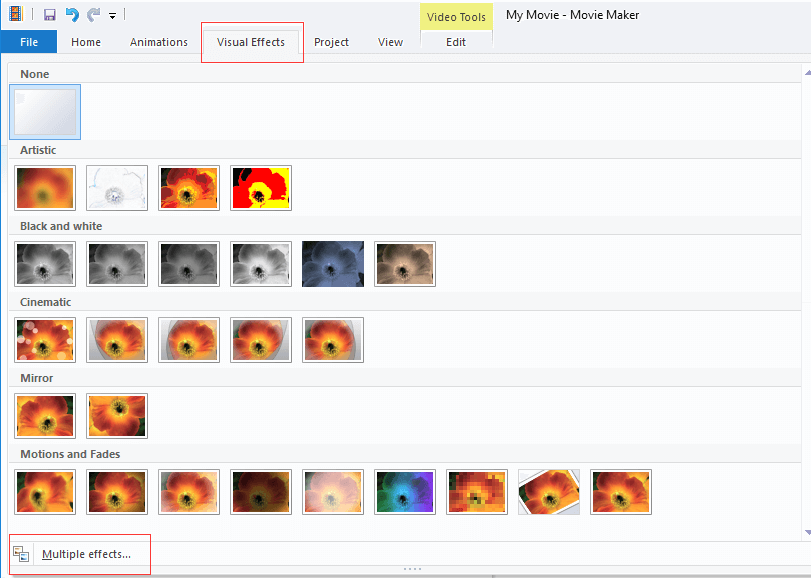 You can click the Multiple effects to find more visual effects such as 3D ripple, Black and White, etc.
3. Add Title, Caption, and Credits
To give your movie more authenticity, you can add title, caption, and credits.
Adding Title
Click on the clip.
Select the Title button under the Home
View a black page and an editable caption slide in front of the clip you've selected.
Change the default text.
After clicking Title, you'll be taken to the Format tab on the ribbon, and then you can alter your newly added clip. For instance, alter the font and size of your text, change the transparency of your title, and even add a colored outline to your title's text.
Adding Captions
Adding captions to describe or explain to viewers what they are seeing in a video clip. You can add a caption at any point in the Track.
Select the part of the clip that you want to add a caption.
Click Home tab > Caption.
Type the text for your caption in the text box, located in the Preview Pane.
Adding Credits
What would a movie be complete without a set designer or sound technician right? Now, with Windows Movie Maker, you can easily add customizable credits along with separate director, starring, location, and soundtrack slides.
Navigate to the Home.
Click on the Credits drop-down menu to bring up the page selections.
Choose either Credits, Director, Starring, Location, or Soundtrack and then Movie Maker will automatically add these pages to the end of the sequence.

Input your desired text in the credits slides and access to the Text Tools resources to make your own style.
Movie Maker offers 24 different Text effects from Emphasis, Fly, Scroll, Swing, Zoom, Cinematic, and Contemporary, and these effects can be applied to Titles, Captions and Credits. If you want to add such an effect, select the text element on your timeline, and choose an effect from the gallery in the right-hand section of the Format tab under Text Tools.

4. Add Music and Narrations
After editing your movie, you can add music & narrations to it.
You can click the Add music button and select it from its location on your computer to import it. Or, you can download music from Vimeo and Free Music Archive.
Once you have added a music clip, it shows up as a green bar under your video clips, and you will see the Music Tools menu.
Now, drag and drop it to move it just like video clips. Or, you can change the music volume, add fades, and split the track (where your cursor is) from the Music Tools.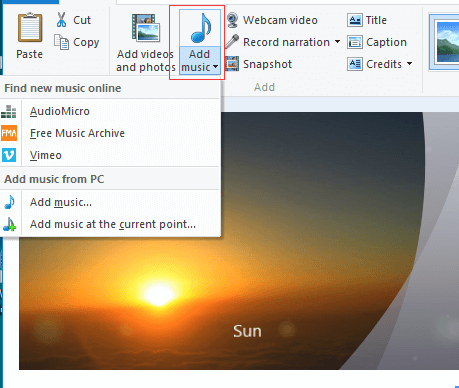 You can click the Record Narration button to record a narration.
Add some effects including transitions, visual effects, Text and others to enhance as well as complete your YouTube movie. Click to Tweet
Step 4. Upload Movie Maker Video to YouTube
Your YouTube video making process is complete. Then, all you need to do is publish your video on YouTube. Now, you might be wondering:
"How to upload Movie Maker video to YouTube?"
Here, the steps are:
Click the Save Movie button, and then select YouTube in the dropdown list to save it to the location that you want.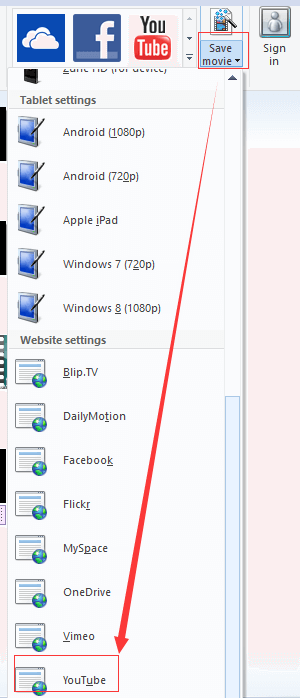 Close Windows Movie Maker.
Go to Youtube.com, and sign in to your account.
Click on the Upload icon in the top right of your YouTube homepage.
Click the Select files to upload button to open a file browser.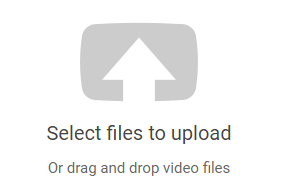 Find your video made with the best free video editing software, select it and click the Open Next, the video will begin uploading automatically.
Confirm your selection and fill out the information includes the title of the video, the description of the video, and any tags that you want to add.
Choose Privacy.
Public videos can be viewed by anyone.
Unlisted videos are only accessible to people who know the video link.
Private videos can only be viewed by viewers that you designate.

Click on Done to confirm your video. After that, you can watch your video, adjust any advanced settings and share it on Google+, Facebook or Twitter, etc.
Alternatively, you can click on the icon of YouTube in the Share group under the Home button to directly upload your current Movie Maker video to YouTube.
Now, you will see the following interface.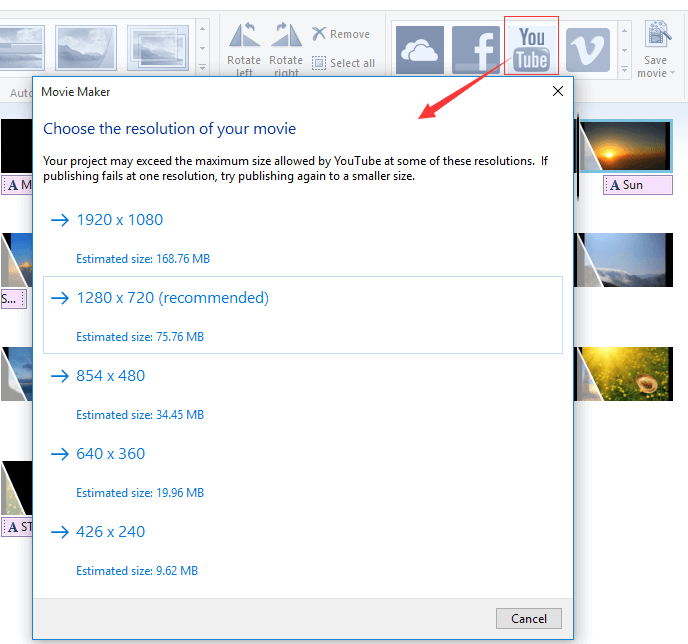 In this interface, you are supposed to choose the resolution of your movie before uploading. The better resolution you choose, the bigger file size and processing time it takes. You can choose a suitable one to upload your movie. If publishing fails at one resolution, try publishing again to a small size.
After selecting the resolution of your movie, you may get the error code: 0x80048008. Now, try the following steps to fix this error.
Open the target folder: C:Program Files (x86)Windows LivePhoto Gallery.
Find the wildcli.dll file and then delete it.
For more information, please see How to fix 0x80048008 error when upload video to YouTube/Facebook?
Conclusion
It is very easy to use Windows Movie Maker to make a YouTube video with pictures, isn't it?
If you have any questions or suggestions about how to make a video with pictures and upload Movie Maker video to YouTube, please feel free to leave your comments below or contact us via [email protected].