Like movie trailers? Read this post, you will know the purpose of movie trailer, find the list of movie trailers in 2020, and learn how to make a movie trailer with MiniTool MovieMaker and how to download movie trailers from YouTube without any difficulty.
Many people watch movie trailers before deciding to watch a movie. Do you know the list of new movie trailers? What new movies are coming in 2020? What is the purpose of a movie trailer? Most importantly, do you know how to make a movie trailer?
This post will show you the new movie trailers, and the steps of making movie trailers with MiniTool software.
What Is A Movie Trailer?
Trailers consist of a series of selected shots from the film. Movie trailers always demonstrate the most exciting, funny, or otherwise noteworthy parts of the film. The purpose of a movie trailer is to attract an audience to the film.
Related article: combine video clips
Sometimes, trailers will show some other relevant content. For instance, some science fiction movies contain fantasy movie.
In some cases, we can use trailers for self-promotion. We can find there are some trailers for the sequel in a film franchise.
Movie Trailers 2020
The following part shows the top 10 hot yet new movie trailers. (Not all trailers of the new movies in 2020 are listed here.)
1. Black Widow
Have you watched Marvel movies? If we were to poll the majority of your population, they would answer yes to that. Therefore, I list Black Widow in the first place.
If you are a Marvel fan, I guess you might be wondering:
"What marvel movie is coming out in 2020?"
Marvel movies order will show you the complete list of all the upcoming Marvel movies. Black Widow is a long-overdue solo movie. To watch this movie, we have to wait for a little longer due to the coronavirus outbreak.
2. The French Dispatch
The French Dispatch, directed by Wes Anderson, shows three best stories including an artist sentenced to life imprisonment, student riots, and a kidnapping resolved by a chef.
3. Tenet
Directed by Christopher Nolan, Tenet is a spy film. You can see this film on July 17, 2020. It stars John David Washington, Robert Pattinson, Elizabeth Debicki, Dimple Kapadia, Michael Caine, and Kenneth Branagh.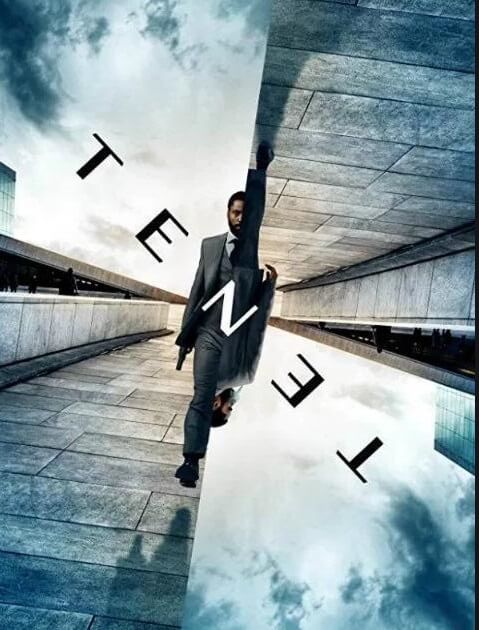 4. The SpongeBob Movie: Sponge on the Run
To solve the mysterious kidnapping of Gary the snail, SpongeBob and Patrick travel to the lost city of Atlantic City. In their travel, they find a fact that there is nothing stronger than the power of friendship when encountering danger and joy.
5. Mulan
Niki Caro, an acclaimed filmmaker, brings the epic tale of China's legendary warrior to life. Mulan takes the place of her ailing father. This fearless young woman disguises herself as a man and risks everything out of love for her family as well as her country to battle northern invaders in China.
6. Bill & Ted Face the Music
A visitor from the future warns Bill and Ted that one of their songs can save life as we know it. To seek the song that will bring harmony to the universe, they will get help from their daughters, a new batch of historical figures, and a few music legends.
7. The New Mutants
There are four young mutants in an isolated hospital. Dr. Cecilia Reyes keeps a close eye on them to teach them how to rein in their mutant abilities as he thinks these teenagers are a danger both to themselves and to society as a whole. Some strange occurrences begin to take place when a newcomer comes into the hospital.
8. Top Gun: Maverick
After more than thirty years of service, Pete "Maverick" Mitchell must soon confront the past.
Meanwhile, to complete a dangerous mission that demands the ultimate sacrifice, he has to trail a new squad of graduates as quickly as possible.
9. No Time to Die
James Bond has left active service, however, his peace is short-lived. His old friend from the CIA, wants him to rescue a kidnapped scientist.
10. Wonder Woman 1984
Wonder Woman 1984 is an upcoming American superhero film and is directed by Patty Jenkins from a script. It stars Gal Gadot, Chris Pine, Kristen Wiig.
Share 10 new movie trailers in 2020 with all of you. Click to Tweet
How to Make Movie trailers?
Reading here, you must have seen some movie trailers! Can we create a great trailer that explains our project and excites the viewer? Of course, the answer is positive.
However, do you know how to make a movie trailer? Is it possible to make trailers for free?
Don't worry. As long as you turn to movie trailer makers, you can create a trailer by yourself.
Best Free Movie Trailers Maker
MiniTool MovieMaker, a free video editing software without watermark, is recommended here. This free video editor offers movie templates to help you easily create Hollywood-style trailers. Even a new user can easily use this tool to make trailers because of its wizard-like interfaces. With this free video editor, you even can create photo slideshows, create meme videos, create wedding videos, etc.
Related article: how to make a meme video
Why Choose MiniTool MovieMaker?
It is a free, no ads, no bundle, watermark-free video editor.
It lets you split video, merge video, trim video, etc.
You can add music to video, mute the background noise of video, edit the music file, etc.
You can easily reverse videos, create slow motion videos, as well as create fast motion videos.
This free editor offers a lot of video transitions, video filters, animated texts, and motion effects, helping you create cool trailers.
You can change video format, change video bitrate, even extract audio from video, etc.
You can make a video in Windows 7, Windows 8 and Windows 10.
Related article: extract audio from MP4
MiniTool MovieMakerClick to Download100%Clean & Safe
How to Make Movie Trailers
MiniTool MovieMaker offers two ways to make movie trailers.
Method 1. Make movie trailers via templates.
This free movie trailer maker offers some video templates to help you create videos easily.
To make a movie trailer, you can try the following steps.
Launch MiniTool MovieMaker.
Open the template window.
Preview and select the movie trailer template – Challenge.
Click the Next button to import your video files.
Edit the text, and change the music file if you need it.
Click the Export button to save this movie trailer on PC, and share it with friends.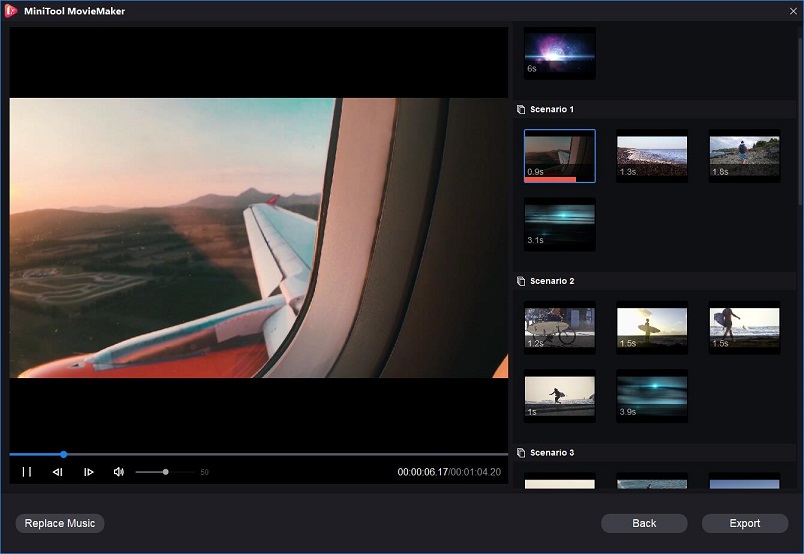 Method 2. How to Make Movie Trailers on Timeline
Of course, you can make a movie trailer via the simple timeline.
Step 1. Launch MiniTool MovieMaker to get its main interface.
Step 2. Import files, and add files to the timeline.
Step 3. Edit movie trailer.
Arrange the new order of video or picture clips as you like.
Trim video to remove some unwanted parts, or split video to get several parts.
Apply video transitions including fade, dissolve, wipe, etc. to combine video clips.
Apply filters to video/picture to make it have a new look, and change its brightness, contrast, etc.
Add animated texts including titles, captions, and end credits to video to complete your story.
Apply the motion effects, also called pan and zoom, to your video/picture.
Add music files to the movie trailer, split music file, trim music file, merge music files, fade in or fade out music, etc.
Change video speed, including slow down video and speed up video, and reverse video if you like.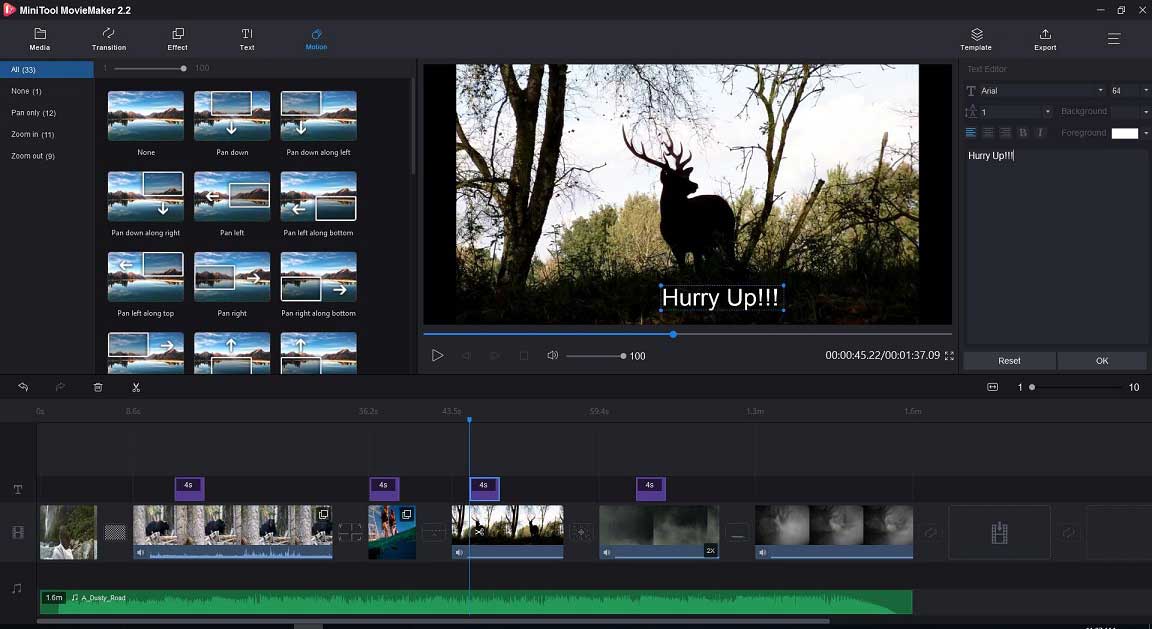 Step 4. Click the Export button to save the movie trailer on PC or mobile devices. While saving the movie trailer, you can change the video bitrate as well as video resolution according to actual needs.
MiniTool MovieMaker, free, no ads, no bundle video editor, offers simple and clean interface as well as powerful functions to help you create movie trailers. Download this free video editing software without watermark, and have a try.
MiniTool MovieMakerClick to Download100%Clean & Safe
With MiniTool MovieMaker, you can easily create movie trailers without any difficulty. Click to Tweet
How to Download Movie Trailers
Last but not least, some users may wondering:
"How to download movie trailers?"
Generally, you can find almost all movie trailers on YouTube. To download movie trailers from YouTube, you can try a free YouTube downloader.
MiniTool uTube Downloader, a free, no ads, YouTube video converter, is recommended here. This free YouTube converter not only can download YouTube videos but also can download audio from YouTube videos. With this free YouTube converter, you can convert YouTube to MP4, MP3, WAV, WebM and you can download YouTube playlists at full speed.
Step-by-step Guide on How to Download Movie Trailers from YouTube
Step 1. Download and install MiniTool uTube Downloader on PC. After that, launch it to get its main interface.
Step 2. Search the movie trailer in MiniTool YouTube Downloader, and watch it.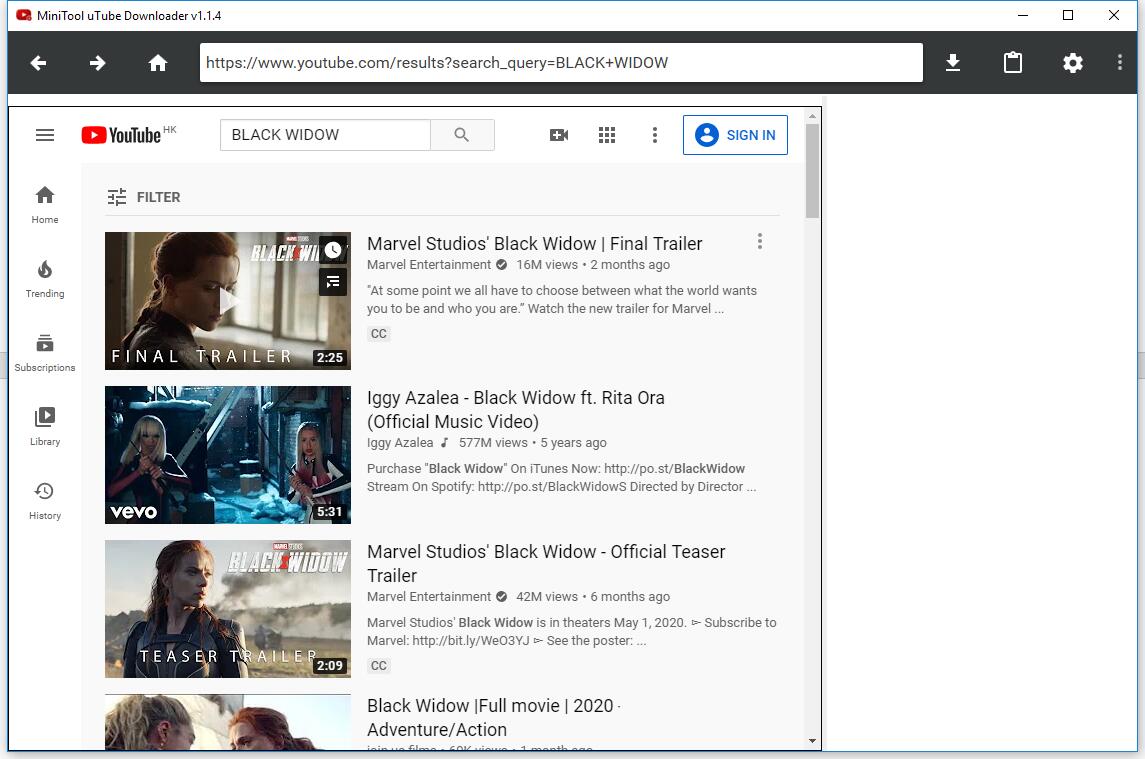 Step 3. Click the download button.
Step 4. Select the format like MP4 and click the Download button.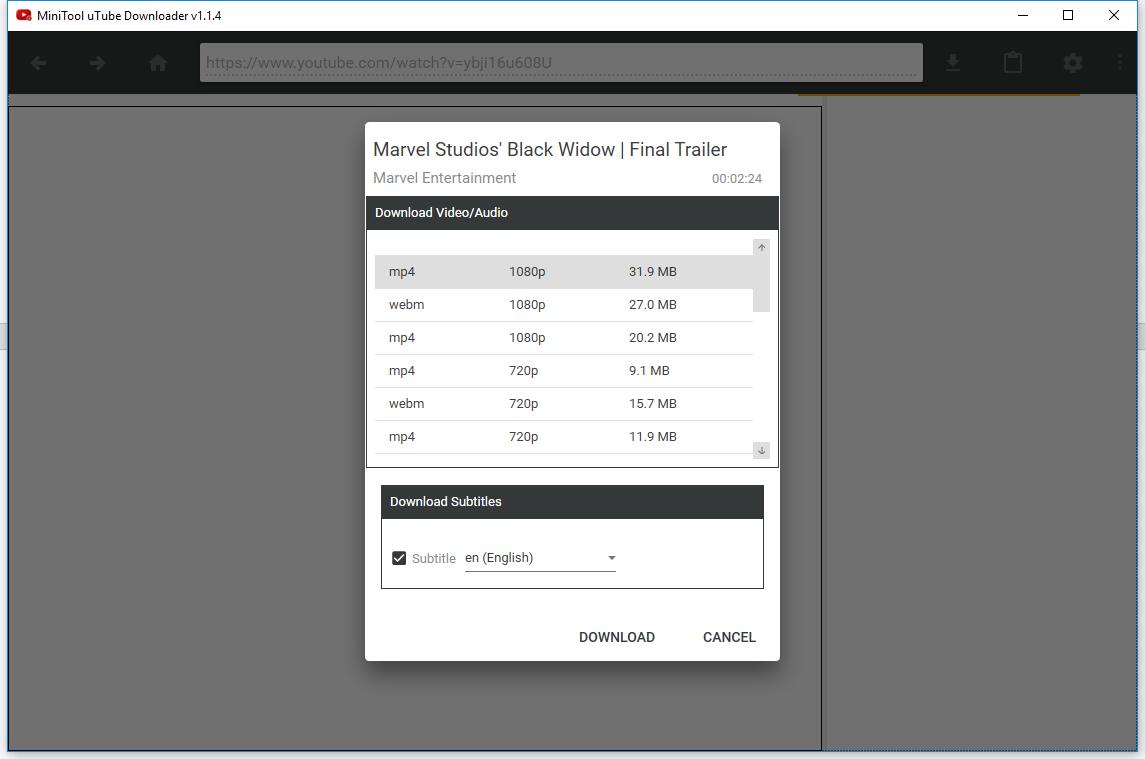 Step 5. MiniTool begins to download movie trailer from YouTube.
To know more details, you can read this post: YouTube to MP4.
Bottom Line
Now, you must have a basic understanding of movie trailers. If you have any questions on how to make a movie trailer with MiniTool MovieMaker and how to download movie trailers from YouTube, please feel free to contact us. Thanks in advance.
Movie Trailers FAQ
How long is a movie trailer?
Generally, movie trailers last between 30 seconds and 2 minutes. Sometimes, studios or distributors will make a 2 to 4 minutes trailer for people who are already anticipating the movie
How to make a movie trailer with iMovie?
Launch iMovie, click on the Projects button, and choose the right trailer template.
Click on the Create button.
Add all the media assets, such as text, image, or video files you want to include in the trailer.
Preview the trailer, and save it.
What are the best movie trailers?
Cloud Atlas
The Girl With the Dragon Tattoo
Godzilla: King of the Monsters
Guardians of the Galaxy
Hail, Caesar!
The Handmaiden
Inception
Jackie
Logan
Mad Max: Fury Road
Man of Steel
The Master
Mission Impossible: Fallout
Moonlight
Once Upon a Time in Hollywood
The Social Network
A Star is Born
Star Wars: The Force Awakens
Star Wars: The Last Jedi
Star Wars: The Rise of Skywalker
Us
Where can I watch movies free?
YouTube
SnagFilms
Popcornflix
Tubi
Vudu
Vimeo
Free Movie Cinema
Vumoo
org