With Mother's Day approaching, maybe you are thinking about how to express your love to your mom on this special day. Why not make a Mother's Day video? It's a unique handmade gift she will like and can watch over and over again. Check out this post to make this year's occasion extra special!
Mother's Day is annually celebrated on the second Sunday of May. This year, this festival falls on Sunday, May 8th and it is just around the corner. We want to give them a gift that she will love and something she can look back on dearly for many years to come. A Mother's Day video is just the one to do just that.
The content in this post will cover why you choose video as a gift for the Mother's Day celebration, some of the best inspirational Mother's Day video ideas, and how to make a Mother's Day video with some amazing Mother's Day video makers (including MiniTool MovieMaker).
MiniTool MovieMakerClick to Download100%Clean & Safe
Why Choose a Video for Mother's Day Celebration?
There are many ways to celebrate this special day or gift to send to a loved mom. Why this is special? Well, before we start to make a Mother's Day video, let's figure out the advantage of choosing to make a short video clip for Mother's Day gift.
A Mother's Day video offers much more than a card or bouquet of flowers. In that way, a video speaks louder than a gift. The fresh flowers will fade away and won't last long, but a Mother's Day video has no such limits.
Videos are everlasting and contain many things. Your feelings, emotions, and love are borne out to see and captured in digital format. Through video, you can communicate the most moving and sincere messages to your mom.
The video-making process will take your time and effort. You need to capture, edit and perfect your video production, the thought and time you put in will be worth more than any shop-bought gift.
Videos are easily transferred to mobile phones, tablets, or other devices. So, she can watch it anywhere and at any time, or even share it with other people.
Best Video Ideas for Mother's Day Video
Therefore, before you go shopping for a Mother's Day gift this year, consider creating a unique and thoughtful Mother's Day video for your mom. If you have no idea where to start, let's move on. I hope these Mother's Day video ideas can give you some inspiration.
Tell her best stories: You can bring the stories to life by creating a video montage of her friends and families telling their favorite tales about her. Fill this day with the warmth and laughter of those special times, telling first-hand stories of the people who experienced them with her.
Answer questions about mom: Get the camera rolling, and ask kids or family members to answer a series of questions about mom. The results must be adorable. When everyone is done, compile all the answers together in the video.
Evoke sweet memories with old photos: If you can get the family photo album, a blast from the past with a montage of your formative moments growing up is warmhearted.
Simply say thank you: Mom's love is always there. Expressing how you feel face to face is sometimes not easy, but in a Mother's Day video, you can let your true feelings flood out and really let her know how wonderful she's been to you all these years. You can bet it will be a tearjerker.
No matter what you choose to include in your Mother's Day tribute video, it just needs to come from the heart. And you don't have to sweat making it perfect – mom will love it no matter what because it is made by you with love.
Best Mother's Day Video Makers
After we outline the video content and gather the footage materials, here comes the most interesting part – making the Mother's Day video! To make your work much easier, we handpicked some of the best Mother's Day video makers for you. Let's take a look at them just now!
Animoto (Online)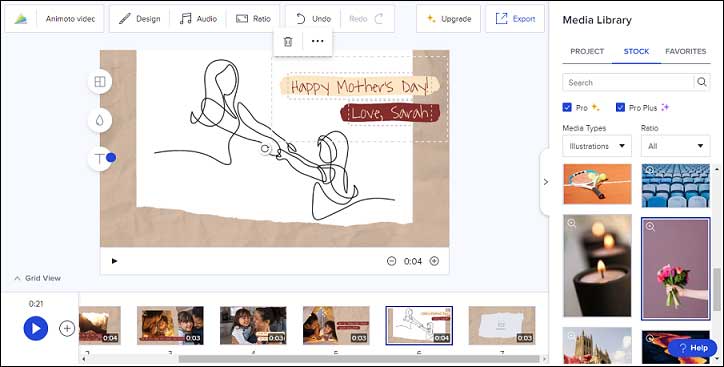 Animoto is the first video maker that lets you make a Mother's Day video online. With it, you can make a video with images, video clips, and music easily.
To make an awesome Mother's Day video, simply add your favorite photos and video clips to the pre-designed customizable template, select a piece of background music, personalize your message, and send it to your mom in minutes.
Apart from templates, Animoto offers many pretty stock photos, videos, and illustrations to make the video. To personalize the Mother's Day video, you can change the layout, adjust the background color, add text to the video or image, trim the video, and rotate videos or images.
After you complete the masterpiece, Animoto offers three aspect ratios suit for Facebook, Instagram, LinkedIn, YouTube, etc. You can send the video to your mom on these platforms directly.
Animaker (Online)
Animaker is also an amazing online Mother's Day video maker. You can make a good-looking video for your mom in just a few steps with its massive template library.
You can customize the templates by replacing every element in the template with assets from the library or with your own uploaded assets like photos and video clips. There are also many royalty-free music tracks and sound effects that you can use to make the video more pleasing.
If you want to make the video from scratch, you can start with a blank project and design it as you like. The dragging and dropping feature make it much easier to make the video.
After you finished, you can choose to share the video via email address, download the video to your PC, or share it on social media platforms like Twitter, Instagram, Facebook, Wechat, and more.
FlexClip(Online)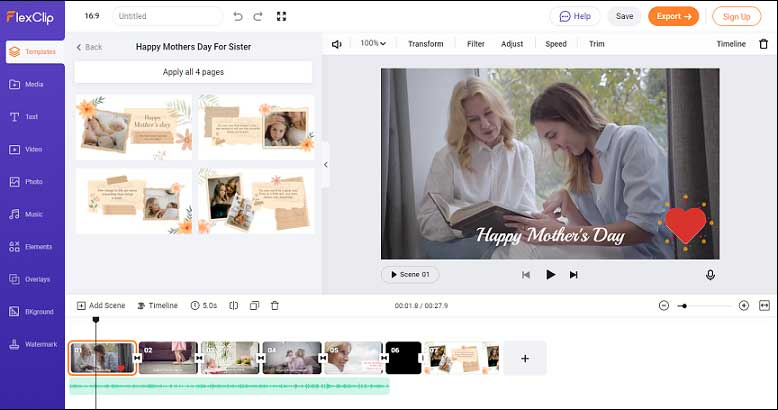 As one of the most popular online Mother's Day video maker apps, FlexClip is also a nice option to make engaging Mother's Day video clips. If you have no video-making experience, there are various sweet and attractive video templates in the theme of Mother's Day. You can make a quick start with them.
To customize the video, you can trim and cut videos without any quality loss, add transitions or filters, change video speed if you like, and enter any words you want to say to your mom.
There are different kinds of elements like emojis, animated art texts, bubbles, shapes, and decorations that you can apply to the video to make it more lovely.
You can also insert background music for the video from its stock library or import your own audio files. Once you are done, you can choose the best video aspect ratio for your video to make it compatible with different platforms (YouTube, Facebook, Twitter, Instagram) or other devices.
MiniTool MovieMaker (Windows)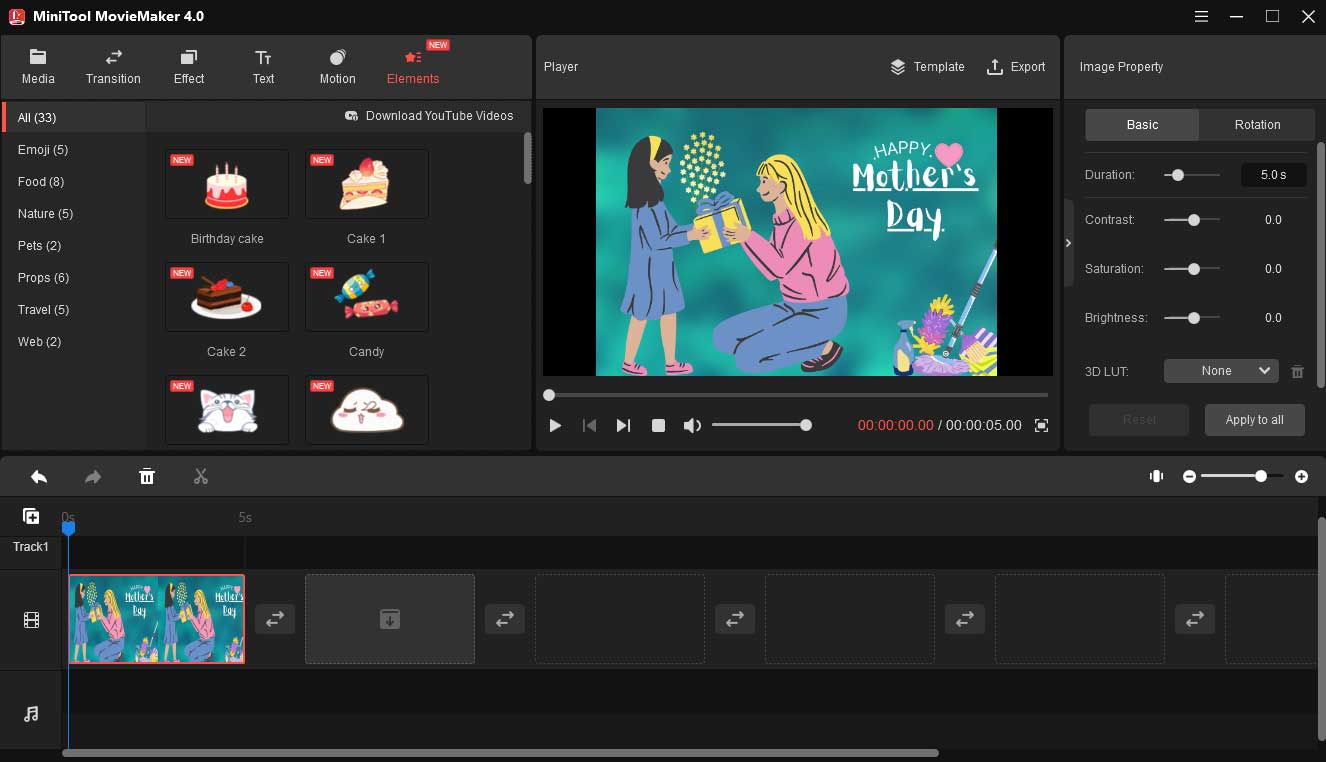 Why do we recommend MiniTool MovieMaker as your Mother's Day video maker for PC? Firstly, it's completely free, clean, no bundle, no ads, and it won't leave watermarks on your videos. Secondly, it comes with a user-friendly interface and it's easy to use. Even though you don't have any video-making experience, you'll find it easy to make a warmhearted Mother's Day video with MiniTool MovieMaker.
Furthermore, it supports many popular file formats, so you can make a video with photos, video clips, and music easily.
There are many pretty filters, transitions, and motion effects that you can add to your videos. You can also change the brightness, contrast, and saturation of photos and videos.
You can edit your recorded videos by using tools like video cutting, video trimming, video reversing, audio removing, video rotating, video flipping, and so on without damaging the raw material.
If you want to make the video more engaging and joyful, you can add different types of cartoon animated elements and texts to your videos. You can add the words you want to say to your mom and personalize the texts by customizing the color, font, size, and alignment. The animations can also be customizable by changing the size, duration, and position.
Tips:
It offers various music tracks for you. Importing local audio files to the video as the background is also accessible. If the video footage contains background noise, you can remove it and import music files.
If you want to know how to make a Mother's Day video with this handy video editor, the following is the step-by-step guide for you:
How to make a Mother's Day video with MiniTool MovieMaker?
Step 1. Install and launch the free MiniTool MovieMaker.
MiniTool MovieMakerClick to Download100%Clean & Safe
You can download the free software by clicking the button and installing it on your PC. Launch the program and close the popup window to enter the main interface.
Step 2. Import your media files.
Click the Import Media Files to locate the folder that contains your video clips, images, or audio tracks. Select the target files and click Open to add them to the media library. Then drag and drop them to the timeline.
Step 3. Make the Mother's Day video.
1. Arrange media files: Drag and drop the media files to adjust the position on the timeline. Move the slider next to Zoom to Fit Timeline make the clip longer or click Zoom to Fit Timeline to make the clips suit the timeline.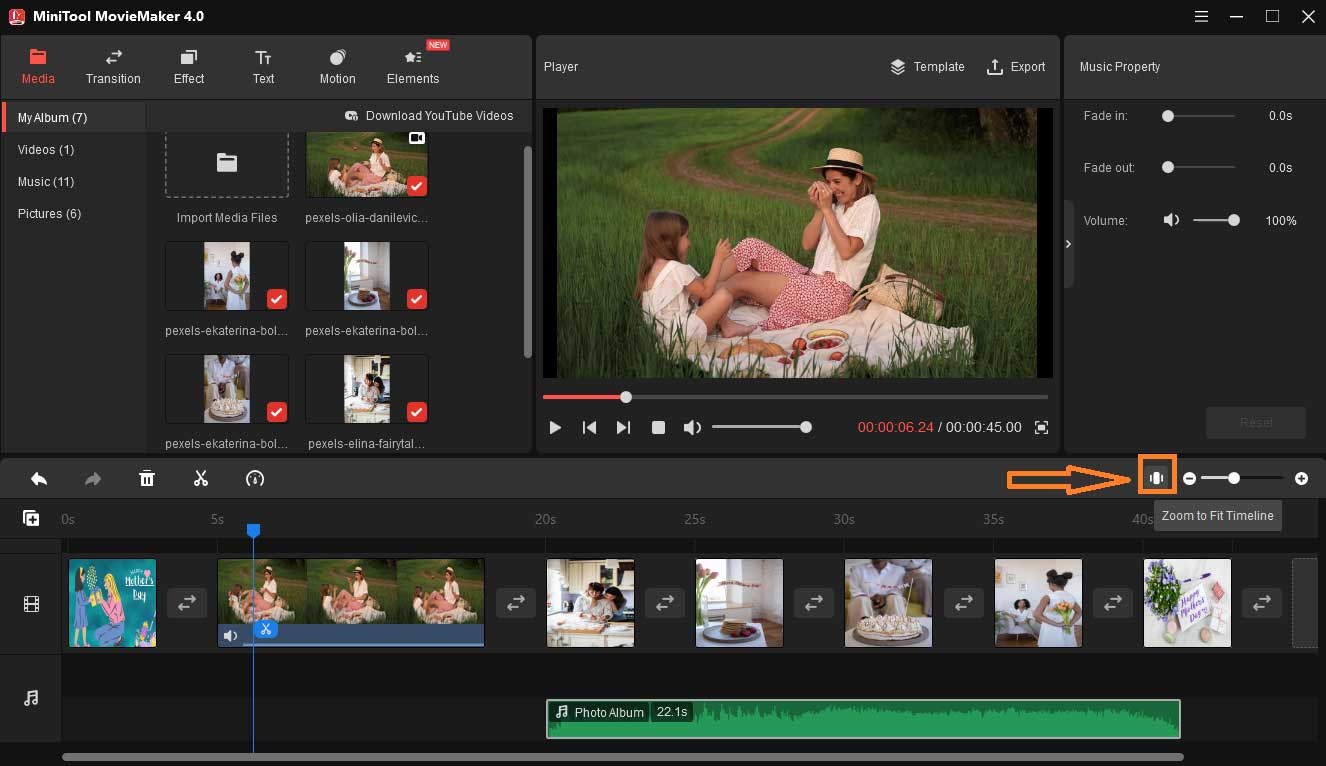 2. Add video transitions and effects: Click Transition or Effect, find the desired one, and hover the mouse over it to preview. Drag and drop the transition between two clips, or directly drag an effect to the clip.
3. Add texts to the video: Go to Text, find a suitable title/captions/credits, then drag the texts from the text library to the timeline, or click the + button to put the texts in the right place. Customize the texts in the edit window.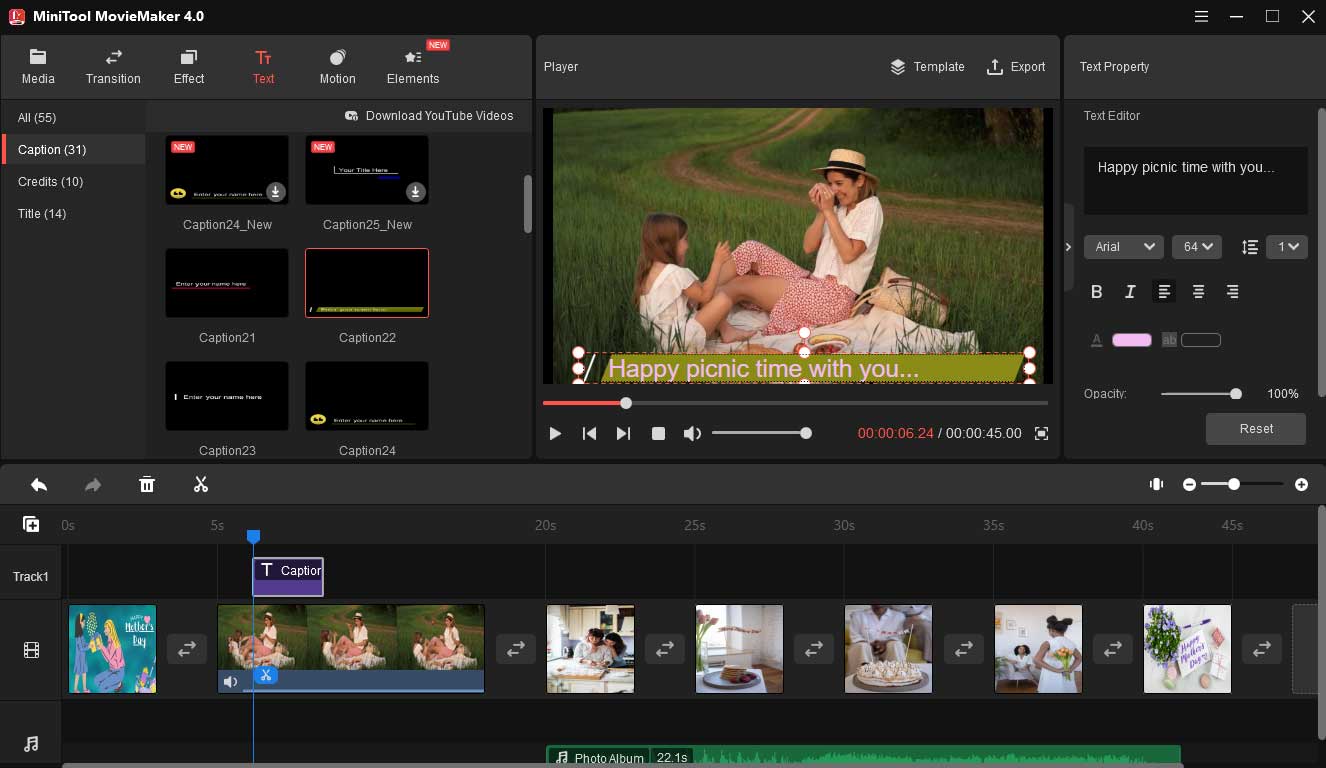 4. Add animated elements: Head to Elements. Click the download button to download the online source of elements. Or right-click on an element and then select Download All to get all the elements. Locate the place where you want to add elements on the timeline and select the desired element. Click the + button or drag the desired element to the track above the target clip.
5. Insert music: Go to Music, use the built-in music tracks. Tap on the + icon to add the music to the video, or drag and drop the music to the video on the timeline. Or click Import Media Files to import local music files. Find the music file and click Open to import the music. Then, drag the imported music into the timeline.
Step 4. Export and save the video.
After editing, click Export in the upper-right corner to open the export window. Here you can rename the video file, change the video format, and adjust the video resolution. Once you're done, tap on Export to save the final video.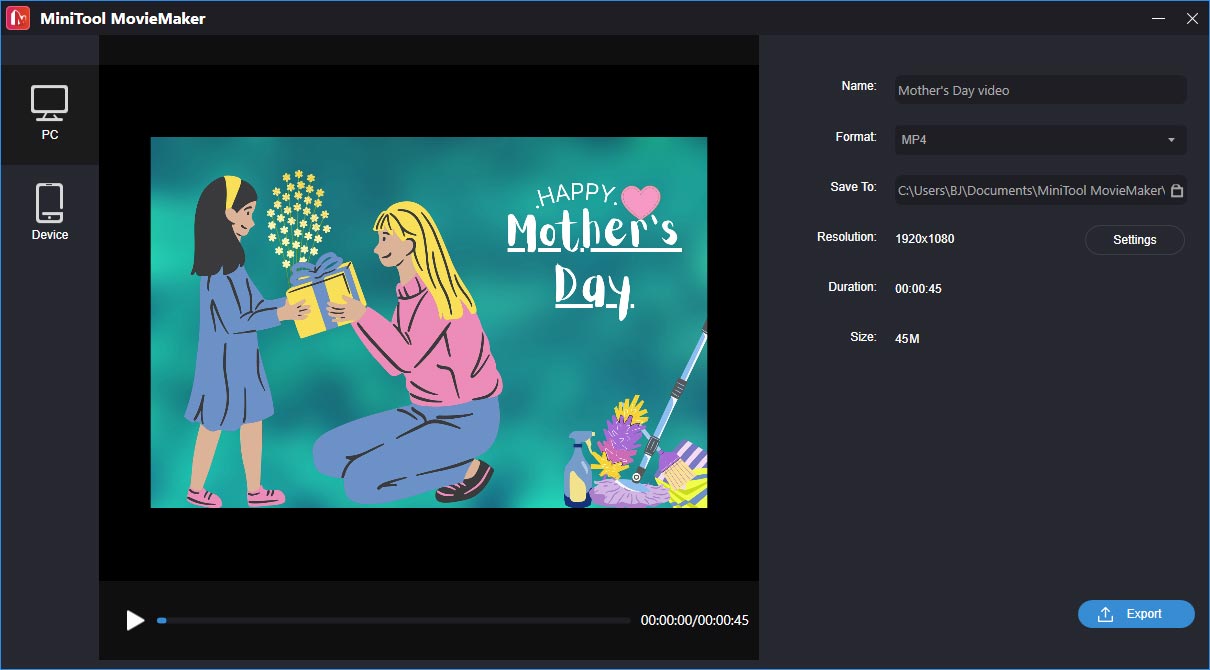 Other Ways to Celebrate Mother's Day
Making a warmhearted Mother's Day video is not the only way you can make the day special with the dear lady, there are other ways to celebrate the day. Here are some interesting ways to make the day unforgettable:
Throw a surprise party:
Cook a family recipe:
Help tackle her to-do list
Encourage self-care
Treat her to a meal out
Enjoy outdoors together
Cook something together
Watch a movie with her
Pause for deep conversation
Go to the spa
Plan a travel trip for the future
……
Conclusion
In a nutshell, we shared some Mother's Day video ideas, Mother's Day video makers, and how to make a Mother's Day video. Just make an adorable video for your mom or prepare to make the special day unforgettable!
If you have any other ideas about Mother's Day, you can share them with us in the comments. Don't forget to contact us via [email protected] if you encounter any problems while using MiniTool MovieMaker.