Making a good video is not simple as it sounds. Adding subtitles to your video can make it much easier for your audience to understand what's going on. Here we recommend the 9 best subtitle editors for various scenarios, both online tools and standalone software and apps included.
You may notice that there are text strings at the bottom of your screen while watching a video. Precisely, these text strings are known as video subtitles, which is a text-based collection of the dialogues delivered by the people in the video. If you want to make the video content clear to the audience, you need to add subtitles with a subtitle editor. (You can make the subtitle more interesting with MiniTool MovieMaker!)
Why We Need the Subtitle Editor?
The subtitle displays narration, dialogue, or sound effects in a video file in the form of text. It is used to transliterate the speech of a character at the bottom of a screen. However, the mangled subtitles can be a buzzkill. Moreover, at times, you come across subtitles of poor quality that make you confused and baffled. At that moment, you will appreciate a subtitle editor.
The subtitle editor tool will come in handy in many situations:
Add subtitles to your video and edit them afterward
Translate your favorite TV show or movie into other languages
Enhance and personalize your videos by customizing the display of your subtitles on the video
Readjust and synchronize subtitles
If you watch foreign-language films, the language barrier often deprives us of enjoying good cinema. Good subtitles can enhance the viewing experience and help viewers overcome language barriers. If you want to upload videos to YouTube or other global video platforms, you do need a subtitle editor to make your video understandable.
Now, you might be wondering: what are the best subtitle editors? Here comes the ultimate guide! The following part will share some of the best video subtitle editors with you.
What Are the Best Subtitle Editors?
When you're in the video post-production stage, you want to reduce the tedium and work more efficiently while adding subtitles. After knowing about the necessity of the subtitle editor, you may be wondering: what is the best subtitle editor? Well, in this part, we will offer some of the popular subtitle editors on the market. You can read about their features and make your own choice.
These subtitle video editors come with different features. Some of them allow you to edit the subtitle files, some of them enable you to adjust the subtitle displays on video, and some of them offer subtitle synchronization or translation features. Just explore them one by one!
Best Subtitle Editor Software
Subtitle Workshop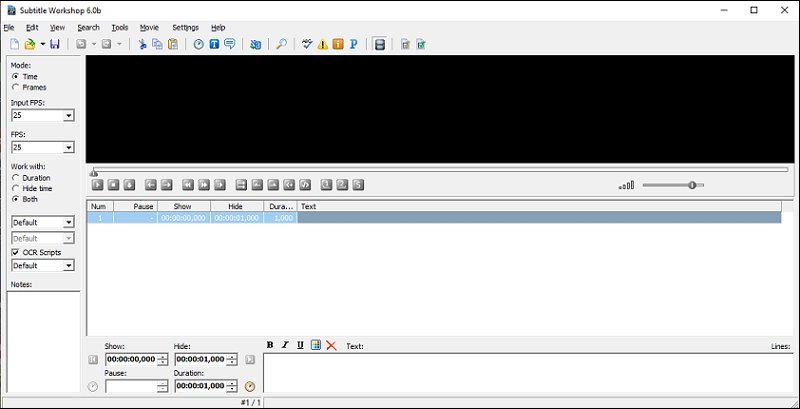 Subtitle Workshop is a well-known free subtitle editor for Windows. It comes with a friendly user interface and allows you to edit, create subtitles, and export them in all the major subtitle formats.
With this subtitle editor, you can drop a video file that you want to add your subtitle to in many formats, including MP4, 3GP, WMA, AVI, FLV, etc. On the subtitle editor panel, you just need to insert subtitle lines for different timings to start adding subtitle files to your video.
It's also a helpful software to do subtitle correction, synchronization, spell check, font formatting, and alignment. Plus, if you wish to create subtitles of different languages, you can also create multiple subtitle files at once.
Key features:
Straightforward interface
Supports batch subtitle conversion
Allows previewing the edited subtitle within a video on a nice video player
Supports exporting subtitle files in different encoding formats including UTF-8
Jubler Subtitle Editor
Jubler Subtitle Editor is an open-source subtitle editor software for Windows, Linux, and macOS. It has all the basic features to easily make and edit subtitle files in SRT, ASS, SSA, SUB, TXT, XML, and DFXP formats. This handy tool lets you edit text-based subtitles with an interactive and colorful interface.
You can start editing by just dragging the files onto the program's window and viewing the loaded subtitles with the timings. Along with editing, you can also use this software to synchronize or accurately match subtitle text with audio and frames of the video. Note that you need to install MPplayer to get a preview of your video.
Key features:
Supports the most popular subtitle formats
Can be used to convert, correct, transform or refine existing subtitles
Comes with a spell checker with the translation mode
You may also like Subtitle Converter: How to Convert ASS to SRT.
Subtitle Edit
Subtitle Edit is a free open-source subtitle editor software for Windows, which is designed for creating and editing subtitles for videos. With this program, you can visually synchronize and adjust the subtitles with start/end position and speed changes.
To edit the subtitle, you are able to create, adjust, synchronize, and translate subtitle lines (via Google Translate). You can also split and merge subtitles, batch converts multiple subtitle files of different formats to a specific subtitle format like SRT, CSV, LRC, TXT, etc. If you just want to make modifications, the multi-language captions editor is ideal for you.
Key features:
Offer powerful tool for creating, adjusting, and synchronizing subtitles
Includes Google Translate for fast translation
Audio to text (speech recognition) via Vosk/Kaldi
Features audio visualizer control to display waveform and spectrograms
Features spell checking via Open Office dictionaries and error correction system
How to Manually Add Subtitles with MiniTool MovieMaker?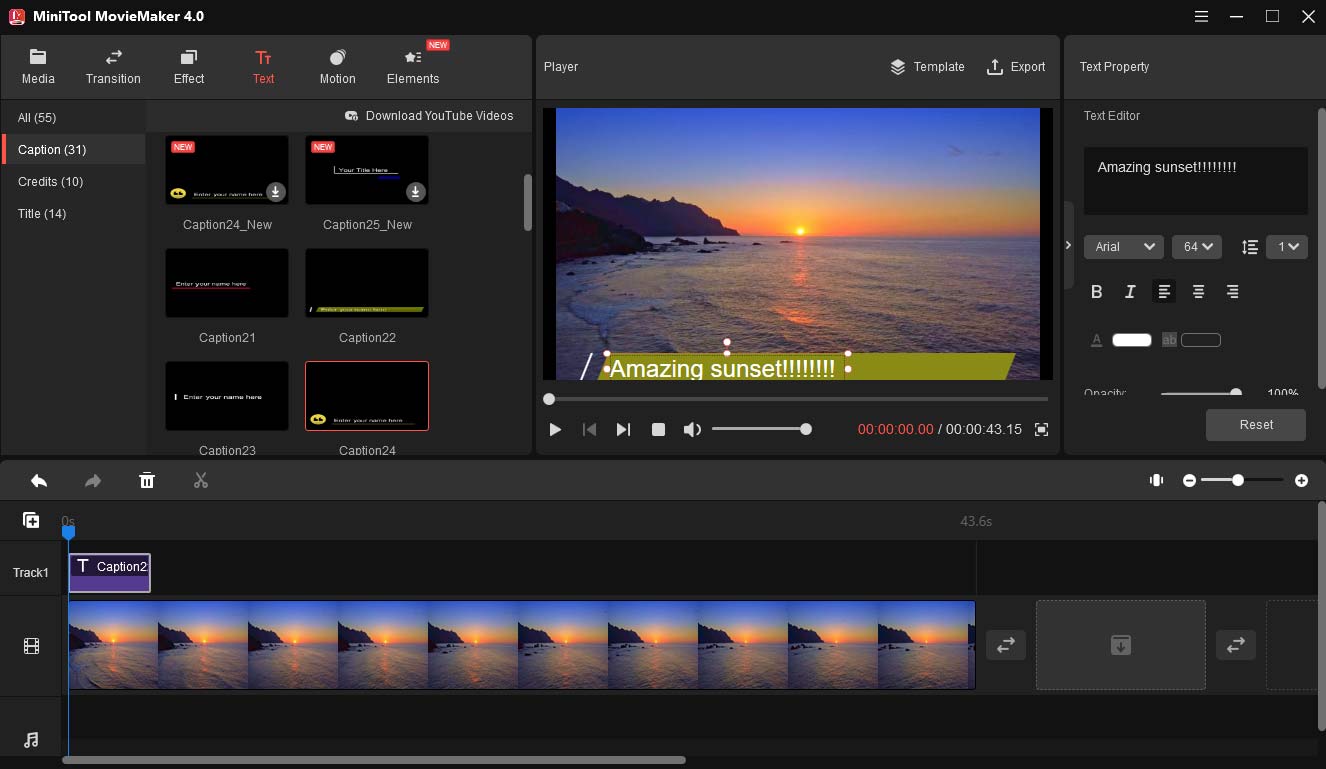 As we can see from the above video subtitle editors offer powerful subtitle editing features. They have limited power to make changes to the subtitle displays like the color and style. If you want to make other adjustments to the videos, you can give MiniTool MovieMaker a shot.
MiniTool MovieMaker is one of the best free subtitle editors without watermark for Windows. with it, you can manually add and edit subtitles for precise editing. To make your work much easier, it comes with a variety of styled subtitle templates. To customize the subtitle, you can make adjustments to the font, text size, text position, text color, and more. The drag and drop feature can make the editing process goes smoothly.
The subtitle editor tool is just a little part that is included in its useful features. The additional powerful features are the reasons why it is strongly recommended here.  As for the basic editing features, it can be used as a video splitter, trimmer, combiner, rotator, reverser, speed controller, and audio extractor.
To make your video more attractive, there are many pretty filters, transitions, and motion effects that you can add to your videos. You can also change the brightness, contrast, and saturation of the video.
Key features:
Free to use
User-friendly and intuitive drag and drop features
Offers different styled subtitle templates
Customizes the text and subtitle creation
Provides many necessary and useful tools for video editing
Wide media format support and fast processing
Real-time preview of edits
Then, let's see how to add subtitles manually with MiniTool MovieMaker:
Step 1. Download and install the MiniTool MovieMaker. After installing, launch the program and close the popup window to enter the main interface.
Step 2. Import your media files. Click Import Media Files and add the clips to the Media library. Drag and drop the files to the timeline.
Step 3. Add and edit subtitles in the video. Go to Text, find the desirable captions, then drag the text from the text library to the timeline, or click + to put the text track in the right place. Enter and edit your text in the Text Editor. You can change the text color, font, size, alignment, position, background color, and more.
Step 4. Export and save the video. After finishing editing, click Export. In the Export window, type the file name, change the video format, choose a destination folder, and adjust the video resolution if needed. After that, export the video.
MiniToolMovieMaker is an amazing subtitle editor for PC. It helps me to add and customize the video subtitle without any hassles.Click to Tweet
Best Online Subtitle Editors
Clideo
As a popular video editing and video presentation tool, Clideo also allows you to create subtitles from scratch or edit existing ones. With its multipurpose subtitle editor tool, you can not only add the captions to a video but also save an SRT file with the subs separately.
The online program supports most video formats. As a result, you can add subtitles to movies, clips, and videos in any popular video format. If you want to subtitle a video to post on YouTube, Instagram, TikTok, or any other social media, you can insert the video link and start to work.
Key features:
Features a simple and user-friendly interface which is perfect for beginners
Quick tool to add an SRT file to your video and adjust subtitles.
Supports working directly on YouTube, Facebook, or TikTok videos from a URL
Kapwing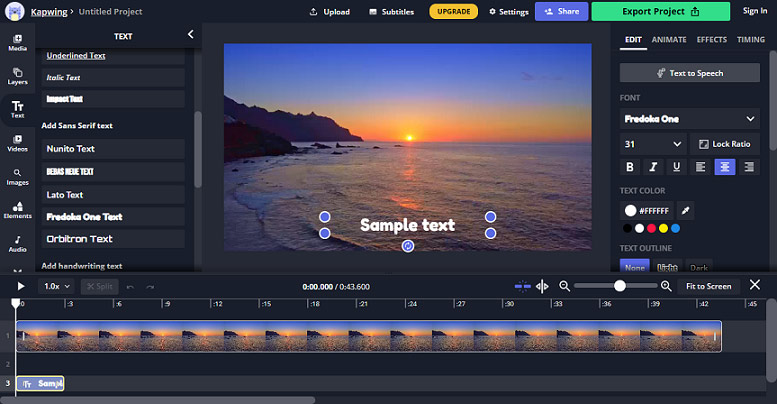 Kapwing is a good subtitle editor you can use online. It is good for creating subtitles for short videos or online videos.  It is also a full-featured video editing tool that allows you to do all the necessary manipulations with captions.
With a very nice interface, it lets you change the format of the text, and adjust the subtitle timing, appearance, and position. You can also upload an SRT file or create new subtitles right in the editor. On the multiple timestamps, you can also manually add subtitle text.
Key features:
Easy to create new subtitles
Real-time subtitles preview
Can change the font, style, and position of subtitles
Offers many video-editing tools
Allows to create of a workspace for collaboration
Subtitle Tools
Subtitle Tools is an online tool collection of subtitle editing, converting, syncing, fixing, encoding, and cleaning. It provides a smooth workflow for you to edit subtitles for a video.
With this tool, you can shift all cue timestamps of a subtitle file in sync with the video, remove incorrect formatting and SDH from SRT files, combine two subtitles into a single file, and even turn normal Chinese subtitles into Romanized, pinyin subtitles.
Key features:
Converts plain text subtitles and other formats to SRT
Uses syncing for subtitle shifting
Combines multiple subtitles and changes subtitle colors
Remove poor formatting with just a single click
Best Subtitle Editor Apps
Mix Captions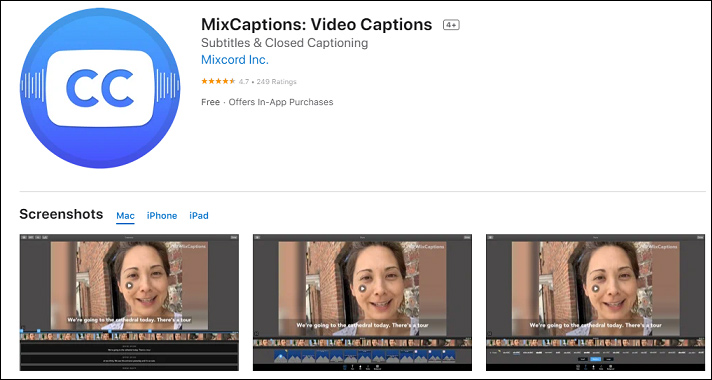 Mix Captions is one of the best subtitle editor apps for Android and iOS devices. It will transcribe your videos and get accurate, elegant video captions automatically. The supported transcribing languages are more than 20, including English, Croatian, Danish, Dutch, Finnish, French, German, Hebrew, Hungarian, Italian, Japanese, Korean, and more.
It is a great tool for video subtitling if you want to post your video on social media platforms like Instagram or Facebook. It supports most common video ratios, including vertical and 16:9, that are ideal for Instagram posts, Instagram Stories, Facebook, and Twitter. You can also customize the fonts, colors, and text backgrounds of the subtitles.
Key features:
Simple and efficient interface
Automatically subtitles the Instagram and Facebook videos
Offers subtitle customization features after transcribing
Supports importing SRT files
Subtitled Pro: Subtitle Editor
Subtitled Pro: Subtitle Editor is a great app for subtitle editing, translating, converting, burning in, and encoding. If you want to convert SBV to SRT, this tool can help you to do it.
With this app, you can also translate existing subtitles into another language. It supports multiple languages. If you also need a tool to grab the subtitles that are already in a video, this app can scan the video and extract the subtitles for you.
Key features:
Generates fast automatic subtitles
Supports all popular subtitle file formats
Offers subtitle translation tools
Conclusion
To sum up, this post introduced some of the best video subtitle editors for different devices. With these useful subtitle editors, you can modify the subtitles easily! I do hope this post can help you.
If you have any questions or encounter any problems when you use MiniTool MovieMaker, please do not hesitate to contact us via [email protected].