What Is a Promo Video
Are you looking for an effective way to advertise your products and reach millions of potential customers? Creating promo videos can be a great solution. These videos can be easily and quickly shared on social media or on video hosting sites like YouTube. Because most people prefer watching videos to reading texts when learning about a product.
But what is a promo video? In short, it's a short marketing video that promotes a product, service, event, or sale to potential and existing customers. These videos are designed to showcase the features and benefits of a product or service, explain how it works, or tell a story that connects with the audience emotionally. Promo videos can be used on websites, landing pages, social media, email campaigns, and more.
There are different types of promo videos, such as product demos, explainer videos, testimonials, trailers, teasers, commercials, etc. Each type has its own purpose and style depending on the product and target audience. Some promo videos are animated, while others use live-action footage or a combination of both.
Best Promo Video Makers for 2023
How can you make a promo video for your business? You need a promo video maker. There are many online platforms and software that offer promo video making services, but not all of them are equally good. To help you choose the best tool for your promo video, we've rounded up the top 8 promo video maker apps.
1. Animaker
Animaker is an online promo video maker that allows you to create animated and live-action promo videos. It is a platform for beginners, non-designers, and professionals to make videos with ease and creativity. It's free to use, but you can also upgrade to premium plans that offer more features and benefits.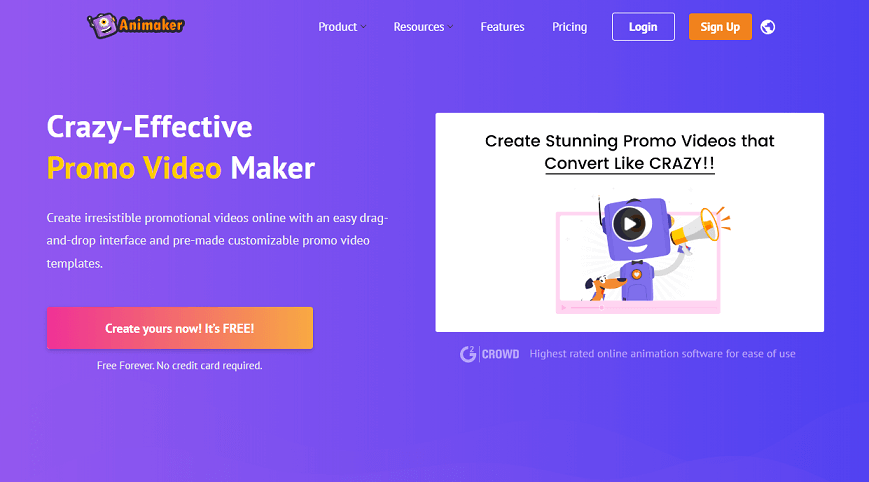 With Animaker, you can create compelling promo videos online with an easy drag-and-drop interface and various customizable promo video templates. It's also equipped with over 100 million stock assets and tons of royalty-free music tracks and sound effects.
Features of Animaker:
Create billions of unique characters with facial features, accessories, and expressions.
Auto lip-sync allows you to record voiceovers for your characters and watch them speak it.
Its text-to-speech feature enables you to convert text to human-like voices.
A template library contains thousands of ready-made video templates for various occasions.
Edit your promo videos with your teammates in real time.
It supports 4K video quality.
2. MiniTool MovieMaker
If you're looking to create quality promo videos for your business, MiniTool MovieMaker is your best bet, one of the best promo video maker software. It's a free and easy-to-use tool for Windows that allows you to create various types of videos including promo videos with its rich features and resources.
MiniTool MovieMakerClick to Download100%Clean & Safe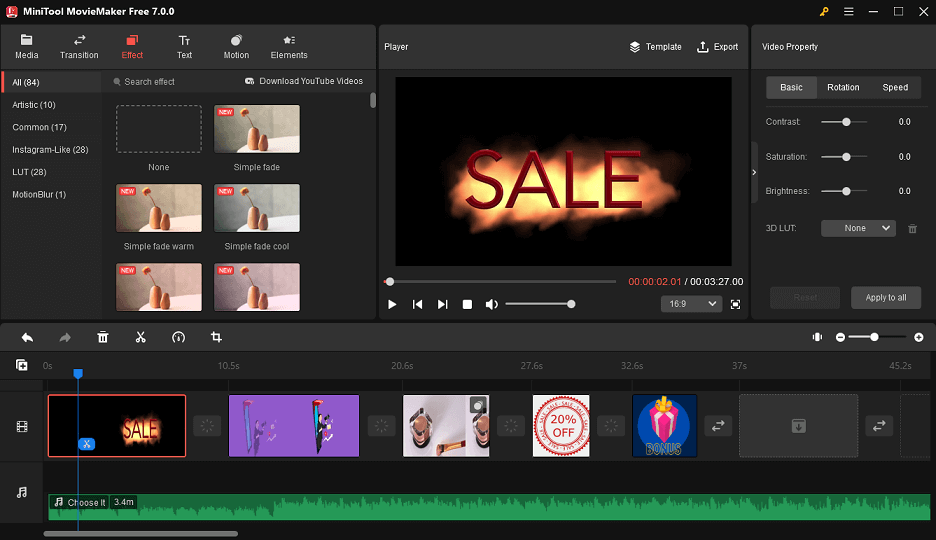 MiniTool MovieMaker's clean and well-designed interface and drag-and-drop feature make it simple for beginners to get started. With it, you can import and export videos in different formats. It also comes with a wide collection of effects, background music, text styles, and animated stickers to enhance the visual and sound effects of your promo video.
Main features of MiniTool MovieMaker:
It supports uploading media files by directly dragging and dropping from your computer.
Choose from many cool video templates for different occasions.
It includes lots of video transitions to choose from, such as wipe, slide, dissolve, zoom, etc.
Easily trim, split, crop, rotate, reverse, or flip your video clips.
It allows you to search for specific media files in its media library.
Export your promo video without a watermark in various formats.
To create a promo video for your business, a promo video maker like MiniTool MovieMaker is a must-try option.Click to Tweet
3. FlexClip
FlexClip is an online promo video editor that enables you to easily attract potential buyers by transforming any commercial or product clips and photos into extraordinary promo videos. It provides you with a variety of relevant promo video templates and countless AI-generated clips, cartoons, and animations to help you quickly create your own promo videos.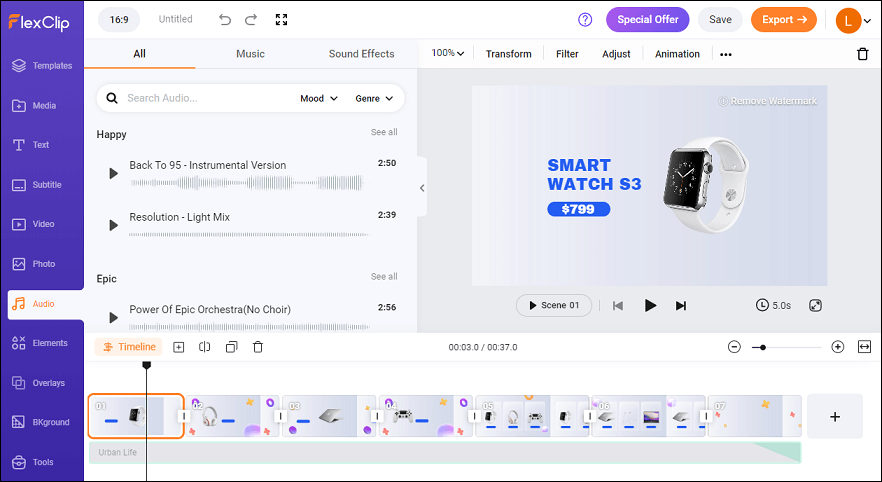 Features of FlexClip:
It comes with millions of royalty-free stock photos, videos, GIFs, and music tracks.
It provides ready-made cinematic intros for promo videos.
You can convert your videos to GIFs.
It allows you to trim, rotate, and flip the promo video, and add music, text, transitions, and watermark to your promo video.
Export your promo video in different resolutions and ratios to fit different platforms.
It's also a screen recorder, AI image generator, AI background remover, AI video script generator, and more.
4. Moovly
Moovly is an online video creation platform that lets you make videos in any style, from shot-based videos to cartoon or doodle style. It's used by users for various purposes, such as sales, marketing, learning, education, etc.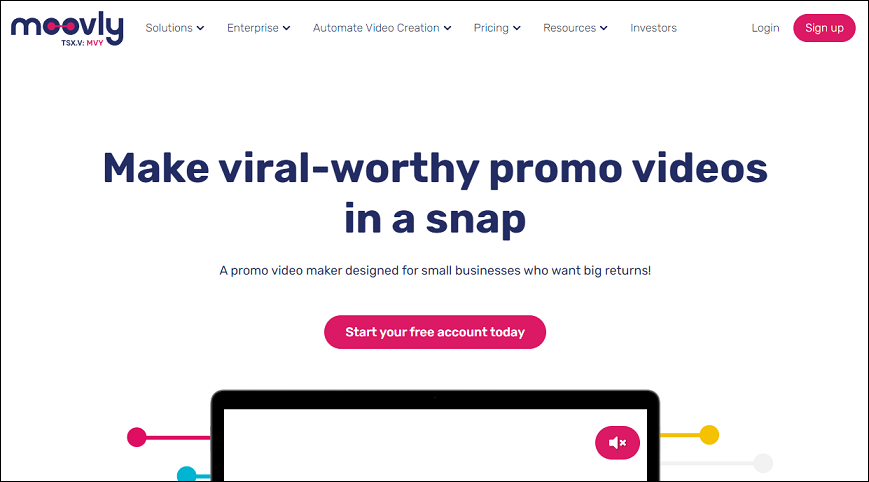 To make a promo video with Moovly, you can start from scratch or use a template, and access a huge library of files, including footage, images, sounds, and music. You can also use Moovly's AI features to generate a script or a video from text.
Moovly's features:
It supports browser-based and drag-and-drop promo video creation.
Animate any visual object in your promo video.
Add background music, sound effects, and voiceovers to your video.
It lets you split, trim, crop, rotate, and resize the promo video.
It supports text-to-speech in any language.
5. Adobe After Effects
Adobe After Effects is another powerful promo video maker software, which is widely used by professionals in film and video to bring their ideas to life. Users who have a Creative Cloud subscription can use Adobe After Effects for free.
With After Effects, you can create stunning animations with text, shapes, and logos in 3D space. It also allows you to mix music and sound effects for your promo video projects and sync audio with video using the waveform editor.
Main Features of Adobe After Effects:
Create cinematic titles, intros, and transitions for your videos.
Remove unwanted objects from your clips with the AI-powered rotoscoping tool.
Combine multiple layers of video, images, text, and effects to create complex compositions.
It lets you animate logos, characters, or any graphic element with a variety of presets and effects.
Add color, light, distortion, particles, transitions, and more to your scenes.
6. Movavi Video Editor
If you're looking for a powerful video editing tool to create eye-catching promo videos, Movavi Video Editor has got you covered. It offers over 160 creative filters, more than 100 seamless transitions, and multiple effects to choose from, giving you a range of creative options for your promo video creation.
This free promo video maker has a built-in library of royalty-free music and sound effects. It also allows you to import any videos or pictures you need, add titles, cut them to the right size, and download the promo video in a range of formats, including 4k and HD.
What features does Movavi Video Editor have?
Edit videos instantly with an intuitive interface and simple controls.
Choose from hundreds of animation presets and customize them to suit your needs.
Enhance your promo videos with color correction, stabilization, and stylization.
It comes with some advanced features, like AI background removal, AI noise removal, AI upscaling, and motion tracking.
Export your videos in high quality and share them on social media platforms.
7. Vyond
Would you like to create animated promo videos for your business? If so, Vyond is the right tool for you. Vyond is a free promo video maker that you can use to produce various promo videos, including tutorials, how-to videos, explainer videos, and more.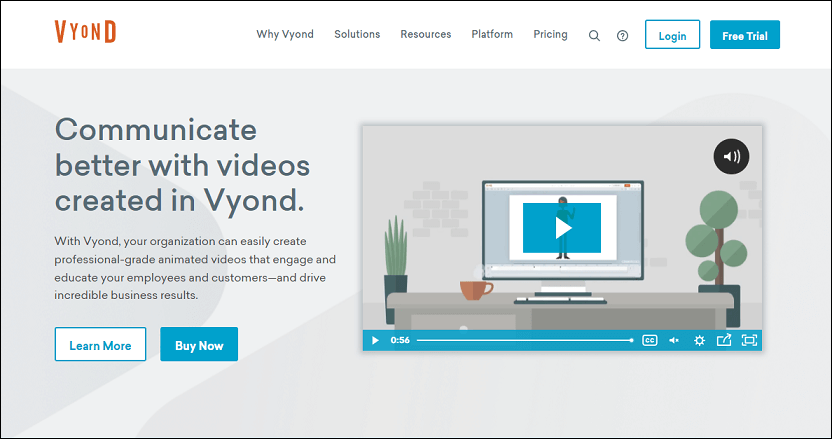 Vyond is an AI-powered video creation platform that puts the power of video production (from scripting to finished video) at your fingertips. With its simple and user-friendly interface and tons of templates, you can create promo videos quickly and easily.
Features of Vyond:
Add voices to your video using text-to-speech functionality or record your own voiceover.
Trim and crop video clips, add transitions, control the timing of animations, and apply camera effects.
It supports removing the background from any scene and replacing it with a different one.
Translate your promo videos into 70+ languages in just a few clicks.
8. Typito
Typito is also an online promo video maker that utilizes artificial intelligence to help you create stunning text promo videos with ease. It offers hundreds of video templates that make it extremely easy for beginners to get started. You can customize your own characters, add voiceover or captions, and edit your promo videos with the simple drag-and-drop tool.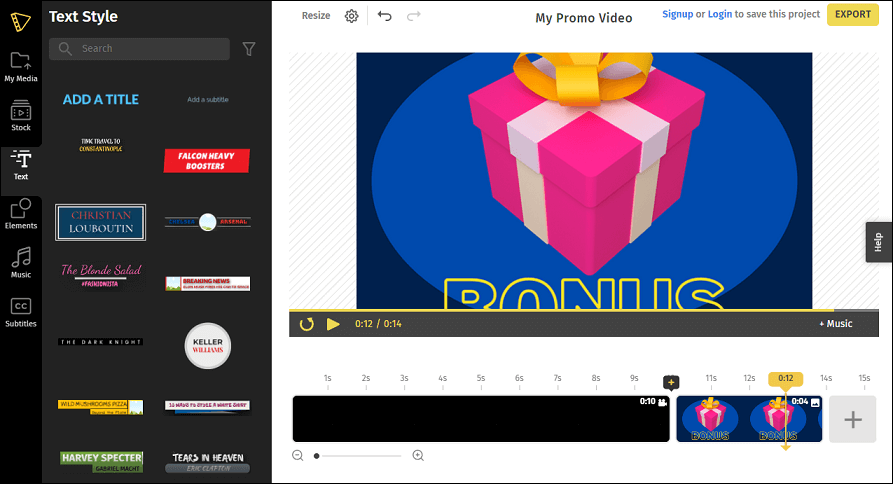 This tool supports multiple formats and languages. You can upload your own footage, or you can choose from images or video clips from its built-in library. Once edited, the promo video can be published directly on YouTube and Facebook.
What are the features of Typito?
Add dynamic text to the promo video with hundreds of fonts, colors, and animations.
Add voiceover, music, or sound effects to your videos using its built-in audio editor.
It supports creating captions automatically that are synced perfectly with the audio.
Adjust the speed of your video clips to create slow-motion or fast-forward effects.
Export your promo videos in high-definition quality up to 1080P.
5 Tips for Making a Promo Video
Creating an effective and successful promo video requires careful planning and attention to detail. Here are some tips to help you achieve your goals:
1. Know your audience and goals: Before you start creating your promo video, it's essential to have a clear idea of who you are trying to reach and what you are trying to achieve with your promo video. You should also research what kind of videos your audience likes and dislikes, and what kind of videos your competitors are making.
2. Keep it short and simple: A successful promo video is brief and to the point. Avoid using unnecessary and irrelevant information or complex language. Ideally, your promo video should be between 15 to 60 seconds long, depending on the platform and purpose.
3. Focus on the benefits and features: Your promo video should highlight the benefits and features of your product and service, as well as the value proposition and a call to action. You should also use humor, curiosity, fear, or excitement, to capture your audience's attention and interest.
4. Use high-quality visuals and audio: Your promo video should have high-quality visuals and audio that match your brand identity. It's better to use consistent colors, fonts, styles, and tones throughout your promo video. At the same time, avoid using too many or too few elements that may distract or confuse your audience.
5. Test and optimize: Your promo video is not a one-time thing. Continuously test and optimize your video based on feedback and results from your audience. And keep track of the metrics and analytics that measure the performance and impact of your promo video.
Conclusion: Pick the Best Promo Video Maker
Promotional videos are an effective way to market and sell products online. They can help you attract more customers, increase sales, and expand your online presence. To create an engaging and effective promo video for your business, you must use a promo video maker.
By selecting a suitable promo video maker from our list, you can create a promo video in just a few minutes. You can also use the tips above to make your video stand out from the crowd. Start making your own promo videos today with a promo video maker like MiniTool MovieMaker!
If you have any questions or suggestions while using MiniTool MovieMaker, please feel free to leave a comment on us below or contact us via [email protected].