When it comes to motion tracking, you must have been scared by it since motion tracking serves as an advanced skill. But you should overcome this fear in your progressively video-editing technique. First of all, you can have a general knowledge of the motion tracking software in the following content.
As the name suggests, motion tracking is a video editing technique that allows you to track the trajectory of a moving object. And then these capture data can be applied to other places like the game character in video game development, or 3D profile in Hollywood blockbuster.
For the video-editing learners as us, motion tracking makes it possible to create an animated text, which brings our videos to life and upgrades to a new level. Thus, though motion tracking is an intimidating video-editing technique up to now, there is still a need for you to master it.
Below is the top 5 free and paid motion tracking software you should know. Equipped with them, your videos will become more professional. But, if you happen to see this article as a beginner, I advise you to use MiniTool MovieMaker firstly to learn some basic and useful skills in the video-editing field.
1. VSDC (Free)
Compatibility: Windows
You can have free access to the motion tracking feature in VSDC, which is so lucky for you because motion tracking generally is an advanced feature that needs payment. With VSDS's motion tracking support, you can operate the motion capture and apply the resulted trajectory to other elements or other video clips.
Features
Free-to-use, both for beginners and professionals.
Support motion tracking, subpixel accuracy, masking, 4K and HD export, audio, and video stabilization, color grading, etc.
Support importing in various video formats.
Offer a suitable exporting format to meet all the requirements for different social media platforms.
Provide many excellent tools for multi-use, like desktop video capture, video file converter, YouTube uploader, etc.
2. Davinci Resolve (Free)
Compatibility: Mac OS X, Windows, Linux
As the professional video editing software with the motion tracking feature, Davinci Resolve is always the solution for those who need advanced video editing features. The most important reason you choose it lies in its free service. With it, you can use motion tracking professionally.
Features
Support cross platforms and provide advanced editing features.
Free available and supports RAW video format.
Has a professional interface and dual timeline.
Support motion tracking, color correction, speed warp retiming, facial recognition, etc.
3. Blender (Free)
Compatibility: Mac OS X, Windows, Linux
Blender is a free, full-featured, and open-source video editor that could be available for major platforms. It contains many professional editing features, including motion tracking. Besides, Blender's interface, such as layout and shortcut, could be customized freely.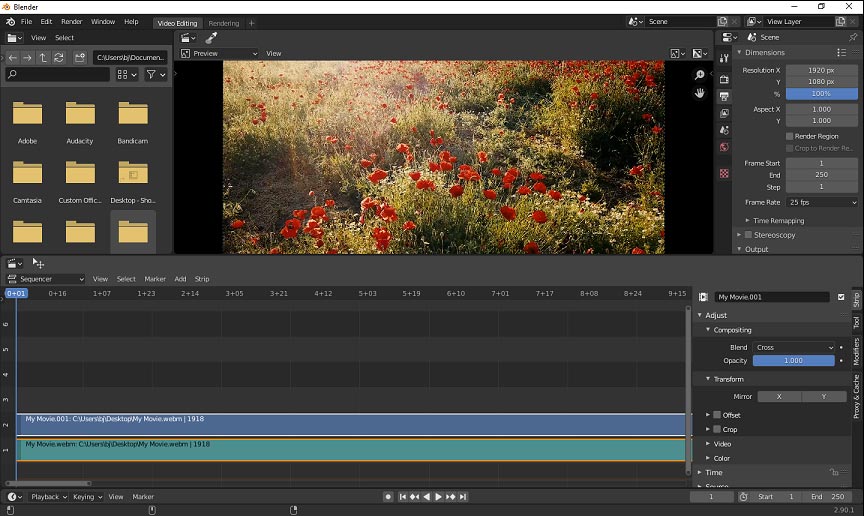 Features
Free to use.
Support highly customization for your interface and video editing tools.
Provide many advanced video editing features.
Support 3D modeling and animation.
4. After Effects (Paid $20.99 Monthly)
Compatibility: Windows, Mac OS
As the leading software in motion tracking, After Effects is famous as its specialization and profession. You can create any effect with After Effects, the motion capture suit, to reach the industry standard. Furthermore, you can create motion graphics in 2D animation, 3D modeling, text animation, and rotoscoping.
Features
Support motion tracking to create the animated text.
Offer many options for motion tracking, such as single-point tracking, 3D camera tracking, etc.
Allow you to track motion, apply the same tracking data to different layers or effects, and track multiple objects in the same layer.
5. Adobe Premiere Pro (Paid $20.99 Monthly)
Compatibility: Windows, Mac OS
Alike Affect Effects, Adobe Premiere Pro is a powerful video editing software that belongs to Adobe suite. Premiere Pro focuses on video editing from scratch rather than just post-processing. With it, you can realize all plans about the video-making using its awesome features.
Features
Support motion tracking.
Provide many powerful tools with you to create cool footages, like animation tools, motion graphics, etc.
Support working with plug-ins and add-ons.
Bottom Line
All the software mentioned above provides basic and advanced video-editing features with you including motion tracking, which can help you create amazing videos.
If you have any questions or suggestions about it, please feel free to contact us via [email protected] or leave your comments in the below section.