In this article from
MiniTool MovieMaker
, we have introduced four simple medical video makers and four effective medical video ideas. Based on personal preferences, users can pick a suitable editing tool and any idea here to create their own medical video projects. Come along and explore more!
4 Simple Medical Video Makers
Video editing is a time-consuming endeavor. This is further compounded by the fact that one case might require hours of video.
During the medical video editing process, it is very important to include the unique parts of the operation and cut out the rest of the procedural clips. You can also add titles and graphics to the video to enhance its production value. By doing so, you'll be able to provide insights and highlight unique cases.
If you are on the lookout for a useful medical video maker app, just check out the following several options to perform medical video editing, for example, add subtitles to video, add stickers to video, remove unnecessary video clips, and make other changes.
#1. MiniTool MovieMaker
MiniTool MovieMaker is our top pick for an easy medical video maker since it allows users to produce professional medical videos with just a few touches. As an easy-to-operate, full-featured video editing software, you can use it to create captivating video projects to compel the viewer, whether you are a beginner or a professional.
The software is equipped with a variety of embedded movie templates, like Festival, Travel, Love, Family&Friends, etc. Another advantage is the availability of popular aspect ratio options, including 9:16, 16:9, 4:3, and 1:1.
To elevate your video visually, you can add transitions, effects, text (titles, captions, and credits), motions, and animated elements. With MiniTool MovieMaker's help, you can also perform the following advanced editing: import video clips, images, or audio; add music to videos; split, trim, or crop videos; change video speed; reverse videos; rotate or flip videos; merge videos; apply 3D LUT effects; and a lot more.
What makes it popular in the industry is its user-friendly interface and rich functionality. In the meantime, it is capable of generating high-quality videos without watermarks for any scenario, such as corporate videos, infographic videos, product videos, interactive videos, business videos, marketing videos, company culture videos, how-to videos, and so on.
Now, let's look at how to create a terrific medical video using MiniTool MovieMaker.
Step 1. To quickly download MiniTool MovieMaker and install it on your computer, simply click the download button below.
MiniTool MovieMakerClick to Download100%Clean & Safe
Step 2. Launch MiniTool MovieMaker and click on the red New Project button to create a new project.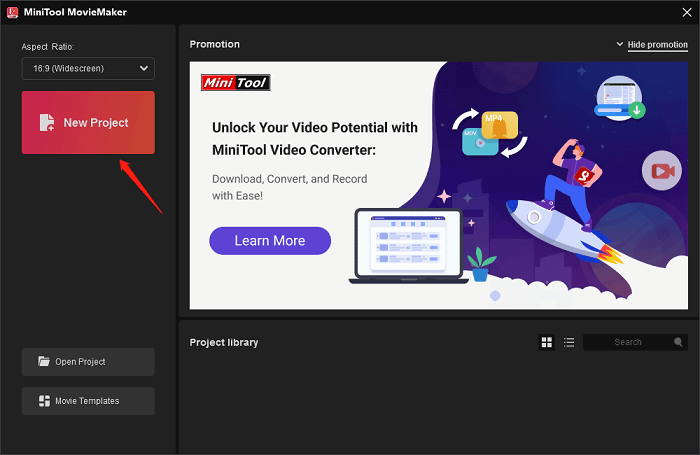 Step 3. Click on the Import Media Files area on the left side of the main interface to upload your medical footage. Next, click the + sign to add the imported footage to the timeline below.
Step 4. Selectively personalize your medical video with the following actions:
Add a caption. Click Text at the top and select the Caption option. Find the caption template you want, download it, and drag and drop it above the target video in the timeline.
Add an animated element. Move the playhead to the position where you want the animated element to start appearing, click Elements at the top, download the one you need to add, and click the + sign.
Split a video. Make sure the target video in the timeline is highlighted, click the Split tool on the toolbar, and then select the Full Split option. In the pop-up window (which defaults to the SPLIT tab), move the Zoom in or Zoom out slider to position each frame more accurately. Hover the mouse cursor over the playhead until it takes on the appearance of a hand. Move the playhead to the target location and hit the scissors icon. Don't forget to click the OK button to save the changes.
…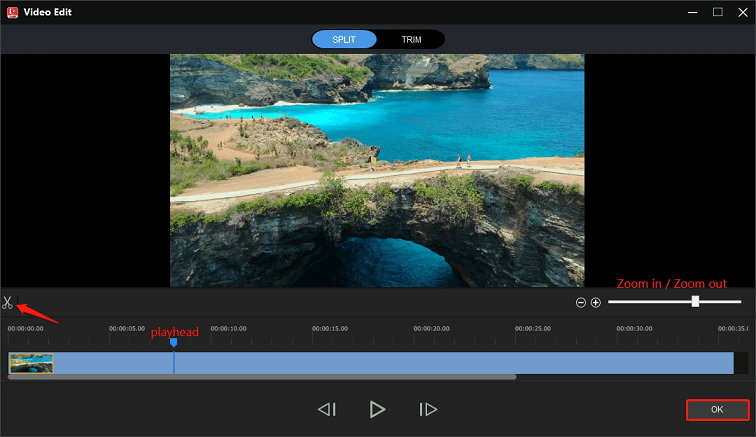 Step 5. After the medical video editing is finished, click the Export option to customize the output settings, e.g., choose the destination folder, change the video format, adjust the video resolution, and so on. Finally, click on the red Export button to save the medical video project to your computer.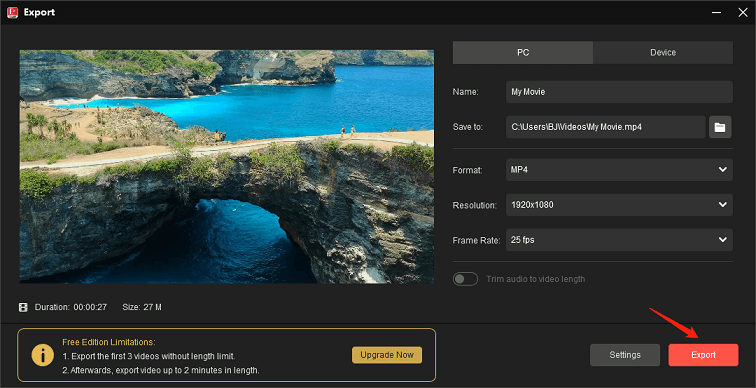 MiniTool MovieMaker offers an excellent service for creating medical videos in a short time!Click to Tweet
#2. FlexClip
FlexClip is our second choice because it serves as a simple medical video maker online that can help you create videos to explain medical concepts, drug knowledge, nursing information, or other tasks with ease.
You also have the option to make use of its medical video templates, AI-generated visuals, intros, and outros. This video editor allows you to upload footage and photos from your PC using a simple drag-and-drop method and organize them in any way you wish.
In addition, you can use it to add an enticing title and captions to your medical video, choose appropriate background music, then cut footage and control the playback speed to perfection.
#3. Boosted by Lightricks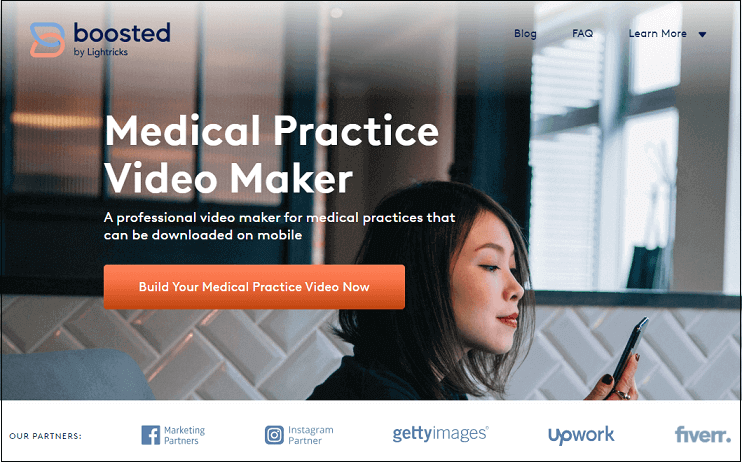 Boosted by Lightricks is also an easy medical video maker online we recommend for you. And it offers three popular options for medical practice videos:
Ads: These videos are largely about your medical practice and are intended to sell your offering.
Short-form: This type of video is typically between 30 seconds and 1 minute long and showcases your expertise in the medical field with tips or nuggets of information.
Long-form: These videos might be one minute to a few minutes long and provide more value, like a "how-to" tutorial or behind-the-scenes content.
Want to bring new vitality to your medical practice's marketing but don't know how? This video maker features easy-to-edit and ready-made templates that will help you create medical practice videos in just a few steps. Take a look:
Step 1. The subscribers get exclusive access to video templates that you will not discover anywhere else. Every template is designed to appeal to the audience and can be customized based on your brand fonts and colors.
Step 2. Select to improve the look and feel of the video by using its Getty Images stock library filled with high-quality video footage and photography. Alternatively, you can upload and utilize your own material to engage with your audience on a more personal level.
Step 3. Add music, effects, and text to make it stand out from the crowd. Finally, share the video immediately on social networking sites or save it to your phone library for later use.
#4. Powtoon
Powtoon is our last resort, but it's also a simple medical video maker that shouldn't be ignored. Here, you have the option to show the world how great your medical practice, tech, or space is through a compelling explainer video.
If you want potential customers to learn more about your medical practice, using it to create moving videos is a great solution. Moreover, Powtoon allows you to choose a template to create a medical video in minutes.
4 Effective Medical Video Ideas
Simply being on social networking sites is not enough. Actually, the majority of medical practices are on social networking sites, yet there is no considerable return on marketing investments.
There are two primary reasons for using social media professionally: one is to connect with audiences by providing value, and the other is to use promotions strategically to enhance online conversions.
To maximize your efforts and investments in both strategies, you must leverage the potential of video marketing. With the help of medical video marketing, you can draw more patients to your medical practice.
Medical professionals are beginning to see the direct influence that video marketing has on patient growth and retention as it continues to dominate the Internet marketing industry. Medical practices should be careful not to miss the chances that video content can give.
Medical video content can build brand awareness and trust, boost patient consultations, and keep current patients informed. Below are four powerful medical video marketing ideas to help you engage more patients in your medical practice.
#1. Patient Testimonial Videos
Nobody wants to be the "guinea pig" for a medical procedure. People want to feel a certain level of security and trust before committing to investing their money or trying out a new procedure for themselves.
Patient video testimonials are an ideal method to give your audience the reassurance they need before committing to a new doctor, procedure, or medical practice. It can be challenging to ask your patients to talk about something really personal on camera, however, doing so will only help others comprehend the value they are missing out on.
Tips:
Provide an incentive to encourage patients to give feedback in the form of a video testimonial but remember to obtain their written consent. Compliance is critical for protecting your patients and your medical practice.
If you're interested in how to create a persuasive testimonial video, check out this article: Testimonial Video: Ultimate Guide for You to Make a Winning One.
#2. Informative Videos
It is crucial to keep in mind that even if you're skilled at describing what you do, the viewers may not always be on the same page.
This is really your area of expertise, show your viewers how much you know what you are talking about, while also taking into account your audience's understanding and breaking things down for them in a way that an ordinary patient would comprehend.
This is an excellent opportunity to showcase those "less popular, under-appointed medical procedures." Get your audience excited about these procedures by informing them of their advantages.
People will not spend money on something they do not understand. Tell them exactly what it is and show them what it is capable of. Further, unleashes the power of medical video marketing.
#3. Demonstration Videos
New and existing patients alike enjoy watching process videos, particularly of operations they are contemplating for themselves.
Demonstration videos, like any other kind of content marketing, can serve to cultivate and engage your audience toward a purchasing decision based on your medical practice.
If you're not sure where to begin, conduct a fast online search to find out what industry queries are popular and utilize those results to shape your demonstration video content strategy.
In addition, you can create content centered on medical procedures that don't have a lot of planned appointments each month. This could easily have to do with your patients and your audience not knowing enough about those procedures to make a reservation.
#4. Complex Procedures Q&A Videos
YouTube, by far the most widely used social media channel, is renowned for reliably answering trending search queries about common industry topics.
Again, it's not enough to simply be present on social media, including an inactive YouTube account that was last updated in a certain year.
People desire new, up-to-date, and valuable video content. Are you making the most of this? For example:
Listening to the audience.
Find out what questions they wish to answer.
Consistently answer these questions.
Patients like to do research online, thus make sure you stay active on social media platforms and consistently post great content.
Medical video content is an authentic method to showcase your culture, and your skills, and highlight the best outcomes that your medical practice has accomplished for similar patients.
Video content has been proven to bring in more patients to your medical practice as well as remains in high demand. The more people can see, the more they will trust you and your results.
Conclusion
All in all, we have covered the simple medical video makers and effective medical video ideas above to help you create professional medical videos and take your video projects to the next level.
If you have any questions or concerns while using MiniTool MovieMaker, please feel free to contact us at [email protected].