This article on MiniTool MovieMaker walks you through the best corporate video maker tools on the market and the six basic elements that can create a successful corporate video. Whatever your company needs, you can make a compelling corporate video to meet them.
What Is a Corporate Video?
Simply put, a corporate video is a video created by a company or organization. It is most commonly used to build and enhance the overall awareness of a company's brand, but it can also be used for different purposes in a business setting:
Interview with corporate executives
Introduce investors
Live webcast available
Provide a company introduction to potential clients or clients
Provide videos on employee safety, education, and training
Provide testimonial videos for clients and clients
Showcase new products or services
Write a summary of an event or activity
Write a summary of business events
Why Do Companies Need a Corporate Video?
People enjoy consuming information in a variety of ways. Some people prefer to read written text on things like company blogs, while others find it better to visualize it as a video. According to Forbes Insight, 59% of senior executives say they prefer to watch videos rather than read text.
Creating a corporate video can help in running an effective marketing campaign. As a marketing plan for your company, a corporate video can be indexed by Google, which could greatly increase the amount of traffic to your company's website and increase the number of visitors who become clients.
It's simple to share a video. Clients and employees can quickly and easily share a corporate video online or through the company's email account, ensuring that the video is seen by as many people as possible.
A corporate video is made to convey a message engagingly. If presented in the form of a speech or presentation, the information will be dull or lengthy and fail to hold the interest of the audience. Therefore, it will be more conducive to brand promotion when the modified experience is brought into the video.
Best Corporate Video Maker Software
Here, we'll suggest the best corporate video producers for your needs. At the same time, you can produce excellent corporate videos on a desktop with ease.
1. MiniTool MovieMaker
MiniTool MovieMaker is one of the best corporate video maker tools for Windows users. It features an intuitive interface and a one-click experience to make your content stand out.
To make a fantastic corporate video, you can import videos, images, and music to this corporate video editor. With a variety of perfect video editing functions, it allows you to create freely, such as correct color, apply 3D LUT effects, fade in and fade out music, etc.
You can enhance the aesthetic and visual impact of your corporate video by:
Use pre-made video templates that include intros, end credits, music, and more.
Add intriguing filters, captions, transitions, motion effects, and animated elements.
Change the contrast, saturation, and brightness of the video.
Flip the video horizontally or vertically.
Rotate the video from 0 to 360 degrees.
Adjust the pace of a video to add slow-motion or fast-motion effects.
Give any video an instant reverse effect.
Split videos, trim videos, or crop videos.
Here are the steps to generate stand-out corporate videos with MiniTool MovieMaker:
Step 1. Download and install this free corporate video maker.
Step 2. Open it from your desktop and close the window that pops up.
Step 3. In the top left corner of the main panel, click on Import Media Files and choose the materials to create your corporate video.
Step 4. Click on the + button to add the materials to the timeline and then click on the Zoom to Fit Timeline.
Step 5. Pick out the transitions, effects, text, motions, and elements that you want and make some adjustments accordingly.
Step 6. Use the toolbar options above the timeline to design your corporate video.
If you want to give the video an instant reverse effect, you can do it by clicking on it in the timeline, clicking the Speed icon on the toolbar, and selecting the Reverse option.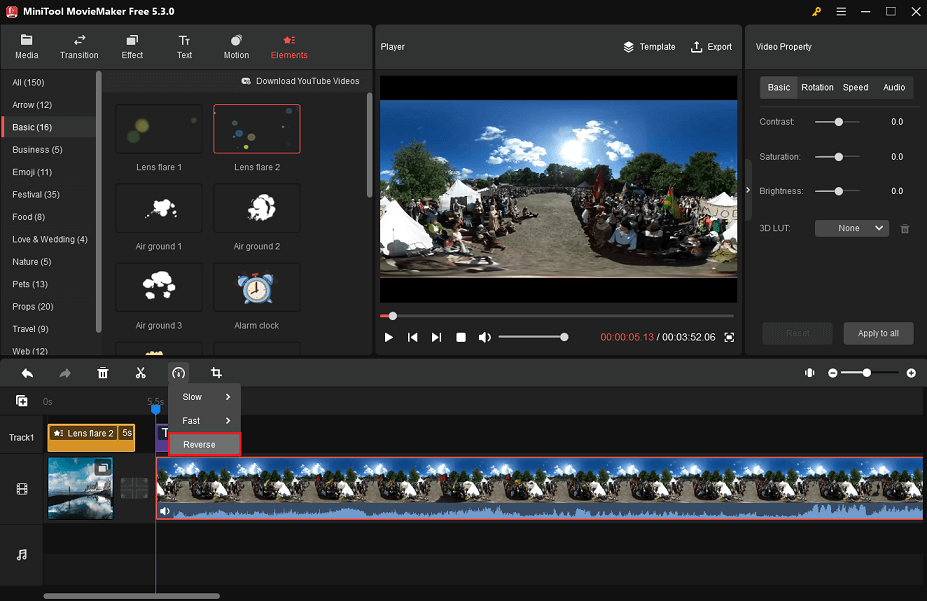 Step 7. Click the Play icon at the bottom left of the Player window or press Space on your keyboard to preview the changes.
Step 8. Click Export at the top right of the Player window. To export the video in a format that can be played on different devices, you can go to the Device tab and choose one from the Format drop-down list.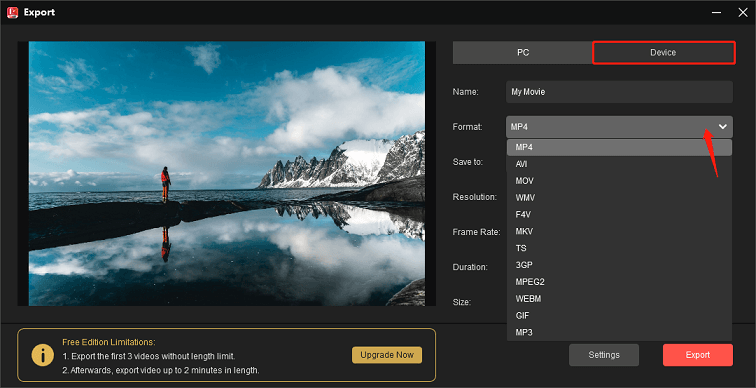 MiniTool MovieMaker comes with a series of superb editing functions. This corporate video maker can boost your brand image. Start now!Click to Tweet
2. Clipchamp
Clipchamp is another corporate video maker tool for Windows users. It makes corporate videos that provide employees with a better understanding of how other team members perform their duties and how they relate to the overall company culture. With the help of Clipchamp, you can create impactful and impressive corporate videos, including corporate culture videos, corporate explainer videos, employee onboarding videos, recruitment marketing videos, and so on.
Share this post: Clipchamp – New Video Editor to Be Installed on Windows 11 PCs
Best Corporate Video Maker Online
3. Animaker
Animaker is a free online corporate video maker, and it lets you make a corporate video in minutes. It includes a variety of video editing tools. On Animaker, you can produce live-action and animated corporate videos.
Animaker's Cool Features:
There are more than 100 pre-made corporate video templates for you to design modern corporate videos.
You can tailor your corporate videos to match any brand's style or character.
With the character builder, you can specify the appearance of your character by changing clothing, facial features, expressions, and more.
You can instantly animate your characters and properties with functions such as smart move and action plus.
You can also easily create voice-overs for your characters using AI-powered text-to-speech software.
4. Vimeo
Vimeo's corporate video maker contains a well-stocked library of free templates. Your video can look better if you put more emphasis on using lighting, backgrounds, and angles. It allows you to create free corporate videos online. You can also use it to enrich your content and keep your current and potential customers interested.
How to customize an outstanding corporate video with Vimeo:
Step 1. Choose a ready-to-edit corporate video template from the template library of Vimeo Create. These templates are suitable for embedding on your website or sharing on social media platforms like Facebook or YouTube.
Step 2. Customize the template of your choice to showcase your promo to your audience. You can add your own or pick from videos and pictures in the stock library.
Step 3. Select the proper fonts, colors, layouts, and other elements.
Step 4. Save your customized corporate video directly to share on your favorite platforms.
6 Basic Elements for DIY Corporate Videos
We're going to raise the bar for your corporate video by adding the following elements to your company's corporate video to design a video with a strong reputation.
Aim for Something
Corporate videos should differ from one another because not all of them have the same aim. Some are made to attract new clients, while others are made to hire new employees. Some videos are designed to advertise or market new products or services, while others have a more general goal of increasing brand awareness among specific audiences.
You can create a strategy based on the goal of your corporate video. Don't forget to narrow down your audience to a very accurate group of people and identify who they are. While every company aspires to be liked by everyone, it's not easy to achieve. Also, you can make your corporate video specifically for your target audience and address them in it.
Appeal to Emotions
It is important to emphasize this idea, as it is essential to producing any kind of high-quality video. As much as we like to think of ourselves as rational beings, many decisions—whether purchasing decisions or other judgments—are actually driven by emotions. Data, facts, features, and perks are typically included in corporate videos. While this may be useful information, many viewers may overlook something as analytical and dull as this.
If you want to truly connect with your audience, you have to engage them emotionally throughout your video, whether they're a potential client, new job candidate, or even an existing employee. They will be hooked and want to watch your corporate video to the end.
Combine Effective Audio and Video Elements
A Harvard Business Review study found that people only remember 20 percent of what they hear and around 30 percent of what they see. Astonishingly, 70% of people can recall what they saw and heard.
People love spoken words and visual storytelling, and videos often blend the two. Instead of just explaining how something can benefit your audience, you need to create a video to show them. Videos can also provide a lot of information to the viewer, that's why it works.
With the aid of effective corporate video makers, even more, in-depth content, like investor presentations, can be made more fascinating. A simple commercial film can be enhanced by the use of animation, color schemes, background graphics and music, and even voiceovers to keep the audience interested for longer.
Increase Brand Awareness Using a Video
Your company's brand needs to be integrated into the message of any corporate video, regardless of why it is being distributed. In your video, always mention the who, what, where, when, and why. Highlight your business' best qualities and achievements. You should also include recognizable brand elements in your videos, such as songs, color schemes, logos, mascots, and products.
If your company is consistently branded throughout your corporate video, any viewer will understand what sets your business apart from competitors in your field.
Keep It Professional
Your corporate video doesn't need to compete with blockbuster releases in theaters. However, a common mistake many firms make is failing to use a powerful corporate video editor to help them create professional videos.
Similar to how you allocate your annual budget to any other marketing initiative, you should invest in corporate video creation. Corporate videos are very important to your company, and professionally produced results will be shown in the final product.
Share Properly
You can take full advantage of professional corporate video maker tools to create stunning corporate videos and distribute them the right way. This is particularly true if the goal of your video is to market and spread information about your business or even a specific product or service to a specific audience.
Share your videos on popular social networking sites like YouTube, Twitter, LinkedIn, or your company website. Doing this may help you improve your Google ranking, make your website visible in search results, and attract potential customers.
Recommend post: What Are LinkedIn Video Specs & How to Post a Video on LinkedIn
You can reach a large audience by putting your corporate video in the monthly newsletter you send to your subscriber list via email. Plus, encouraging others to like and share your corporate video can help grow your audience and increase your video's exposure.
Conclusion
A well-crafted corporate video can increase lead generation and business growth. Therefore, it is crucial to know how to use corporate video maker tools and the basic elements of producing videos. What are you waiting for? Try it now!
If you have any questions about this corporate video maker, please contact us via [email protected] for help.