This article developed by MiniTool MovieMaker will mainly teach you how to make an interactive video. Also, you can choose the interactive video creator app that best suits your needs.
Recently, the concept of interactive video has made amazing progress in the digital marketing field.
In addition to driving 48% more traffic than traditional video, interactive video is highly entertaining.
Many companies are currently pursuing interactive video formats to increase their engagement. By using the right interactive video maker tool, users can create stunning videos for your upcoming marketing campaign.
What Is an Interactive Video?
Interactive video is a user engagement strategy that helps you enhance the customer experience. It lets you add CTAs to your video to attract attention from your audience and lower the bounce rate.
It also provides tons of similar interactive options to engage your audience. You can include hotspots, display a 360-degree view, and add forms or quizzes. With interactive features like these, you can turn a mediocre video into a compelling marketing campaign.
Audiences enjoy watching interactive videos, which is why they are so popular among brands. If you compare linear video and interactive video, you will see a big difference in their results.
Interactive videos will engage your audience instead of sitting passively in front of a screen. Additionally, these videos encourage viewers to watch your videos longer and increase social shares.
Features of Interactive Videos
Interactive video has many features that linear video does not. They are the most effective way to increase brand awareness.
Here are some of the most important features of interactive videos.
Hotspots
Hotspots make it easier to identify specific shapes or track the motion in a video. You can also include clickable tags or buttons in your video to guide viewers.
If you're showing something, like a pair of high heels, you can add a link next to it. By doing this, you can capture your viewers' attention and direct them to the link in the video, where they can view more information about your product.
360-degree View
At present, 360-degree videos are quite well-known. It captures every angle to give viewers a complete view. Viewers are free to move the screen in the viewing direction of their choice.
360-degree views are considered ideal for automotive, tourist attractions, and destination industry videos. When any company showcases 360-degree interactive video on its website, it shows they are innovative and forward-thinking.
Live Streaming
The best way to interact with your audience is to live stream on YouTube, Facebook, Instagram, Twitch, or any other website. Also, it is the most cost-effective way to use interactive video. The best aspect of live-streaming videos is that you can interact directly with the audience.
In addition, viewers have the opportunity to ask questions and receive responses in real-time. With the help of these interactive live videos, building strong customer relationships will be a breeze.
Uses for Interactive Videos
If you are running a video campaign, you will find a wide range of uses for interactive video. It will grab people's attention and mobilize people's emotions, thereby enhancing the impact of the information.
Interactive videos are great for different industries, such as recruitment, education, and marketing.
Here are some broad uses of interactive video.
Explainer Videos
Explainer videos are the best way to show how anything works. They are also a popular video type in the marketing industry.
Explainer videos can help the audience learn about your product or service. Besides, explainer videos are very entertaining, compelling, and enjoyable for the audience to watch.
You may also like: Top 7 Best Explainer Video Software of 2023
Recruitment Videos
If your company is going through a new wave of hiring, interactive videos are the most effective method to get more attention. This will create excitement among interviewees. There will be an opportunity to select any particular aspect of the character by clicking on the interactive features.
Your company or brand will find it easy to recruit high-quality and tech-savvy candidates through interactive recruitment videos.
Educational Video
Across the online education market, interactive video is the most effective means of increasing retention and engagement. And, it is the best way to promote the fun of online learning for students.
Hotspots and quizzes help the student learning process to be interactive and effective. Plus, interactive videos can improve students' problem-solving skills. They can acquire more than just sitting and watching passive learning.
Also read: 9 Best Educational Video Makers and Editors You May Just Need
Entertainment
Interactive video is a great medium for entertainment because the audience has complete control over what they watch. It's more of a game-like viewing experience for the viewer.
With interactive videos, you can deliver knowledge and entertainment at the same time. The best strategy is to focus on fascinating storytelling that grabs the audience's attention and completely delights them.
How to Make an Interactive Video?
Now that we know the basics of interactive video, let's take a look at how to make an interactive video presentation using the interactive video editor – MiniTool MovieMaker.
MiniTool MovieMaker
If you want a free interactive video maker for you to make captivating videos, you must try MiniTool MovieMaker. On top of that, it is a 100% free and safe video editing tool with no ads, bundles, or watermarks.
MiniTool MovieMaker is a versatile interactive video generator that allows you to create excellent business videos, corporate videos, training videos, marketing videos, and so on.
With its intuitive interface, you can easily add tons of stunning elements to your videos, such as transitions, filters, subtitles, motions, and animation elements.
The best part is: there is a set of editing tools available, including the video splitter, video trimmer, video cropper, video flipper, video rotator, video reverser, audio extractor, video speed changer, and more.
Here's the guide on how to make an interactive video free with MiniTool MovieMaker.
Step 1. Download and Install
Download and install this interactive video editor on your computer for free. Open it and close the pop-up window to access the main interface.
Step 2. Upload Your Media Files
Click on Import Media Files to upload your media files.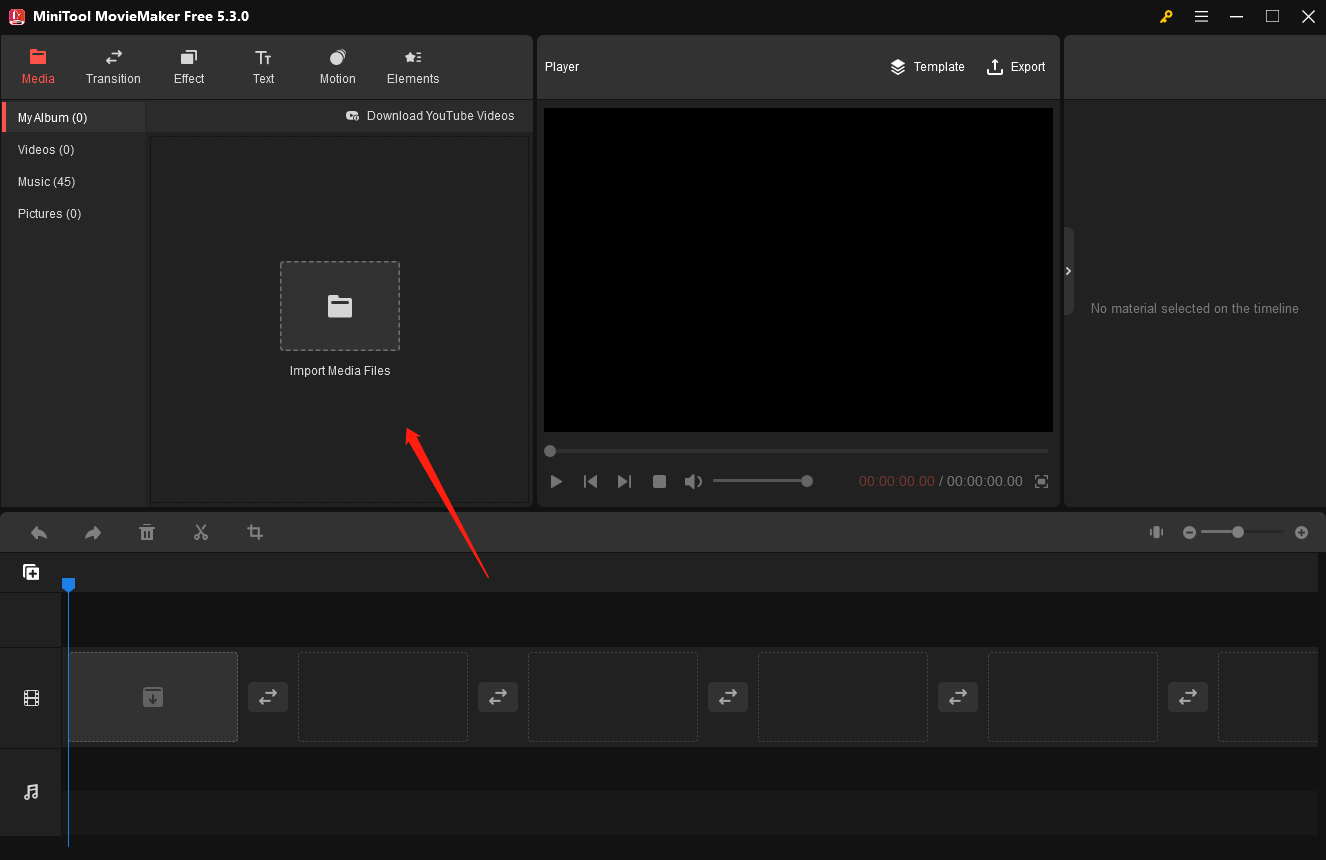 MiniTool MovieMaker supports importing three types of media files, including video, audio, and image. The formats they support for import are given below.
Video: mp4, mov, avi, mkv, 3gp, flv, mpg, vob, wmv, rmvb, etc.
Audio: mp3, flac, wav, m4r, m4a, aac, amr, ape, etc.
Image: jpg, jpeg, png, gif, bmp, ico, etc.
You can directly drag and drop the media files to the timeline below. Or, you can click on the + button located in the bottom right of any media file thumbnail.
Step 3. Add the Desired Animated Element
Go to the Elements tab.
Here, a wide range of animated elements is offered, including arrow, business, emoji, festival, food, nature, pets, love & wedding, and so much more.
For example, whether you want to promote a product during the festival, or want to plan an unforgettable wedding, you can add your favorite elements here to your interactive video.
Click the Download button in the lower right corner of the element you like. Alternatively, right-click on any element and select Download All to get all the elements.
Simply drag the desired element to where you want it to be placed. Or, click the desired element, then click on the + button to add it.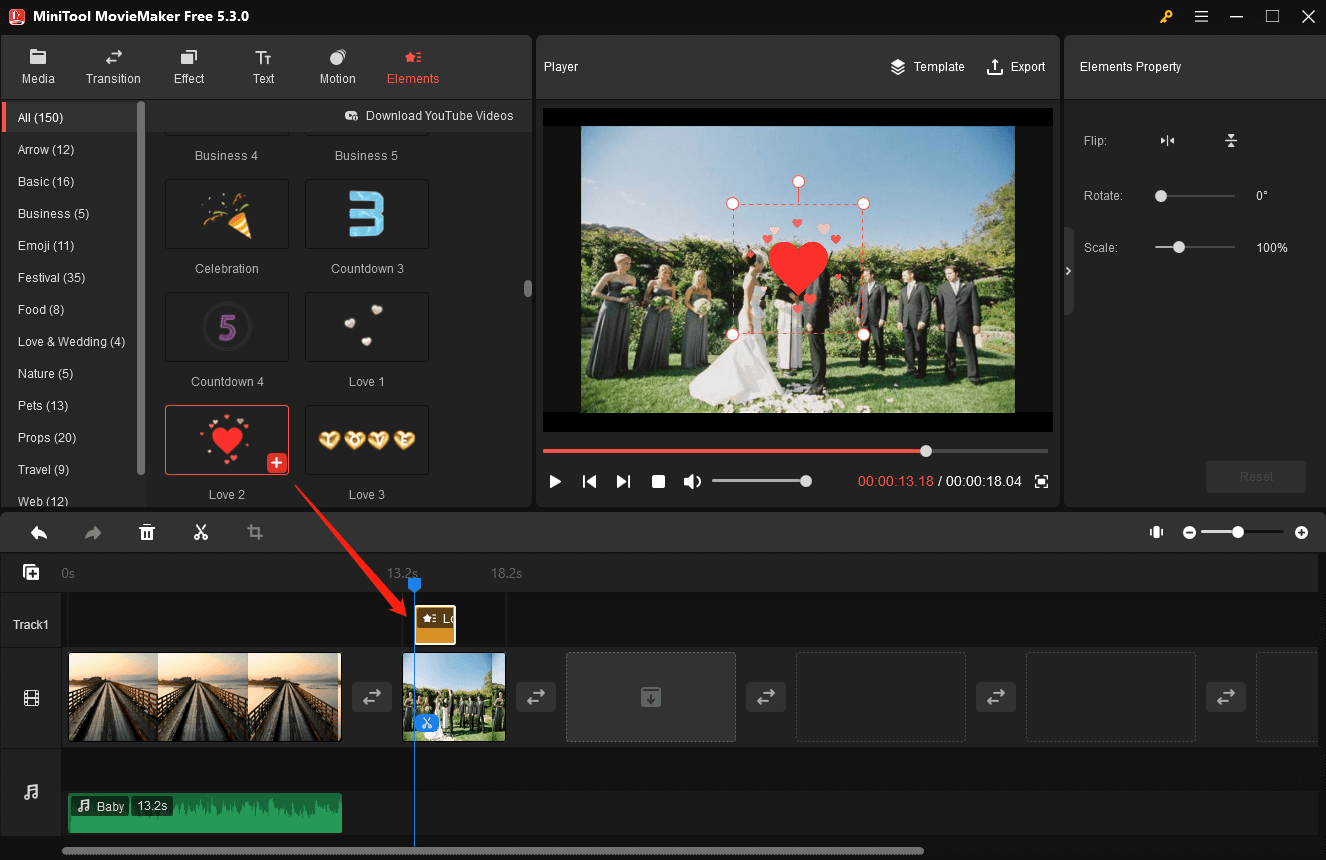 Step 4. Design the Element on Your Interactive Video
Go to the top right Elements Property area.
Click the Flip Horizontal or Flip Vertical icon to flip the element horizontally or vertically. Also, you can drag the Rotate slider to rotate the element from 0 to 360 degrees.
To adjust the size of the element, you can drag the Scale slider to set the size you want it to appear in your interactive video. Or, press the Up or Down shortcut on your keyboard to resize.
In the Player window, place the mouse cursor on the small white circle above the dotted line box to rotate it at will; place the mouse cursor on one of the four small white circles on the dotted line box and then drag the mouse cursor inward to your preferred size when it turns into a double arrow.
Drag the element to where you want it to be placed in the Player window.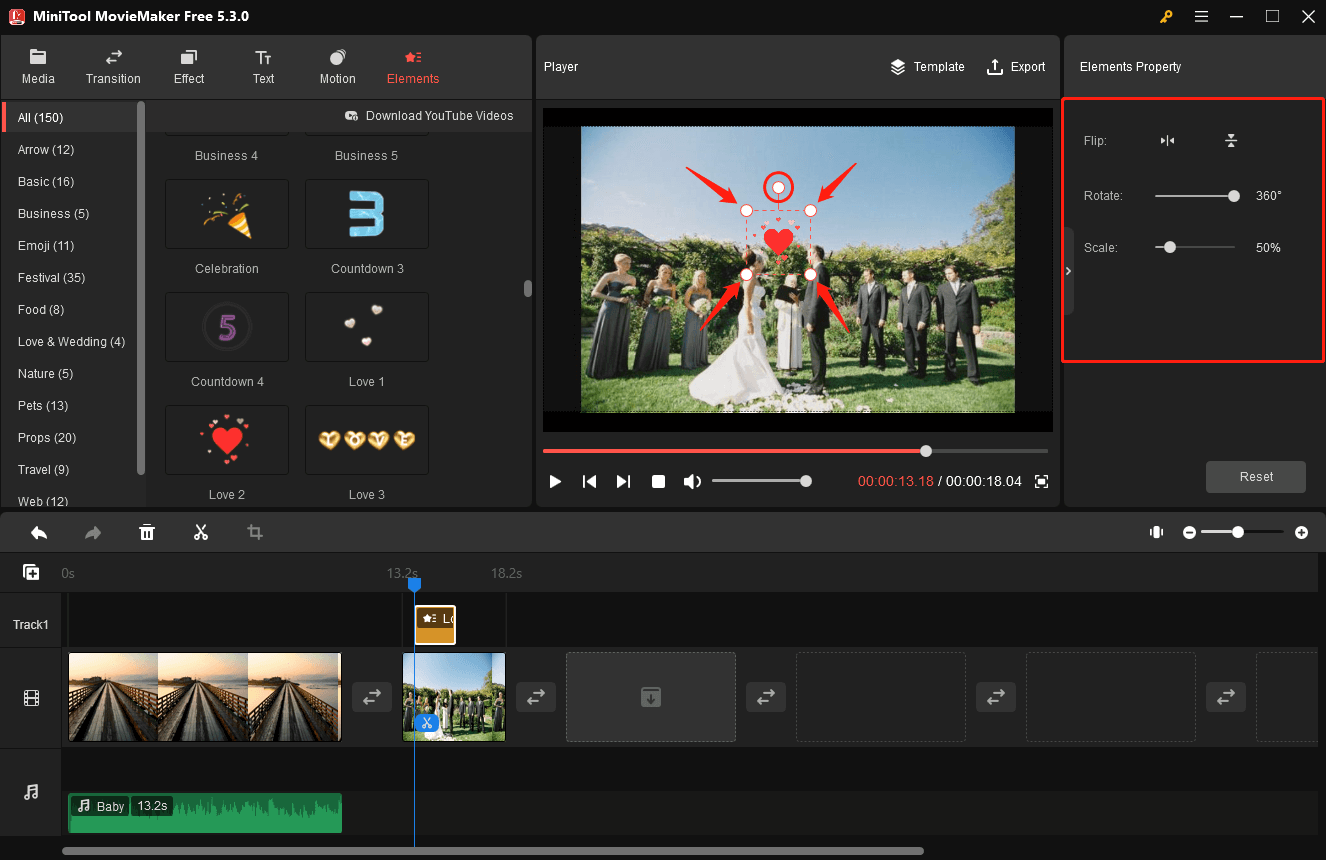 Step 5. Save the Interactive Video
Click the Export above the Player window to complete the output settings.
By default, you will be taken to the PC tab. Here you can rename the video, choose the video format (such as mp4, wmv, avi, mov, gif, mp3, etc.), change the save path, adjust the quality, encoder, resolution, bit rate, and frame rate of the video.
Finally, click the Export button to save the interactive video.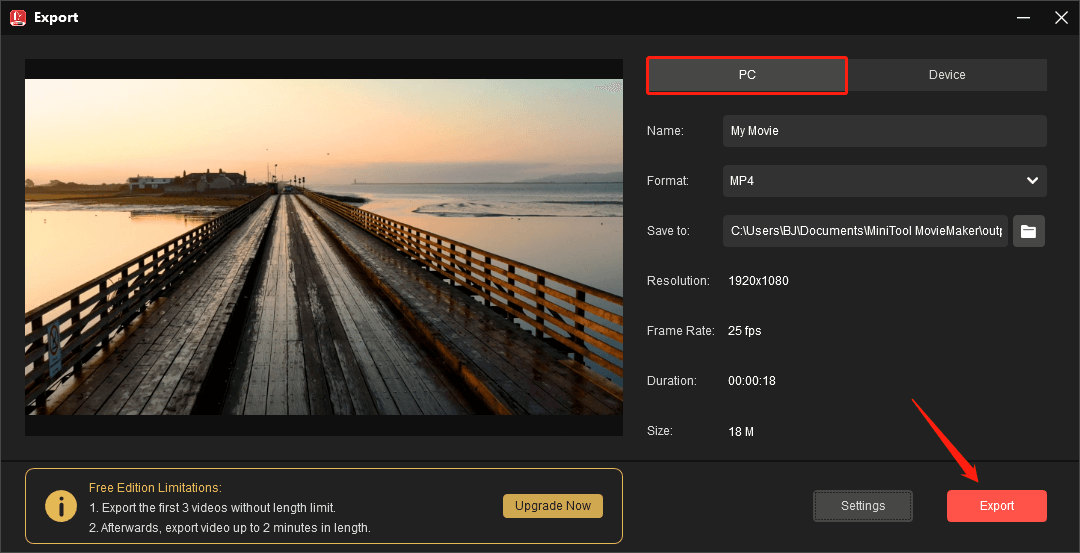 Best Tools to Create Interactive Video Content
You now know how to make an interactive video. Next, let's check out some interactive video tools to help you make interactive videos for better engagement.
Wideo
Wideo lets you create interactive videos to increase conversions or add interactivity to existing videos. It also provides you with 100+ templates to create and edit videos online.
With the help of Wideo, you can create an interactive video with ease. After adding buttons or hotspots to your video, you need to add interactivity and make the objects clickable. You can then directly embed the video on any website or share it on different social media platforms.
Tolstory
Tolstory allows you to interact directly with your clients. By doing this, you will gain the trust and respect of your clients. You can have a personal conversation anytime, anywhere.
It features an interactive video platform that will direct you to the right content. Customers here have the opportunity to respond to your Tolstorys with text or video messages, contact information, and so on. You can fine-tune your marketing techniques based on your customers' feedback.
Eko
Eko can help you enhance the customer engagement experience and convert more website visitors. The audience will have the opportunity to guide the experience offered in the story.
Most importantly, you can use its strong analytics to discover what works for your brand and where you can improve. It offers easy drag-and-drop templates to help you plan and build engaging interactive videos.
When you give your audience choices through interactive videos in Eko, you will attract more viewers to your brand.
Spott
Spott is a freemium service that includes image and video interactivity. It is a great choice for all types of businesses, large or small.
With Spott, you can add subscribe buttons, apply clickable tags, and embed product feeds into your video. Also, it supports different social media platforms, allowing you to easily share with your audience.
Mindstamp
Mindstamp is the most straightforward and effective interactive video solution on the market. For your brand, you can tailor video marketing to capture your audience's attention and inspire them to take action.
It enables you to add interactivity in many ways through questions, hotspots, buttons, drawings, and more. You can also use it to make engaging product videos that drive discovery and boost sales.
Conclusion
Are you struggling with how to increase brand awareness and engagement? If you find yourself in this category, check out our guide on how to make an interactive video and our list of recommended interactive video making apps to get your marketing strategy on track.
Please feel free to email [email protected] if you have any questions or concerns about the MiniTool MovieMaker.