Want to make a funny happy birthday GIF for lovers, families or friends? Then you just can't miss this post. Here details on how to make a funny birthday GIF with some excellent GIF makers, including MiniTool MovieMaker released by MiniTool.
Want to make a funny happy birthday GIF for someone? Then don't miss this post. Here, we are going to introduce some practical sites for you to download cool GIFs and show you how to make a GIF on different devices.
Top 5 Best Sites to Download GIFs
1. Giphy
Giphy is the preferred resource for everyone to find happy birthday GIFs. You can browse categories or use the search function to find specific words or phrases.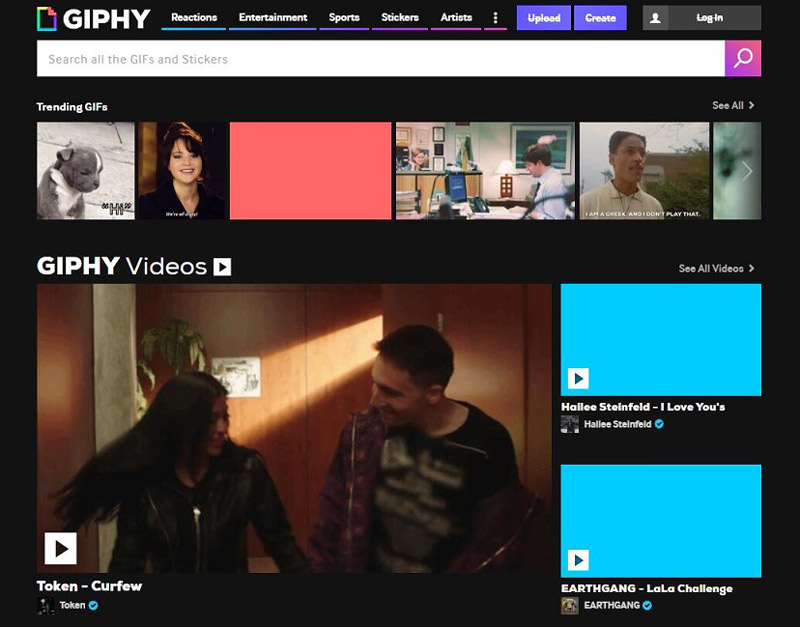 2. Tenor
Tenor is GIPHY's biggest competitor. Honestly, their search functions are exactly the same and their layout is almost the same. You can narrow down your search using search buttons.
3. Gfycat
Gfycat is one of the most popular GIF sites. Its search function is not the best, but there are many categories. From celebrities to games, there is a huge variety.
4. Imgflip
Imgflip is the main source of interesting images where you might find various happy birthday images and GIFs. However, it's more a site for creating memes than a great place to find free GIFs.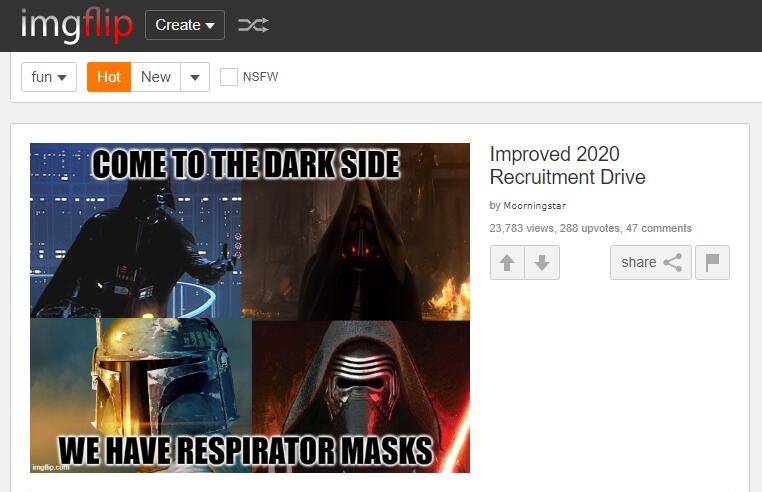 5. GIFbin
GIFbin is another great resource for discovering happy birthday GIFs. You can filter the thumbnails by "Latest", "Highest Rated" and "Most Viewed" or by tags.
How to Make a Happy Birthday GIF
Before discussing how to make a GIF, it's essential to find a good happy birthday video on the web that you want to turn into a GIF and save it on your device. You'd better not opt for a clip that is too long, as brevity is the soul of the GIF.
MiniTool MovieMaker – Make a Happy Birthday GIF on Windows
Developed by MiniTool, MiniTool MovieMaker, a free yet professional video editor designed for Windows users, is the most recommended here.
MiniTool MovieMakerClick to Download100%Clean & Safe
It is an excellent GIF maker without ads, viruses, bundles and watermarks, which allows you to make a GIF with images or videos.
Follow the steps below to make a GIF with MiniTool MovieMaker. Just with a few clicks, an awesome GIF is done. Try it now!
Step 1. Import the Footage
Free Download, install and launch MiniTool MovieMaker on your PC to get its main interface.
Click the Import Media Files to import your birthday video file. Alternatively, you can add some happy birthday images to make a GIF.
Click the + button on the video thumbnail to add it to the timeline, or you can simply drag and drop it onto the timeline.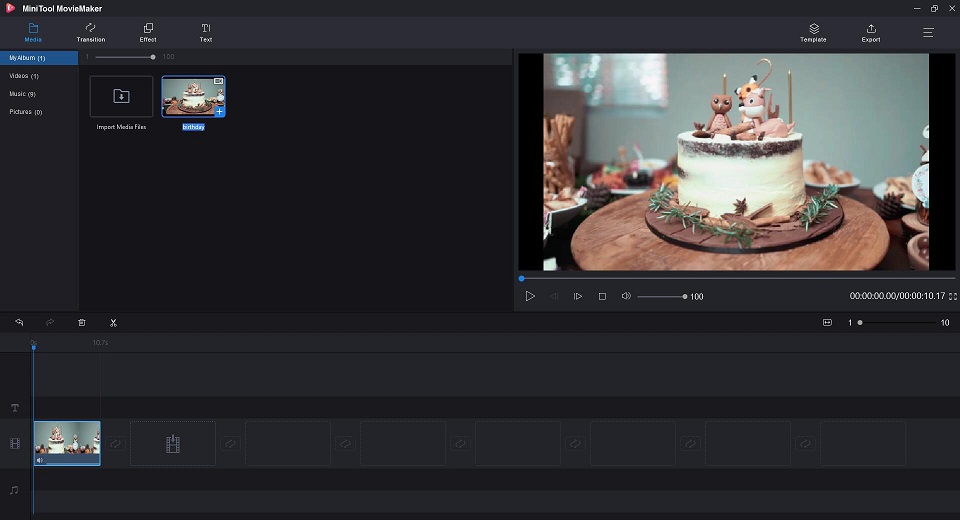 Step 2. Edit the GIF
Change the duration – Select the video clip, click the scission icon, choose Full Split and then head to the Trim Now you can change the duration by moving the clip's start point or end point.
Add effects – Go to the Effects library, drag and drop an effect's thumbnail onto the video clip on the timeline. Or select the video clip and then click the + button on an effect.
Add texts – Navigate to the Texts library, drag and drop a text's thumbnail onto any one of the three text tracks. Or click the + button on a text style. Then you can type in your texts.
Correct color – Double-click on the video clip and the editing window will appear, where you can adjust contrast, saturation, brightness, and 3D LUT.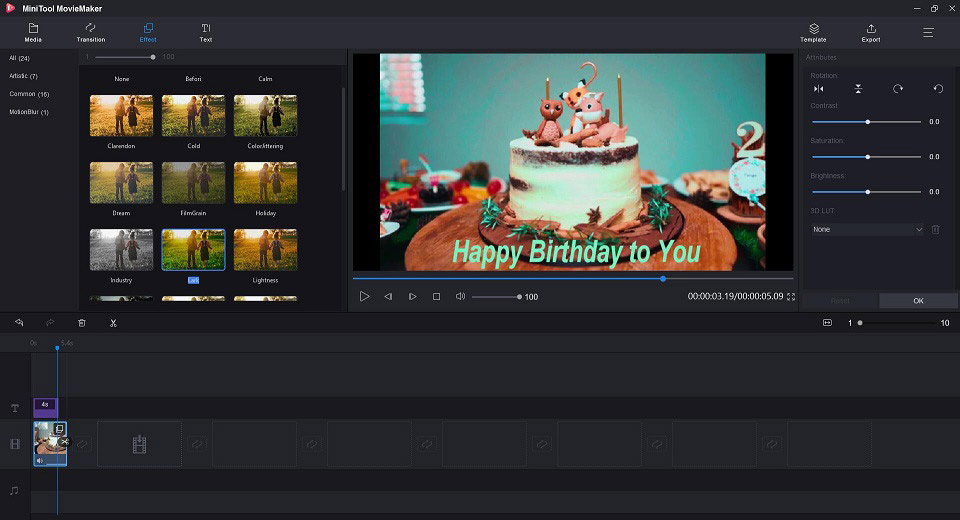 Step 3. Export the GIF
Click the Export button at the top right of the screen.
Select GIF as the output format in the pop-up window. Additionally, you can give a name and specify the store location for this GIF here.
Hit on the Export button again to save it on your computer.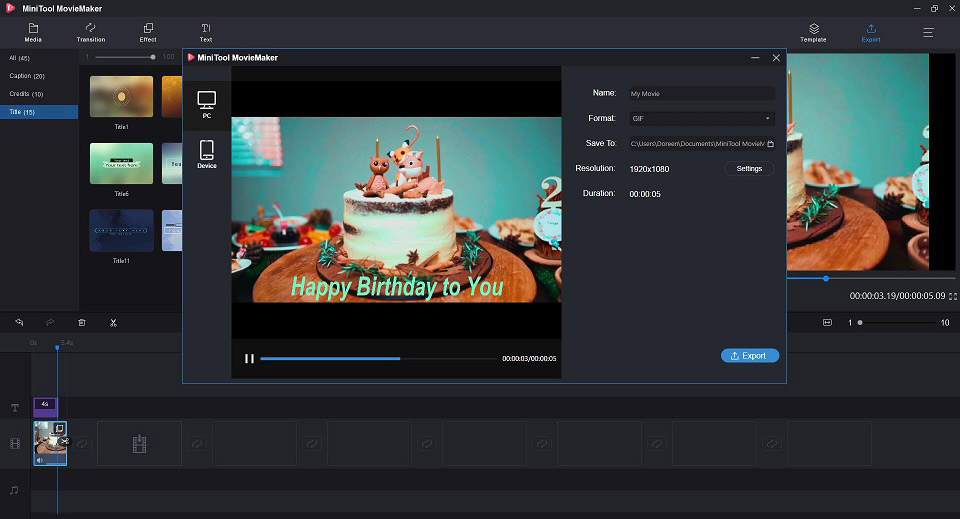 In addition to making GIFs, MiniTool MovieMaker also provides some advanced features for video production as follows:
Numerous popular transitions and effects.
Easily make music videos or cartoons with cool templates.
Quickly split, trim and combine video & audio clips.
Add text (titles, captions, and credits) to a video.
Convert video to audio files with high speed and high quality.
Change video resolution to reduce file size.
GIPHY Capture – Make a Happy Birthday GIF on Mac
GIPHY Capture is a free piece of software available to download from the Mac App Store, which is the best way to create GIFs on your Mac. This free software is simple, powerful, and easy enough for pretty much anyone.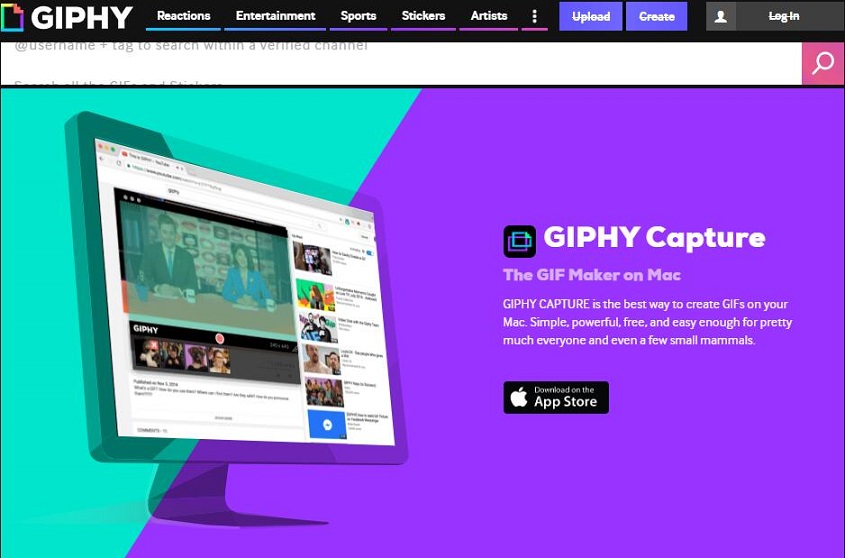 The best part of GIPHY Capture is that it's not just for one service (such as YouTube). Anything you display on your Mac can be converted very quickly and easily to GIF. Follow the steps below to learn how to make a GIF.
Open GIPHY Capture and a green box will appear on the screen.
Upload the video into the software.
Adjust the box to fit the video perfectly.
Click Start Recording to start creating GIF, and you create a GIF for up to 30 seconds. Once the GIF is captured, click on the GIPHY Capture logo in the menu bar.
Resize the GIF and trim it to make it perfect. You can also get its URL here.
Finally, click Save As to save the GIF to your computer.
Makeagif – Make a Happy Birthday GIF Online
Makeagif is an excellent GIF maker because it lets you create a GIF from multiple pictures, a video from your local computer, a YouTube video, a Facebook video, or even directly from your webcam.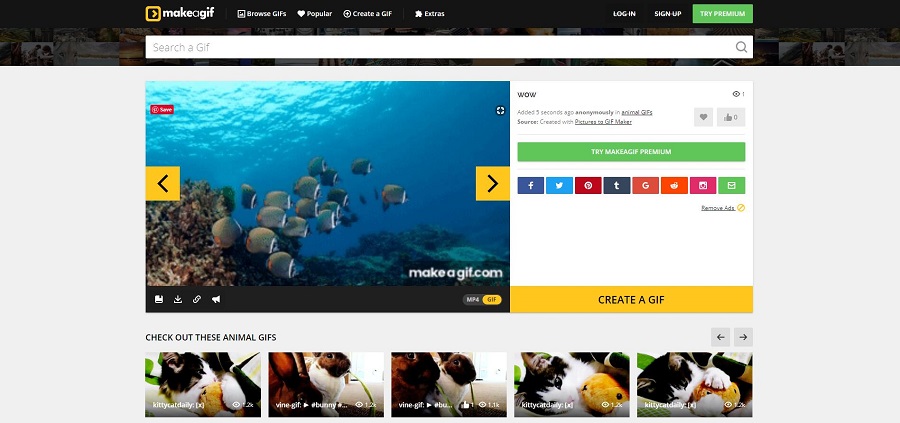 Using this tool, you can add text on the top of the GIF, but you can't preview it or change the position of the text on the GIF. Once created, you can save the GIF to your computer or copy its URL to find it online.
Go to makeagif.com, create a free account and then choose the Make a GIF.
Select Pictures to GIF and then click UPLOAD IMAGES to import your happy birthday images or simply drag and drop them into the program.
Rearrange these images and click CONTINUE TO EDITING.
Now you can resize your images, preserve transparency, add a caption, add a sticker, change the GIF speed and even turn off the watermark.
After finishing all editing, click CONTINUE TO PUBLISHING.
Give a name, select a category and add tags for this new GIF and tap on the CREATE YOUR GIF. After that, you can download it.
Top 8 Online Happy Birthday GIF Makers
The above has discussed how to make a GIF. If you don't want to download any software, you can try an online GIF maker, which takes no space on your device.
To facilitate most of you, here list 8 best online GIF makers. Let's have a look at them one by one.
1. FreeGifMaker.me
FreeGifMaker.me is a popular online GIF maker. With FreeGifMaker.me, making a GIF is an easy task even for beginners. Besides the usual basic options of choosing gif size and speed, FreeGifMaker.me also provides YOUTUBE TO GIF, GIF EFFECTS, REVERSE GIF, etc.
After creating a GIF, you can directly download it or share it with your friend who is going to have a birthday. However, unlike MiniTool MovieMaker, it only allows you to create a GIF from pictures.

2. Ezgif.com
Ezgif.com is another online GIF maker. Use this GIF maker tool to quickly make high-quality GIFs. This tool also has a free video to GIF converter if you'd rather not use images to create GIFs.
It has a built-in editor that you can use to edit your GIF files – crop images, resize GIFs, optimize the frames, reverse images, flip or rotate the GIF to a particular angle, adjust the speed, split the GIF back into original images, and add text.
3. Gifs.com
Gifs.com is a simple funny GIF maker for creating animated GIFs from videos. It has everything you need to make the best GIF. You just need to upload a video from your local computer or enter the URL of an online video. Then the tool will turn your video into an animated GIF.
The video you upload to the program can be up to 150MB and the GIF you create can be up to 15 seconds. What's more, it provides some other features, including GIF Player and Effects.
Related article: GIF to MP4
4. Kapwing
As a collaborative platform for creating images, videos, and GIFs, Kapwing is a simple online GIF maker and toolset for basic animated GIF editing, which would be your first choice to make a GIF.
This site works on every OS without the need to buy and install anything. Additionally, it provides almost all video/GIF/image editing features that you can imagine, such as Subtitler, Collage Maker, Add Audio to Video, Remove Background from Image and so on.
5. Picasion
Picasion lets you create a birthday GIF from images you upload from your computer or import from Flickr. A GIF can be sized up to as 450 pixels wide and the animation speed can be adjusted as your needs.
Before creating a GIF, you have the option to add it to Picasion's online library. Once finished, you can directly download it, or simply copy its online link and then share it via social media sites or email it to friends.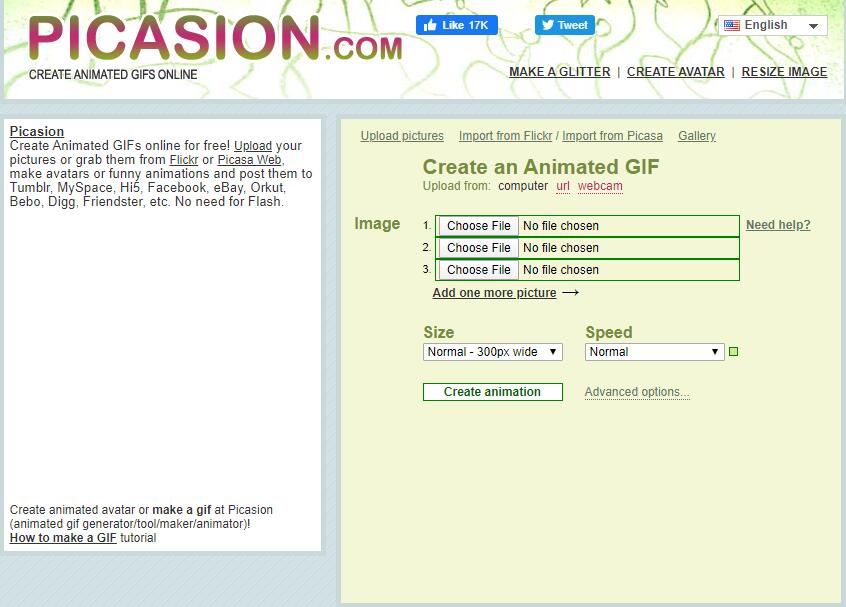 Related article: 8 Useful GIF to Video Converters
6. CreateAgif.net
CreateAgif.net is a free and easy-to-use online GIF maker that helps you to select multiple happy birthday images from the computer and generate a high-quality GIF file after you manipulating details about the speed and size of the GIF.
This online GIF maker allows you to upload several happy birthday images into it simultaneously and then reorder and compose them into one GIF file. It provides you 4 GIF size options and 5 GIF speed options for you to choose from.
7. GIFPal
GIFPAL is an amazing online GIF maker. You just need to upload photos from your webcam or your computer, make some changes, and the tool will automatically generate GIFs for you. You can arrange pictures, preview the GIF, and even turn off the watermark.
Besides, you have the option to reverse the GIF, change image quality, overlay a filter and adjust the animation speed. You can also customize the GIF content using hue, saturation, contrast, text and drawing tools. Once done, download the GIF directly and share it via Tumblr or Twitter.
8. GIFMaker.me
As an excellent online GIF production tool, GIFMaker.me can easily handle almost all media file formats such as GIF, JPG and PNG so that you can create interactive GIFs. When creating a GIF, you can enjoy a live preview of all changes before exporting the created GIF file.
In addition to changing the animation speed and resizing GIFs, you can also reduce the file size of GIFs, reverse GIFs, rotate GIFs, merge two or more GIFs into one, and even split GIFs into several separate frames.
Bottom Line
Have you mastered how to make a happy birthday GIF or where to download funny GIFs after reading this post? If you have any questions or suggestions about it, please let us know via [email protected] or share them in the comments section below.
Happy Birthday GIF FAQ
?What are GIFs good for?
Short for Graphics Interchange Format, GIF is a bitmap image format, which has a smaller size than a video. It is very useful for expressing emotions.
?How do I download a GIF?
Open a web browser on your device.
Find out the GIF you want to save.
Right-click on the GIF.
Tap on Save image as…
Specify a file name and click Save.
?Where do you get GIFs?
Giphy
Tenor
Gfycat
Imgflip
GIFBin
Imgur
Reaction GIFs
Reddit
Tumblr
?What's the best GIF app?
MiniTool MovieMaker
GIPHY Capture
Makeagif
me
com
com
Kawping
Picasion
net
GIFPal