Birthday is the most important day of the year for a person. Unlike public festivals, it only belongs to that person. Birthday also stands for his growth; it is the end of the last year and the start of the next year of his life journey. So, families and friends will celebrate this day for him.
Yet, how to celebrate a birthday for someone? In addition to the traditional activities, what other birthday memory ideas can you think about? How to renew the old celebrations with new thoughts? The following content will elaborate in detail.
#1 Birthday Memory Book Ideas
What Is a Birthday Memory Book?
A birthday memory book is a collection of the memories of someone of his life. It can be in various forms like an album or a scrapbook. It can be a physical book or a digital document.
Why Need Birthday Memory Books?
Since a birthday memory book records the colorful life of someone, it can be very meaningful for him/her. Viewing the experiences of various feelings, happy, satisfied, proud, excited, nervous, depressed, or even sad, can be a great recall of his life.
All those kinds of memories will influence the future life of the person. They will make him more confident, brave, thankful, etc. He will cherish the rest of his life with his family, friends, work partners, and so on; he will avoid the mistakes he has made before; he will improve his happy experiences based on his current situation… He will make full use of the past experiences and learn froom them.
Besides, the people who create the birthday memories book will show their love for the recipient, the beloved one.
How to Create a Birthday Memory Book?
In general, you don't have to have special talent to create a milestone birthday memory book. The most important thing is that you need to be sincere. If you made it, the birthday memory album you made will cheer up the protagonist and touch him.
Although there are no skill requirements to make a birthday memories album, it is still necessary to know some successful experiences or tips to create a wonderful scrapbook.
1. Plan Early
Planning early is always one of the good birthday memory ideas. Since creating a birthday memory book needs some time to recall the experiences of the one who is going to have his XXth birthday. The earlier you begin to create, the more time you have for preparation, the more comprehensive the book will be, and the better the effect will be.
However, it does not mean you need to start to prepare the birthday memories album for his next birthday right after his last birthday. Generally, one month before his birthday is quite enough.
2. Collect as Many Materials as Possible
There are many kinds of materials you can gather for the birthday memory book. The following is a list of common ones.
Photos of the birthday boy or girl, his/her family, friends, pets, houses, etc.
Words the birthday person had said or he loves.
Small objects he used like a hairpin, ring, pen, etc.
If you have few items mentioned above, you can ask for help from the birthday man's family or friends. They will provide what they have for you. Or, just simply ask them to join you and create the birthday memories book together.
3. Write Notes
Besides your own experiences with the main character, you need to ask his other families or friends to share their memories with the person. Also, you can ask for the memories of the birthday person himself without letting him know you are collecting information for his birthday memory book. You should note those sharings down.
4. What Kind of Birthday Memory Book Do You Want?
After collecting enough materials, you have to decide which kind of memory book you would like to create. First of all, should it be a physical one or a virtual digital album?
Secondly, what to write in a birthday memory book? If you choose to create a digital memory book, the materials you can take advantage of are videos, images, and words. Besides, you need a computer application to help you achieve that. Don't worry if you are not good at video/photo editing. There are many easy-to-use video editors such as MiniTool MovieMaker, which requires no editing skills and is friendly for green hands. We will teach you how to make use of this program to build a wonderful birthday memory video later in this article.
If you want to make a handmade birthday memories album, you can put the physical photos, note cards, and old little objectives into a scrapbook. You may need scissors, glue, pen, string, etc. to help you do the work, just like what you did in crafting class at school.
In the third place, you can give a birthday memories caption of your Birthday memory book. You can name the book by its main contents, for example, "Helen on Travel" for a birthday memory book mainly recording travel experiences of Helen. Or, you can call the book "Helen's 40 memories for 40th birthday", "50th birthday memory book for Helen", or "Helen's 60 years of memories birthday" according to the age of the birthday character.
5. Let's Start
When all the above is done, it is time to start making the birthday memory book by yourself!
#2 Birthday Memory Ideas – Happy Video
Besides a memory book, a memory video is also indispensable. You can merge the digital photos and videos you have all the years about the birthday boy and turn them into an astonishing video or little movie. You need to rely on a professional and simple video editing program like MiniTool MovieMaker to help you with that.
Now, let's have a brief look at how to create a birthday memory video by MiniTool MovieMaker.
MiniTool MovieMakerClick to Download100%Clean & Safe
1. Download, install, and open MiniTool MovieMaker on your Windows PC.
2. Upload all the digital images, audio, and videos to the computer.
3. Click on the Import Media Files option under the Media tab in the main interface of MiniTool MovieMaker to add all the birthday materials to the program.
4. Drag and drop those materials onto the timeline below.
5. If you want all the picture memories to flow smoothly, you should add transitions between every two materials on the video track.
6. If you want the photos to look warm, just add some warm effects to them.
7. To write your feeling about some special moments, you can add texts to the specific images or videos.
8. Under the Text tab, select Title in the left panel. There, choose a beautiful opening for your birthday memory video. You are recommended to give a name to the video in the opening.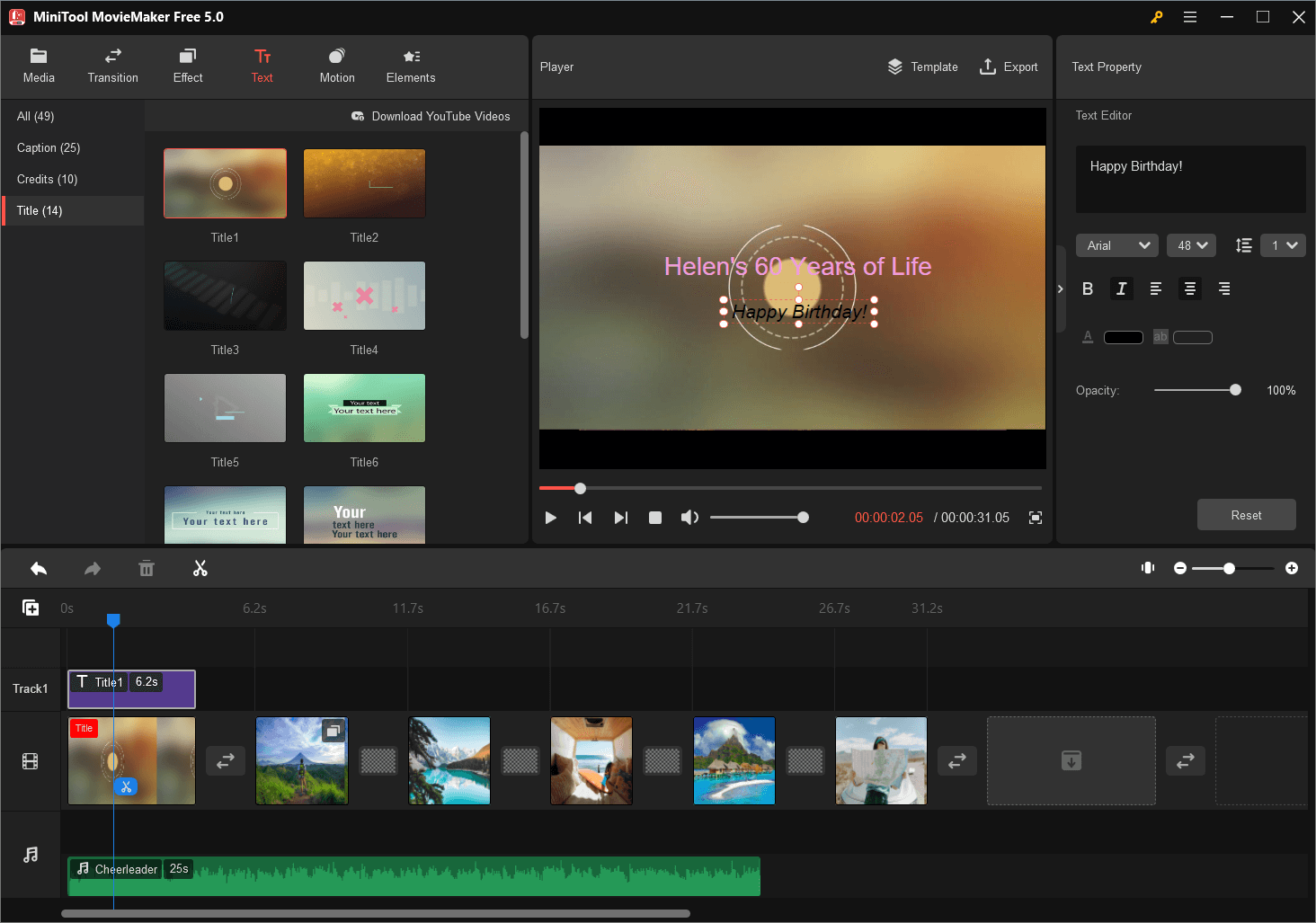 9. Switch to the Credits section under the Text tab and pick up a credit style for the ending of your video. You can put your wishes to the birthday person here. Also, you can list the people who have contributed to making this video, just like what the movies and series do.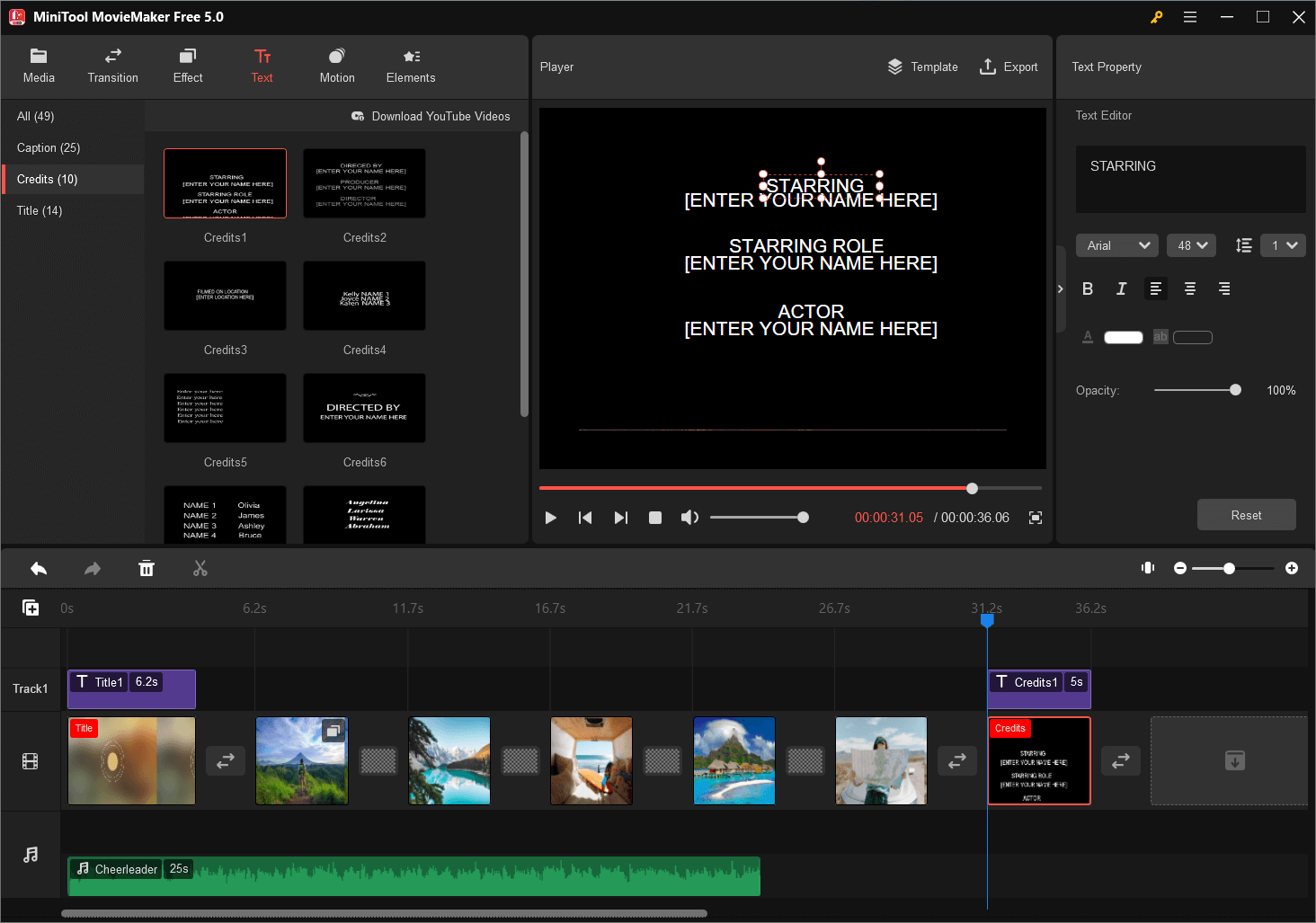 10. You can also make the photos get moving in a specific routine by adding motions to them.
11. Besides, you can make your video more vivid by adding animation elements to it like a birthday cake.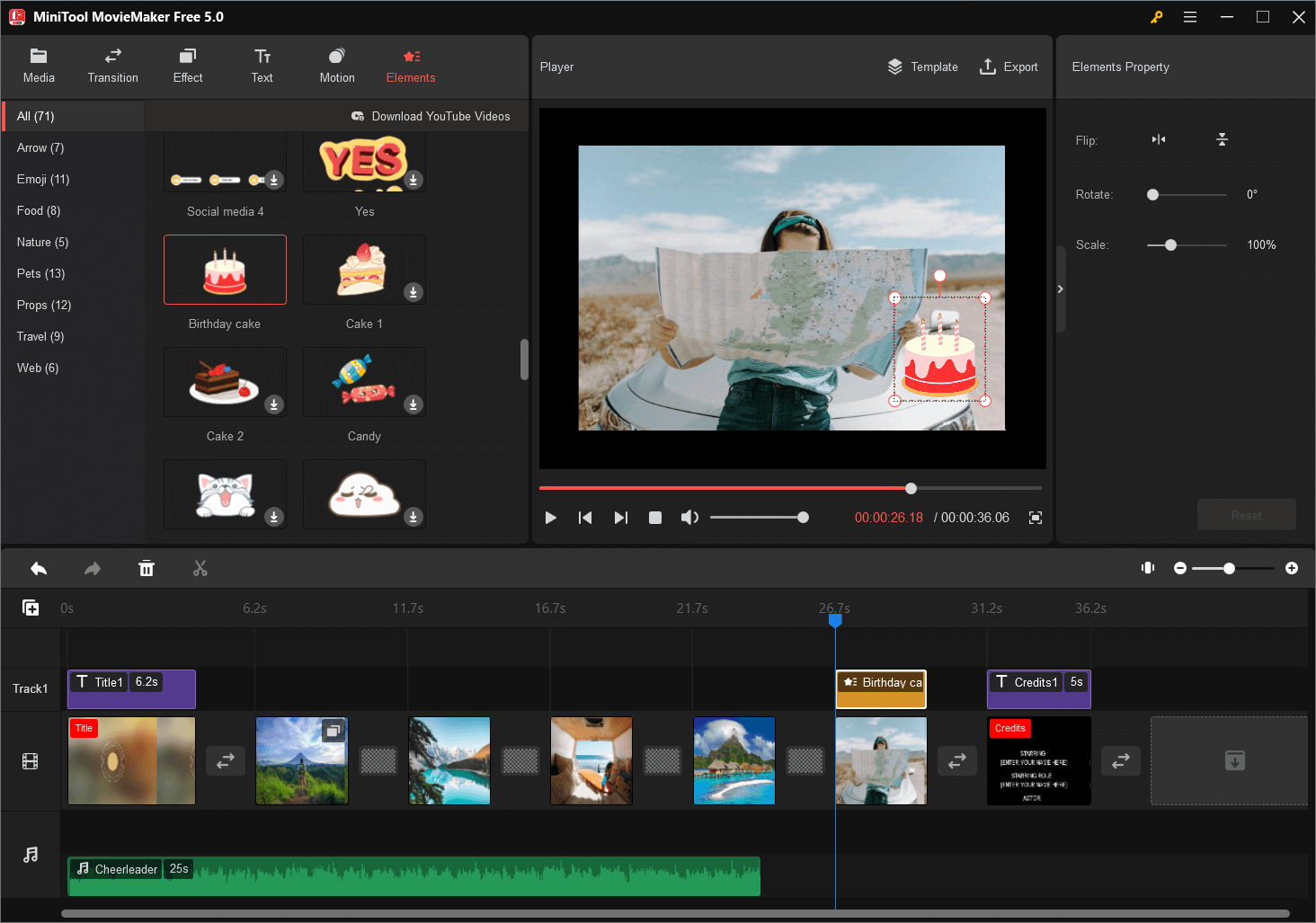 12. Moreover, you can match some music to the video. Or, just read and record your wishes and pack the audio together with the video.
13. In addition, you can edit the materials and the effects within the upper right property section with their contract, saturation, brightness, rotation, etc.
14. You can preview the video during the edition.
15. Finally, export the refined video in a customized format by clicking the Export option in the upper right.
You can export this birthday memory video as MP4, MOV, AVI, MKV, TS, 3GP, WEBM, etc. formats. Or, you can export it as a format compatible with Samsung Galaxy Note 9, iPhone, iPad, Apple TV, Sony TV, Xbox One, PS4, etc. devices.
If you are not good at video editing, you can take it easier by choosing a template and simply adding your photos or videos to create a birthday memory video quickly. Here, the family and friends templates are suitable for you.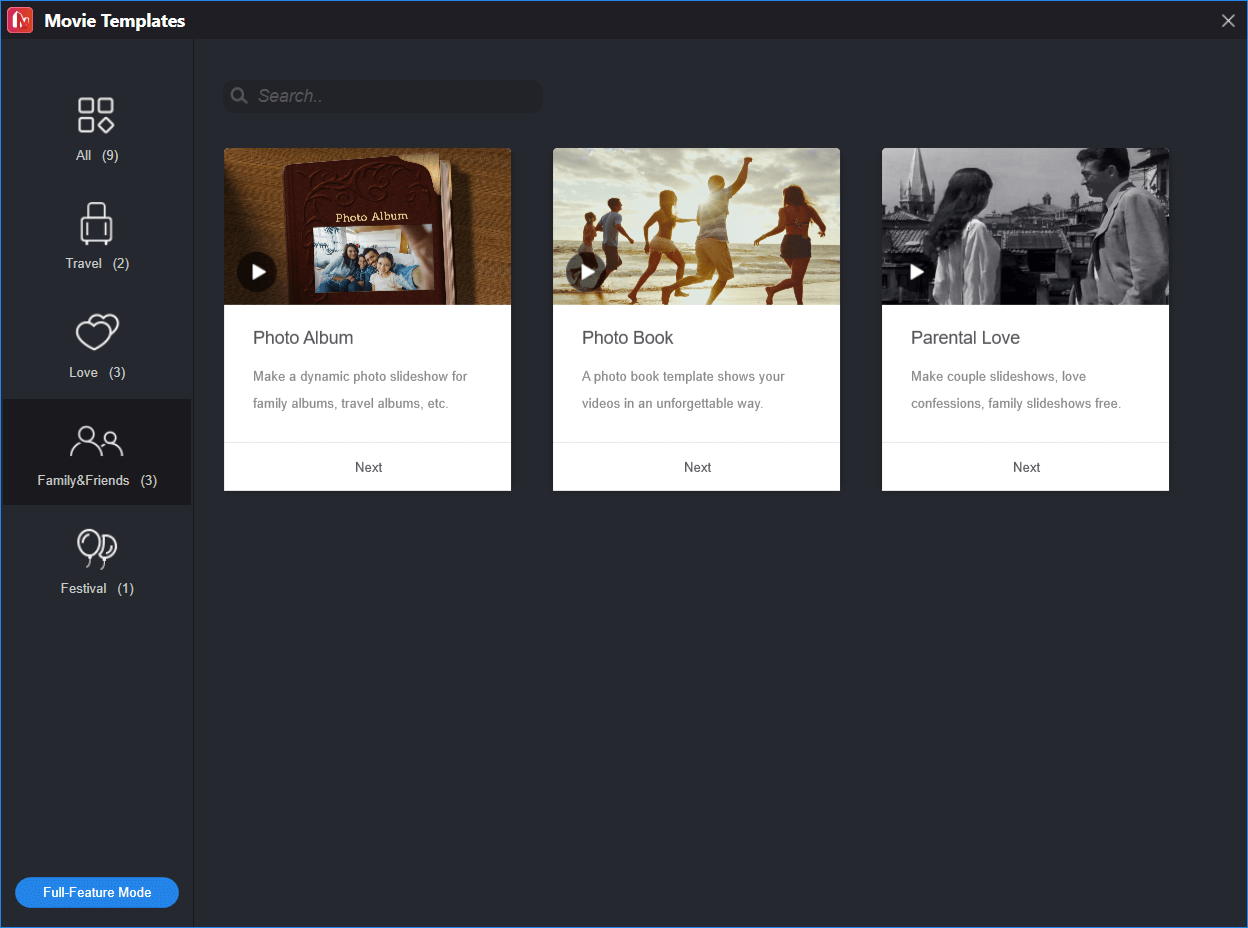 #3 Birthday Memory Ideas – Birthday Party
When it comes to how to celebrate a birthday, the most common idea that you can't miss is a birthday party. Although it is an old traditional idea, you can make some changes to make it fresh and special. There are many things you can do except for balloons, banners, cakes, age jokes, etc.
Next, let's take celebrating a person's 60th birthday for example to show you how to hold a creative birthday party.
Be different from the old tricks of poking fun at the guest of honor's age and making a big deal of the fact they are getting older, you should focus on their vitality and celebrate their achievements in life, be it work, study, or family relationship, by incorporating many personal memories and nostalgic elements. Simply, just take the important parts of the birthday memory book and put them at his birthday party.
Generally, bear in mind that you are celebrating the person, not just his age. Try your best to make his birthday party as personal as possible.
Setup a theme for the birthday party.
Collect 60 memories, notes, or wishes from 60 of the birthday person's family, friends, schoolmates, etc. respectively.
Personalized digital message/video blessing is a good choice for people who can't take part in the offline celebration.
Prepare birthday gifts and wearings.
Ask families or friends to write birthday cards for the birthday boy.
Create a special birthday party invitation.
Decorate with creative yard signs, welcome signs, banners, carpets, backdrops, balloons, etc. all can be personalized with the man's pictures or others' wishes.
Prepare food for the birthday party including cakes, buffet, desserts, cookies, candy, drinks,
Display the precious memories – may it be physically or digitally – of the man at the party.
Think about birthday activities or games like taking photos, recording videos, singing songs, playing magic, performing drama, conducting games,
Prepare creative guest books.
Encourage the birthday person to write down his to-do list.
#4 Memory Jar Ideas for Birthday
Compared with other birthday gifts, a memory jar is more meaningful and suitable for birthday men who prefer are introverted and like quiet environments.
To make a memory jar, you just need a jar of any type, colorful origami paper of 4" x 4" or 6" x 6",
Then, let's start to create a memory jar. Usually, it is recommended to write down the same number of memories as the age of the character on colorful origami paper. For example, it's common to note down 70 memories about the birthday person for his 70th birthday.
How to write so many memories? Of course, only your own's memories of the protagonist are not enough! So, you need to ask for help from other families, friends of the man, your neighbors, as well as other his acquaintance. Then, it turns out much easier to complete the task. Besides, the author of each memory can sign his/her name at the end of the memory.
Those memories do not have to be big events, amazing moments, or unforgettable days. The simple, everyday activities of doing things together are also good, such as housework, games, travels, etc.
After collecting all memories, you should put the paper into the jar. You can simply fold the paper or fold it into beautiful shapes like birds, stars, or airplanes…
#5 Birthday Memory Ideas – Birthday Memory Verse
There is another thing you can do for a birthday person. That is to write memory verses for the protagonist. You can create the verses yourself or just write down the verses written by somebody in history. Then, you can read the verses for the birthday person and other birthday party participants as a party celebrant.
The following are some bible birthday verses:
This is the day that the Lord has made; let us rejoice and be glad in it.
Delight yourself in the Lord, and he will give you the desires of your heart.
Every good gift and every perfect gift is from above, coming down from the Father of lights with whom there is no variation or shadow due to change.
You make known to me the path of life; in your presence, there is fullness of joy; at your right hand are pleasures forevermore.
For you formed my inward parts; you knitted me together in my mother's womb. I praise you, for I am fearfully and wonderfully made. Wonderful are your works; my soul knows it very well.
He is like a tree planted by streams of water that yields its fruit in its season, and its leaf does not wither. In all that he does, he prospers.
Upon you I have leaned from before my birth; you are he who took me from my mother's womb. My praise is continually of you.
So teach us to number our days so that we may get a heart of wisdom.
Thanks be to God for his inexpressible gift!
Beloved, I pray that all may go well with you and that you may be in good health, as it goes well with your soul.
But let all who take refuge in you rejoice; let them ever sing for joy, and spread your protection over them, that those who love your name may exult in you.
Your eyes saw my unformed substance; in your book were written, every one of them, the days that were formed for me, when as yet there was none of them.
Conclusion
In addition to the above birthday memory ideas, there are still lots of other wonderful ideas for birthday memories including but not limited to memory letters for a birthday, birthday memories messages, birthday memory boxes, memory birthday cards, birthday memory trips, and so on.