GIF becomes more and more popular because it is fun and short bursts of visual content. However, since GIF is an image format, a number of video players and apps do not support it, not to mention resizing and editing the GIF images. Converting GIF to video is extremely useful in such cases.
GIF has become popular and common on social media. But many social platforms don't support GIF, which means you need to convert your GIF into a video file first and then upload it to the platforms. To make things a bit easier, this post will introduce the eight most popular GIF to video converters.
GIF to Video
We know a few platforms do not support the upload of gif images. Some people just want to convert gif to video for Instagram sharing. Here are a few easy-to-use conversion tools. Hope you like it.
Convert GIF to Video Desktop
MiniTool Movie Maker
MiniTool Movie Maker, released by MiniTool, is an easy and intuitive Windows movie editor, which can convert GIF to video for free. Using this software is probably the easiest way to convert GIF to video PC.
It has lots of functions:
Supports many common video formats including MP4, AVI, MOV, and etc.
Offers different movie templates including movie trailers to help you easily and quickly create cool and Hollywood-style movies without any difficulty.
Provides a lot of cool video transition effects to make your slideshow or movie look good and impressive.
Offers titles, captions and end credits to help you complete your movie.
Changes the color of the video easily and quickly.
Supports to split video, combine video, trim video and rotate video.
How to convert GIF to video? Please download MiniTool Movie Maker first and then follow the steps below.
MiniTool MovieMakerClick to Download100%Clean & Safe
Step 1. Launch the software to get its main interface.
Step 2. Click Import Media File to import GIFs that you want to convert and hit OK.
Step 3. Move the mouse to the GIF you want to convert and then click + to add it to the video track or drag and drop the target files to the video track directly.
Step 4. Then you can edit the video as you like and then click Export.
Step 5. Choose the file format, change advanced settings and click Export to execute the convert operation.
Step 6. Select Find Target to locate the video or select Close to exit.
Pros:
It helps you make cool movies/trailers easily.
It supports as many formats as you can think of.
Con: It only supports Windows 10/8/7 currently.
Ezgif
Ezgif is a simple online GIF maker and toolset for basic animated GIF editing.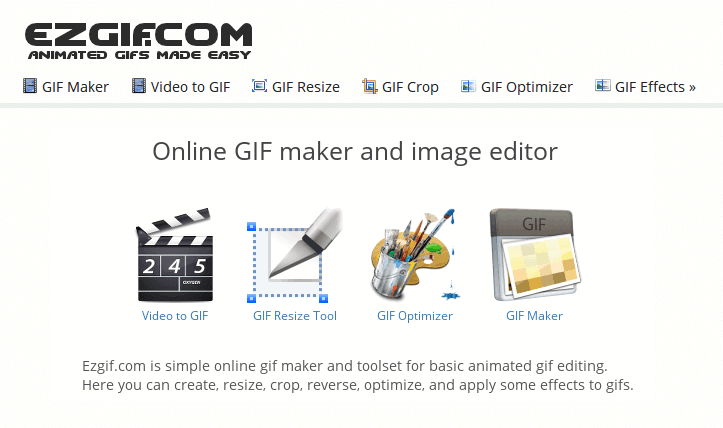 Functions:
Combine separate image files as frames to create your own animated GIFs.
Upload your MP4, AVI, WEBM, FLV, WMV and many other popular types of video.
Resize, crop, or flip animated gifs and other images.
Optimize GIF images in 4 ways.
Pro: It is free to use that needs no installation or registration.
Con: It's maximum supported image size is 35MB.
Convertio    
Convertio is an advanced tool to convert files to any format online.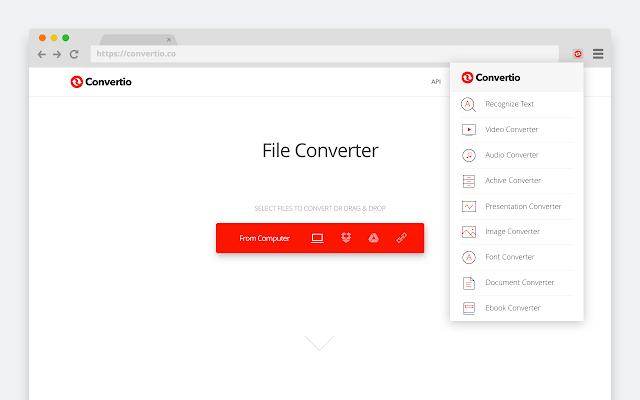 Functions:
Convert scanned documents and images into word documents.
Include a developer-friendly API, which possesses excellent documentation, clear code samples, and an amazing support team.
Convert many file types.
Pro: It supports more than 2500 different conversions.
Con: It does not offer free convert experience.
CloudConvert  
CloudConvert is an online file conversion utility. More than 200 different formats are supported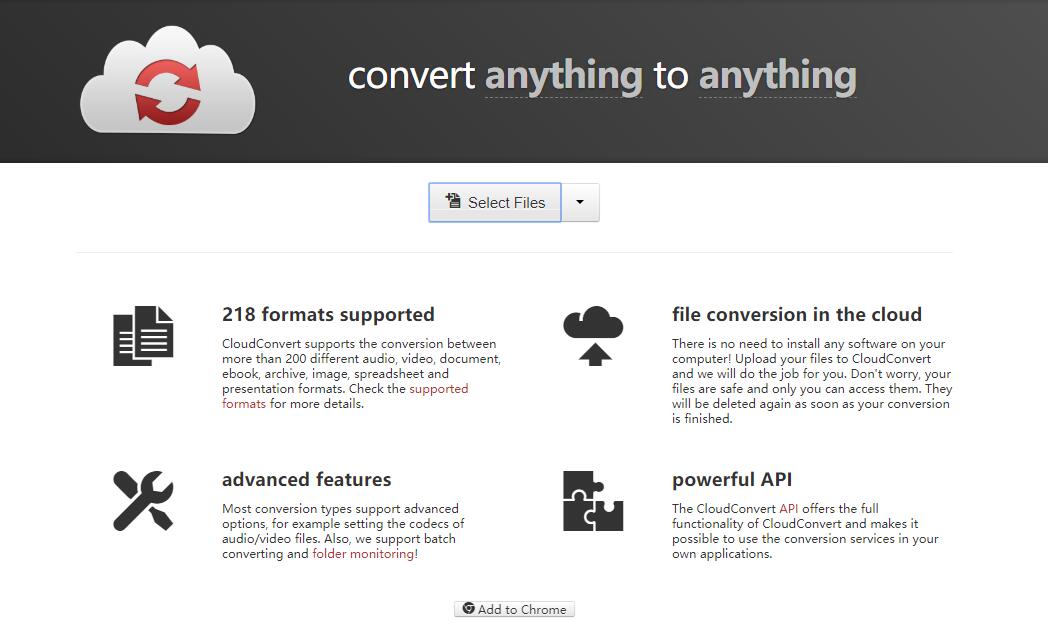 Functions:
Convert multiple files from one format to any other format.
Save the converted files to various cloud storage including Dropbox, Google Drive, etc.
Share your converted files with your friends using a QR code.
Pro:
This file converter is equally great in converting GIF file format to video without diminishing the quality.
Con:
The first 25 minutes of daily conversion time come without a cost. if you're looking to convert large files that eat up a lot of conversion time, you might need to upgrade.
The speed of converting is very slow.
ConverterLite
ConverterLite is a free audio and video conversion tool, which facilitates dozens of kinds of video and audio file conversions.
Functions:
ConverterLite is free to use the software.
Convert MP3 files to AC3, MP4, OGG, WAV, and WMV.
Convert video formats such as MPEG to AVI, FLV to AVI.
Burn media to your CD's/DVD's.
Videos can be converted to smartphone compatible.
Pro: It does not take up much storage space.
Con: It is only available on Windows 7, Vista, and XP.
Convert GIF to Video iPhone/Android
GIF to Video  
GIF to Video is a simple and quick conversion of gif graphics to video tool, and supports for pixel size changes, after successful conversion support play and share to the social platform, the operation is very simple.
Import your GIF video files from Reddit, Giphy or local GIFs into the program.
Hit the Convert icon to have the GIF files converted to any file format.
Set the video codec, the speed, scale type as well as other parameters.
GIF Cracker 
GIF Cracker is a perfect program when there is a need to convert GIF photos and change GIF to other formats on iPhone. This is important as it will enable you to get the firm on the highly compatible format to many devices. It will make your social sharing and play on your chosen device achievable.
Functions:
Convert GIFs to videos and photos.
Re-encode GIFs with new options.
iPhone/iPad Universal App.
Video2Me  
Video2Me, all in one Video-GIF-Mp3-Picture Editor App, contains tons of editing & converting features. Using the app, you can convert your GIF files to other popular formats. Additional features include adding text to video, adding a sticker, creating slideshows, creating framed videos, rotating, cropping, and others.
Functions:
Add text to video, convert video to GIF and convert GIF to video and so on.
Add text and sticker to GIF, rotate GIF, crop GIF and so on.
Add text to picture, change photo brightness, crop photo, rotate photo and so on.
Convert video to music, trim Mp3/Mp4, change default notification sound and so on.
GIF vs Video
About GIF
GIF (Graphics Interchange Format) is an image file format that was developed by CompuServe in 1987.
GIF is divided into static GIF and animated GIF. It is a compressed bitmap format. The most common is a funny GIF connected by animation of one frame, so GIF is still the image file format.
Pros: GIF supports internet standards extensively, lossless compression and transparency. Animated GIF is popular and easy to create by using many GIF animation programs.
Cons: GIF only supports 256-color palettes. Therefore, detailed images and realistic photographic images will lose color information, but seem to be toned. GIF supports limited transparency with no translucency or fading effects.
About Video
Video refers to a variety of techniques that capture, record, process, store, transmit, and reproduce a series of still images as electrical signals. When the continuous image changes exceed 24 frames per second, the human eye cannot distinguish a single static picture. It appears to be a smooth continuous visual effect, such a continuous picture is called video.
Below is a listing of some of the most popular and common types of video files.
1. MPEG-4
MPEG-4 is a set of compression coding standards for audio and video information. The main uses of the MPEG-4 format are online streaming, optical discs, voice transmission, and television broadcasting.
You might be interested in: You Will Like the Top 12 Free YouTube to MP4 Converters.
2. WMV
WMV is a video format produced by Microsoft. Files in WMV format can restore video with high resolution. The main advantages of WMV are scalable media types, local or network playback, scalable media types, stream prioritization, multi-language support, scalability, and so on.
3. AVI
AVI is the abbreviation of Audio Video Interleaved. AVI, a video format released by Microsoft, is one of the oldest formats in the field of video. AVI is easy to call and the image quality is good, but the disadvantage is that the file size is too large.
If you want to reduce your video size, please refer to this post: The Best Way to Reduce Video Size Free.
4. MOV
MOV is QuickTime movie format. QuickTime file format supports 25-bit color, supports leading integrated compression technology, provides more than 150 video effects, and is equipped with sound devices that offer more than 200 MIDI-compatible sounds and devices.
Related article: QuickTime Converter: Convert MP4 to MOV and Vice Versa Easily
5. FLV
FLV is short for FLASH VIDEO and is jointly developed by Real Networks and Macromedia. FLV streaming format is a new video format. The video format itself has the advantages of a low occupancy rate, good video quality, and small size.
6. F4V
As a smaller and clearer format that is more conducive to network propagation, F4V has gradually replaced traditional FLV and has been compatible with most mainstream players, without the need for complex methods such as conversion.
7. RMVB
It is the audio and video compression specifications developed by Real Networks. Different compression ratios are developed according to different network transmission rates. It has the advantages of small size and good image quality.
8. 3GP
3GP is a video encoding format for 3G streaming media, mainly developed to match the high transmission speed of 3G networks. It is used on 3G mobile phones but can also be played on some 2G and 4G phones.
Video to GIF
Nowadays, GIF animations are becoming more and more common. Especially for friends who are doing self-media platforms, they often use some GIFs to display content. The concise and clear content is more easily understood by the audience.
However, many times the material you are looking for on the Internet is a video format, so how do you convert video to GIF? MiniTool Movie Maker should be your first choice.
Step 1. Download MiniTool Movie Maker and launch it to get its main interface.
MiniTool MovieMakerClick to Download100%Clean & Safe
Step 2. Click Import Media File and choose the videos that you want to convert.
Step 3. Click + on the videos to add them into the video track.
Step 4. Then you can decorate the video by built-in functions and then click Export.
Step 5. Choose the GIF file format and click Export to execute the convert operation.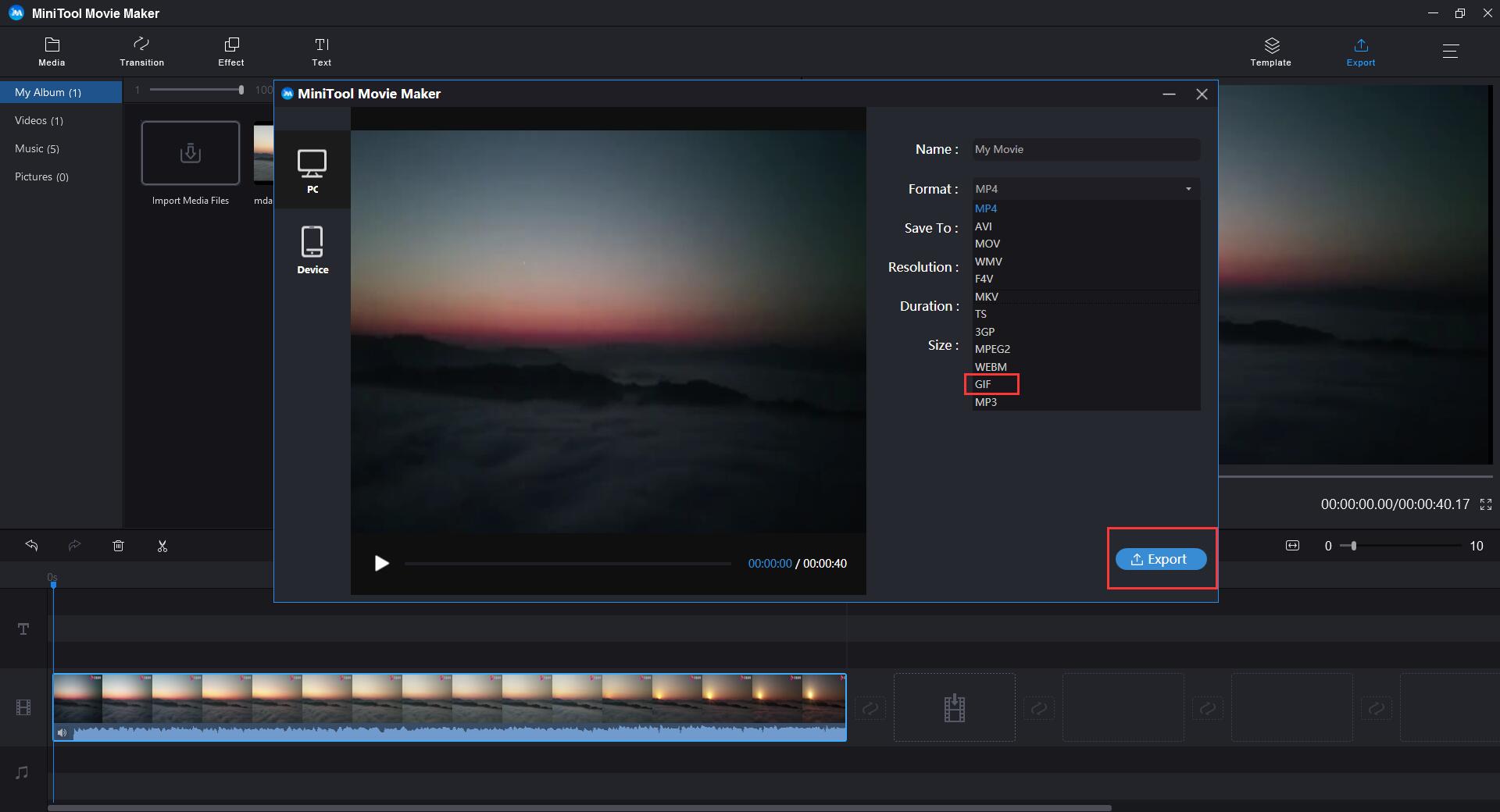 You can also use this tool to convert video to MP3. The previous steps are all the same, and you just need to select MP3 as the target format at last. Isn't that easy?
Bottom Line
The conversion tools mentioned in this post are user friendly and produce high quality output. After comparing their strengths and weaknesses, I hope you can choose the tool you need and convert GIF to video successfully.
If you have any question about converting GIF to video, please let us know via [email protected] or share it in the comments section below.