What is CyberLink PowerDirector? CyberLink PowerDirector is a well-known video editing suite that gives users great results. Although it provides a free version - PowerDirector Essentials, you can only access basic editing functions. This post will share some of the best CyberLink PowerDirector alternatives with you.
CyberLink PowerDirector is a simple yet powerful video editing suite for Windows, macOS, Android, and iOS. It comes with high rendering speed and some advanced video editing tools in its premium version. The content below will introduce you to some of the best CyberLink PowerDirector alternatives to you (including a free alternative – MiniTool MovieMaker).
Before that, let's have an overall look at CyberLink PowerDirector.
What Is CyberLink PowerDirector?
CyberLink PowerDirector is a video editing suite that offers powerful tools for polishing your videos. It is a great platform for both beginners and professionals with the fast-rendering speed and pack of highly advanced video editing tools. You can run PowerDirector on your Windows, macOS, Android, and iOS devices.
It has a robust feature set including a timeline, many transitions, effects, PIP, multi-camera editing, and much more. There is a 360-degree video editor with stabilizer and motion tracking options. The active community of content contributors will release new effects on a regular basis.
Features:
Fast rendering
Picture-in-picture or PIP editing capacity
Sketched animation overlays
Green screen editing
Working with 360-degree footage
Video footage stabilization
Color presets and LUTs
Is PowerDirector Free?
After knowing the basic information, you may ask, is PowerDirector free? The answer is no, but it has a free version (PowerDirector Essentials) that you can just access some basic features. Is CyberLink PowerDirector good? Well, I will share more information with you to find the answer.
CyberLink provides many options for you. On your PC, PowerDirector is available as a standalone purchase or as part of a package. The options include the one-off purchases of the Ultra ($99.99) or Ultimate versions ($139.99).
Alternatively, there is a subscription service. You can use it with other CyberLink programs in the Director Suite bundle, which is available as a subscription for $29.99 per month or $129.99 for a year. Finally, you can get PowerDirector 365 for a $69.99 per year or $19.99 per month subscription. you can try out a 30-day trial version with brand watermarks and with no support for 4K.
You can also download PowerDirector free on your mobile phone. It offers In-app purchases: Android ($0.99 - $249.99 per item), iOS (monthly subscription $5.99, quarterly subscription $9.99, and yearly subscription $34.9)
Best CyberLink PowerDirector Alternatives
Only with the paid version, you can access its advanced and professional video editing tools. While there are many great CyberLink PowerDirector alternatives for you. Some of them are completely free. Let's take a closer look at these amazing alternatives to CyberLink PowerDirector.
MiniTool MovieMaker
Operating system: Windows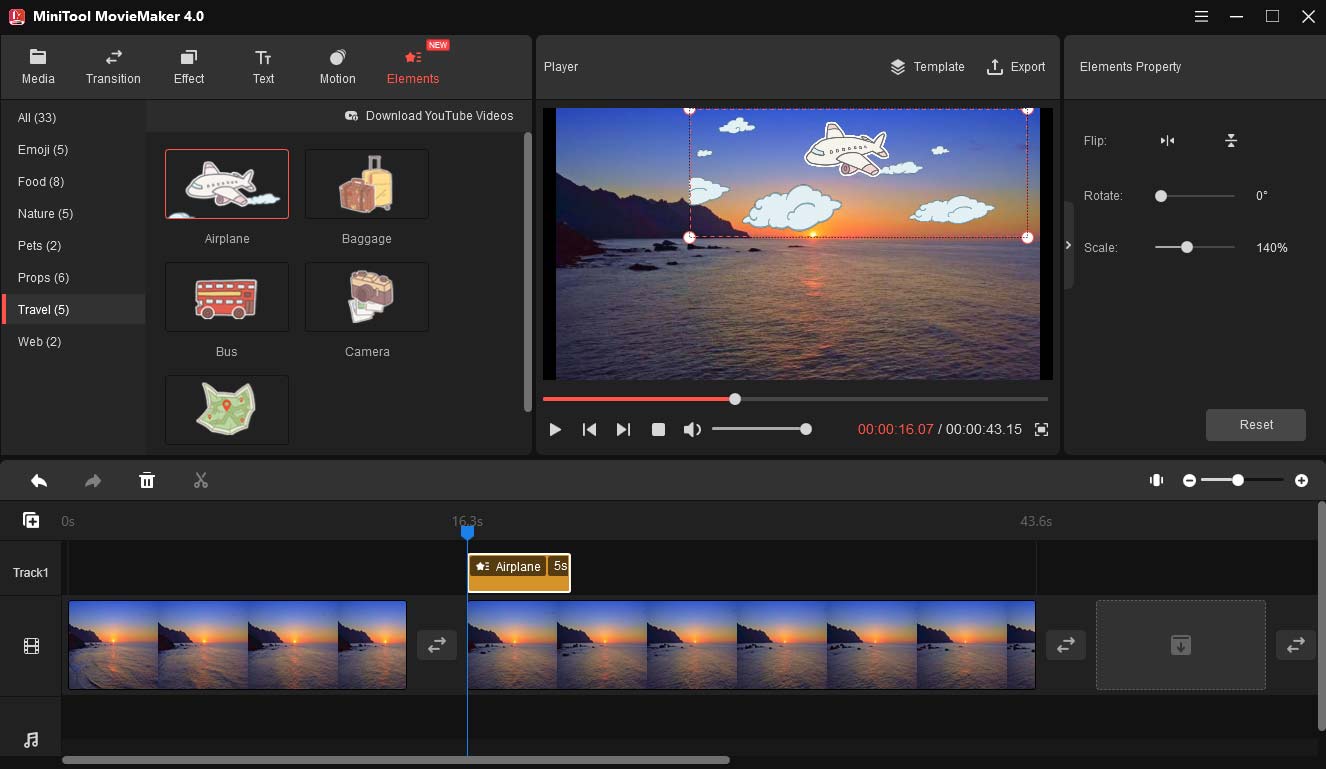 MiniTool MovieMaker is one of the best CyberLink PowerDirector free alternatives for Windows users. The best thing is, it is a 100% free yet safe video making and editing program with no ads, watermark, or bundle.
Through the clean and simple interface, you can learn about all the editing features and familiarize yourself with this software easily. It comes with some basic editing features as well as advanced editing options. You can import video clips, images, and audio files into this program.
For the basic editing features, you can split, trim, cut, rotate, flip, combine, reverse, control the video speed, insert text, and add background music to your video. It also supports employing the 3D LUT effects, color correction, and fading in or fading out the audio in your video clips.
To customize your video and make them more attractive, you can add different types of cartoon animated elements, transitions, motion effects to your videos. It comes with 9 tracks for text and elements. You can personalize the text by editing the credits, titles, and captions and customizing the color, font, size, alignment of the text. The animations can also be customizable by changing the size, duration, and position.
Features:
Drag-and-drop features
Support different video formats
Split, trim, merge, rotate, flip, reverse, slow down/ speed up video clips
Lots of attractive transitions, effects, and motions
Add animated elements to video
Edit music tracks in video
Change video resolution and video format
MiniTool MovieMaker is one of the best free CyberLink PowerDirector alternatives. It helps me polish my video footage easily and quickly.Click to Tweet
Lightworks
Operating system: Windows, macOS, Linux
Created by EditShare, Lightworks is also a great CyberLink PowerDirector free alternative that is available for everyone. It comes in two versions: Free and Pro. In the free version, you can get almost all functions, but you can only export files in 1280x720.
Either you are at the beginning level of your career or enjoy the professional expertise, and you can find the features that are suitable for your business or ongoing project. It can be used for simple video edits where you may need to trim a video down to size, alter video levels or overlay basic effects onto your video track. If you are a YouTuber and want to merge clips to make a montage or piece together, it is an ideal choice for you.
It is a nonlinear editing program that supports resolutions up to 4K. A large portion of editing is tackling the timeline and working with various tools. The timeline is well presented and streamlined enough to pick up immediately.
Other features include color correction, real-time effects, text overlays, and image import. You can also overlay them onto your videos or adjust the orientation and placement of your video.
Features:
Easy to pick up interface
Significant functionality for a free version
Powerful background import/export/render engine
Flexible layout design
Multi-channel audio mixer
Advanced project management
Corel VideoStudio
Operating system: Windows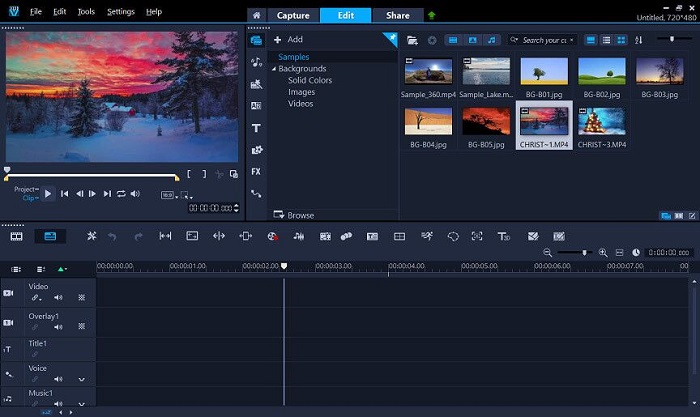 Another amazing alternative to CyberLink PowerDirector is Corel VideoStudio. It is a convenient and feature-rich video editor that will make it easy and simple for you to edit and make videos with the 64-bit power editor.
All your video editing tasks will be done with a fast 4K and HD rendering system of this video editor. Some of the highlighted features and functions are basic editing, transitions system, overlay, proxy video file editing, and plugin availability to extend the functionalities.
After mastering the basics, you will find some powerful features, such as motion tracking, 4K support, 360-degree video support, multi-camera support, and more. Additionally, you can import multiple formats for the source clip, and the video then produced can be exported into various output formats. Moreover, this video editor also supports HDV and DV capturing.
Features:
Straightforward interface
Varies of templates, filters, and effects
Crop, trim, split, and rotate videos
Multi-camera support and 360° video editing
Support 4K video quality
Change the aspect ratio
Kdenlive
Operating system: Windows, macOS, Linux, GNU
Kdenlive is also a great choice if you're looking for CyberLink PowerDirector free alternative for the GNU Operating system. It is a cross-platform program that enables us to create compelling videos without paying.
It delivers a system of dual video monitors, clip lists, multi-track timelines, special effects and transitions, and customizable layout support. It even offers cartoon effects that make your videos appear in a whole new way and give them a whole new lease of life.
Apart from the basic tools to trim, cut, rotate, split, screen split, combine videos, you can also create 2D subtitles and customize them by tweaking the properties of aligning, distributing letter or line space, and durations. Animation and subtitle keyframe features, outlines, gradients, zoom, and more editing toolkits are also available.
If you want to mix the different types of multimedia files, you can complete that on its MLT and FFmpeg frameworks. Both of these frameworks provide unique features for you to mix any multimedia file.
Features:
Multiple videos and audio tracks
2D titles for videos
Rich online resources for templates
Visible audio waveforms
Automatic backup project files
VideoPad Video Editor
Operating system: Windows, macOS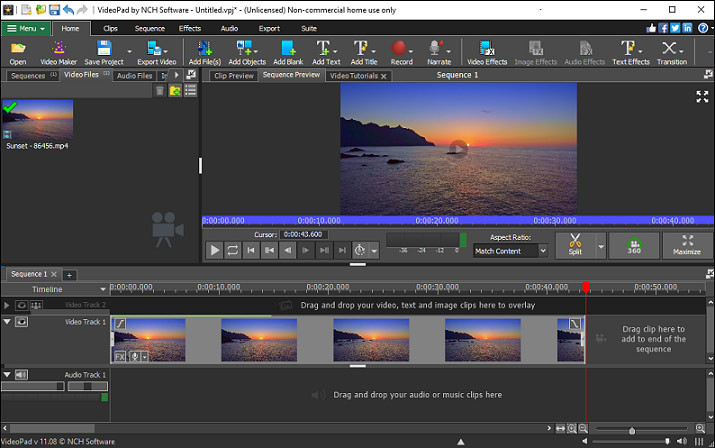 Developed by NCH Software, VideoPad Video Editor is a professional video editor as the alternative to CyberLink PowerDirector. It is a free-to-use tool that will allow you to make HD videos in 4K and export them in various formats.
Some of the features of this CyberLink PowerDirector free alternative are the availability of stunning video transitions, various visual effects, creating videos for YouTube, complete video optimization, and amazing audio tools.
Additionally, it allows you to add custom logos and watermarks to the video, insert animated text, and use Chroma key green screen video production. You can also fine-tune video color and effects, change video speed, stabilize shaky videos, and export video without quality loss.
The popular social publishing features in the program include being able to complete several parameters, such as tags, description, metadata, title, etc. are also accessible. You can directly share videos to YouTube, or upload videos to OneDrive, Google Drive, Dropbox, or save videos PSP, iPod, iPhone, or 3GP mobile phone.
Features:
Simple and clean interface
Supports multiple media file formats
Complete video optimization
Various visual effects and transitions
Video stabilization
Social publishing features
OpenShot
Operating system: Windows, macOS, Linux
OpenShot is also a great CyberLink PowerDirector free alternative. It is an open-source video editing program that supports almost all types of image, audio, and video formats.
This platform is best known for being user-friendly, flexible, and simple design. It comes with basic video editing functions, such as trimming and slicing, many transition effects, and audio effects. You just need to drag and drop the video clips, audio tracks, and images from your file manager into this program.
In addition, this freeware is equipped with a library of video effects and animations, which can give your videos a professional look. It has unlimited tracks or layers, so you can also add as many layers as you need for watermarks, background videos, audio tracks, and more.
On this platform, you will also enjoy many advanced levels of editing features. It supports 3D animation editing, custom video transitions with real-time previews, frame stepping, video encoding, compositing, audio mixing, vector titles, and much more.
Features:
Cross-platform support
Unlimited tracks or layers
3D animation editing
Video transitions with real-time previews
Background removal from video
Conclusion
To sum up, we discussed what is CyberLink PowerDirector and some of the best CyberLink PowerDirector alternatives in this post. Which alternative do you prefer? Welcome to share your ideas in the comments area below!
You can contact us via [email protected] if you have any questions or encounter any problems while you using MiniTool MovieMaker.