DJI drones are popular around the world. Nowadays, more and more consumers use DJI drones to shoot videos for different purposes like personal aerial photography, video creation, and more.
After shooting, you want to edit the DJI video footage to create a perfect video. How to edit DJI videos? This post offers a list of the 8 DJI video editors. And it also introduces several places for drone stock footage. You can download aerial videos from these sites and then use MiniTool MovieMaker to make a video.
MiniTool MovieMakerClick to Download100%Clean & Safe
Does DJI Have a Video Editor?
Before learning about the 10 third-party DJI video editors, let's focus on this question, does DJI have a video editor.
To help pilots fly drones with ease, DJI has released the DJI Fly app. This app offers flight tutorials and a search function for discovering fly spots and GEO zones.
Another important feature is the built-in video editor. Firstly, it provides plenty of video templates to produce blockbusters quickly. Also, you can add footage to the timeline and make custom edits. You can adjust the video color, change video speed, add filters, choose background music or upload your music, add text, apply transitions, etc.
DJI Fly is available for iOS 11.0.0 or later and Android 6.0 or later. Currently, it supports DJI Mavic 3, DJI Air 2S, Mavic Air 2, DJI Mini 2, DJI Mini SE, Mavic Mini, and DJI FPV.
Also, you can use DJI GO 4 to edit videos on your phone. Compared with DJI GO, this app has an updated editor and offers more templates and music tracks. And it adds some effects for aerial videos. And it's convenient to download, edit, and share videos. Besides, you can explore and share aerial photography works in the SkyPixel aerial photography community.
DJI GO 4 requires iOS 10.0 or later, Android 5.0 or higher, and it supports the Mavic series, Spark, Phantom 4 series, and other products.
Currently, DJI does not offer a video editor for PC. Thus, this post introduces 8 DJI video editors for your computers.
Top 8 DJI Video Editors
#1. Adobe Premiere Pro
Compatibility: Windows, macOS
Price: Starting at $20.99/month for individuals
Adobe Premiere Pro, an industry-leading video editor, is one of the best DJI video editing software for PC. As a professional video editor, it has almost all the tools and features you need from basic to advanced, such as trimming, video speed control, video stabilization, 360/VR footage editing, multi-cam editing.
And Adobe Premiere Pro lets you create animated motion graphics for transitions and title sequence, sync audio, add sound effects, apply Hollywood visual effects. Also, this software has a powerful color adjustments tool to give your DJI footage the look you want.
Besides, it supports high-resolution video editing at up to 10,240 x 8,192 resolution.
For professionals, Adobe Premiere Pro may be the best DJI video editor for PC. For beginners, it's difficult to learn to use Adobe Premiere Pro, but they can find tutorials from the official website or YouTube.
#2. Final Cut Pro
Compatibility: macOS 11.5.1 or later
Price: $299.99
Developed by Apple, Final Cut Pro is a professional non-linear video editing software program. Also, it's a powerful DJI video editor for your Mac. It's endowed with comprehensive editing features to create professional-looking and high-quality videos.
Final Cut Pro supports 2K, 4K, 5K, 8K film formats, and it lets you import projects directly from iMovie for iOS and iPadOS. And it supports multi-camera editing and 360º video editing. Final Cut Pro has a wide range of video transitions and color correction tools.
If this video editor is not easy to use, you can navigate to its website to find the desired guide.
#3. DaVinci Resolve
Compatibility: Windows, macOS, Linux
Price: A free standard edition of DaVinci Resolve 17, $295 for DaVinci Resolve Studio 17
DaVinci Resolve is another DJI video editor for Windows, macOS, and Linux. As one of Hollywood's most popular video editors, it combines editing, color grading, visual effects, motion graphics, and audio post-production.
This video editor has an elegant and well-organized interface and is divided into several pages, each of which offers dedicated tools for a specific task. And this helps both new users and professionals learn how to use it quickly.
A standard edition of DaVinci Resolve 17 is free. If you want more features like advanced HDR grading, FX filters, you should buy DaVinci Resolve Studio 17 for $295.
#4. HitFilm Express
Compatibility: Windows, macOS
Price: A free version, $349 for HitFilm Express Pro
HitFilm Express is also a free DJI video editor for Windows and macOS, equipped with professional editing tools and VFX tools to make awesome videos for everyone. And this program also comes with powerful color adjustment tools, keying effects, lens flares, and more.
HitFilm Express supports 4K exports without watermarks. If you want additional features, you can buy them from the official website.
To download HitFilm Express for free, you should fill out the required information to get the download link.
#5. Lightworks
Compatibility: Windows, macOS, Linux
Price: Free, $9.99/month for Lightworks Create, $23.99 for Lightworks Pro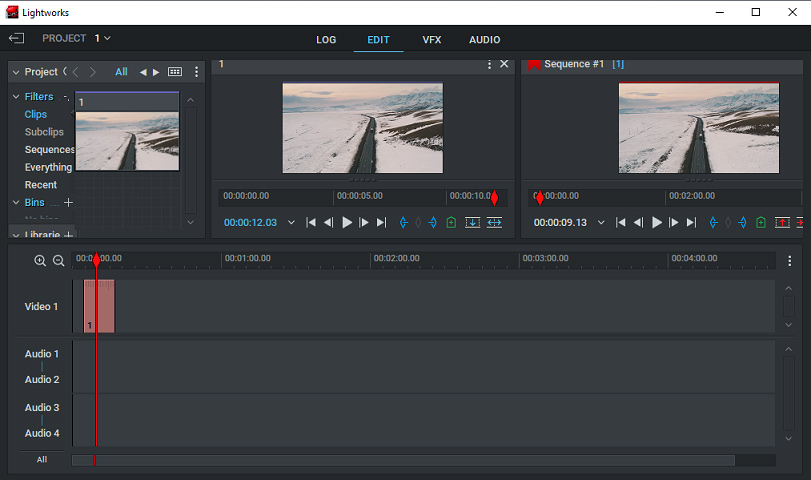 Lightworks is also one of the best DJI video editors. It has a free version for beginners, Lightworks Create for YouTubers and gamers, Lightworks Pro for filmmakers.
The free version comes with limited features, such as inbuilt effects, titles, transitions, stock music, multi-cam editing, etc. With the free version, you can only export video to YouTube and Vimeo in MP4 up to 720p.
The other two versions allow you to export video to more social media platforms up to 4K. No matter which version of Lightworks, it won't watermark your videos.
#6. Vegas Pro
Compatibility: Windows
Price: Starting at $11.99/month (Annual subscription, yearly payment)
Vegas Pro is a paid DJI video editor for Windows. This video editor comes with professional video and audio editing like keyframing and automation control, hundreds of filters, effects, transitions, and titles, auto audio mixing.
Besides, this program includes advanced HDR color correction, motion tracking, live streaming, and more.
#7. VSDC Video Editor
Compatibility: Windows
Price: Free, $19.99 for the Pro version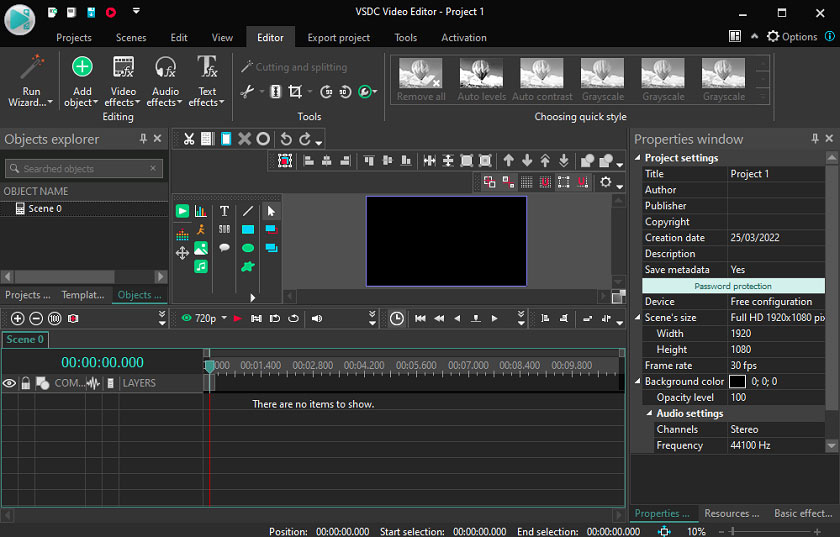 VSDC Free Video Editor is another free DJI video editor for Windows. It offers plenty of video effects, filters, and transitions. And you can also cut, crop videos, zoom in, or use the Chroma Key tool to remove the green background. And it supports 360 video editing.
Also, it offers a Pro version with more advanced features, such as motion tracking, video stabilization, advanced mask, Chroma Key, and voice-over tools.
Also read: A Step-by-Step Guide on How to Use Green Screen on CapCut
#8. iMovie
Compatibility: macOS, iOS
Price: Free
iMovie is a built-in free video editor for Apple users. If you need a free DJI video editor for your Mac/iPhone/iPad, iMovie is a good choice. Compared with Final Cut Pro, iMovie is easier to use for beginners.
To make perfect videos, iMovie provides multiple features, such as automatic enhancement, video color adjustment, stabilizing shaky videos, video cropping, video rotation, clip speed adjustment, applying filters, and more.
Best Drone Stock Footage Websites
After learning about these DJI video editors, you may want to make your aerial video. If you don't have recorded drone video footage, you can visit some websites to find drone stock footage. Where to find drone stock footage? Here're 5 websites.
#1. DroneStock
DroneStock is the top choice to download royalty-free 4K done stock footage with multiple categories. All videos on this site are free for personal and commercial use.
#2. SkyPixel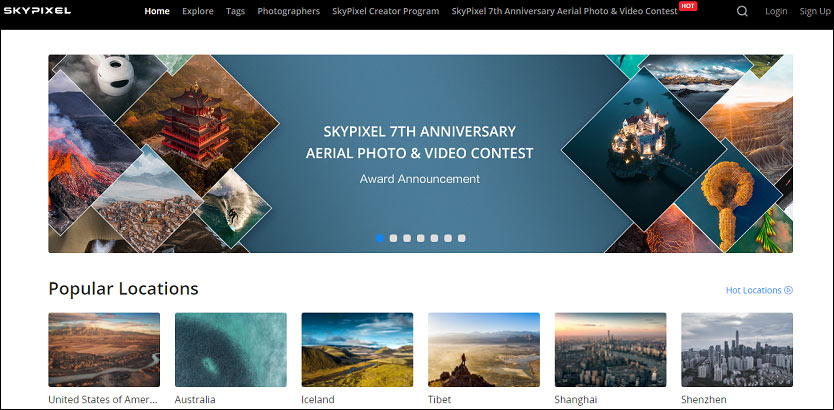 SkyPixel is the world's largest aerial photography community where users can learn professional photography tips, improve aerial imaging skills, and find aerial images and drone videos. Also, you can share your aerial videos.
#3. Pexels
Pexels is a stock photo and stock video website. And you can also explore 20,000 royalty-free drone stock footage videos. You can use all images for free, even for commercial use.
#4. Videvo

Videvo is also a stock footage website. It offers stock videos, motion graphics, video templates, stock music tracks, and sound effects. Also, it has nearby 20,000 drone stock footage clips. Before downloading, you should check information about the license and usage.
#5. Shutterstock
Another place for drone stock footage is Shutterstock. This site provides more than 1.6 million drone stock footage videos. But you should choose a subscription plan to download stock videos without watermarks and get the standard footage use license.
Also read: Best 8 Online Video Editors for Beginners [No Download Required]
After you download drone stock videos from these sites, you need a video editor to edit these aerial videos or combine them into one. MiniTool MovieMaker is recommended here. It's a free and simple video editor without watermarks.
MiniTool MovieMakerClick to Download100%Clean & Safe
MiniTool MovieMaker enables you to trim, split, rotate, flip, reverse, speed up, slow down videos, add video filters and transitions, add titles/captions/end credits to the video, add music to the video, edit audio in the video, add stickers to the video, etc.
Here's a simple guide on how to edit drone stock footage with MiniTool MovieMaker.
Step 1. Open MiniTool MovieMaker, close the pop-up window, and click the Import Media Files to upload your drone stock videos, and then add them to the timeline.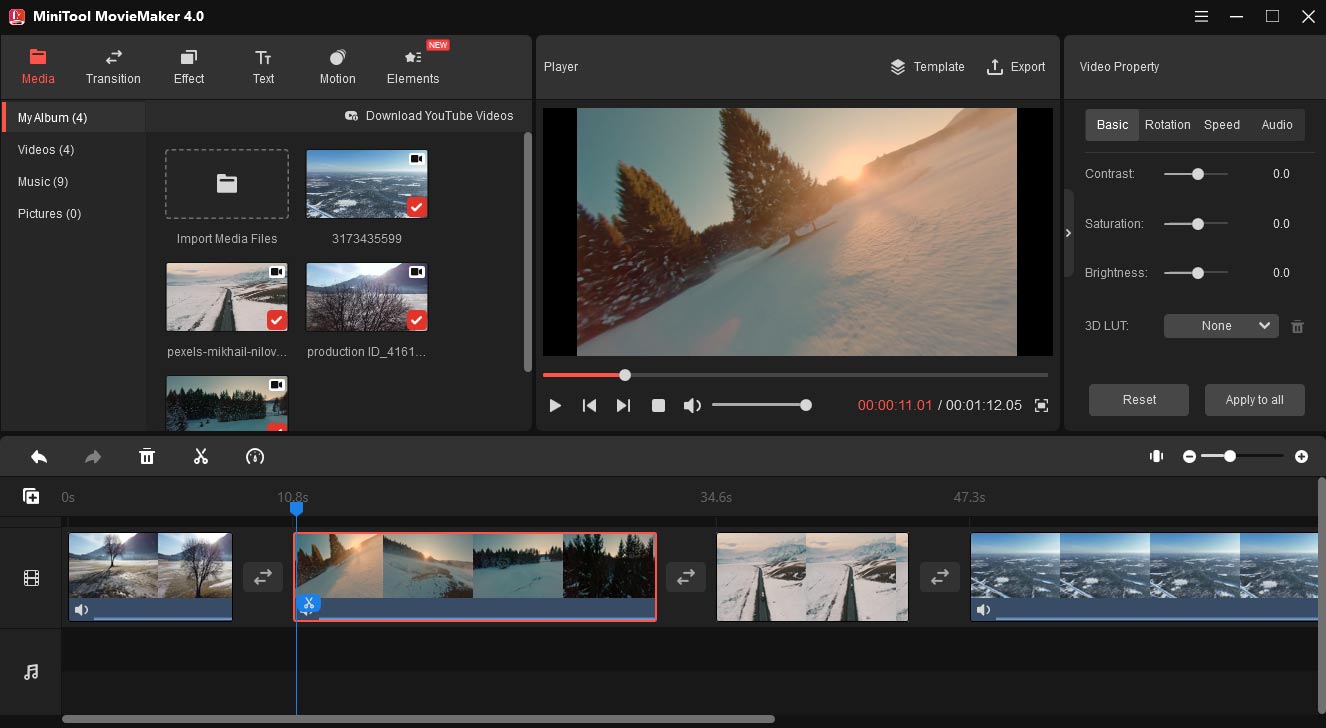 Step 2. Click a clip on the timeline to open the Video Property window, then you can adjust the clip's contrast, saturation, brightness, rotate or flip video, change video speed, etc.
Step 3. Trim a clip: drag either edge of the clip to cut out the beginning or end parts of the video.
Step 4. Add subtitles: Go to Text > Captions, choose a template, click the +, and go to Text Editor to type and edit your text.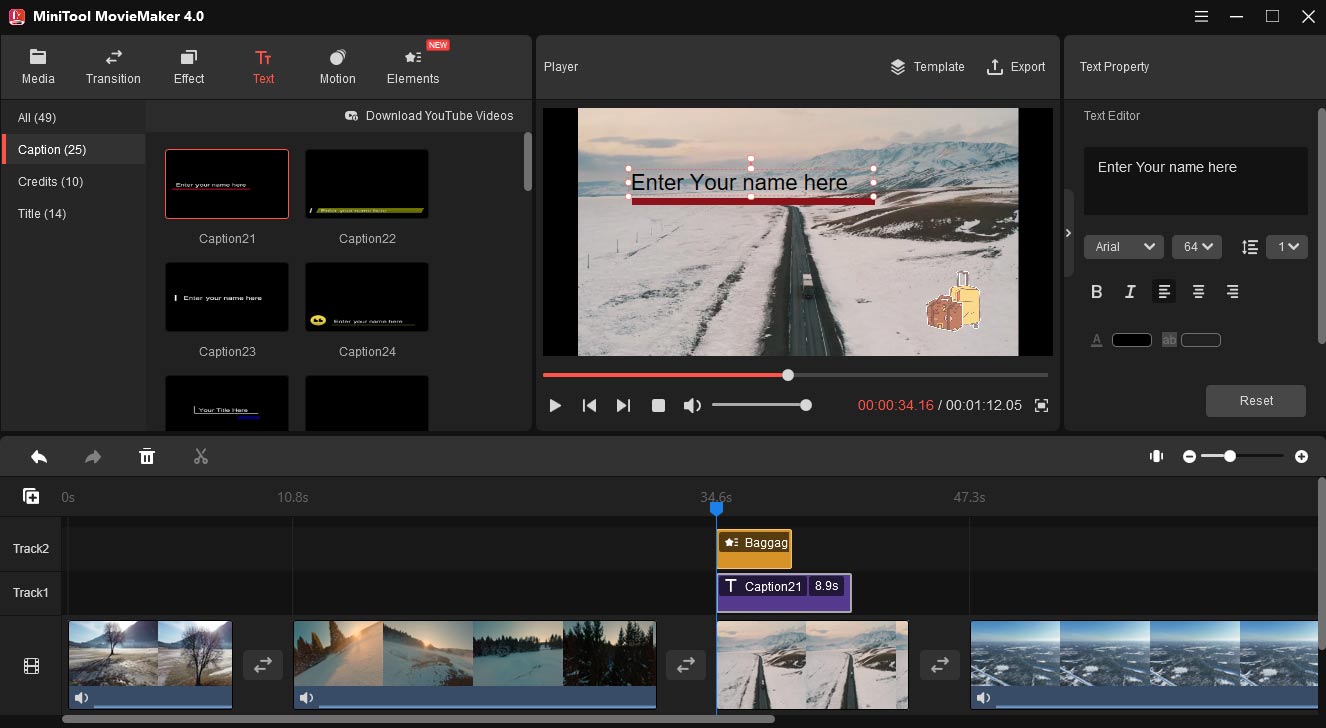 Step 5. Add background music: click the Import Media Files to import your music track from your computer, and drag it to the timeline.
To know more, check this post: Solved – How to Edit a Video on Different Devices.
Step 6. To export your aerial video, tap the Export button, then name this video, choose an output format, select the output folder, etc. Click the Export to export the video.
Conclusion
Now, choose a DJI video editor to edit your DJI videos as you like. And you can also download drone stock footage from the above sites, then try MiniTool MovieMaker to edit these aerial videos. If you have any questions about MiniTool MovieMaker, you can contact us via [email protected].