Do you want to increase the number of subscribers to your YouTube channel? This article, posted on the MiniTool web page, will introduce you to the top apps to make YouTube intros. A good intro video can pique your audience's interest and keep them engaged for a longer period.
Why Do You Need Apps to Make YouTube Intros?
YouTube has maintained its growth rate in line with the Internet's exponential rise in video content. Today, almost every company operates a YouTube channel, and YouTube has grown to become the second largest search engine, behind Google.
Therefore, if you want to run a YouTube channel, you've come to the right place.
The days of just sharing a video online are now long gone. There are already many videos online about the topic you have chosen. Because of this, you need to be creative to set yourself apart from the competition and attract more visitors and followers with your video content. Good apps to make YouTube intros, in particular, are required.
The beginning of your intro is crucial. If you can capture viewers' interest in your videos and keep them engaged, they're likely to remember your channel and come back often in the future.
Best Apps to Make YouTube Intros
Here, YouTube intro maker apps enable you to build engaging introduction videos without spending a lot of money. And you do not need to be proficient in editing skills and can complete the operation in a matter of minutes.
Check out and compare the top apps to make YouTube intros and choose the right one that best fits your needs:
1. MiniTool MovieMaker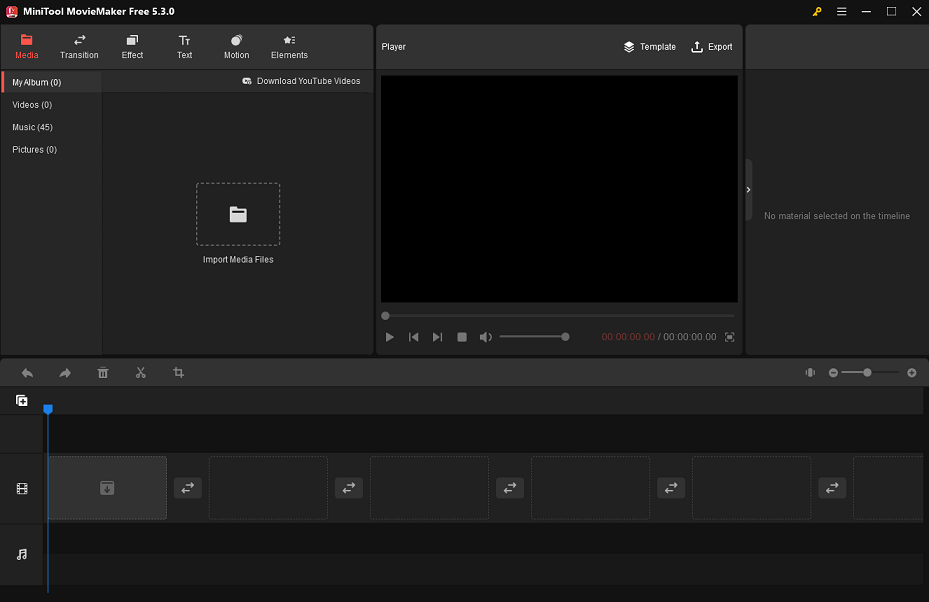 MiniTool MovieMaker is one of the versatile apps to make YouTube intros. It is an excellent choice for making professional YouTube intros. With its rich resources, users can tailor various YouTube intros according to their specific needs.
It is a free and easy-to-use video editor without ads, bundles, and watermarks. It comes with a simple and user-friendly interface. It also allows you to import multiple videos, photos, and audio formats and supports exporting videos up to 1080P. You can do a lot with MiniTool MovieMaker.
Features:
Customizable texts and animated elements
Drag-and-drop transitions, effects, and motions
Color correction and 3D LUT effects
Play your videos backward
Change the video speed
Quick trim/split/crop videos
Easily rotate/flip videos
Batch processing of images and videos
Price: Free
2. BrandCrowd
Website: https://www.brandcrowd.com/
BrandCrowd is best for quickly making YouTube banners and intros. From its huge library of templates, you can choose something that represents your fashion sense and brand. These templates can be customized. You can completely design your own fonts, colors, and layouts. Also, you can download and share an intro video with ease.
Features:
Customizable templates
Download in seconds
Huge library
Simple to use
Web-based intro maker
Price: Free
If you don't want to invest in anything other than your time, this is your biggest option.
3. Flixpress
Website: https://flixpress.com/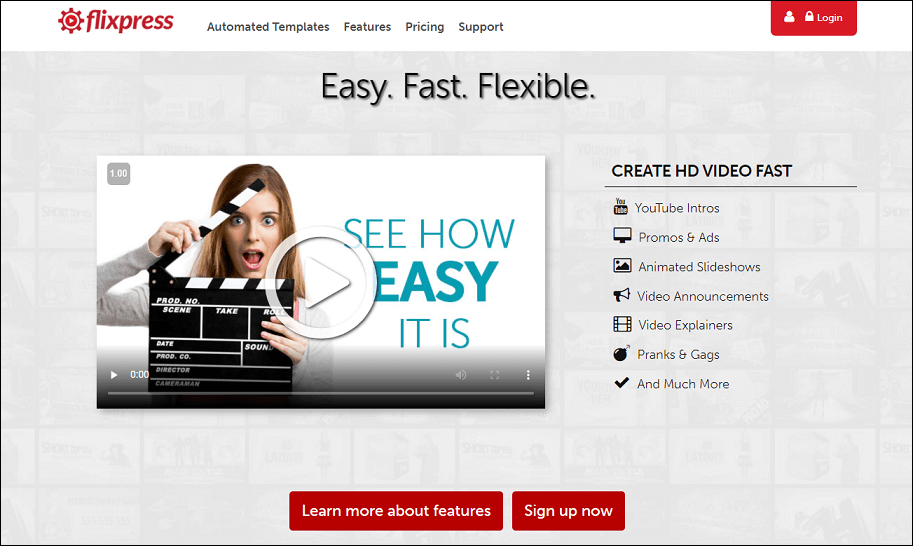 Flixpress is one of the cloud-based apps to make YouTube intros in minutes. This app works on any device that has active Internet access. It contains a large library of templates that you can edit as well as a large audio library.
Features:
Customizable templates
Easy to use
Large audio library
Simple user interface
Online operation
Price:
Free
Personal – $3.49 per month (paid monthly) or $0.83 per month (paid yearly)
Expert – $19.99 per month (paid monthly) or $9.99 per month (paid quarterly)
Professional – $69.99 per month (paid monthly) or $49.99 per month (paid quarterly)
Enterprise – $129.99 per month (paid monthly) or $79.99 per month (paid quarterly)
If you want to make a watermark-free intro video longer than two minutes, you need to upgrade this app to the paid version.
4. Clipchamp
Website: https://clipchamp.com/en/ 
Clipchamp is a browser-based YouTube intro creation tool. Although its interface is completely online, it can still use system resources to edit videos. It works with Chrome and Chromium-based Microsoft Edge, but not with Firefox. In addition, you can record screens and capture video.
Features:
A feature-rich library
Easy to use
Professional video editor
Supports green screen, screen recording, and video capturing
User-friendly interface
Price:
Basic – Free
Creator – $9 per month
Business – $ 19 per month
5. InVideo
Website: https://invideo.io/ 
InVideo is best for producing professional videos for different social media sites. It is a tool for editing and creating videos, including pre-made templates for quickly making custom videos. It also contains many options and tools that make it simpler for experts and amateurs to produce amazing videos and a YouTube intro. Additionally, there is an option to instantly turn your content into engaging videos.
Features:
A vast collection of photos and videos
Customized options
Preview option
Simple to use
Templates for specific industries
InVideo is one of the good apps to make YouTube intros because it has the above-mentioned features, especially templates and customization options.
Price:
Free
Business – $15 per month (paid annually)
Unlimited – $30 per month (paid annually)
6. Promo
Website: https://promo.com/ 
Promo is a tool for making high-quality promotional video clips. It primarily specializes in creating ads and promotions for YouTube, Facebook, Instagram, and LinkedIn. And it only takes a few minutes to add a logo, some music, text, etc. You can also use its professional templates or edit any original content to make a great YouTube intro.
Features:
A large and high-quality library
Easy to customize templates
Easy to use
Hosting and uploading
Simple user interface
Price:
Free
Annual Business – $29 per month
Annual Agency – $99 per month
Related article: Ultimate Guide on How to Make a Perfect Promotional Video
7. Renderforest
Website: https://www.renderforest.com/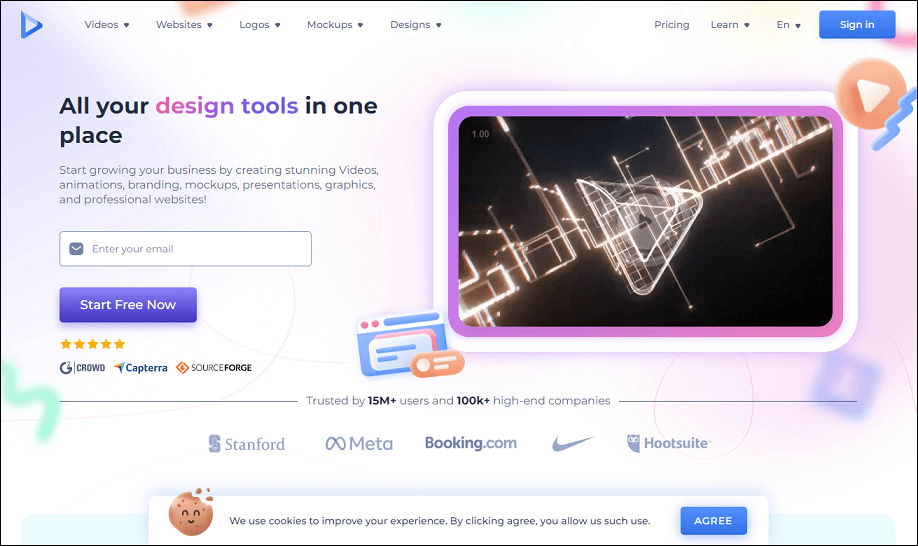 Renderforest is ideal for designing logos and building websites. It is one of the free apps to make YouTube intros and do much more.
To design a logo and build a website, you can do it using its templates. It also enables you to make high-quality intros quickly and easily. Meanwhile, you can customize the intro template, and your intro video will be ready in minutes.
Features:
Category-specific introduction videos
Intuitive user interface
Plenty of high-quality templates
Quick intro making
Simple to upload and share
Price:
Free
Lite – $6.99 (paid annually)
Amateur – $9.99 (paid annually)
Pro – $19.99 (paid annually)
Agency – $49.99 (paid annually)
8. Simplified
Website: https://simplified.com/
Simplified is great for quickly creating show-stopping intros for YouTube. There are simple-to-use vlog design templates available. Any template is simple to edit in a matter of seconds. You can make use of its large collection of stunning videos, images, audio, illustrations, animation tools, and more.
Features:
A large collection of high-quality videos, audio, stock images, and other media
Easy user interface
Simple to customize templates
Simple to use
Upload directly to YouTube
Price:
Free
Small Teams – $8 a month for one user
Businesses – $ 24 a month for one user
Enterprise – Available on request
9. Vimeo
Website: https://vimeo.com/
Vimeo makes it simple to create an eye-catching YouTube intro. You can use its ready-made templates to match your brand. Also, you can choose good-quality stock images from its collection and incorporate them into your intro video clips.
It is one of the most reliable apps to make YouTube intros. In addition, Vimeo provides extremely user-friendly tools to add colors, layouts, text, and transitions. After that, you can store it or publish it on your YouTube channel.
Features:
Easy to use
Easily customizable templates
Simple to save and share
Tools for editing
Top-quality stock images
Price:
Plus – $7 per month (paid annually)
Pro – $20 per month (paid annually)
Premium – $75 per month (paid annually)
Enterprise – Contact Sales
10. Wondershare Filmora
Website: https://www.wondershare.com/ 
Filmora is a powerful YouTube intro creator. You can quickly add effects to your videos with its extensive tools. In addition to removing background noise from the audio, balancing the sound with an equalizer, and controlling the speed of the intro, more complex editing is also available.
Features:
Audio ducking
Color adjustment
Customized animations
Hotkey commands
Object tracking
Price:
Student Plan – $19.99
Individual Annual Plan – $61.99
Individual Perpetual Plan – $89.99
Individual Bundle Subscription Plan – $109.99 per year
Business Annual Plan – $155.88 per year
Related article: Is Filmora Free? Here Are 10 Best Free Filmora Alternatives
How to Create a YouTube Intro with MiniTool MovieMaker
Here's how you can use MiniTool MovieMaker for creating a YouTube intro.
Step 1: To download and set it up on your computer, click the button below.
MiniTool MovieMakerClick to Download100%Clean & Safe
Step 2: Open this free movie maker software and enter its main interface.
Step 3: Click the Import Media Files and select video footage for your YouTube intro.
Step 4: Drag each one into the timeline in the order you want.
Step 5: Split the video clip. Drag the playhead to the place you want to split and click the scissors on the playhead to split the video clip into two parts. Optionally, edit the two parts separately or remove the unwanted one.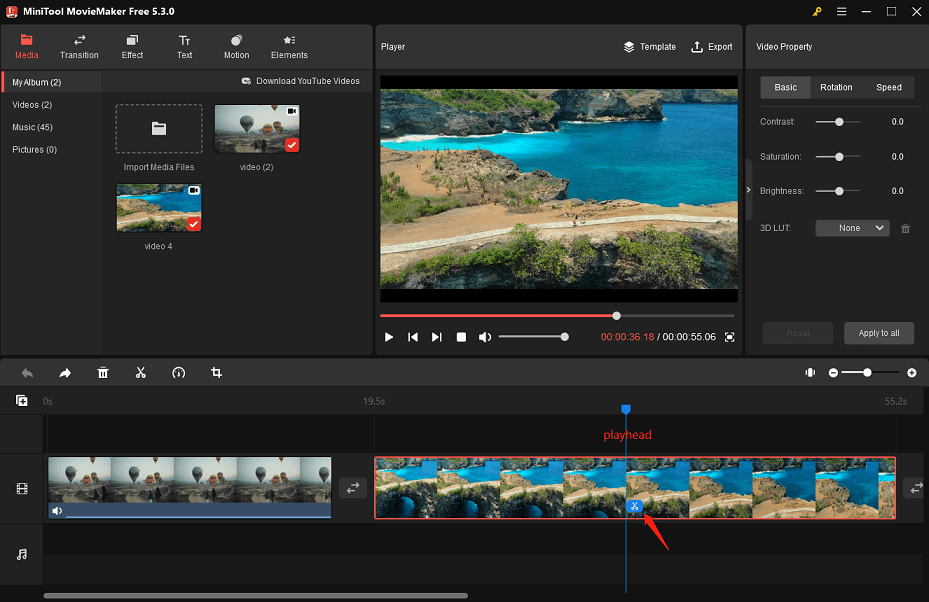 Step 6: Pick the desired transition. Click the Transition tab and then drag the desired transition to the target place. Thus, two video clips can be connected naturally through this operation process.
Step 7: Edit the video clip. Click the video clip you want to edit on the timeline to open the Video Property section.
In the Basic tab, drag the sliders to adjust the video clip's contrast, saturation, and brightness and apply a 3D LUT effect.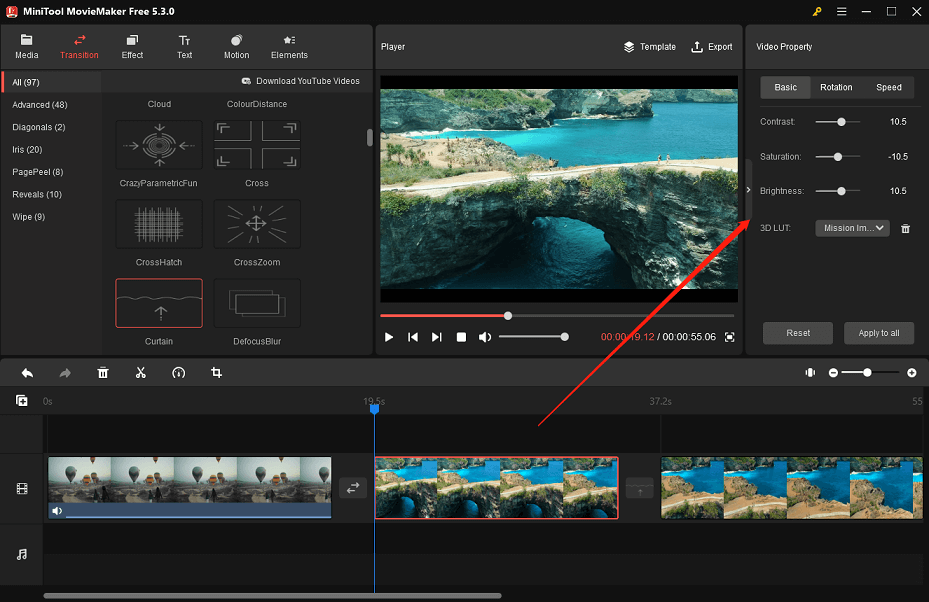 In the Rotation tab, flip the video clip horizontally/vertically and rotate it by any angle.
In the Speed tab, drag the slider to the left/right to slow down/speed up the video clip and reverse it by checking the Reverse speed option.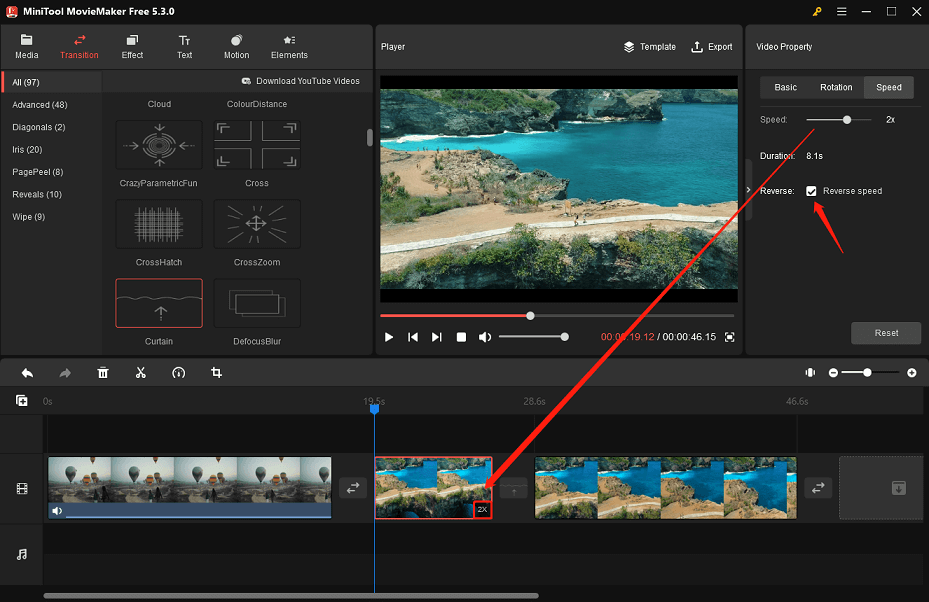 Step 8: Give your intro a title. Click the Text tab and select Title option to choose your favorite title. Click the + sign to add it to the timeline and type words like "YouTube Channel Intro" in the Text Editor area. Then, change the title's font, size, color, alignment, opacity, etc.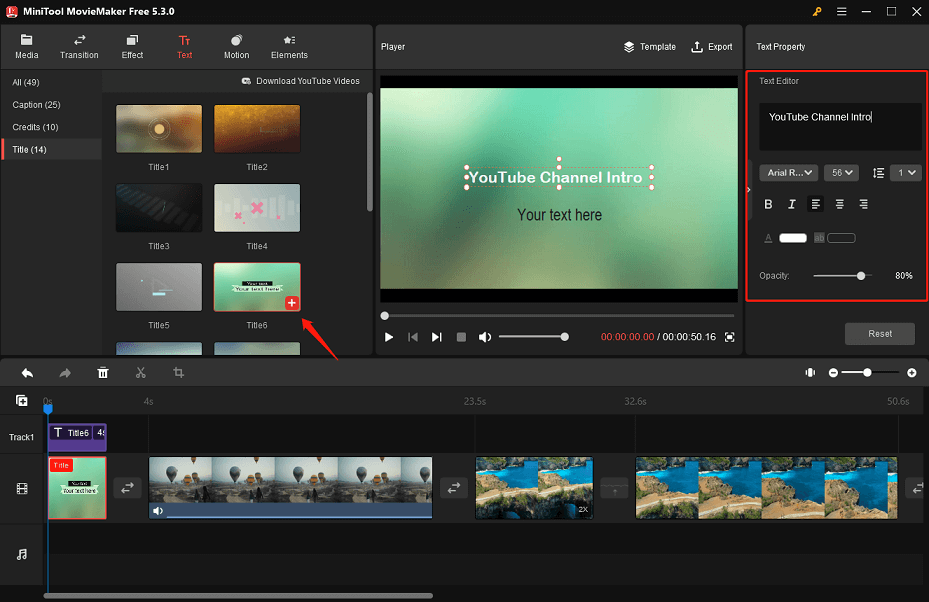 Step 9: Save your intro and share it on your YouTube channel.
If you have video footage that you wish to use in creating intros for YouTube, Facebook, and other social media sites, MiniTool MovieMaker is your best pick.Click to Tweet
Conclusion
A good intro video can significantly boost your brand. Many marketers use YouTube intros to promote their companies and brands. And that's why your intro must be clear, specific, and professional. A high-quality YouTube intro can help spread the name and awareness of your brand.
To make an attractive YouTube intro, all you need is that. Now, you can try the above best apps to make YouTube intros. These YouTube intro generators provide basically the same functionality. It depends on what you need from it and what else it offers. MiniTool MovieMaker is really worth trying.
If you have any questions or encounter any problems while using MiniTool MovieMaker, please contact us using the email address [email protected].
Recommended reading: