A stunning intro will make your video stand out. So how to make an eye-catching intro? To solve this, this post will illustrate how to make an intro in detail. Besides, this post provides you some ideas for making an intro and 6 free intro makers.
Part 1. What Is an Intro
What is an intro? An intro often shows at the beginning of a video that introduces top, brand and author. It's widely used in commercial, educational, travel videos and others like TV shows, movies and vlog.
Want to create a video? Try the free video creator - MiniTool MovieMaker released by MiniTool.
So how to make an intro for your video? Continue to read and find the answer.
Part 2. How to Make an Eye-catching Intro
This part will show you how to make an intro for YouTube, Vimeo and Dailymotion videos. To make an intro, here recommend the free intro maker – MiniTool MovieMaker.
MiniTool MovieMaker
MiniTool MovieMaker is an easy to use video editor that provides some simple titles for you. If you don't want to use the built-in titles, you can also make an intro on your own. Besides, this intro creator allows you to flip video, split and trim video, add background music, mute audio, etc.
It also can be used as a video converter, which can convert MP4 to GIF, picture to GIF, video to audio, MP3 to MP4, etc.
Now let's take a look at how to make an intro with MiniTool MovieMaker.
Method 1. Use the built-in intro
For some people who just want to use an intro template to put topic, using the built-in intro is a good choice. Here's how.
Step 1. Download and install MiniTool MovieMaker on the computer.
Step 2. Open the program and close the Movie Template window.
Step 3. Click on Import Media Files to open the video you want to add an intro.
Step 4. Drag and drop the video to the timeline.
Step 5. Switch to the Text tab and click the Titles option.
Step 6. Here offers you some intro templates, choose the one you like and click the plus icon to add the intro to the video.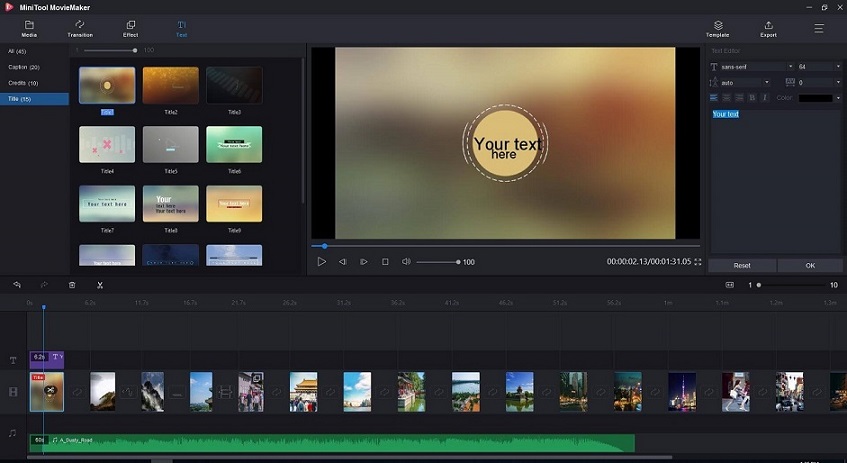 Step 7. Enter the text and then change the font style or adjust the font size if you want.
Step 8. After that, click the OK button and the simple intro for your video is done.
Step 9. Tap on Export in the menu bar to continue.
Step 10. In the Export window, you can rename the file, change the destination folder, or change the video format. Then, hit the Export button to export the video.
Recommend article: 6 Best Profile Picture Makers: Make Funny and Cool Avatars.
Method 2. Create an intro
If you can't find your favorite intro template from titles that are offered, you can try to make an intro by yourself.
Below are the detailed steps on how to make an intro to promote your brand.
Step 1. If you've installed MiniTool MovieMaker in advance, launch it on your computer.
Step 2. Shut down the Movie Template window to go to the main interface.
Step 3. Tap on Import Media Files to open the footage you prepared. To find royalty-free video footages, you may need this post: The Best Royalty Free Stock Video Footage Websites.
Step 4. Add the footage to the timeline and edit it like splitting, trimming, remove audio, etc.
Step 5. Then click on Text to access the Text library and choose the Captions option to select the desired caption.
Step 6. Add the caption to the text track by clicking the plus icon and enter your brand name or YouTube channel name. Here you can move the text to the right place in the preview window. Or change the text color, size, and style as you like.
Step 7. Tap the playback button to preview the intro. If there is no problem, you can click the OK button to go on.
Step 8. Choose the text and move its start point or end point to change the duration of text.
Step 9. When you're done, click on Export to configure the output settings.
Step 10. In the end, press the Export button to export the intro you made.
You may also like: Top 10 Lyric Video Makers You Must Know.
With MiniTool MovieMaker, making an intro for YouTube is so easy!Click to Tweet
Canva
For someone who wants to make an intro online, here introduces Canva – the best online intro maker. It's more than an intro creator, but a graphic design tool. Holding millions of stock photos, vectors and templates, Canva has over 20 million users and become the most popular online graphic design software around the world.
As an intro maker, Canva offers hundreds of fonts and YouTube intro templates. With it, you can change the font, the intro template color, add music and add elements to the intro.
Now, let's learn how to make an intro for YouTube online.
Step 1. Go to the Canva website and sign up for an account.
Step 2. Click the Create a design to select the Video option from the drop-down list.
Step 3. Type "YouTube intro" in the search box and choose the YouTube intro template you like.
Step 4. Then enter your brand name, topic or whatever you want. At the same time, you can add stickers, logos, video clips into the intro.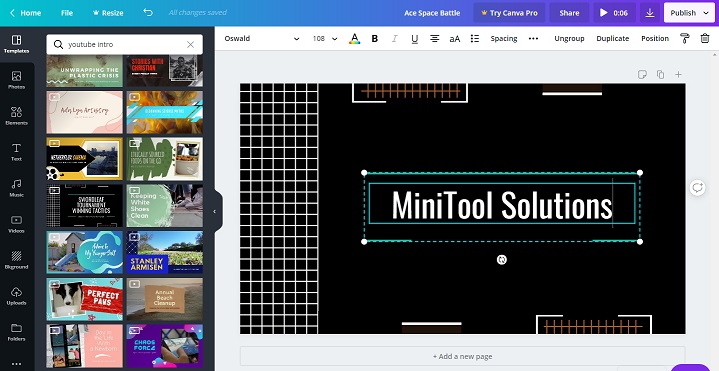 Step 5. After creating the YouTube intro, click on the download icon in the top right corner of the window to download the created intro for your video.
Add an intro to video
Now, you can add the intro to your video by using MiniTool MovieMaker. Only in four steps, you can add an intro to your video successfully.
Here's how to add an intro to video.
Step 1. Run MiniTool MovieMaker after installing it on your PC.
Step 2. Close the pop-up window and import the video and the intro you just created by Canva.
Step 3. Add them to the timeline and tap on Export in the menu bar to go on.
Step 4. Lastly, export the video by clicking the Export button.
Part 3. Great Ideas for Making an Intro
After learning how to make an intro for YouTube, here're some great ideas about making an intro.
Keep it Short
An intro must be short and brief. The best ideal length is 5 seconds. If an intro is too long, it will make audience lose patience. So the truth is the shorter, the better.
Use Your Channel Title and Logo
Since an intro is the first part of the video, so putting your channel title and logo into an intro will surely impress audience deeply.
Put the Video Topic
It's essential to let audience know what the video is talking about. Thus, here suggests put the video topic into an intro.
Part 4. Top 6 Free Intro Makers
Here's a list of the top 6 free intro makers.
Panzoid
Introcave
Placeit
VideoCreek
Animaker
VideoBolt
Panzoid
Panzoid is a wonderful online intro maker, which holds numerous ready-to-use intro templates. It allows you to add text, upload video clips and import audio from your computer. Also, you can change the background color of an intro template, adjust its frame rate or change its video resolution.
However, if you're the first time to use Panzoid, you may don't how where to start. Once choose your favorite intro template in Panzoid, open the clipmaker to get started. Then click Eye and play the intro video. After that, tap on Objects to enter the text you like and add music to the intro by clicking the Audio + Music button.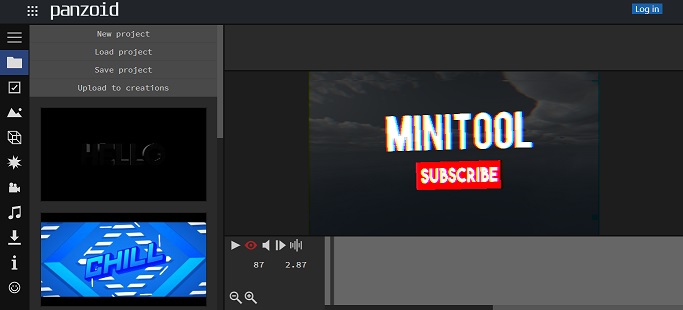 Introcave
Introcave is an intro creator for YouTube, Vimeo and Facebook. It provides all kinds of intro templates for blogs, vlogs, business and products. On this website, you can preview all intro templates as long as you hover your mouse on an intro template.
This intro maker can used to make both intros and outros. To create an intro, simply input the text, upload replacement logo or image and change the background music if you want. In the end, submit customizations and your video intro is done.
Placeit
Placeit allows you to access thousands of templates such as logo, intro, cover, picture profile, etc. Although most of them are very expensive, it offers some free YouTube intro templates. More than that, this intro maker also lets you convert MP4 to GIF, crop video and make a slideshow video.
Similar to other intro makers, uploading a logo and changing background music are available.
Placeit is an online intro creator, so you can use it to make an intro in any browser.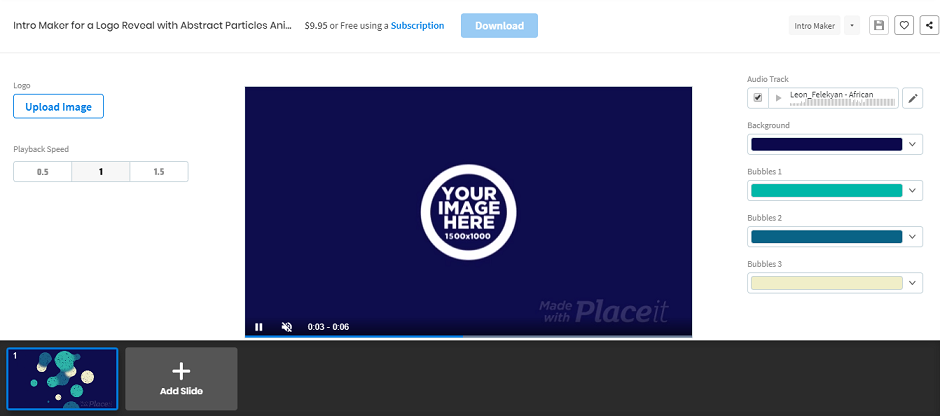 VideoCreek
VideoCreek is a free intro maker that provides video intros for YouTube, business, vlog and so on. It's an online intro designer, so there is no need to install software on your device. More importantly, you can create a video intro without registration required.
Animaker
Animaker is a web-based animation maker that allows you to make animated videos. Offering over 100 million stock videos and photos, here you can find anything you want and create stunning video intros in minutes.
Aside from that, you are able to resize your video intro for any social platforms such as Instagram, YouTube, etc.
Sign up for an Animaker account and make an eye-catching video intro right now.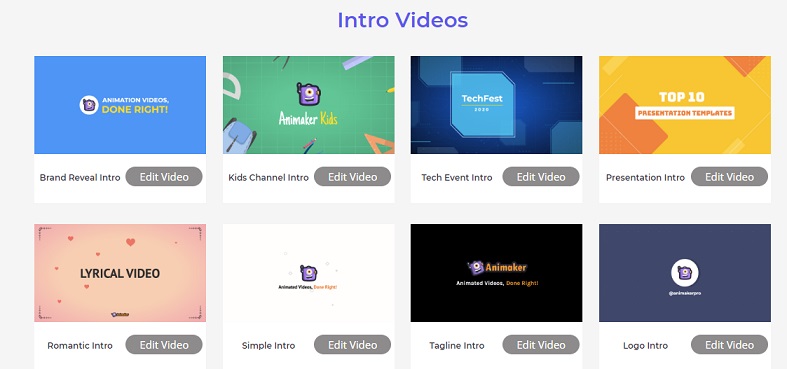 VideoBolt
VideoBold is a place where you can find numerous intro templates for YouTube, Twitch, gaming and many more. Like other video intro makers, you are allowed to customize the video intro by adding your logo and text. But registration is required.
Conclusion
After reading this post, you must know how to make an intro for your video. Now, choose a suitable intro maker you like and create an intro to promote your business! Hope this post is helpful to you!
If you have any questions or better suggestions about MiniTool MovieMaker, please post your comments in the comments section.
How to Make an Intro FAQ
📢 How can I make a free intro?
Download and install MiniTool MovieMaker.
Launch it and close the pop-up window to import the footage.
Add it to the timeline and add captions to the clip.
Finally, export the intro to your computer.
🔔 What is the best free intro maker?
MiniTool MovieMaker
Videobolt
Adobe Spark
Wideo
Panzoid
Introcave
Placeit
Biteable
Introbrand
Animaker
🎨 What app do vloggers use?
Inshot
Quick
Clips
Splice
Magisto Smart Video Editor
VideLab
Vizmato
FXGuru
📌 Do you need a YouTube intro?
Of course, you need a YouTube intro to help you attract more viewers and get more subscriptions. A YouTube intro is an important part of your video, so add an intro to your YouTube video to promote your business.