Currently, aesthetic videos are increasingly popular on social media like TikTok, Instagram. In this post, we'll cover 11 aesthetic video editors to make aesthetic video edits, and it also tells how to make aesthetic videos on Windows.
You may often watch aesthetic videos on Instagram, TikTok, or other social media apps. Most of these beautiful videos are about nature, travel, mountain, sky, cityscape, life, dance, animal, and something else in daily life.
And most platforms like TikTok and Instagram have the built-in video editor to create aesthetic videos with many cameral tools, editing tools, filters, effects, transitions, and more.
In this post, we've gathered 11 aesthetic video editors (including MiniTool MovieMaker) for your PC and smartphones.
To give your video a unique look, a good aesthetic video editor at least should include a color correction tool, video filers or effects or transitions, and the ability to add music and text.
Look through the following parts and find your favorite aesthetic video editor app.
Part 1. Aesthetic Video Editors for Computer
Firstly, let's look at the 3 great aesthetic video editors for your PC.
#MiniTool MovieMaker
If you need a free aesthetic video editor for your Windows PC, MiniTool MovieMaker is recommended here. It's 100% free, simple to use, with no ads, no bundles, and no watermarks.
MiniTool MovieMakerClick to Download100%Clean & Safe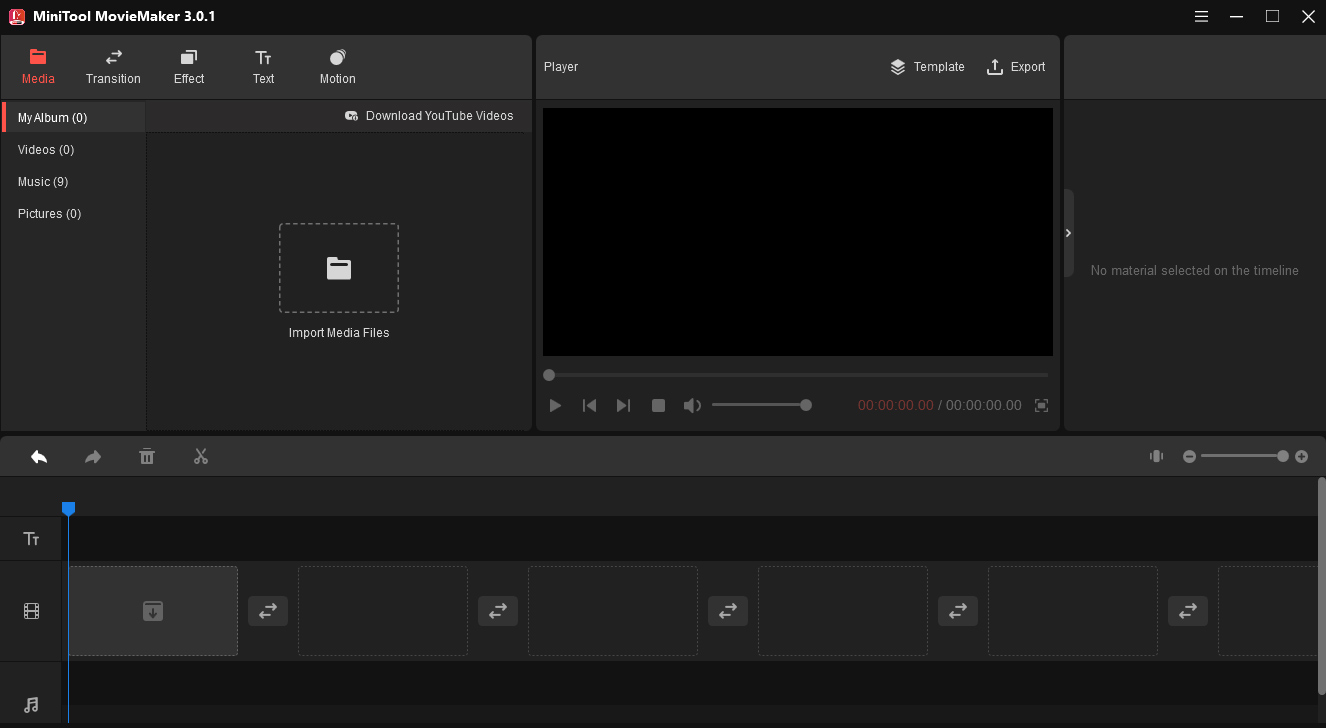 MiniTool MovieMaker allows you to create an aesthetic video with your favorite video clips and pictures, and it supports many popular formats of video and image. To help you make aesthetic edits, this video editor offers 40+ video filters like Instagram-like filters, artistic filters. And it has nearly 100 video transitions to make your videos smooth.
To make your video/image look more dynamic, this aesthetic video editor provides 30+ motion effects (also known as Pan & Zoom or Ken Burns effect). And it offers 50 text templates to help you add animated text to video, including title, captions, and credits.
MiniTool MovieMaker also lets you change the clip's brightness, saturation, contrast. What's more, this software enables you split, trim, reverse, flip, rotate videos, change video speed, add music to the video, etc. Also, MiniTool MovieMaker lets you convert video to GIF or make a GIF from a video.
#Kapwing
If you want to use an aesthetic video editor online, try Kapwing. After signing in, you can use it for free with some limits, but it won't watermark on your images and videos under 5 minutes.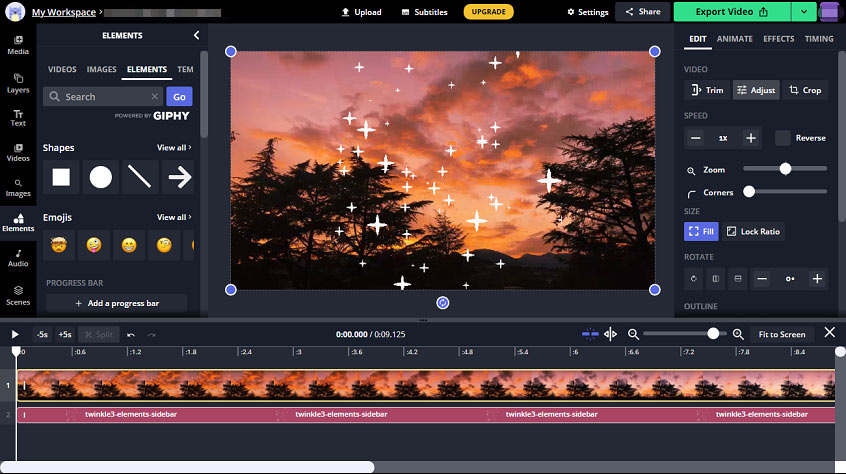 To help you make and edit aesthetic videos, Kapwing offers 18 preset filters and lest you change the brightness, contrast, saturation, opacity, and blur of your video, add shapes, emojis, twinkles, and other elements to the video, add text to the video, and rotate, flip, trim, split, crop videos, change video speed, select video aspect ratio, apply animation effects.  
What's more, Kapwing offers a large library of video templates like collage video templates, holiday video templates, and templates for social media videos, and more.
#FlexClip
FlexClip is also an online aesthetic video editor. You can use it for free after signing, then you can export a video in 480p and with a FlexClip intro. If you want to export video in 720p or 1090p and without FlexClip intro, or unlock premium features, choose a subscription plan.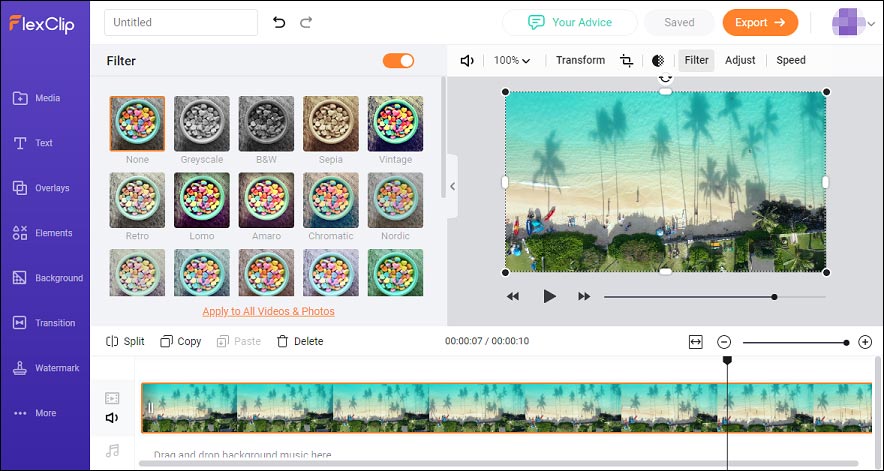 To edit aesthetic videos, this online video offers 21 filters and different types of transitions. And FlexClip gives you the ability to adjust the clip's exposure, contrast, brightness, temperature, tint, and opacity.
Moreover, you can use FlexClip to crop, rotate, flip, split videos, add basic and dynamic text to the video, add many elements like shapes, emojis, bubbles, and other icons about business, birthday, nature, festivals, and more. By the way, FlexClip has two edit modes, storyboard mode and timeline mode.
Part 2. Aesthetic Video Editors for Phone
How to edit aesthetic videos on your phone? When it comes to the video editors for mobile apps, InShot or KineMaster may appear in your mind. You can use the two apps to make aesthetic edits for your video.
Bu this section will talk about other 8 useful aesthetic video editing apps for your smartphone, and all of them are available on Android and iPhone except YouCut and VUE Video Editor and Clipvue Video Maker.
#VN Video Editor
VN is a free video editor without watermarks, and it has a user-friendly interface and powerful editing features. Everyone can use it to make high-quality videos.
Also, it's a great aesthetic video editing app for your Android or iPhone. With the curve shifting support, VN allows you to do the velocity edit for the video to add effects to the video speed. This app has more than 50 movie-like filters with adjustable filter parameters and 9 transition modes.
What's more, you can add keyframe animation to your text, stickers, videos, and other materials. To make your video interesting, you can record narrations, add music or sound effects. After editing, you can share the aesthetic video to Instagram, YouTube, Facebook, Twitter, TikTok, and other platforms.
#VLLO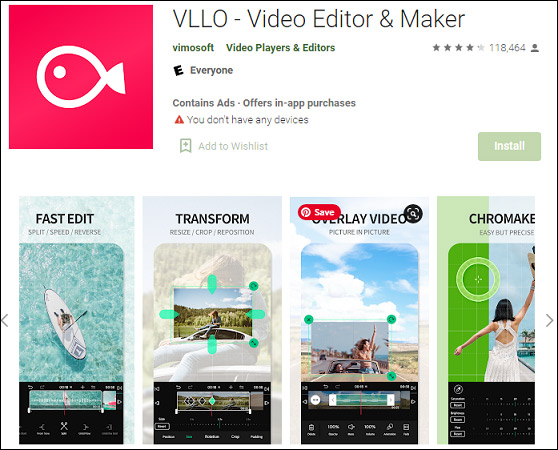 VLLO is a simple video editor for beginners and it's also one of the best aesthetic video editing apps. With this app, you can make a daily vlog or a video for YouTube or Instagram.
To make aesthetic edits with ease, VLLO offers various filters and transitions, trendy stickers, animated text, and rich royalty-free background music and sound effects. And you can record a voiceover during the editing.
Also, you can trim, split, speed, reverse videos, select the aspect ratio, add a layer of a video, and export it in 4K. This app has unlimited undo/redo options and won't watermark your videos.
#CapCut
CapCut is another aesthetic video maker, free to use and with no watermarks. It offers almost all editing features to help you make incredible aesthetic videos.
CapCut provides rich filters, magical effects, transitions, stickers, beauty effects, and a tremendous music library and exclusive songs. And this app also lets you do color correction, make green screen, stabilize shaky videos, crop, rotate, flip, trim, blur videos, and more.
#YouCut
As one of the best video editors for Android, YouCut is also a good choice for aesthetic video editor apps. It can merge, trim, split, crop, rotate, blur, compress videos, change aspect ratio, change video background color, and control video speed in a fun way.
Moreover, this aesthetic video editor app offers beautiful filters and FX effects and featured music for videos. Also, you can use YouCut to make a photo slideshow with pictures and music.
#VUE Video Editor
VUE is also one of the best aesthetic video editing apps for your iPhone to create aesthetic videos for YouTube and TikTok. This app can trim, split, merge, rotate, resize videos, change the speed, and apply smooth transitions.
Besides, VUE has 50+ video filters, and you can also apply the VHS, Retro, glitch effects to the video, add voiceover and music to the video. And you can record a video with many cinematic filters and then begin editing.
#VivaCut
VivaCut is another option to make and edit aesthetic videos with its adjustable filters, glitch effects, and transitions. Also, you can trim, split, combine videos, edit video speed to make your video more unique.
With the Chroma Key support, VivaCut makes it simple to change video background. And you can also apply keyframe animation to the text, stickers, masks, etc. In a word, you can easily create aesthetic videos within this app.
#VITA Video Editor & Maker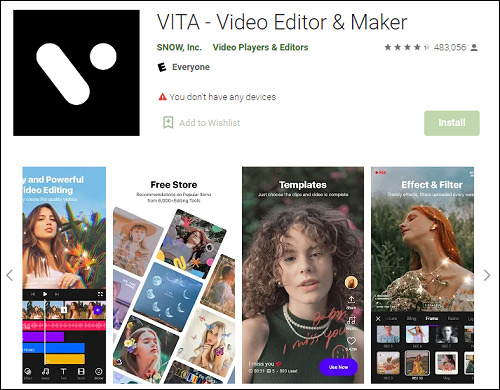 VITA is another aesthetic video maker to create aesthetic videos with dreamy glitch, glitter, and bling effects, cinematic transitions, and various filters. You can select a song from the music library and add it to your video.
Also, you can add animated text and stickers to the video, overly video in picture-in-picture effect, and more to make stunning videos. And you can choose a video template and then show your creativity.
#Clipvue Video Maker
Clipvue Video Maker provides a collection of trendy filters, beauty effects, cinematic transitions, sound effects, and cute stickers for video editing. And this app allows you to put artistic subtitles and add music to the video. Thus, it's also one of the best aesthetic video editing apps.
What's more, Clipvue Video Maker empowers you to trim, rotate, merge, loop, resize, compress videos, blur video background, convert a video to MP3, and more. After editing, you can export the video in MP4, MOV, AVI, etc.
Part 3. How to Make Aesthetic Videos on Windows
This part will explain how to make an aesthetic video with pictures and video clips using MiniTool MovieMaker. Also, you can upload an existing video to make aesthetic edits.
Step 1. Launch MiniTool MovieMaker.
Click the Free Download button to get the installer of MiniTool MovieMaker, then install this program based on the instructions provided, and then run this video editor, and close the pop-up window.
MiniTool MovieMakerClick to Download100%Clean & Safe
Step 2. Import pictures and video clips.
Click the Import Media Files to upload your video clips and photos. Then select the first clip, press Shift and select the last clip, then drag them to the timeline.
Click the Zoom to Fit Timeline button to adjust all clips to fit the timeline. And you can change the clip's order by dragging and dropping.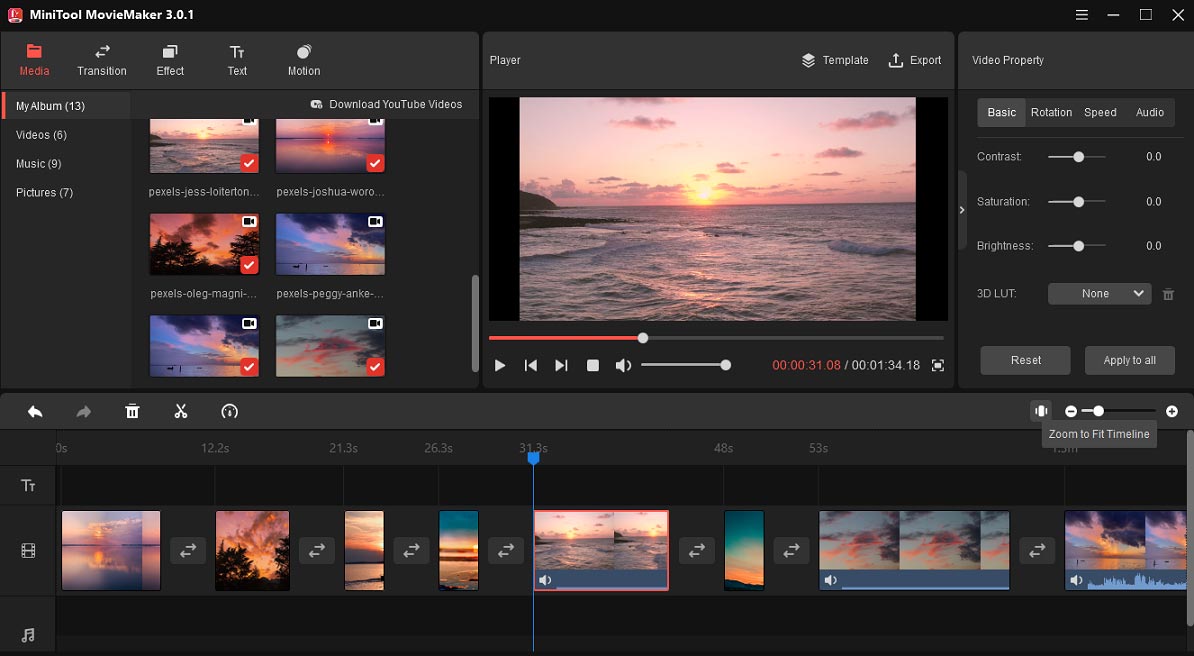 Step 3. Adjust the clip's color.
Click the clip, go to the Basic tab, move the sliders to adjust contrast, saturation, saturation to brighten dark videos, or apply the 3D LUT effect. Click Apply to all to do the color correction for all videos/images.
Step 4. Apply video filter.
Go to the Effect, preview and choose a filter, then drag it to the desired clip. Also, right-click it to add this filter to all clips or selected clips.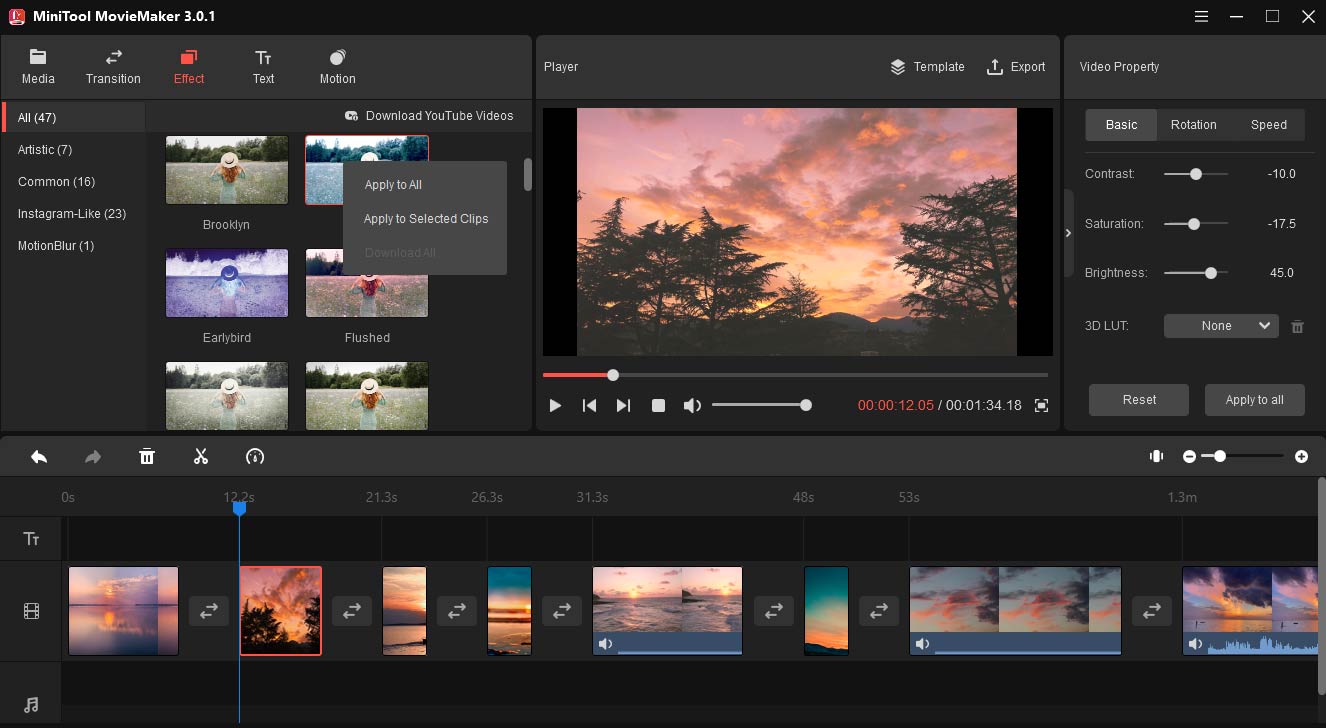 To make your picture look animated, go to the Motion, then preview and choose an effect and click the + to apply it.
Step 5. Add video transitions.
Click the clip or clips where you want to add a transition next to it, go to Transition, choose one, click the + or right-click it, then choose the Apply to All or Apply to Selected Clips.
Step 6. Rotate video, change video speed, and edit audio in the video.
Click a video on the timeline to open the Video Property tab. Go to Rotation to rotate video to any degree or flip the video horizontally or vertically.
Click the Speed, the drag the speed controller left or right to slow down or speed up the video.
Tap the Audio, you can change the volume of the audio in the video, or add fade-in and fade-out effects.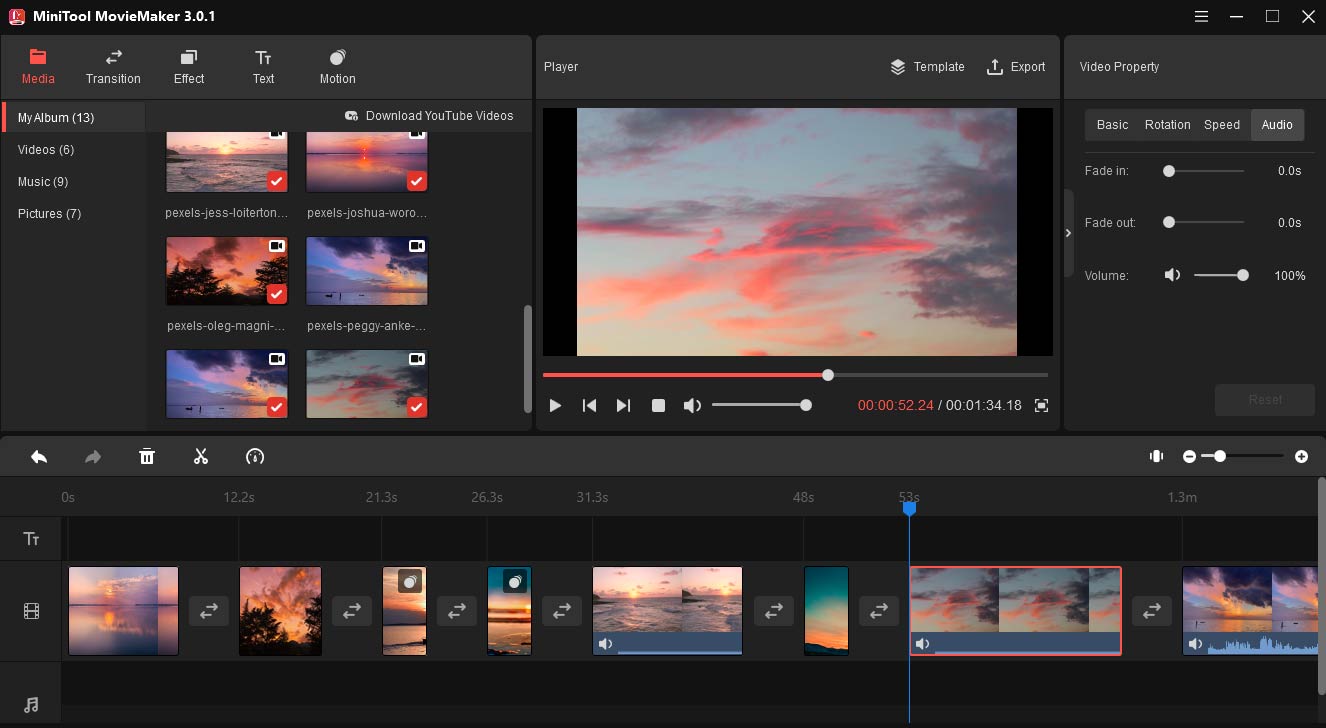 Step 7. Add text to video.
Choose a clip, go to Text, select a text template, and click the +. Go to the Text Editor, enter your text, and edit the text font, size, color, position, etc.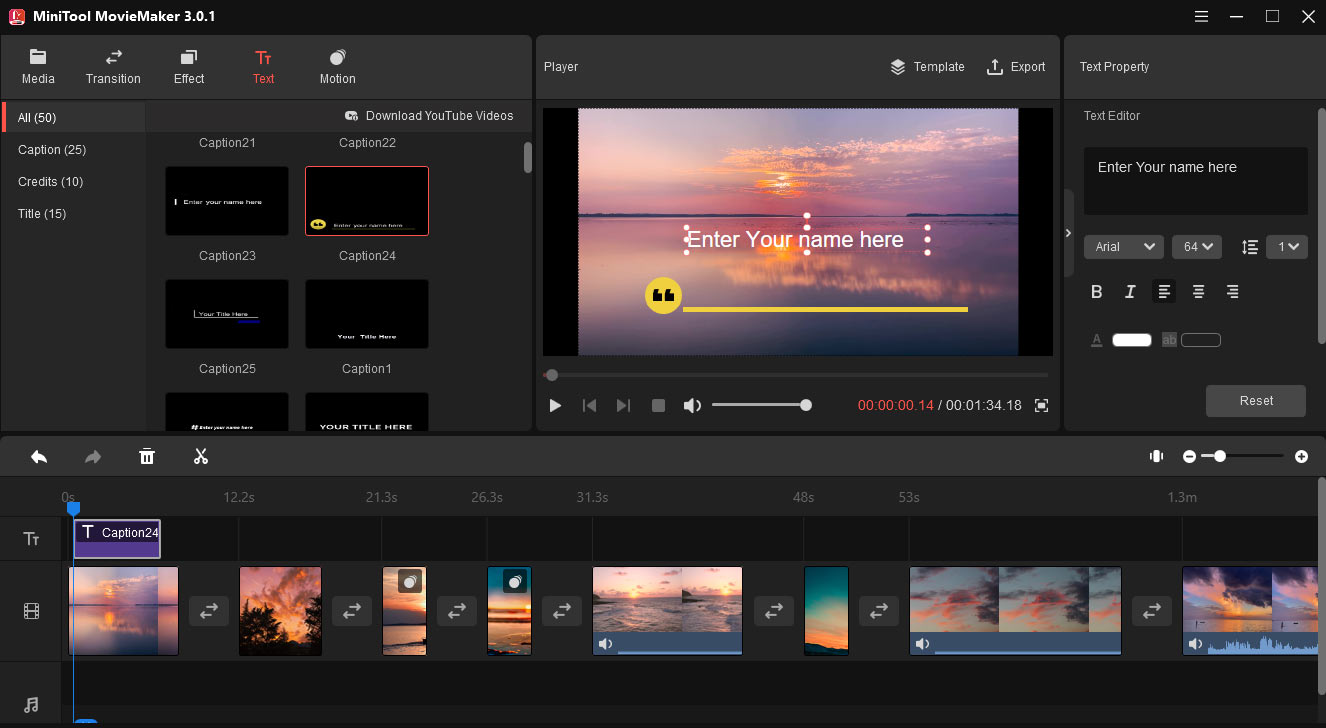 Step 8. Add music to video.
Click the Import Media Files again to add your music, then drag it to the timeline to add this music track to the whole video. Right-click the music, then you can edit the volume and fade the music.
Step 9. Export the aesthetic video.
Tap the Export button above the video player. Then rename this video, choose an output format, select output folder, change video resolution. Click the Export to save this aesthetic video on your PC.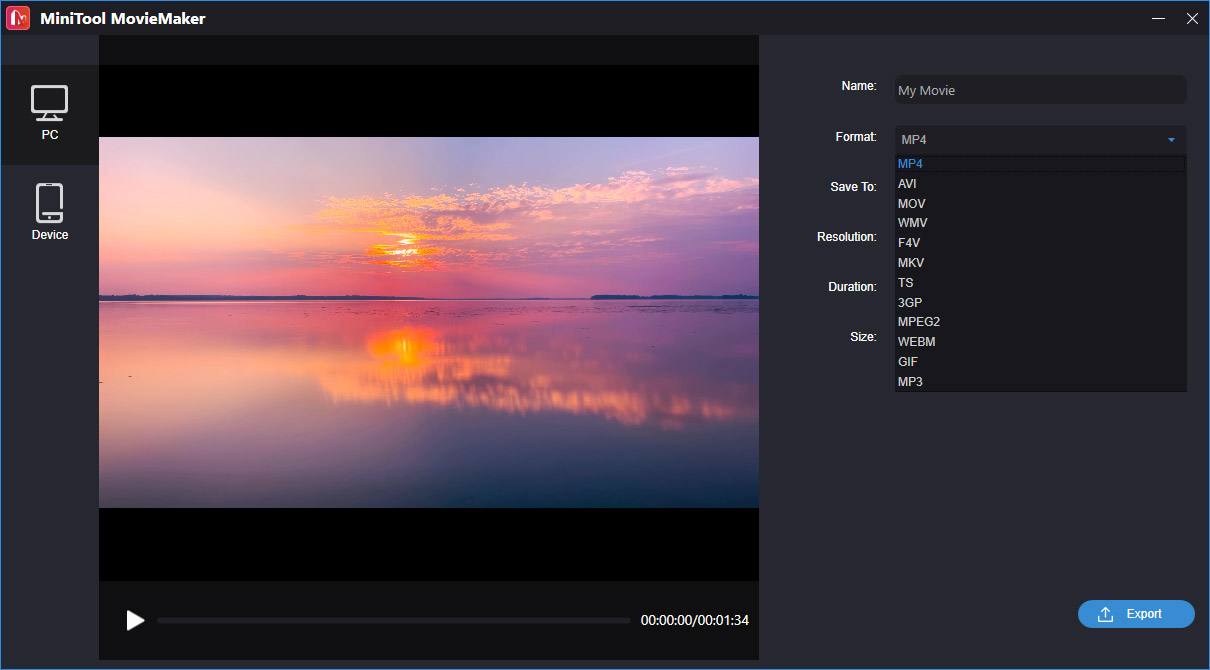 Part 4. Where to Find Aesthetic Background Videos
If you want a place to find and download aesthetic background videos, Pexels is recommended here. It's a free stock photography and stock footage website and has a huge library of free stock photos and videos.
On this site, you can explore and browse various types of videos and photos based on the trending topics and collections, or you can just search for what you want. Of course, you can find 20,000+ aesthetic backgrounds videos on Pexels. You can download and use them for free, and attribution is not required.
Conclusion
With these aesthetic video editors, you can easily create an aesthetic video on your computer and smartphones. Just choose one and have a try.
What's your favorite aesthetic video editing app? Leave a comment to share it with us. If you have any problems when using MiniTool MovieMaker, you can contact us via [email protected].