Want to create cool pictures with glitch effects? How to apply glitch effect to a photo or video? This post will introduce 6 glitch photo editors that can add a glitch filter effect to your photos and videos. 
If you're searching for the best glitch photo editor, you've come to the right place. Here we've compiled a list of 6 glitch photo editors. With them, you can easily apply a glitch filter to photos and videos.
MiniTool MovieMakerClick to Download100%Clean & Safe
Top 5 Mobile Glitch Photo Editor Apps
#1. Vaporgram
Vaporgram is a powerful photo editor to customize your pictures and make them more aesthetic. One of the aesthetic tools is Glitch Effect. It has a lot of glitch effects, VHS trippy effects, and RGB effects, such as scanline and fall effects. And it offers many texture and shaders effects. Also, you're allowed to adjust the thickness line, glitch lines and intensity of the glitched picture.
What's more, Vaporgram is also a glitch video app that lets your glitch your video or makes a video from glitched pictures.
Also read: How to Blend Two Images in Photoshop – Solved
#2. Glitch Art Studio
Glitch Art Studio is a good choice of glitch photo editor for your iPhone and iPad. It provides various glitch effects to your photos and videos, such as Analog Noise, Slit Scan, Datamosh, Pixel Sorting, Lens Distortions, Color Aberration, etc. It's also a glitch GIF maker to save edited pictures as animated GIFs.
#3. Onetap Glitch – Photo Editor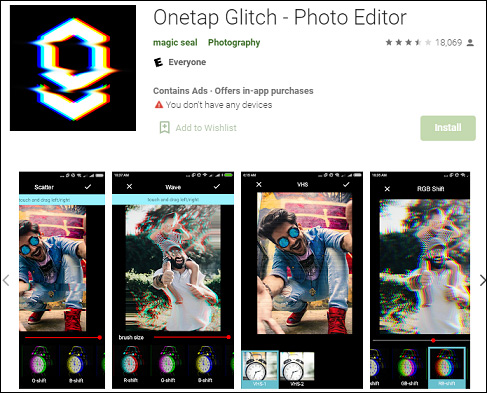 It's also an excellent glitch photo editor on your Android. It allows you to choose from RGB shift effects, Scatter effect, Wave effect, VHS Camera effects, etc. Also, it has duotone and vintage filters. And it helps you overlay a picture with another one, and add text on top of the photo. After editing, you can save the photo to the gallery or share it on Instagram, WhatsApp, Facebook, etc.
#4. Glitch Art – Aesthetic Video 
This glitch video app is able to simulate 3D movie effects and help you make cool videos and photos. It offers a variety of glitch filters you can choose from. But this app isn't free. You should have a subscription plan to access all tools and features, and this app includes in-app purchases.
Want to add a cartoon effect to your picture? Check this post – The Best 7 Cartoon Photo Editors You Can Try
#5. Glitch Photo Editor – Glitch Video, VHS, Vaporwave
This is another powerful glitch photo editor for Android. It not only offers massive glitch effects to customize your pictures and videos from the gallery but also allows you to capture self-timer glitch videos. This app also has many cool stickers, and gradient and vintage backgrounds.
Also read: The Best 5 Websites to Download Glitch Sound Effect
Best Free Online Glitch Art Editor
If you need to apply a glitch filter to images and videos, you can try the best free online glitch art editor – PhotoMosh. It has 20+ cool effects. This online glitch art editor is easy to use and can save the output as JPG, GIF, and WebM.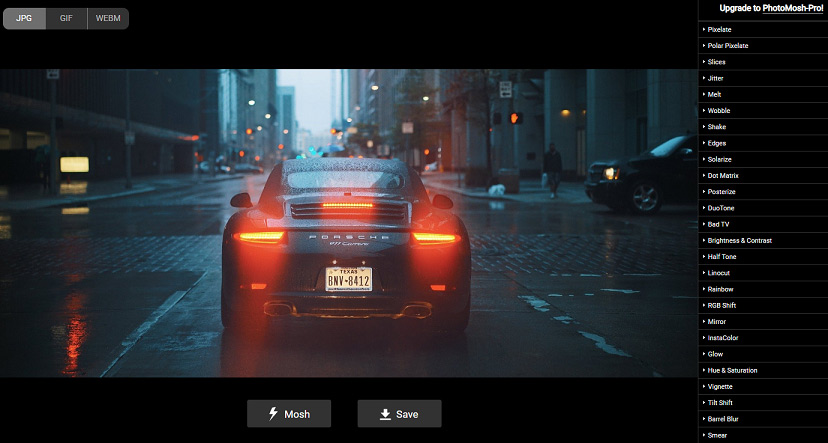 Conclusion
With the above glitch photo editors, you can add glitch filters to pictures and videos with ease. Choose one and create your amazing photos with glitch effects. And if you'd like to share other glitch filter apps, leave them in the below comments area.