When you record or save a video in the wrong orientation, you need a video rotation app to adjust its direction. What's the best video rotator? Luckily, this post rounds up 15 video rotator apps (including MiniTool MovieMaker) you can choose from.
Have you ever saved a video in the wrong orientation? What's the best tool to rotate these videos? Don't worry, there're many effective video rotation apps. And this post picks 15 excellent video rotators to help you out.
Top 15 Video Rotation Apps
MiniTool MovieMaker
VSDC Free Video Editor
Free Video Flip and Rotate
iMovie
OpenShot
QuickTime Player
EZGif
Kapwing
Rotatemyvideo.net
AndroVid
YouCut
VidTrim Pro 
Quik
PowerDirector
VideoShop
The Best 3 Video Rotation Apps for Windows
MiniTool MovieMaker
MiniTool MovieMaker is the best video rotation app for Windows. It's a free and simple video editor, and it requires no skills or experience. Thus, this video editor comes as the best video editor for beginners. And it works with the most popular video formats, and so it lets you rotate many video files 90 degrees clockwise or anticlockwise. And it can also rotate GIF.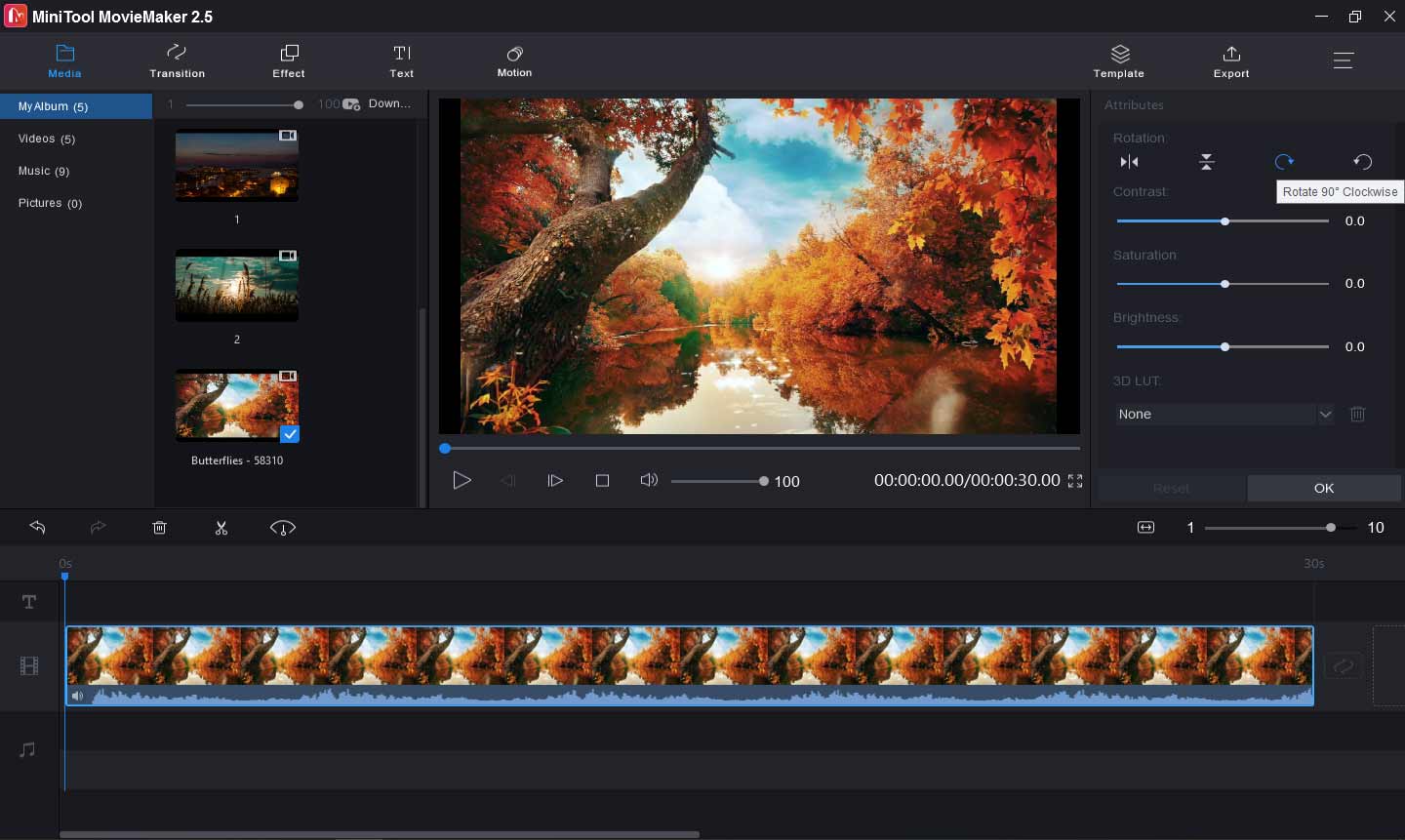 MiniTool MovieMaker provides many other tools to customize your videos. It allows you to merge multiple video clips and images into a video, split and trim videos to delete the unwanted parts, flip videos vertically or horizontally, change the video playback speed, add music and text to the video, apply video transition and effects, remove audio from video, and more.
Moreover, MiniTool MovieMaker can work as a video converter. It allows you to import and play many video files, and convert them to another video format, such as AVI to GIF, MOV to MP4, VOB to MP4, and more.
MiniTool MovieMakerClick to Download100%Clean & Safe
Also read: The Top 10 Best Video Editing Software for Beginners
VSDC Free Video Editor
VSDC is also a free video rotator app for Windows. It has 2 choices to rotate videos: a standard video rotation (90-degree increments clockwise and counterclockwise), a video rotation with custom angles. Whether you want to rotate a video at a particular angle or just rotate it 90 degrees, it can make you do that easily. With the Rotate effect, VSDC can make a video rotate at a particular time.
VSDC supports all the popular video/audio formats and codes, and so it enables you to edit a variety of video and audio files. This software can cut, crop, and merge video files, split a video into two parts or multiple scenes, slow down or speed up videos, apply visual and audio effects, do color correction of a video, etc.
Besides, VSDC offers a powerful Chroma Key tool to remove the green background. It also provides a large of video effects, transitions, and filters. And it can help you make a beautiful slideshow from pictures.
Free Video Flip and Rotate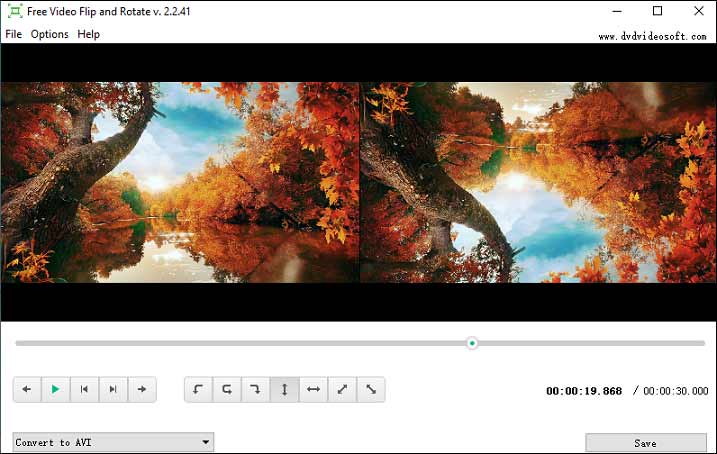 Free Video Flip and Rotate, developed by DVDVideoSoft, is a fast and simple video rotator app. This software offers 7 options to rotate or flip your video: rotate left 90 degrees, rotate left 180 degrees, rotate right 90 degrees, flip vertically, flip horizontally, flip left to right, flip right to left.
This video rotator enables you to rotate or flip a video with one mouse click. After importing a video to the program's window, you just need to choose one flip or rotate option, then select an output format AVI, GIF, MKV, MP4. But if you want to save it in its original format, you have to get the premium version.
Also read: The Best 6 Terrarium TV Alternatives to Watch Movies
The Best 3 Video Rotation Apps for Mac
iMovie
iMovie is regarded as one of the best video editors for Mac. There's no doubt that it's also the best free video rotator app for Mac. It allows you to rotate a clip clockwise or counterclockwise. As a powerful video editor, iMovie is equipped with a load of features that help you create videos and customize them.
iMovie allows you to add video clips and photos from the Photos app library or from other sources to make a video, and it also lets you record video directly. To help you edit clips, this program lets you trim clips by moving the clip's start point or endpoint, or by adjusting the duration of a range of selection, rearrange the order of clips, and split a video, etc.
Also, iMovie allows you to apply video transitions between clips, and you can set it to add transitions automatically or manually. And you're allowed to change the style and duration of a transition. Moreover, it can add titles and music to the video, stabilize shaky videos, crop videos, change video speed, add video effects, and more.
OpenShot
OpenSot is also a free video rotator app for Mac. It enables you to rotate a video 90 degrees left or right and rotate it 180 degrees on the timeline. And it also offers a No Rotation option that lets you return to the original video quickly. OpenShot can also trim, cut, split, resize, scale, snap, reverse videos, and change the playback speed.
It offers 400+ transitions that help you gradually fade from one clip to another. This app provides more than 40 vector title templates you can choose from, and you can easily change the font, color, and text of the titles. With the video effect engine, you can remove the video background, invert colors adjust brightness, and more.
QuickTime Player
QuickTime Player is another video rotation app for Mac. It lets you rotate a video left or right. To customize your videos, this software enables you to split a video into clips, flip, trim, and rearrange clips, remove audio or video from a movie, etc.
QuickTime Player supports various formats of video, picture, audio, panoramic images, etc., and so you can open any video and audio files on it. Besides, it can record screens, a movie, and audio.
The Best 3 Online Video Rotation Apps
EZGif
EZGif is an online free video rotator, allowing you to rotate a video 90 degrees, 180 degrees, and 270 degrees, flip it vertically or horizontally. In addition to video rotation, this online excellent video tool can resize, revere, cut, crop, and mute video, merge video files, control video speed, and it also handles video to GIF, GIF to MP4, video to JPG, video to PNG.
And it's also an online GIF maker and editor. It can resize, reverse, rotate, crop, cut, split GIFs, apply effects to GIFs, add text to a GIF, and it supports BMP to JPG, SVG to PNG, GIF to JPG, PNG to JPG, etc.
Kapwing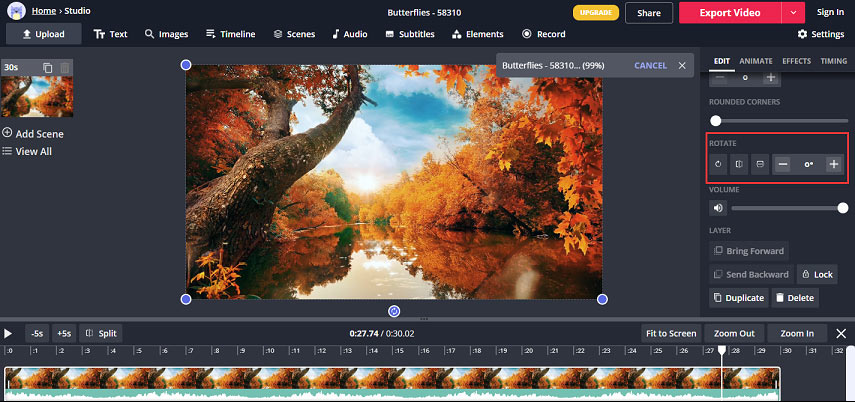 Kapwing is also a must-try online video rotator and it allows you to adjust the degree of rotation, and so you can rotate a video as you like. It also lets you trim, crop, zoom, blur, loop, mute videos, change video speed, add images to a video, add text to the video, combine videos and images, and adjust the opacity, contrast, etc.
Rotatemyvideo.net
To fix video orientation, you can also try Rotatemyvideo.net. It's also a free video rotator. When you rotate a video, you can adjust the aspect ratio of the rotated clip or rotate it without changing the ratio. If you select a ratio (4:3 or 16:9), bands will be added to the rotated video. And you can pick any color from the color palette to change the color.
Also read: The Best 6 KissAsian Alternatives to Watch Drama Online
The Best 3 Video Rotation Apps for Android
AndroVid
AndroVid is a compressive video editor. This app allows you to trim and cut videos without quality loss, split videos into two parts, and remove the middle parts of a video, merge multiple video clips into a video, add music to the video, trim and cut the music. Also, it can add text, emojis, stickers, photos to a video, draw on the video.
Of course, it's a good video rotation app for Android and it offers a quick video rotation with encoding. This app helps you rotate a video by 90 degrees or 180 degrees and flip it fast. Besides, it can add cool video effects and filters, fit video in any aspect ratio without cropping, extract music from video, and more.
YouCut
YouCut is a video maker and editor without watermarks. It enables you to cut, merge, trim, compress videos without losing quality, rotate videos by 90 degrees, flip videos up to down or left to right, crop videos to any ratio, slice and split a video into two pieces, accelerate video from 0.2x to 100x, and slow down the video for special moments, etc.
YouCut also works as a video compressor and converter. It can compress a video by changing the resolution and convert to another format.
VidTrim Pro 
VidTrim is a free video editor for Android and it's also a free video rotator app. This app offers a quick rotation without encoding and a true rotation by encoding. And it can trim, join video files, extract audio and save as MP3, resize and compress videos, convert videos to MP3 files, etc. It provides many video effects like Vintage, Blur, Luma, and more.
The Best 3 Video Rotation Apps for iPhone
Quik
As for the best free video rotator app for iPhone, Quik comes as the first option. It's easy and quick to rotate a video or picture. Quick is a simple and powerful photo video maker that enables you to create videos with pictures and video clips. And it offers 23 themes for your video creation.
To customize your videos, Quick lets you reorder and trim clips, add text overlays, title slides, and emojis to the video, increase video playback speed or play it in slow-motion, and more. By the way, you can set the duration of titles.
PowerDirector
PowerDirector is also one of the best video editors for iPhone. This app enables you to rotate, trim, splice videos with simple taps, change the brightness, color, and saturation of the video precisely, add effects and transitions with drag and drop, merge pictures and video clips, add animated titles to a video. Also, it offers a large library of free templates, filters, background music, and sounds.
VideoShop
Videoshop is one of the highest-rated video editors for the iPhone. With this app, you can trim videos and delete any unwanted sections, split a video into multiple parts, add music or sound effects, rotate, and flip videos, record your voice over the video. Also, you can add text and add stickers to the video, apply filters and transitions, rescale videos within the video frame, and more.
Conclusion
This post has described 15 video rotation apps, and many of them are free to use. Choose one and try to rotate your videos. And if you have any questions, you can contact us via [email protected] or leave them in the below comments area.
Video Rotation App FAQ
How to rotate a video in Windows?
Download, install, and open Windows Movie Maker.
Tap on the Add videos and photos to browse and open the desired video.
Choose Rotate right or Rotate left based on the current orientation.
Click the Save movie, then select an output folder, and hit the Save.
How to rotate a video on iPhone?
Open the Photos app on your iPhone.
Go to Photos > All Photos to search for the desired video.
Click on Edit, then select the Crop icon on the toolbar.
Click the Rotate icon at the upper left corner, then tap on the Done.
How do you convert your portrait video to landscape?
Open VLC Media Player on your computer.
Go to Media > Open File to upload your portrait video.
Go to Tools > Effects and Filters, then select Video Effects > Geometry.
Check the Transform box, and chose an option from the dropdown list to rotate the video.
How to crop a video?
Open the Clideo website on a web browser.
Tap on the Crop icon, then click the Choose file to upload your video.
Once the video is uploaded successfully, move the blue box on the video. Or you can choose a video aspect ratio and then adjust the location of the box.
Then click on the Crop to start the process. Click the Download to save the cropped video.