Stock footage plays an important role in video production. Usually, it's expensive. Is there any free stock footage website? This post offers you a collection of websites where you can find free stock footage with no watermark.
Sometimes, the biggest challenge you have faced in video editing is that you can't find stock footage suitable for your video or stock videos are out of your budget. In this case, I've compiled a list of the 15 video-sharing websites where you can find free stock footage with no watermark and offers you two watermark-free video editors (including MiniTool MovieMaker) to composite videos.
Part 1. Top 15 Websites to Download Free Stock Footage No Watermark
Here are a list of the 15 free stock footage sites. With them, you will find the suitable stock footage for your video. Let's have a look at these websites.
15 Free Stock Footage Websites with Now Watermarks
Pexels
Pixabay
Coverr
Videvo
Videezy
Mazwai
Mixkit
Vidsplay
Splitshire
Life of vids
Nature Stock Videos
Motion Elements
Vidlery
Vimeo
YouTube
#1. Pexels
Official website: https://www.pexels.com

Pexels is a free stock photos and videos download website. It provides an abundance of high-quality videos from HD to 4K. You can click on Videos to browse the trending free stock videos or search for what you want by entering the keyword. Once you find the wanted stock footage, click on it to view the video. Then click the down arrow icon next to the Free Download button and select the resolution you want to download the video in.
This stock video site doesn't require you to sign up. All videos on Pexels can be used for non-commercial and commercial purposes, with no attribution required!
Also read: 4 Best Free Places to Watch and Download Public Domain Movies
#2. Pixabay
Official website: https://pixabay.com
Pixabay is another best free stock footage website where you can access over 2.2 million free stock images, videos and music. Most stock videos are available in 4K. This website allows you to filter videos by Effects (like animation, slow motion, time lapse), Category (like animals, education, food, music, nature, science, sports, etc.), and Resolution (any size, 4K, HD).
All their content is licensed under CC0, so you don't have to pay or give credit to the author or Pixabay. No sign-up is required!
#3. Coverr
Official website: https://coverr.co
Video stock footage on Coverr can be used for personal and commercial purposes. This website doesn't have as many videos as Pixabay, but it provides you with high-quality royaty-free videos and video background.
You will find free stock footage from various categories such as Nature, Fitness, Travel & Wanderlust, Food & Drink and more, and use these video clips for your music video, social media post, and commercial without asking for permission or providing credit to the artist or Coverr. You can directly download any video you want from Coverr without limitations.
You may also like: How to Edit YouTube Videos (Windows/Mac/Phone)
#4. Videvo
Official website: https://www.videvo.net
Thousands of free stock videos, sound effects and music tracks are offered by Videvo. Some videos are free to use in personal and commercial projects, while some are only available for editorial use. The detailed information about license and usage is displayed on the video download page.
It also offers you serval filter options like Resolution, License Type, Clip Type, Duration, and Categories, which helps you quickly find the wanted stock footage. To access stock videos unlimitedly, you'll need to register for a free account.
#5. Videezy
Official website: https://www.videezy.com
This is a stock footage website offering both free and paid video content. All free stock video content is available to be downloaded for non-commercial and commercial use with attribution. What makes it stand out among these free stock video sites is it provides a variety of free After Effects templates. You can download free stock footage no watermark from Videezy without signing up.
#6. Mazwai
Official website: https://mazwai.com

All stock footage is handpicked by their in-house team of video professionals. It has a simple interface. You can browse stock videos by Tags like Time lapse, Beach, Slow motion, Landscape, Nature, Water, River, Smoke, Dusk, Ocean and so on. After finding the needed stock footage, hover your mouse on it and you can preview the video clip.
All content is free to use but licensed under Creative Commons 3.0 (CC-BY 3.0). That is to say, you can use videos for commercial and personal projects, but you must give credit to the artist. No sign-up required!
#7. Mixkit
Official website: https://mixkit.co
Mixkit, a free stock video hosting site, offers a selection of awesome free video clips, music tracks, sound effects and video templates. Free stock videos are copyright-free.
If you are looking for video templates, Mixkit is the right place to go. It has plenty of stunning video templates that you can use in Adobe Premiere Pro, Final Cut Pro, After Effects and DaVinci Resolve. Each template is customizable and can be downloaded for personal and commercial use.
#8. Vidsplay
Official website: https://www.vidsplay.com
Vidsplay is another place to find and download watermark-free stock video footage. New free stock videos are added weekly. Videos are divided into different categories such as Animals, Holidays, People, Society, Sports, Nature & Lanscape, and Household.
Footage on Vidsplay can be downloaded for free with no registration requirement, but you must provide the credit to Vidsplay when using their footage.
#9. Splitshire
Official website: https://www.splitshire.com
Splitshire allows you to download CC0 licensed stock photos and videos for non-commercial and commercial use, without attribution required. The simple interface makes it easier for you to find the footage you want. However, unlike other free stock footage sites, Splitshire doesn't list video quality and duration of each video clip. And the downloaded stock video is saved in .zip format. Before using the footage, you need to unzip the file.
#10. Life of vids
Official website: https://lifeofvids.com

Life of vids offers a collection of over 200+ high quality royalty-free stock footage, which allows you to edit and modify their footage for personal and commercial purposes. All videos are available for download in different resolutions from 360p to 2160p. Attribution is not required because all content is licensed under CC0.
Besides, this website also holds numerous copyright-free photos.
#11. Nature Stock Videos
Official website: https://www.naturestockvideos.com
As its name suggests, Nature Stock Videos is a dedicated to provide free nature stock videos under the Creative Commons Zero license. These nature videos are categorized into Beaches, Forests, Lakes, Mountains, Oceans, Rivers, and Waterfalls. These nature videos can be used for websites, blogs, YouTube videos and more. You can download free stock footage for any purposes without signing up.
Additionally, this website uploads their videos to YouTube. You can subscribe the YouTube channel to find the newly uploaded stock footage.
#12. Motion Elements
Official website: https://www.motionelements.com
Motion Elements is an all-in-one free stock videos website. It provides more than 2 million stock footage and animated backgrounds for video editing, video templates for After Effects, Adobe Premiere Pro, Final Cut Pro, Motion, and Davinci Resolve, high resolution 3D models for editing, and stock music and sound effects for enriching videos. Here you can also find green screen footage and chroma key footage and download them in different formats.
To find free stock footage on this website, type the keyword in the search bar and hit the Enter key. Then go to the left panel, tap on Price and check Free. Motion Elements requires you to register an account and allows you to download up to 5 free stock videos per week.
#13. Vidlery
Official website: http://vidlery.com
Vidlery is a public domain footage platform that only offers animations. It has different types of animations including sunset, basketball, Board, Wedding, Working, Hiking, and so on. Animations are available for free and can be downloaded without watermarks.
#14. Vimeo
Official website: https://vimeo.com
Vimeo is the most popular stock video website where many videographers upload their works. Moreover, some free stock footage site holders also post their video footage on Vimeo. Although there are tons of stock videos stored on Vimeo, the drawback is you can't download stock footage for offline use. If you find some amazing stock videos on this website, and don't know how to download them. You can use the Chorme extension – Video DownloadHelper. To learn more about downloading Vimeo videos, see this post: Top 7 Vimeo Video Downloaders to Help Download Vimeo Videos.
#15. YouTube
Official website: https://www.youtube.com
As we know, YouTube is the biggest video hosting website with billions of videos. You can find various videos like stock footage, non-copyright music video, public domain movies, dramas and vlog on YouTube. Just enter "free stock video" in the search bar and then all free stock footage will be displayed in the match results.
Free users are not allowed to download videos from YouTube unless you're a YouTube Premium member. But there are many third-party options to get YouTube videos like MiniTool Video Converter, SaveFrom, ClipConverter, etc.
Part 2. Top 2 Watermark-free Video Editors to Edit Free Stock Footages
After knowing the 15 best free stock footage sites, this part offers you two watermark-free video editors to edit free stock videos.
MiniTool MovieMaker
MiniTool MovieMaker is a free simple video editor coming with rich editing features. With it, you can split video, trim video, merge video, add music to video, apply filters to video, zoom in video, zoom out video, reverse video, speed up video, slow down video, etc.
It's available for Windows and won't watermark your output videos.       
MiniTool MovieMakerClick to Download100%Clean & Safe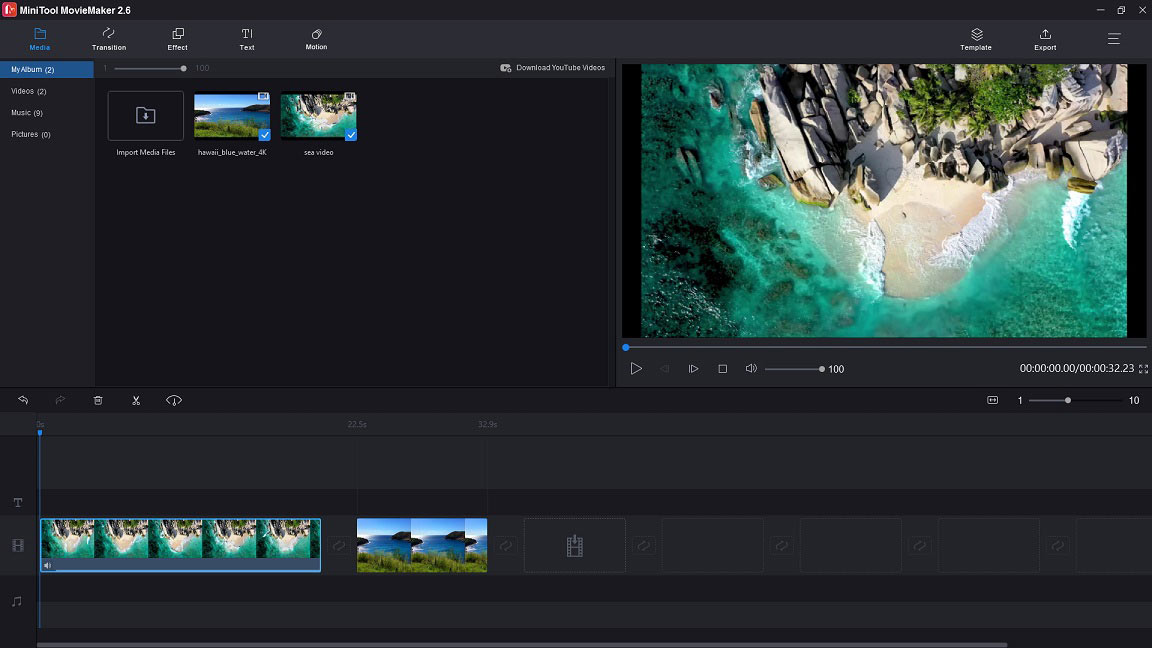 Kapwing
If you want to edit videos online, then Kapwing is a good choice. It's packed with both basic and advanced editing features, which helps you create professional-like videos. If you want a watermark-free video, you'll need to create a Kapwing account.
Kapwing is an online video editor, so it works in any web browser.
Conclusion
This post shares the 15 free video hosting sites where you can find free stock footage with no watermarks. If you have any question about this post, leave comments in the comments section or contact us via [email protected].
Free Stock Footage No Watermark FAQ
Where can I find free stock photos?
Here are some free stock photos hosting websites you can try: Piexels, Pixabay, Unsplash, Picography, Foca, Life of Pix, Picspree, and Reshot.
Can I use free stock footage for commercial use?
Not all free stock footage can be used for commercial purposes. Some of them do not allow personal use. Only public domain videos are available for both personal use and commercial use.
Is there any watermark-free video editor?
If you want a free video editor without watermarks, here recommend some watermark-free video editing software: MiniTool MovieMaker, Windows Movie Maker, OpenShot, iMovie, VSDC Free Video Editor, and Lightworks.
How to remove watermark from video?
Open Apowersoft Watermark Remover and click Remove watermark from video.
Upload the watermarked video and click Selection Tool.
Then move the box to the watermark that you want to get rid of.
Select a new folder to save the video and click on Convert. In the end, download the video.