Memes have been always popular. If you share a funny meme on a social platform, you can easily get many viewers. A Meme is a video or an image with text that expresses a kind of feelings or thoughts. How to create a meme by yourself? This post will introduce the top 10 video meme makers to you. 
Memes have taken over the Internet. You may try to make your memes to represent a theme or a phenomenon and share it on the social networking service. Typically, a meme is a humorous and captioned video or photo. To help you create memes, this post's going to provide 10 excellent video meme makers. Want a video meme maker no watermark? Try MiniTool MovieMaker.
Top 10 Video Meme Makers to Help You Make a Meme Quickly and Easily!
MiniTool MovieMaker
Kapwing
Clipchamp
Clideo
VEED
InVideo
Clipmax
Memes Maker & Generator
Video Meme Maker Add Subtitles
Video & GIF Memes
The Best Free Desktop Video Meme Maker
MiniTool MovieMaker
MiniTool MovieMaker is a 100% free video meme maker no watermark, allowing you to create video memes quickly and easily. It has a user-friendly interface and it's simple to operate, so you don't have to worry about its operation. It's designed as a video editor to make stunning videos with pictures, video clips, and music, and it works with the most popular video, image, and audio formats for input. Therefore, it enables you to make a meme with ease.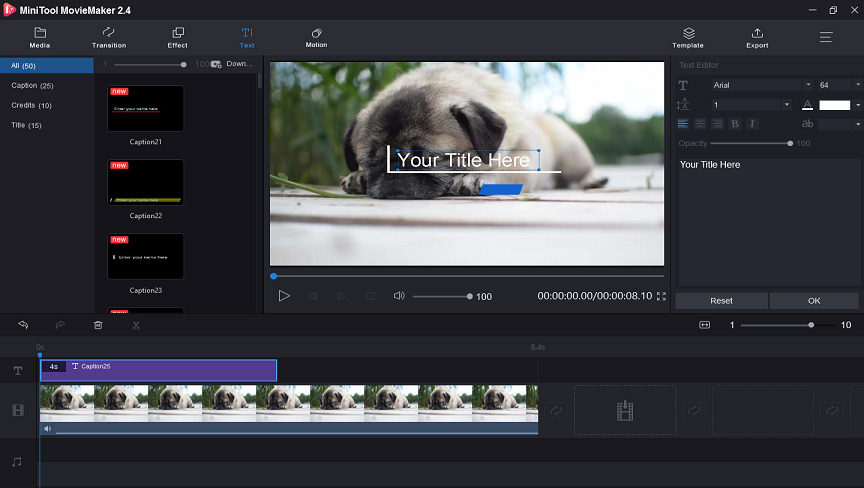 To customize your meme, you can add text to videos, and you're allowed to adjust the size, color, font, alignment, and position of the text. Moreover, you can crop, rotate, flip, split, trim videos, apply video effects, slow down or speed up videos, and more. And it can edit the audio in the video.  
Download the best free video meme maker to create a funny meme and then share it with friends or post it on the social media platform. Have a try!
What's more, MiniTool MovieMaker is a GIF editor. It can be used to add music to GIF, rotate GIF, cut GIF, split GIF, and combine GIF files, slow down or speed up a GIF. And it also supports video to GIF, GIF to MOV, etc. And it's a photo slideshow maker to create beautiful shows with various transitions.
Top 5 Online Video Meme Maker
Kapwing
Kapwing is also a free video meme maker no watermark and easy to use for anyone, letting you make memes from videos as well as images and GIFs. It offers a large library of trending meme templates, so you can choose a template to start your creation. And it constantly adds new meme templates. Besides, you can upload videos, images, or music directly from YouTube, Imgur, Giphy, and Google Images and use them to create your memes.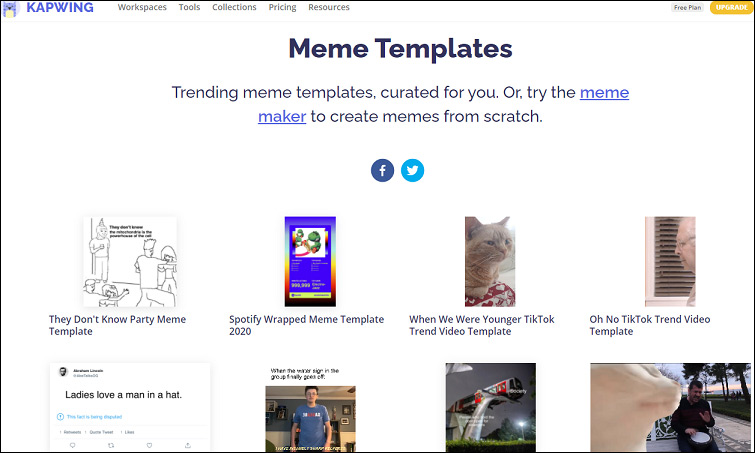 And this video meme maker provides a load of functions to customize the meme, making you add stickers, text overlays, or animated text to video, add music to video, trim or crop videos, rotate videos at any degree, add subtitles, change video speed, and more. Kapwing works with most video and image files like MP4, MOV, AVI, GIF, PNG, etc. And it's compatible with many browsers (Windows, Mac, Android, iPhone, Chromebooks).
Clipchamp

It's also a video meme maker no watermark. Clipchamp offers customizable templates for your video meme creation. You can browse files through the local system, from phones, Google Drive, or Dropbox. More importantly, it supports webcamming recording, screen recording, and AI voice over. And you can use the stock footage or search in GIPHY to create memes.
After uploading the video, you can add text, apply video filters, adjust the video speed, split videos, flip or rotate videos, adjust the color balance of the video, and you can import your logos, and add to your meme. After exporting the video meme, you're allowed to download it or upload it to YouTube or save it to Google Drive.
Clideo
Clideo is another online video meme maker and permits you to import files from the local system, Google Drive, Dropbox, or a URL to convert any videos, photos, or GIF to a custom meme. And this tool supports any formats and it's designed to work on Windows and Mac computers, as well as Android and iPhone.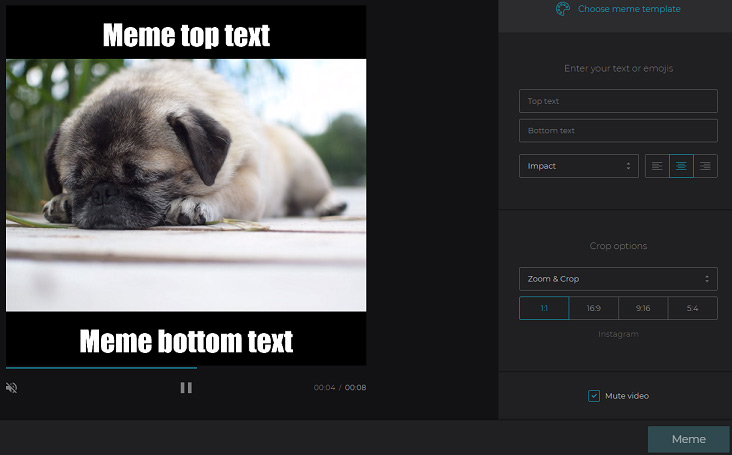 And it has an all-in-one editing screen. You can directly select a template, enter the text, and change the font and alignment of the text, crop the video or mute the video, select the aspect ratio for Instagram, Facebook, and YouTube. However, your meme will be watermarked. If you want to remove the watermark, you need to subscribe to it.
What's more, Clideo is a powerful online video tool packed with all the basic features you need to edit a video. For example, you can upload and merge many videos and images, compress or resize videos, cut, rotate, crop, speed, flip, reverse, mute, loop videos, add background music or put subtitles to video, etc.
InVideo
InVideo is also taken as one of the best video meme makers to create awesome video memes. It gives some meme templates to you to choose from and you can also start from scratch. To customize the meme, you can add images to the video, and you're allowed to import your images or use the stock images or search images.
What makes it different is that InVideo offers a variety of stylish and beautiful text boxes, and it makes you add headlines or subheads or body text.
What's more, it's equipped with many stickers, and you can select or search one and add it to your video. This video meme maker has plenty of overlays and shapes. To make the video meme more amazing, you can choose and add an overlay or a shape. Except for working as a meme generator, InVideo is also a YouTube video maker, slideshow maker, outro maker, and an online video editor.
VEED
VEED is another best free video meme maker. It's simple to use and has no account required. To help you make a custom meme, VEED lets you add titles and subtitles to the video and it enables you to control the font, size, and color of your text. It offers more than 20 fonts and 8 sizes available. Besides, you can select and add emojis or put shapes to the video, apply a filter, and split a video into two parts. And even you can draw on this video.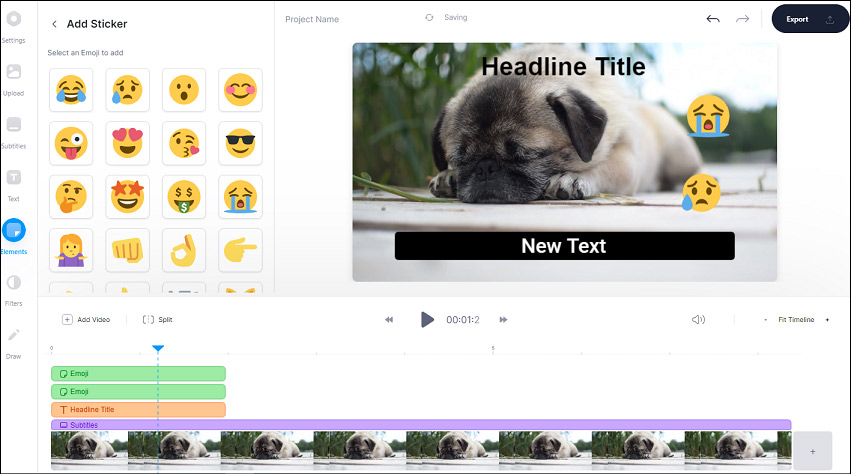 Moreover, you can change the video background color, the video duration, and select the size for a particular platform like YouTube or Tik Tok. And you can also change the video resolution, do color correction, rotate videos, control video speed, clear the audio in the video.
After you export the video meme, you can copy its link, download it as a GIF, share it on Facebook/Twitter/Gmail, or directly download this video meme on your PC. But it's watermarked. To remove it, you need to pay for VEED annually or monthly.
With MiniTool MovieMaker, I made my first video meme quickly. It's simple to use. Share this video meme maker with you. Click to Tweet
Top 4 Video Meme Makers for Phones
With the above 6 video meme makers, it's easy to make a custom meme on your computer. Sometimes, you may want to create a meme on your phone. To help you out, the following part will provide 4 video meme maker apps.
Clipmax (Android)
Clipmax is a video meme maker app and a text to video meme maker. It provides the trending video clips for you to choose from. It's very simple to use. After you enter the text and emoji, Clipmax will give you a funny video meme. And you can also create a video meme from a movie, TV show, or cartoon. In a word, this meme maker app offers countless video and emojis templates for you.
This meme editor enables you to add cool BGM and effects, such as reverse, slow motion. When you finish your video meme, you can share it on Twitter, Reddit, Imgur, Tik Tok, etc.
Memes Maker & Generator (Android)
Memes Maker & Generator is a GIF, photo, and video meme maker app. This means you can choose from your videos or photos to make a meme. And it provides a large collection of the most popular photo memes and trending frames.
his meme maker app is also loaded with many editing features. It enables you to control the video speed, write and add text to videos, pictures, or GIFs, and add your closed caption quote. And it offers tons of stickers and effects to apply. Besides, you can add multiple pictures to make a meme collage.
Video Meme Maker Add Subtitles (iPhone)
This meme maker app has more than 300 image, text, and video meme templates.  So, you can select one and make your meme. And it allows you to start from scratch. You can upload your video or picture to create a meme. You can add subtitles or closed captions, adjust the font size, color, and type, change the text alignment, change the background color, put personal watermark, and choose the video meme ratio, etc.
Video & GIF Memes (Android)
It's another meme maker app to create GIF and video memes. This meme editor can add multiple captions to the video or GIF, change the position of the text, control the color and size of your text, trim video or GIF if necessary, etc. And it offers square video support for Instagram. Furthermore, it's integrated with Tenor GIF search, and so you can get any GIFs to edit and share.                                                                                                                 
Conclusion
This post introduces 10 video meme makers to you. Half of them are online applications, and if you want to make a meme without installing any software, you choose one from them. But if you want the best free video meme maker, MiniTool MovieMaker comes as the first choice, and it will directly save your memes on your Windows local system.
If you'd like to share other video meme makers with us, or if you have any questions, you can leave them in the below comments area or contact us via [email protected].
Video Meme Maker FAQ
How to make a video meme online?
Go to the Kapwing website.
Select the Tools> Meme Generator, then click the Get Started.
Upload your video, or an image, GIF.
Add text to your video or picture.
Edit the meme as you like.
Tap the Export video or Export image to save your meme.
How to use Imgur meme generator?
Head to the Imgur website and sign in.
Click the New Post > Video to GIF to open a new page.
Click the New Post > Make a Meme.
Choose from select a default meme, or upload new background, or Browse memes.
Add text to the meme, give a name to the meme.
Tap the make this meme to create your meme.
Where to get meme templates?
The following websites offer plenty of meme templates.
Imgflip
Pinterest
Kapwing
Canva
Reddit
Adobe Spark
PicMonkey
How to add a caption to a video meme?
Navigate to the Clideo website.
Click on Tools > Meme maker.
Tap the Choose file to upload your video.
Complete the meme top text and bottom text.
Customize the text, then finfish the crop options, and click the Meme.