How to make a heartfelt thank you video? This post from MiniTool MovieMaker will help you accomplish making a thank you video.
People love to be appreciated by others. Sending a thank you video is an effective way to express appreciation and keep a good relationship with your friends, families, customers, clients, and partners.
That is to say, it not only could be used in business marketing but also as an expression of love in an intimate relationship. Thus, it's essential for you to learn how to make a thank you video.
Not sure how to make a thank you video? If you're new to thank you video making, you are in the right place. It won't be too complicated to make a thank you video with the help of this guide. Read on to learn how to make a thank you video for any occasion.
Thank You Video Ideas
Here are a few types of thank you videos to show your gratitude to your loved ones. Let's see thank you video ideas first.
Thank You for Your Time
People are all so busy that they don't have any extra time to do meaningless things. So, it's worthwhile to thank those who spend their time with you. This is always a short video after a meeting or interview. You can also use this video to remind someone what you have talked about and why they should keep in contact with you next time.
Thank You for What They Did
The most common type is to thank others for their help. Whether you are a boss or an employee, it's polite to express your appreciation via a video. You could explain how these behaviors have helped you.
Thank You for Working Together
It's of vital importance to send a thank you video to your partners. A long-term cooperative relationship requires regular consolidation. A short thank you video could be sent around the end of the year and involve a summary of this year and the good wishes for the next year.
Thank You for Information Provided
In the present society, good information is essential for effective cooperation, and decision-making in business. It's more like a sales video or video introduction. Remember to add a call to action at the end of the video.
Thank You to Your Donors/Sponsors
If you're running a charity foundation, making a thank you video is a great way to show your gratitude to the donors or sponsors. These videos can be slightly longer than others with collages of many photos showing the current achievement due to the donations.
Also read: The 7 Best Real Estate Video Maker Tools You Must Know.
Tips for Making a Thank You Video
Here are useful strategies. Follow these tips to make your own video saying thanks to someone.
Keep it short and sweet
When it comes to expressing your gratitude via a video, keep it short and sweet. It works best when the video length is only one or two minutes. Too long videos won't be noticed by viewers. Then, the thank you video should be sweet enough. Just show your video message sincerely and express your emotion from the heart.
Be specific
When you say thanks in a video, it's better to give a specific example that links to why you're grateful for this. It could be mentioned what you're thankful for exactly. Otherwise, this may seem a little flattering. And the thanks are not sincere enough.
Use a script
Having a clear plan about the thank you video content and message keeps the video brief and concise. It's a wise way to use a script to guide the video filming and making process.
Online Thank You Video Makers
Then it's time to choose a thank you video-making tool to get started. We will recommend several online thank-you video makers for you.
Vimeo Create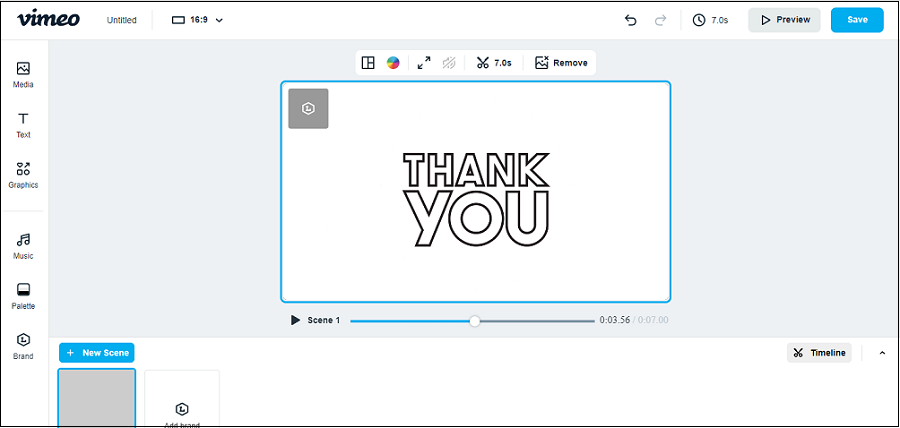 The first online tool we recommended here is Vimeo Create. Vimeo is a video sharing platform launched by a group of filmmakers. And Vimeo launched a new product called Vimeo Create. Vimeo Create is available to anyone with a Vimeo account.
Vimeo Create has many useful features. With Vimeo Create, converting images to videos or merging many video clips is the first step, then you can trim and crop the video, and add text, music, filters, watermark, and stickers to the video.
Steps to make a thank you video with Vimeo:
Go to Vimeo Create and log in to it.
Choose a customized and professional template from Vimeo or start from scratch to start a thank you video.
Add thank you photos and videos of your own or use Vimeo Create's stock images.
Customize your video. Make custom thank you videos by customizing fonts, filters, animations, and much more.
Save the thank you video. Once you're finishing editing, tap Save & Preview to preview and save your video.
FlexClip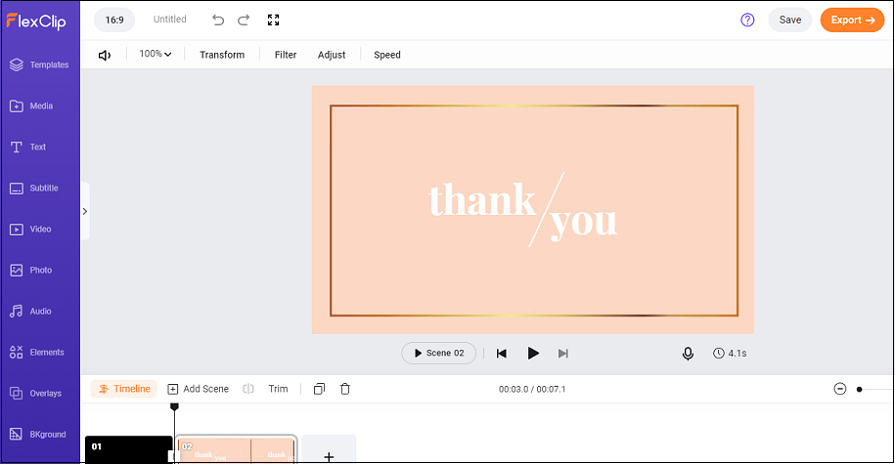 The next thank you video maker we recommended is FlexClip. FlexClip is a simple and powerful online video maker that makes you create stunning videos in minutes. It supports you with various video templates, a huge high-resolution media library of photos, and animated elements.
With FlexClip, you can create, edit, convert, and compress thank you videos online. It's quite friendly to novice users because it has an intuitive interface that makes it possible for everyone to create a thank you video easily and quickly.
Steps to Make a Thank You Video with FlexClip:
Visit FlexClip's website and sign up for it.
Add thank you videos or photos from your desktop or use the stock library of FlexClip.
Add background music, text, voiceover, and more to customize the video.
Save and export the video. Click Export to download the thank you videos and then share them with others.
Best Offline Thank You Video Maker
We have mentioned 2 online thank you video makers above. What about making a thank you video on your Windows? why not try MiniTool MovieMaker? It's an easy-to-use offline thank you video maker.
MiniTool MovieMaker offers feature-rich services. You can import thank you photos and video clips to MiniTool MovieMaker with multiple image and video formats. Alternatively, you can generate a video by applying its templates only with several clicks or starting from scratch.
In addition, MiniTool MovieMaker allows you to split, rotate, trim, crop, flip, and reverse the video. you can add transitions, filter effects, text, animated elements, and motion effects to your video. Once you're done, you can export thank you videos in multiple formats. More importantly, there's no watermark.
Features:
It supports multiple video formats.
It can generate videos quickly with video templates.
Friendly to beginners.
It's free, with no bundle, no ads, and watermark-free.
Change video quality, bitrate and resolution easily.
Split, trim, and crop the video.
Reverse, rotate, and flip the video.
Add text, filter effects, transitions, and more.
Get Familiar with MiniTool MovieMaker's Interface:
After opening the MiniTool MovieMaker and closing the pop-up Windows, there are four main parts in the interface of MiniTool MovieMaker.
Media library: Here you will see all your imported videos, images, and songs you want to use.
Player: This is where you can playback the video to preview.
Timeline: You can see all the added files that will be edited and all tracks.
Video/image/music property: This tab is where you can edit the video, image, or music property.
How to Make a Thank You Video with MiniTool MovieMaker:
Before we begin to edit, you should download and install MiniTool MovieMaker on Windows first. Just click the Free Download button below. Then, open it and close the pop-up window.
Step 1. Import thank you video files:
Click on Import Media Files to import thank you images and video clips to MiniTool MovieMaker. Multiple video and image formats are supported.
Next, choose files under the Media tab and click + on the bottom right corner of files or drag and drop them to add them to the timeline.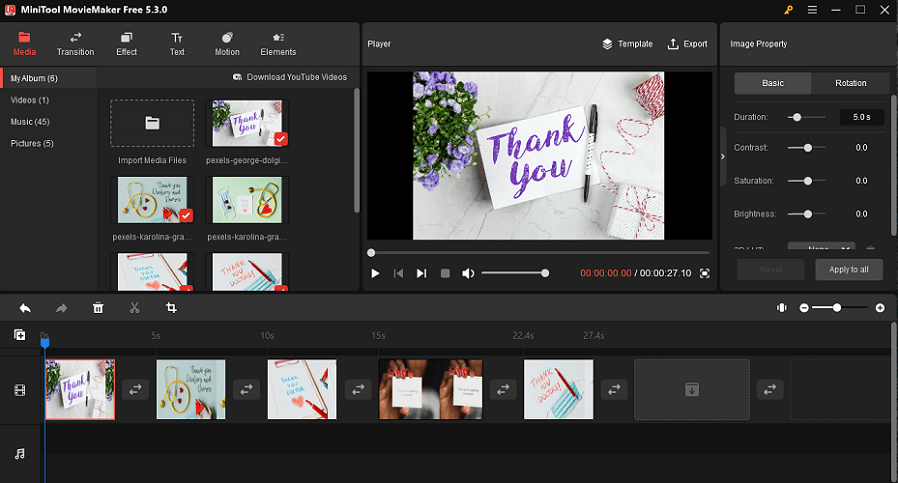 Step 2. Edit the thank you video files:
Split: If you want to separate a thank you video into several parts, click the scissors icon on the toolbar, then tap on Quick Split. To split more accurately, choose Full Split. Or drag the playhead to the point where you want to split and click the scissors icon on the playhead.
Trim: To remove the unwanted part in the thank you video, highlight the video on the timeline, and drag the arrow to trim it. Or click TRIM beside the SPLIT tab.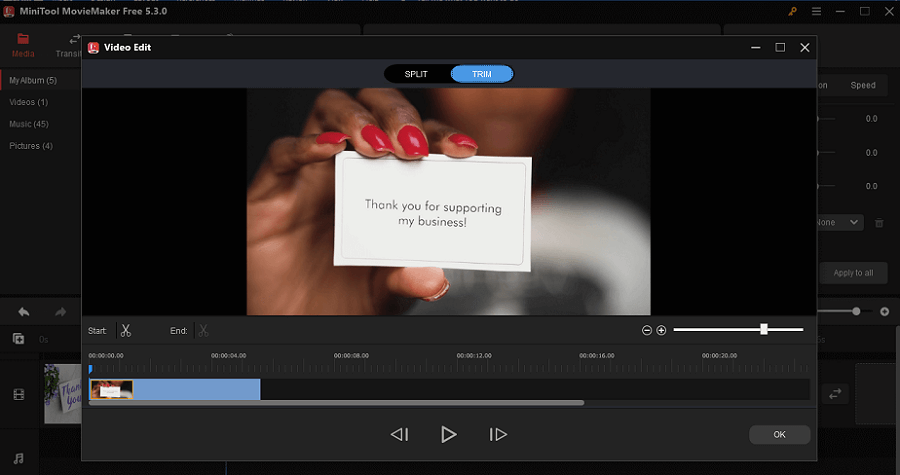 Crop: To adjust the edges of an image or video clip, click Crop on the toolbar. Next, custom-crop videos or use a preset aspect ratio (16:9, 4:3, 1:1, 3:4, 9:16).
Add transitions/filter effects/motion effects/animated elements: Click Transition/Effect/Motion/Elements on the toolbar.
Add text: It's available for you to add text to the thank you video. Tap on Text, choose a text template you prefer, and click + or drag it to the text track. Under the Text Property tab, enter and edit the text.
Change video speed: MiniTool MovieMaker offers a video speed controller. Click on the Speed on the toolbar to adjust the speed of the selected video. Next, slow down, or speed up the video.
Click Reverse under the Speed to play the video from the end to the start.
Add music: Now, it's time to add background music. You can choose to use the built-in music by clicking Music under the Media tab. Selectively, import your own music from the desktop.
Step 3. Export the thank you video:
After finishing the editing process, you can export the thank you video to your PC. Click Export on the toolbar. Then, you can rename the video, choose the video format and storage location, and change video quality, encoder, resolution, bit rate, and frame rate.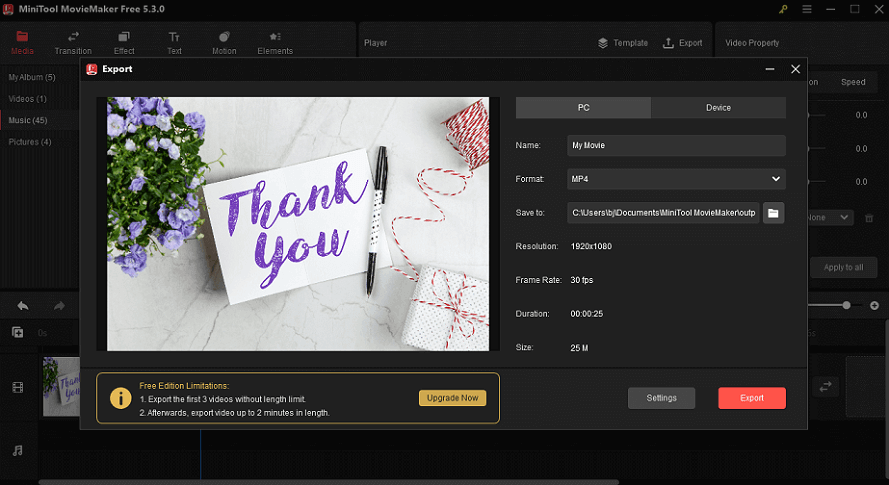 With the help of MiniTool MovieMaker, making a thank you video couldn't be easier anymore.Click to Tweet
When to Send Thank You Videos
Now that the video is done, when is the best time to send thank you videos to the one you want to gratitude?
End of a Year
The end of the year is a great time to express your appreciation to your customers or partners. Sending a thank you video at this time couldn't be wiser. The video could express your thanks for this year and how he has helped you. In addition, show your best wishes for the next year in this video.
Birthdays
When someone's birthday is coming, it's sweet to send a thank you video with a happy birthday message. Before that, you should collect the birthday information of the one you'd like to thank. Sending thank you videos just in time for their big day is a great way to drive a personal connection.
Holidays
There are many holidays in a year when it is suitable to send a thank you video. You can send a thank you video on Valentine's Day to let your customers and partners know how much you love them. Or even any other holidays, like New year, Thanksgiving Day, Christmas Day, and more.
Special day
Otherwise, you can pick a special day to send the thank you video between you. It could be your anniversary day or the day you first met each other, or you begin to work together. It's meaningful to express your gratitude on this special day.
Bottom Line
We have given you some ideas and tips for making thank you videos in this post. And we offer a complete guide on how to make thank you videos with online and offline video editing tools. You can start to make a thank you video after reading this guide.
If you have any problems or questions when you use MiniTool MovieMaker, please contact us via [email protected].