MiniTool software lets you create cool videos easily and quickly. Next, you can upload your videos to YouTube or other video sharing sites. Here, the top 10 video sharing sites you can try in 2020.
I created a video with a free video editor without watermark. Now, I want to share this video with the world. Most of us know we can upload video to YouTube, but there are a lot of great video sharing websites you can try.
Related article: make a video with pictures
Here, we list the top 10 video sharing websites. You can choose a suitable one to upload your videos.
#1. YouTube
YouTube is the number one video sharing site with over 300 hours of video uploaded every minute. This largest video sharing site has a truly global audience since it is available in more than 90 countries around the world.
If you want to get more viewers or traffic, you can upload your video to this video sharing website since it has more than one billion users and people watch more than one billion hours of video on the site daily.
Related article: increase YouTube traffic
Also, you can make money on this video sharing website. Let's learn how to make money on YouTube.
Video formats accepted: MOV, MPEG4, MP4, AVI, WMV, MPEGPS, FLV, 3GPP, WebM, DNxHR, ProRes, CineForm, HEVC (h265).
File size limitation: 15 minutes. Verified accounts can upload videos longer than 15 minutes. (Recommended: YouTube video size.)
Regions & countries: localized for 76 languages.
#2. Vimeo
Vimeo is the second-largest video sharing site on the web right behind YouTube, and it lets users upload and share videos. Unlike YouTube, this video sharing website doesn't have ads. Conversely, it might not be as open and accessible as YouTube. Most users have to pay for the privilege of uploading their videos. For more details, please see what is Vimeo.
#3. Dailymotion
Dailymotion is based in France but this video sharing site has a global audience. You can upload videos and browse content. Dailymotion includes a mixture of professional and amateur content. In this video sharing site, you can find TV shows, music videos, and news-related content. In general, over 300 million users watch and upload videos to Dailymotion each month.
#4. TikTok
TikTok offers all kinds of short videos including gaming, DIY, sports, comedy, and more. You can try this video sharing site if you like to create eye-catching clips. You will never get tired of watching because TikTok creators keep on producing fascinating videos. This site offers a ton of free music and sound. Thus, you can add them to your video, and edit the music like fade in or fade out music.
#5. Metacafe
Metacafe, old video sharing site focuses on short-form videos including video gameplay vids, sports clips, music, movies and television episodes.
#6. Facebook Watch
Facebook, the largest social media platform, lets you create and share videos. Facebook has rolled out its own video sharing site, Facebook Watch, with several notable features including the ability to watch any video with friends.
#7. Twitch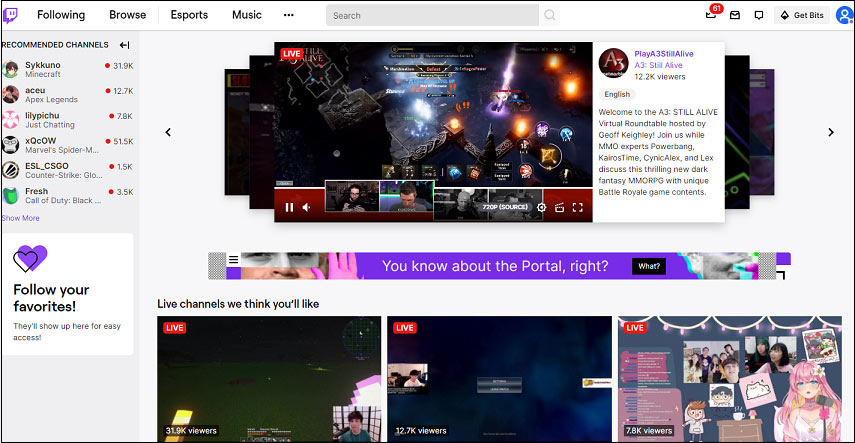 Twitch, a live streaming video sharing site, is a great platform for users who would love to stream their gaming videos on the web because this site focuses on game-related content. Sometimes, this video sharing site offers streams of classic and popular TV shows.
#8. IGTV – Instagram TV
Instagram TV is a video platform that you can upload videos, follow other channels and browse a feed of the latest uploads. If you are looking for short-form video content in portrait (vertical) format, you can try IGTV.
#9. Periscope
Periscope is a live streaming video sharing app bought by Twitter. This video sharing site lets you easily share a social event, or simply let friends take a glimpse of your house party, etc.
#10. Vevo
Vevo is a video sharing website that is integrated with YouTube, and offers personalized entertainment and music videos.
You will see Vevo videos if you search for a song or professional recording artist on YouTube. You can discover new content whenever you want although you can't create and upload your videos on Vevo.