What Is Social Media Video Production
Social media video production refers to the process of creating video content specifically designed for social media platforms, such as Facebook, Instagram, TikTok, YouTube, and others.
This involves several steps, including planning, scripting, filming, editing, and optimizing for each platform. The ultimate goal is to produce engaging and shareable video content that resonates with your target audience and aligns with your brand's objectives. Examples of such content can be promotional videos, educational videos, behind-the-scenes footage, user-generated content, and more.
Understanding the Importance of Video Production for Social Media
Video production plays a significant role in social media video marketing for various reasons:
Deliver information: Videos can convey a large amount of information quickly and effectively, making them more efficient than text and images. They're excellent for explaining complex concepts or demonstrating products.
Increase engagement: Video content is a great way to interact with your audience and encourage them to take action. By incorporating videos into your social media strategy, you can increase the amount of time users spend on your page and improve their overall experience.
Boost conversion: Studies have shown that including videos on landing pages can significantly increase conversion rates by up to 80%. By creating compelling videos that highlight the benefits of your products or services, you can encourage more users to take action.
Easy shareability: Video content is highly shareable on social media platforms, which means that it has the potential to reach a wider audience than other types of content. By creating videos that are informative, entertaining, or emotionally resonant, you can encourage users to share them with their own networks.
SEO benefits: Video is a great tool to generate more traffic, leads, conversions, and sales for your business. It can increase your visibility and reach on social media platforms, as well as improve your ranking on search engines.
Video Specs for Social Media Platform
Before we begin the social media video creation, we must figure out the video specs for each platform. Understanding the unique requirements of each platform is key to successful social media video content production. Here's a quick rundown:
Facebook Video Specs:
Recommended video dimensions: 1280×720
Minimum width: 1200 pixels
Aspect ratio: 16:9 (Landscape), 9:16 (Portrait)
Maximum file size: Up to 10 GB recommended
Recommended video format: MP4 or MOV, and more formats are also supported
Maximum Video length: 240 minutes
Recommended audio codec: Stereo AAC with 128 Kbps or more
YouTube Video Specs:
Recommended video dimensions: 240p (426 x 240), 360p (640 x 360), 480p (854 x 480), 720p (1280 x 720), 1080p (1920 x 1080), 1440p (2560 x 1440), and 2160p (380 x 2160)
Aspect ratio: 16:9
Maximum file size for YouTube upload: 128 GB
Maximum video length: 12 hours
Supported video format: MOV, MEPG, MP4, AVI, WAV, FLV, WebM, and 3GPP
Instagram Video Specs:
Reels:
Video dimensions: 1080 × 1920 pixels
Maximum file size: 4 GB
Aspect ratio: 9:16
Maximum video length: 90 seconds
In-feed video:
Video dimensions: 1080 x 1080 pixels (landscape), 1080 x 1350 pixels (portrait)
Maximum file size: 4 GB
Maximum video length: 60 seconds
Recommended frame rate: 60 fps
Supported aspect ratio: 16:9, 1:1, or 4:5
Recommended video format: MP4 or MOV
Stories:
Video dimensions: 1080 x 608 pixels (minimum), 1080 x 1920 pixels (maximum)
Supported aspect ratio: 9:16
Maximum file size: 4 GB
Recommended video format: MP4 or MOV
Twitter Video Specs:
Video size limit: 512 MB
Accepted aspect ratios: 1:2.39 – 2.39:1
Recommended video formats: MP4 for the web and MOV for mobile
Maximum frame rate: 40 fps
Maximum bitrate: 25 Mbps
TikTok Video Specs:
Video dimensions: 1080 x 1920
Video file formats: MP4 and MOV
File format for ads: AVI and GIF
Recommended aspect ratio: 9:16
File size: 287.6 MB for iOS, or 72 MB for Android
Snapchat Video Specs:
Recommended dimensions: 1080 x 1920
Aspect ratio: 9:16
Video length limit: 3 to 180 seconds (if file size does not exceed 1 GB), 30 seconds (if created in Snap Publisher)
File format: MP4 or MOV and H.264 encoded
File size: 1 GB or less
These are the video specs of several popular social media platforms. Understanding the video specs of popular social media platforms is crucial to optimizing our social media videos for the best engagement and reach. It's important to keep these specs in mind during the planning and production stages to avoid any issues while uploading and sharing content.
The Process of Social Media Video Production
Social media video content production is an excellent way to showcase your brand, products, services, or stories to your audience. However, creating effective and engaging videos requires careful planning, creativity, and optimization. Here is the process of video production for social media:
Planning Your Social Media Video Production
Before you start filming, it's crucial to have a clear plan. Here are some steps to consider:
Set goals for your video marketing: First and foremost, you need to have a clear idea of what you want to achieve with your videos. Do you want to increase brand awareness, drive sales, or share a customer testimonial? Your goals will help you determine the best types of videos, platforms, and metrics for your strategy.
Decide on your platforms: Different social media platforms have different audiences, features, and preferences for video content. For example, YouTube is the most popular platform for long-form videos, while TikTok is the best place for short, viral, and fun videos. You should research the best practices and specifications for each platform you want to use and tailor your videos accordingly.
Select your video types: Depending on your goals and platforms, you can choose from various types of videos to create. Some of the most common and effective ones are explainer videos, testimonial videos, product demos, tutorials, behind-the-scenes, live videos, etc.
Creating Video for Social Media
Once you have your plan in place, it's time to start creating your video. Here's what you need to do:
Scripting
The first step is to create a well-written script. It is the backbone of any great video and should be concise, engaging, and convey your message effectively.
Filming
Now you're ready to start filming. To ensure the best results, you need a high-quality camera, a microphone that provides clear audio, and lighting equipment to ensure your subject is well-lit. During filming, follow your script and storyboard, but don't be afraid to improvise if necessary. It's important to capture multiple shots so you have options during the editing process.
Editing
Once you have filmed your videos, you must edit them to make them more polished and professional. With a social media video editor, you can use a variety of tools such as trimming, cropping, adding transitions, effects, music, voice-overs, and captions to improve the viewing experience of your audience.
There are many editing tools available that can help you edit your videos. Among them, MiniTool MovieMaker stands out as a highly recommended option for you. If you're looking for efficient and user-friendly video editing software that won't break the bank, MiniTool MovieMaker is definitely worth considering.
MiniTool MovieMakerClick to Download100%Clean & Safe
This social media video maker offers a wide range of features, such as video trimming, splitting, merging, cropping, adding effects, music, transitions, stickers, etc. Additionally, this tool produces high-quality and watermark-free videos without loss of resolution and quality.
Schedule and Promote Your Videos
Once you have finished creating your videos, the next step is to upload them to your selected platforms and schedule them for the best time to reach your audience. Additionally, you should promote your videos across your other social media channels, website, email, and blog to increase their visibility and engagement. Engaging with your audience after posting your video can also help increase its reach.
How to Edit Videos for Social Media with MiniTool MovieMaker
This is a step-by-step guide on how to do video editing for social media with MiniTool MovieMaker:
Step 1. Install MiniTool MovieMaker on your Windows PC
Click on the download button below to download and install MiniTool MovieMaker. Once installed, launch it and close its promotion window to get into its main interface.
MiniTool MovieMakerClick to Download100%Clean & Safe
Step 2. Import your footage and add it to the timeline
Click the Import Media Files area to import the footage you filmed earlier.
To add the imported footage to the timeline, click the small + icon in its lower right corner or drag and drop it onto the timeline.
Step 3. Edit the footage
Split a video clip:
1. Click on the target video clip on the timeline.
2. Drag the blue playhead to the place where you want to split.
3. Click the scissors icon on the playhead, or click the scissors icon on the timeline toolbar and choose Quick Split.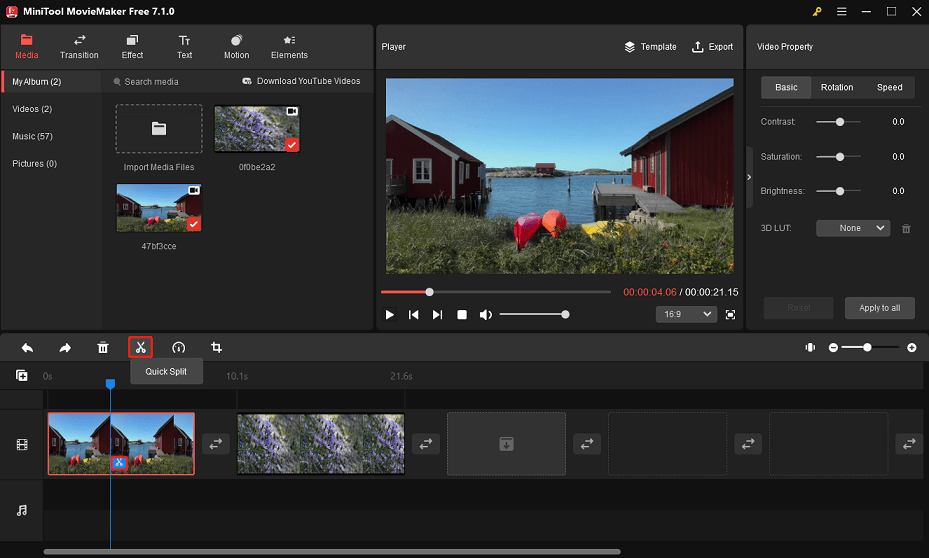 Trim a video clip:
1. Click the video you'd like to trim on the timeline to highlight it.
2. Mouse over the start of the video clip until you see a double-headed arrow.
3. Drag the arrow rightwards to the beginning of the wanted part.
4. Mouse over the end of the video clip until a double-headed arrow appears.
5. Drag the arrow leftwards to the end of the wanted section.
1. Go to the Transition tab on the top toolbar.
2. Select your desired transition effect.
3. Click on the + icon on it or drag and drop it to the location between the two video clips on the timeline.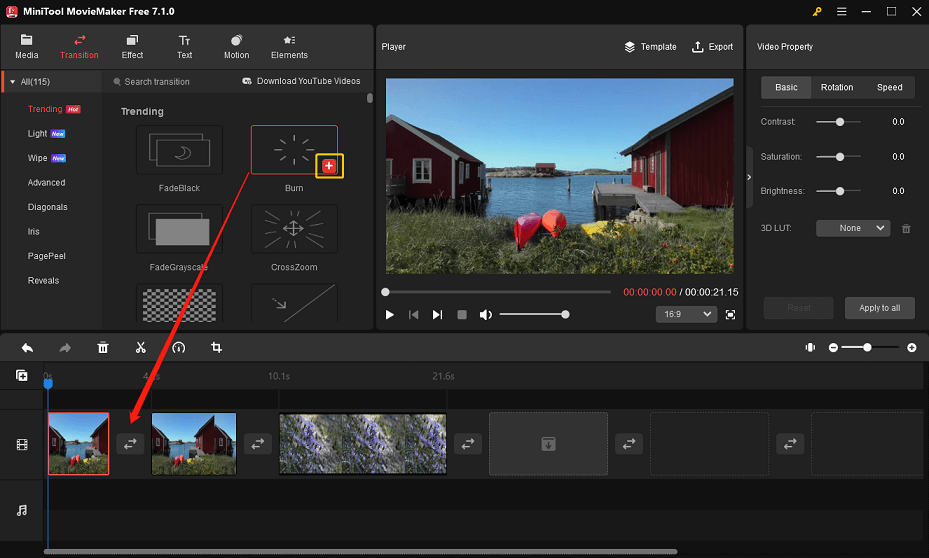 Add background music:
1. Select the Music subtab under the Media tab.
2. Drag and drop the music you like to the timeline or click the + icon on the audio file to add it to the timeline.
Add social media-related stickers:
1. Go to the Elements tab on the top toolbar.
2. Choose an animated sticker relevant to social media.
3. Click the + button or simply drag the desired element to the track above the target clip.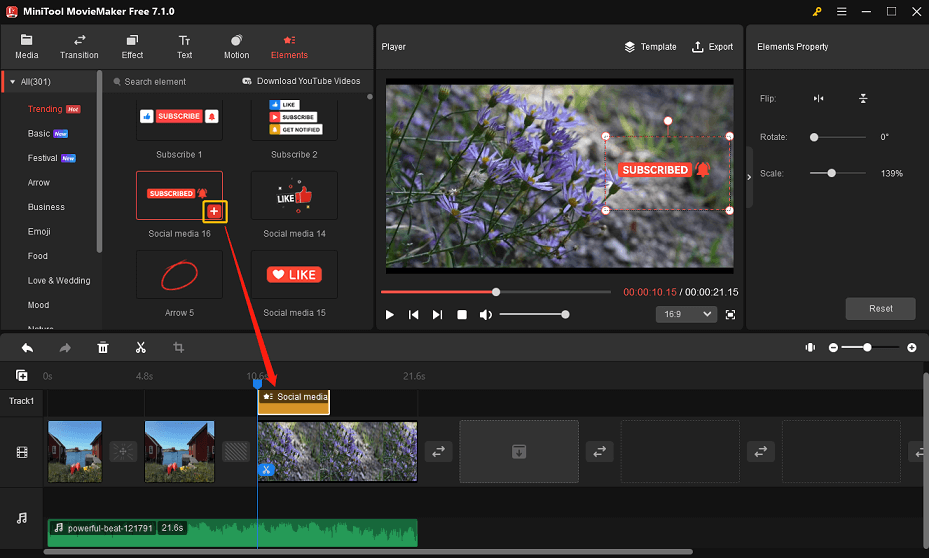 In addition to these video editing tools we mentioned above, many others are waiting for you to explore.
Step 4. Preview the video
After editing your video, you should preview it to check if there are any errors, glitches, or inconsistencies. Then adjust as needed.
You can preview it just by clicking the Play icon in the Player window.
Step 5. Export the video for social media
Once you're happy with your video, you should export it in a format and resolution that's compatible with your social media platform.
1. Click on Export from the upper right of the Player window.
2. In the Export popup, you can name the video, select the video output format, change the save location, and customize other settings like resolution and frame rate.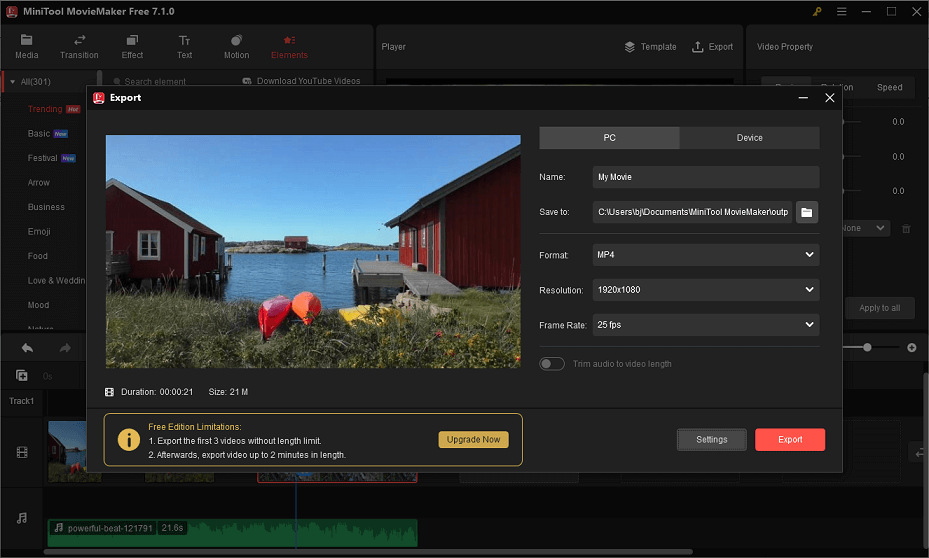 3. Go to Settings to further customize video quality, encoder, and bit rate.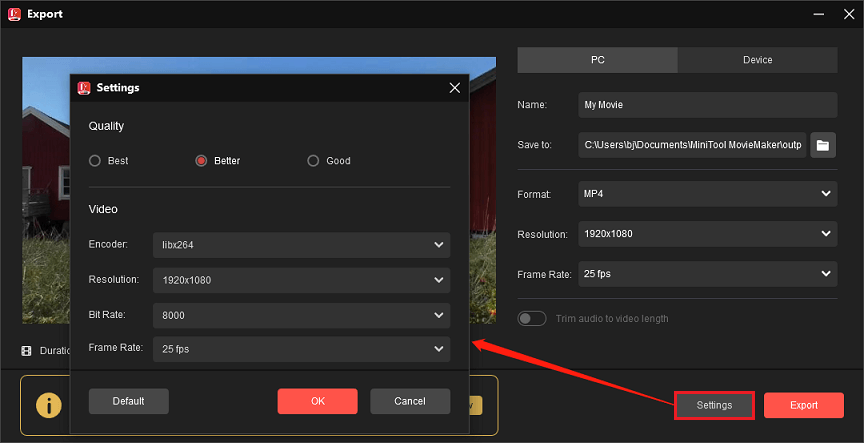 4. Click on the Export button and wait for MiniTool MovieMaker to export the video.
Final Thoughts
Social media video production might seem overwhelming at first, but with meticulous planning and execution, it can be a powerful tool in your digital marketing strategy. This article has provided you with information on the required video specs for each social media platform, the process of creating social media video content, as well as how to edit videos for social media using MiniTool MovieMaker.
If you have any questions or suggestions while using MiniTool MovieMaker, please feel free to leave a comment in the comment zone below or contact us via [email protected].