Wondering what types of social media content would suit your brand most? Or looking for the best tools for social media content creation? Then you've come to the right place. This post will introduce some popular types and useful tools for social media content. Just dive into it!
Whether you want to get inspiration about your next social media content creation or search for the best tools for social media content creation (include MiniTool MovieMaker), this post got you covered. Just read it now!
MiniTool MovieMakerClick to Download100%Clean & Safe
What Is Social Media Content?
To cover the bases, let's figure out what social media content is. Basically, social media content is any visual, written, interactive, or animated item that you create or publish on social media. They can be photos, graphics, videos, text, links, or more. They are some pieces of information people view or read while scrolling online.
In fact, we are consuming social media content every day. You can find there are many different types of social media content. The next part will give you an introduction to some popular types of social media content that can help you engage your followers and bring the most value to your business.
Types of Social Media Content
Social media is now a large part of our lives, with billions of users all over the globe. Because of that massive user base, there are many different types of social media content as well. We will cover some of the most popular types in this part.
1. Videos
Video is one of the most popular social media content types with the advent of smartphone cameras. Almost everyone can record their videos and post them on social media platforms. Since YouTube alone has billions of users, you can see how a massive number of people regularly watch video content. How-to guides, video tours, and testimonials videos all make for great video content that can both drive traffic and increase engagement.
Best platforms to choose: YouTube, Facebook, and Instagram are the top 3 social media video content platforms, and you have other choices like TikTok, Snapchat, Twitter, etc.
2. Images
Image is also the most frequently posted content type across social networks. The colors, composure, and other details give viewers an immediate impression of your brand. Your phone cameras are sophisticated enough to take stunning pictures, and apps can help you quickly edit them, add filters to make them more attractive. Now, you can even use the AI photo editor to beautify your photos.
Best platforms to choose: Images work on all platforms, Pinterest and Instagram are the most popular. Other alternatives like Snapchat, Twitter, LinkedIn, and Facebook.
3. Text-based posts
Although the visual content is emphasized, the power of words cannot be ignored. The text-based posts and articles can demonstrate your knowledge and expertise. Also, trending searches can help you create compelling content by providing insight into what people are looking for.
Best platforms to choose: Facebook and LinkedIn are ideal for this type of content, especially when your articles are more than 1,500 words or longer. Reddit is also a great option to engage in Q&As and get conversational with your followers.
4. Infographics
Infographics use visuals to support explanations, statistics, and other written concepts. It is an excellent method to transform complex ideas into an easily digestible presentation. You can use it to present sales results, market research, statistics, and other long-form content.
Best platforms to choose: LinkedIn, Pinterest, and Facebook are ideal options. Twitter works as well.
5. Live streams
The live stream is another common type of social media content. This technique completely tackles all barriers to communication with the audience. It is a great way to bring events to the viewers that are not physically able to attend.
Best platforms to choose: Facebook Live is the most popular live streaming social media platform.
6. Poll and Surveys
Soliciting real-time feedback is a great way to help you better understand your audience and what they like to see. This is also a creative way to connect and interact with them. You can ask questions about a blog topic or campaign and then direct back to a content asset that provides additional information on the topic.
Best platforms to choose: Instagram, Twitter, and LinkedIn are great options for this kind of content.
7. Memes and GIFs
An interesting or humorous meme or GIF is worth a thousand words. It is a great way of adding a bit of entertainment to your social media feeds. Additionally, people like to share memes, which can generate engagement for your pages. You can use memes that already exist or modify existing memes to suit your needs.
Best platforms to choose: It works almost all social media platforms, but don't overplay your hand on professional platforms such as LinkedIn.
Social Media Content Creation Tools
After we know about some of the most popular types of social media content, let's move on to the next part about useful social media content creation tools. Content creation can be a time-consuming process without the right tools. I hope this guide on social media content tools will help you deliver better results.
Video Creation Tools
Renderforest
Renderforest is a powerful cloud-based content creation tool that allows you to create not only video, but also slideshows, infographic animations, and music visualizations with minimal time and effort.
It offers hundreds of pre-made free templates in various categories. To create content for your social media, you just need to add your own images, videos, and sounds to the template. At the same time, you can add text, change the background color, or use the music tracks provided by the platform.
MiniTool MovieMaker
MiniTool MovieMakerClick to Download100%Clean & Safe
If you want to create videos from images, edit your video footage or make slideshows for your social media on desktop, MiniTool MovieMaker is an optional tool for you. It is a 100% free video maker without watermarks.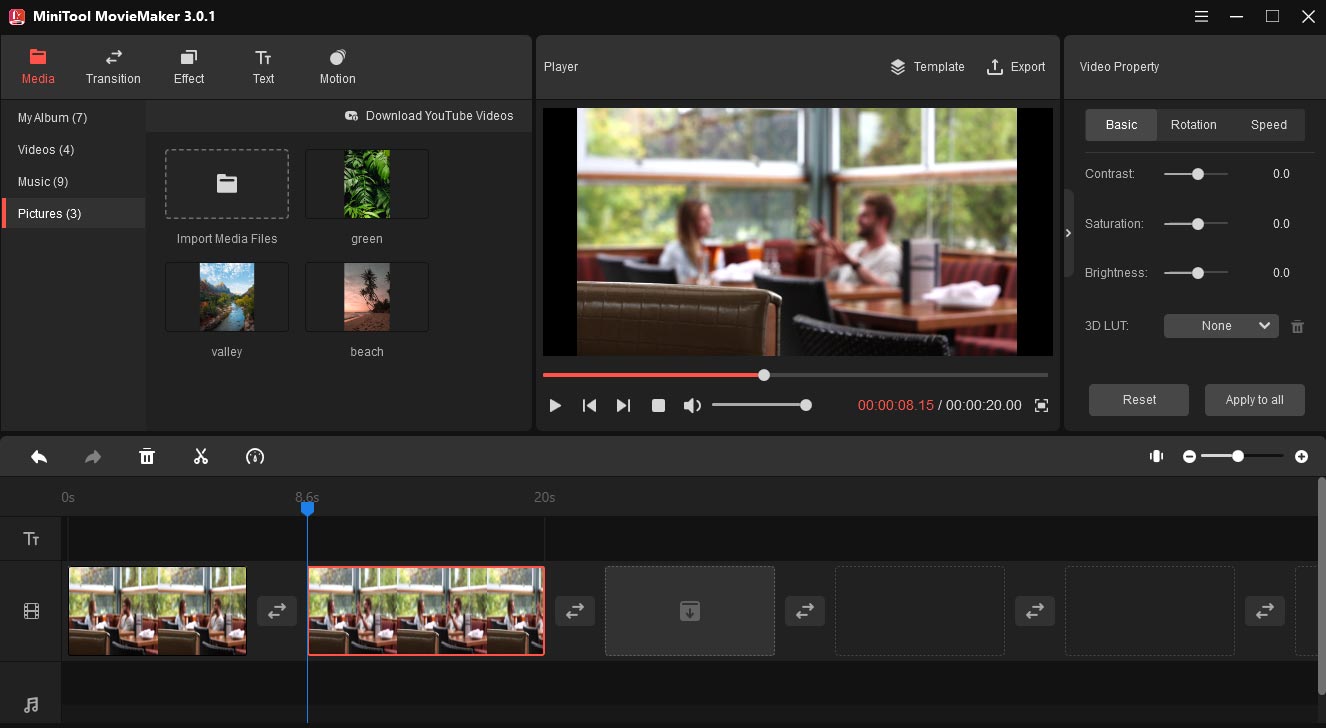 With an intuitive interface, it is one of the best tools for you to create attractive videos with a large collection of effects, transitions, motions, texts as well as audio tracks. To help you make stunning videos and elevate your video content to a new level, it enables you to add captions, credits, and titles to the video clips.
You can also access useful tools to rotate or flip the video, split or trim the video, reverse videos, change video brightness, adjust video speed, fade in or fade out the music, and so on.
After you finished editing, you can export your result video files easily. It supports many popular formats like MP4, AVI, MOV, WebM, MKV, which are compatible with many video platforms.
MiniTool MovieMaker is an amazing video editor for social media content. It helps me make many attractive videos and slideshows for my social media platforms.Click to Tweet
Stock Image Sites
Pexels
Pexels provides you with an overwhelming quantity of high-quality photos. You can get a batch of fresh photos when you want to add visual elements to your content creation. Additionally, all of its images are Creative Commons Zero licensed, meaning they are free to use for commercial or public use without attribution requirements.
Unsplash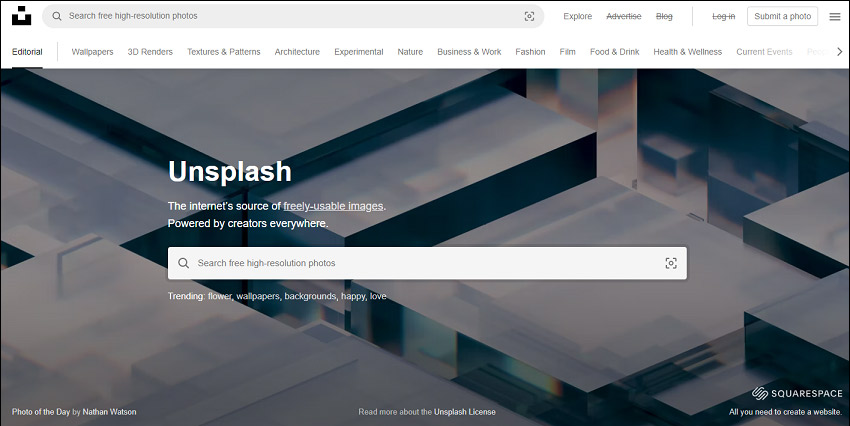 This is also a great stock image website that offers you different stock photos. Working with thousands of contributing photographers, the content is uploaded and curated by its team to get a growing photo library.
If you need more image sites for your blogs, you can check this post Top 7 Best Sites Offer Impressive Free Images for Blogs.
Image Creation Tools
Canva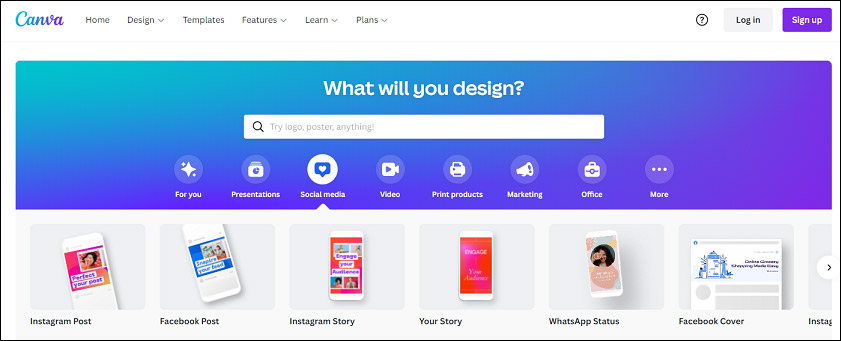 It is an essential content creation tool for many professionals who use it to create custom images for social media, blogs, and more. With a large library for social media posts, you can create high-quality images quickly using layouts, templates, and design elements for any occasion.
The templates are categorized into different social media channels, which enables you to easily create images that meet the size requirements of each social media platform. You also have the option to upload your own images to edit them.
Bannersnack
This specialized social media content creator application allows you to create unique banners with your custom dimensions or pre-designed template sizes. It supports drag and drop style and lets you add images, buttons, clipart, and more to create static, animated, or even interactive web banners easily.
If you want to edit the resulting images, you can take a look at this post Top 10 Photo Editors Make Your Pictures More Beautiful.
Infographic Creation Tools
Piktochart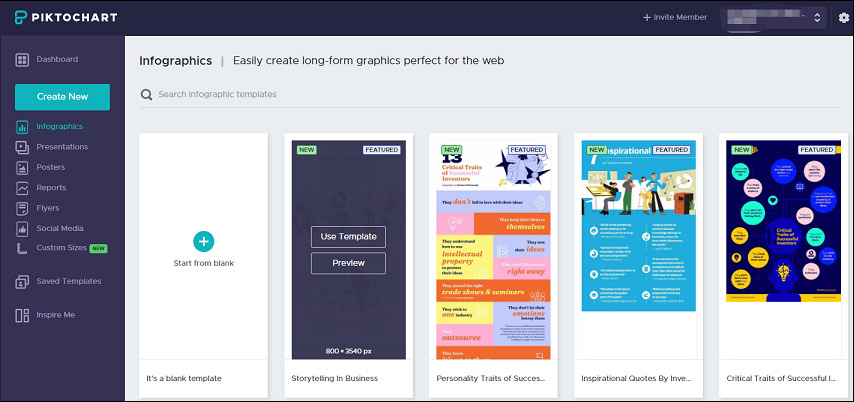 This infographic creation tool encourages you to "make information beautiful." With a wide range of fully customizable templates, you can create stunning infographics with no design experience. You can spice up your custom infographics with images, illustrations, or icons from its graphics library.
More than that, it enables you to create presentations, reports, and even print designs like flyers and posters with the same level of unique and intuitive customization.
Visme
This is a freemium content creation tool that proclaims "Speak Loudly. Speak Visually." It provides an extensive library of templates, icons, objects, and more. You can create interactive assets and build infographics, banners, charts, reports, and other social media visuals.
Venngage
Venngage is also a free content creation tool with hundreds of unique templates. To make an infographic, you just need to choose a template, add charts, text, and other visual elements to the project. You can also customize your new infographic with fonts and colors to make it your own. While its capabilities do not limit to infographics, you can also create reports, logos, newsletters, mind maps, white papers, and more.
GIF and Meme Creation Tools
GIPHY
GIPHY has become a famous tool to search and share GIFs across social media. You can not only use it as a GIF finder but also as a GIF creator. It lets you upload photos, GIFs, or videos to create a new GIF. And you have options to add captions, stickers, and filters to the GIF.
If you also want to make more changes to your GIFs, you can check this post How to Edit A GIF Quickly and Easily (Step by Step Guide).
Imgflip
Imgflip is a popular online meme generator that will add hilarious elements to your social media content. It is a simple, fast, and effective way to create a funny meme. You can select a meme template from its library and add text as you like.
It shows you a list of trending memes so that you can choose from. You also have the option to add images from your local storage to make new memes or add pictures to existing meme templates.
If you need more tools to make interesting memes, you can check this post 10 Best Meme Generators to Make Memes for Free.
Conclusion
To sum up, this post introduces the definition of social media content, popular types of social media content, and some of the best social media content creator software and tools. Ready to start creating your social media content? Now, it is your turn!
I do hope this post will be helpful for your next creation. If you have any questions about this post or encounter any problems while using MiniTool MovieMaker, you can contact us via [email protected].