If you're not satisfied with the sound quality on your device, you can use a professional audio enhancer to make your device sound much better. This post will introduce 10 excellent audio enhancers. If you want to add audio to video, try MiniTool software.
What is an audio enhancer?
An audio enhancer is designed to help you modify and enhance the music and audio played through speakers and headphones to provide you with a better sound experience.
There aren't many audio enhancers on the market, and finding the right one can be a time-consuming task. To make things easier, here list the best audio enhancers for your reference.
Best Audio Enhancer Software of All Time
Boom 3D
FxSound
Breakaway Audio Enhancer
SoundPimp
Realtek HD Audio Manager
Viper4Windows
Bongiovi DPS
JetAudio HD Music Player
1. Boom 3D
Supported OS – Windows & Mac
Boom 3D is an award-winning professional audio enhancement application designed to play your media content in incredible 3D effects on any headphones through any player, any media, or streaming service. This tool is currently the best sound enhancer that can be installed on a PC.
Related article: Top 6 Best Free Music Visualizers of 2020
2. FxSound
Supported OS – Windows
FxSound is a powerful and well-known audio equalizer. It has a simple interface, making it one of the easiest to use audio enhancer software on this list. And it offers 10 bands ranging from 110Hz to 15KHz and it can help you model the sound. This software comes in both free and paid versions.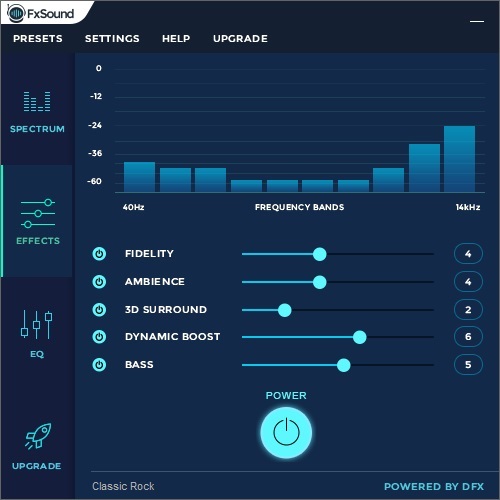 3. Breakaway Audio Enhancer
Supported OS – Windows
As one of the best audio enhancers, Breakthrough Audio Enhancer can enhance audio, video, web browser, and games. One of the outstanding features is that it can automatically adjust the volume dynamics and spectrum balance, and can also correct the volume shift and overload between songs.
You might be interested in: How to Normalize Audio
4. SoundPimp
Supported OS – Windows & Mac & Linux
The SoundPimp development team describes SoundPimp Audio Enhancer as the most advanced audio enhancement software for music and movies, allowing you to feel the sound. It matches perfectly with most operating systems, all media players, and all audio formats, such as WAV, FLAC, MP3, etc.
5. Realtek HD Audio Manager
Supported OS – Windows
Realtek HD Audio Manager is another excellent audio enhancer software on this list. It is an open-source Windows 10 sound equalizer. Here you can get different options to change the sound settings in the speaker, microphone, stereo mix, and line input. It has ten band equalization settings.
6. Viper4Windows
Supported OS – Windows
Viper4Windows is an open-source audio enhancement program, meaning it the best free audio enhancer. One of the great advantages of this program is that it comes pre-installed with many effects and filters, as well as the standard enhancements. It also provides Bass Boost, Distortion Control, and Aftermath Settings.
Recommend article: AAC to MP3
7. Bongiovi DPS
Supported OS – Windows & Mac
Bongiovi DPS is an impressive audio enhancer tool, which can instantaneously correct, improve, and optimize the sound of your Windows or Mac computer. And the DPS processor has two different settings because the audio signals for music and movies are very different.
8. JetAudio HD Music Player
Supported OS – Android & iOS
JetAudio HD music player is a music player with an additional audio enhancement feature. It is simple to use and supports multiple audio file formats such as FLAC, OGG, MP3, WAV, etc. The app comes with 12 equalizer preset playback settings, such as fade in/out, pitch correction, mono output, and so on.
Bottom Line
Which one do you prefer after having a look at all of the 8 excellent audio enhancers? If you have any other outstanding audio enhancers to recommend, please let us know via [email protected] or share them in the comments section below.