If you are looking for a video editor that allows you to edit individual frames precisely, or split a video into frames, then these frame-by-frame video editors can meet all your demands. Keep on reading to find your favorites.
Before we jump into the frame-by-frame video editors, let's figure out what the "frame" stands for. What is a frame in video editing? Actually, a video is composed of a sequence of still images named frames. When it is played, each frame flashes on the screen and then is replaced by the following frame at a certain rate.
Frame-by-frame video editing refers to breaking a video down into individual frames and applying edits to the exact frame. In this way, you can navigate to the right footage to edit accurately.
To edit videos frame, you can use frame-by-frame video editors to edit your videos precisely. The following part will share a comprehensive list of the top 9 frame-by-frame video editors, which includes computer software (like MiniTool MovieMaker), mobile apps, and online tools. Let's take a look at their features with no further delay!
Frame-by-frame Video Editors on Computer
MiniTool MovieMaker
Operating system: Windows
Price: Free
If you want a free and easy-to-use frame-by-frame video editor, MiniTool MovieMaker is an optional choice regardless of your skills level. It will help you break the video into the individual frame by using the splitting tool. Once you've broken the video into frames, you can edit each frame precisely.
With the simple, clean, and user-friendly interface, you can edit the video frames easily. You can quickly navigate to the desired footage to split, trim, crop, apply effects and transitions, and more. It also offers audio editing tools such as volume adjustment, audio merging, audio fading in and fading out effects, and extracting audio from the video.
You can reverse your clips. Speed control allows you to speed up or slow down your videos, which makes this tool an excellent choice for time-lapse videos. Other features that give you more creative flexibility include 3D LUT effects, color correction, and the ability to easily fade in and fade out the audio in your videos.
How to Edit Video Frame by Frame with MiniTool MovieMaker
Now, Let's take a look at how to edit video frame by frame on MiniTool MovieMaker.
Step 1. Import your video files.
Download, install and run MiniTool MovieMaker on your PC. Click New Project to create a new project and enter the main interface. Then click the Import Media Files button to locate, select and click the Open to import. The imported video files will appear in the Media Library on the left of the screen.
Step 2. Split a video into several frames.
After importing the video files, drag the imported video into the timeline. Then click Zoom to Fit Timeline to zoom in on the video as you like. And click the Play controller button to play and watch through the video to find the point at which you want to edit.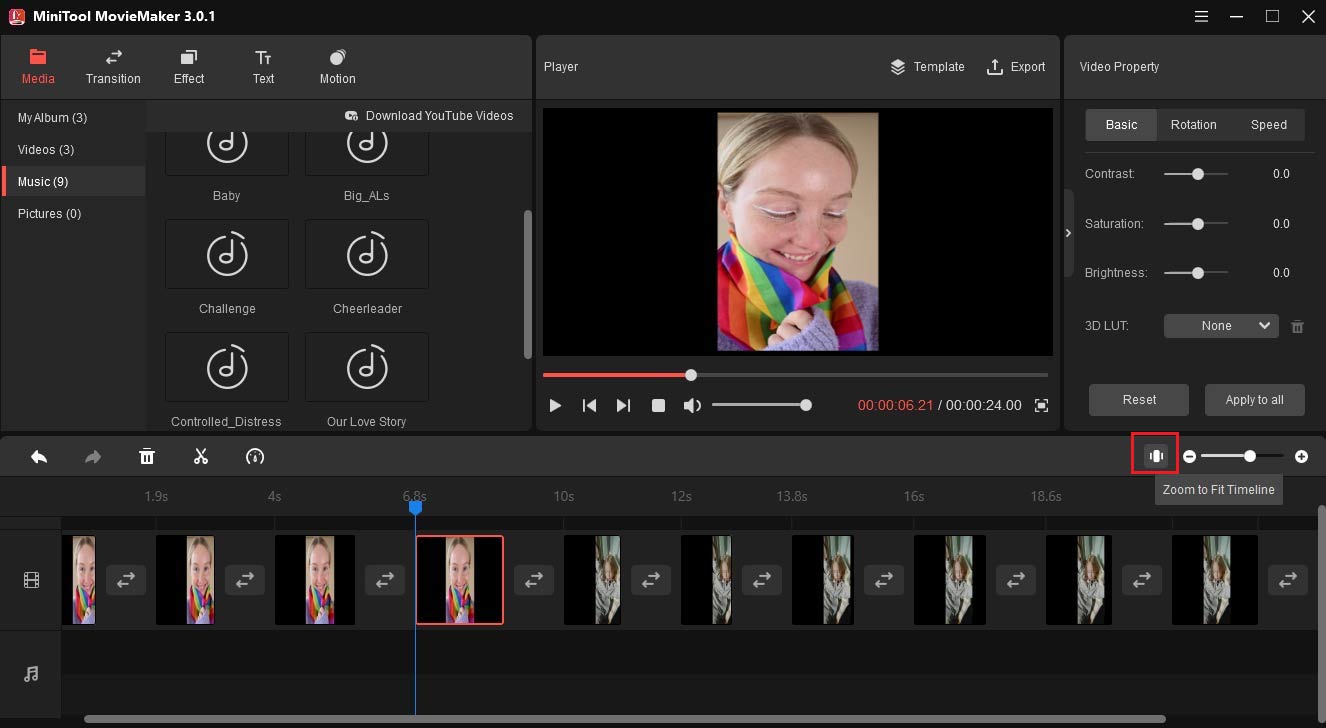 Then split a video into several frame. Select the video clip on the timeline, drag the playhead to the place you want to split and click the scissor icon to split, or click the scissor icon and choose Quick Split. This will create separate clips of the desired frame.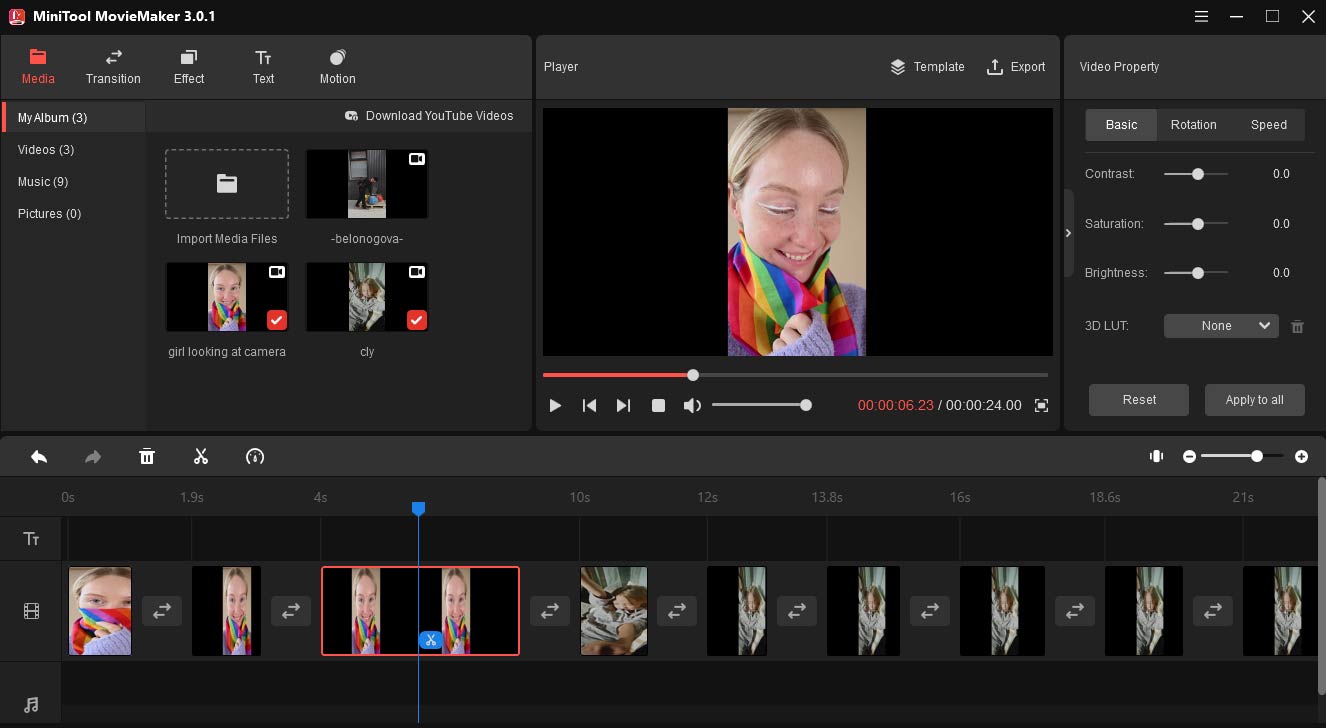 Step 3. Edit the video frame exactly.
After splitting, you can edit the video frame as you like.
Apply effects: Select the frame on the timeline. Click Effect, choose the desired effect. Click the "+" icon to add the effect to the video frame. Or drag and drop the desired effect to the target clip.
Rotate video frame: Select the video frame. Right-click the video and choose Edit to open the edit window. Choose Rotation and move the rotate slider to customize the angle you want to rotate.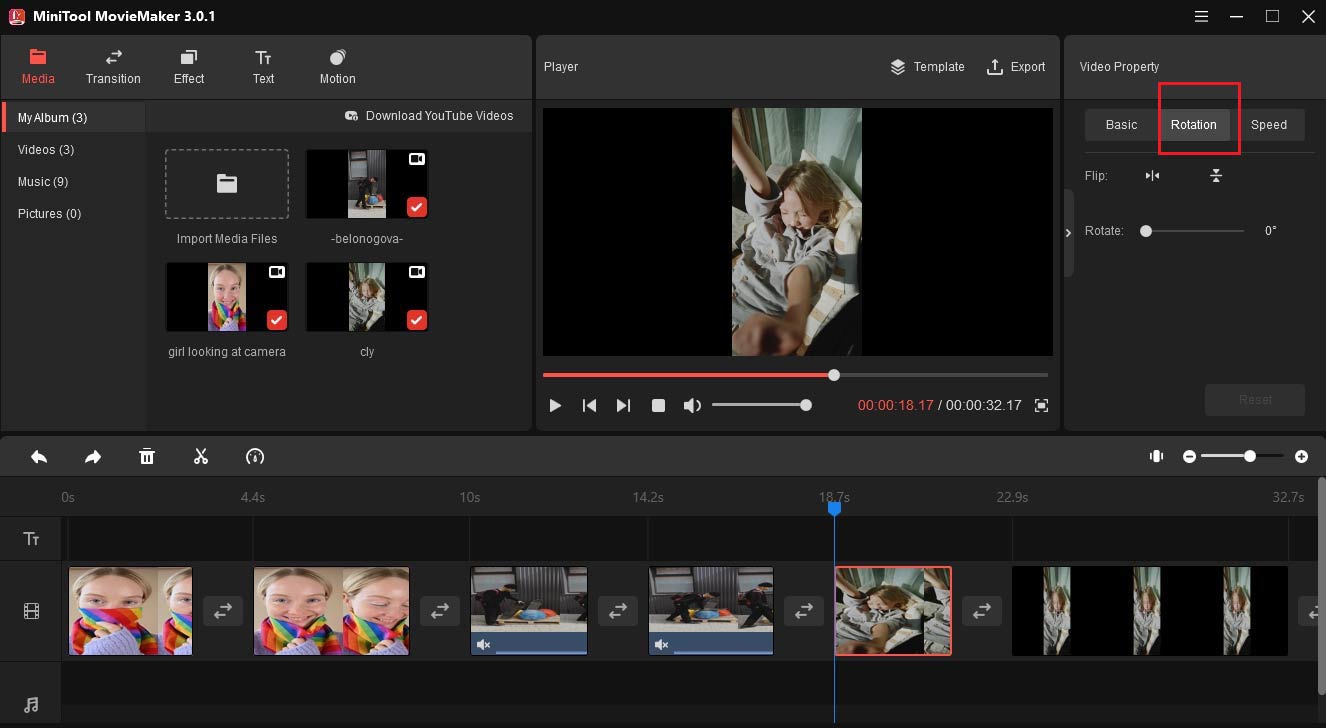 Step 4. Export video file.
At last, click the Export button to open the output settings window. You can name this file, choose another output folder, and change the default output format MP4 to another like MOV, AVI. Then click Export to export your video.
MiniTool MovieMaker is a very great frame-by-frame video editor.Click to Tweet
Windows Movie Maker
Operating system: Windows
Price: Free
Windows Movie Maker is a free yet powerful frame-by-frame video editing software developed by Microsoft. It allows you to place video clips on the storyboard or timeline for editing frames. You can also split, trim or cut video frames exactly. Adding or removing a video frame at a certain point is also possible in this program.
As for video frame editing, it offers amazing themes, attractive transitions, stunning effects, titles and credits, and the ability to add music easily.
If you are looking for a basic, quick, and intuitive frame-by-frame video editor, you can also give this software a shot. If you want to download it, you can check Windows Movie Maker Free Download + 6 Things To Know.
Movavi Video Editor Plus
Operating system: Windows and macOS
Price: Free trial, full version for $59.95
If you need frame-by-frame video editing software for your Mac or Windows computer, you can try Movavi Video Editor Plus. It is a professional video editor with handy tools that can help you edit videos frames precisely.
The editing interface is intuitive and includes all of the most popular video editing tools, which makes it a great choice for a beginner or a veteran video editor. The special effects and keyframe animations, motion tracking, picture-in-picture, and stabilization features can be available. It can take your video projects to the next level.
iMovie
Operating system: macOS
Price: Free
iMovie is also a frame-by-frame video editing software program for the Mac that offers easy-to-learn editing tools. Generally, it is pre-installed on Mac and can be updated easily in Mac App Store. You can also use it on your iPhone and iPad.
With iMovie, you can browse every frame by dragging the playhead and cut exactly between frames. What is worth mentioning is that it contains multiple tracks in the timeline, so you can edit audio and use effects like green-screen and overlay to every individual frame.
For video editing, you can choose clips, add titles, effects, and music to the video frames. There are dozens of titles, effects, filters to make stunning cinema-quality videos. It also enables you to add picture-in-picture, green screen, and split-screen effects easily. Finally, it lets you transfer your projects between your iPhone, iPad, and iPod touch using AirDrop or iCloud Drive. It is very convenient.
Frame-by-frame Video Editors on Mobile Devices
What if you have no access to the computer or tablets and need to edit video frame-by-frame? Well, here come the frame-by-frame video editors for Android and iPhone devices.
KineMaster
Compatibility: Android and iOS
Price: Free, $4.99/month or $39.99/year for advanced features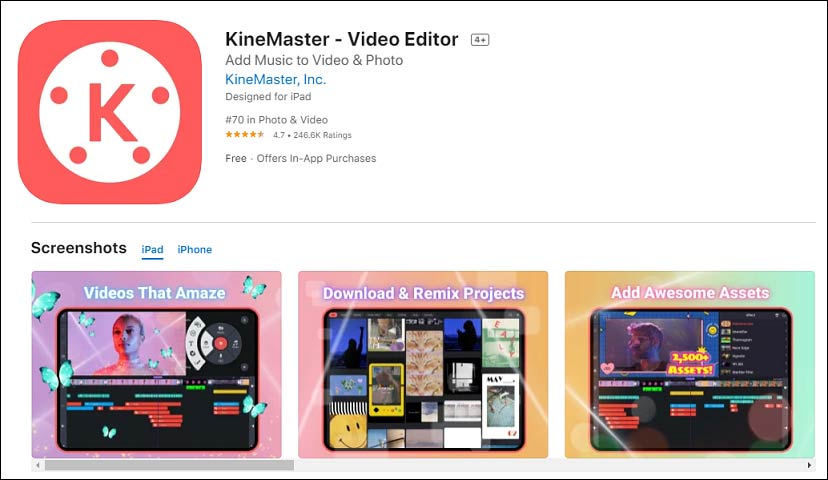 KineMaster is a frame-by-frame video editing application that brings a full suite of editing tools to Android and iOS devices. It lets you have the utmost control over your video clips. You can scroll the timeline horizontally to find the exact frame to add layers, audio, voice-over, and more.
It also offers tons of transitions, effects, videos and images, stickers, fonts, and animations to customize the video frames. You can also create amazing visual effects by reversing, speeding up, adding slow-motion, and applying blending modes to your video clips. To make your video stand out, you can use its filters and color adjustments tools to correct and enhance videos and images.
LumaFusion
Compatibility: iOS
Price: $29.99
LumaFusion is also a great frame-by-frame video editor app on iOS devices. It offers many features and an elegant user interface. With it, you will feel just like working with a piece of desktop software.
With the accurate timeline preview, from aspect ratios to frame rates, you will get full control over every frame of your projects. It also performs well in 6 track editing including videos, audio, photos, graphics, and texts.
You can also use it to do color grading and create a slow-motion effect with videos. Apart from the visual editing tools, the pre-designed background music, sound effects, and loops are also available within this app.
Adobe Premiere Rush
Compatibility: Android and iOS
Price: Free trail, $9.99/month for full version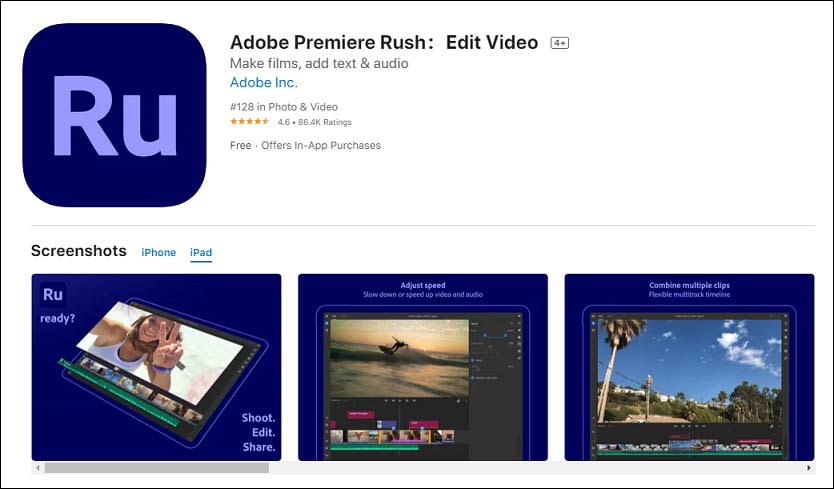 Adobe Premiere Rush is a simple frame-by-frame video editor app that makes it fast and easy to create amazing videos. Compared to other Adobe video editing software used on desktop computers, this multimedia app has a simpler interface that allows you to explore its functions without any problems.
It gives you the chance to experience professional frame video editing on your Android and iOS devices. When you are editing the video frames, you can use its basic functions such as trimming and cropping, flipping and mirroring, adding images, stickers and overlays to video clips.
You can also adjust video speed and enhance color with intuitive presets and customization tools. It enables you to adjust the saturation, brightness, shadows, and highlights of your clips. The same goes when you edit the audio track. You can apply fade-in or fade-out effects, and there is an option to remove the audio as well.
To make things better, you can save your projects in cloud storage and have them synced with other Adobe software like Lightroom and Premiere Pro.
Online Frame-by-frame Video Editors
If you want a frame-by-frame video editor online and want no bother to install any application on your devices, you can try the online tools below.
WeVideo
WeVideo is a great frame-by-frame video editor to modify video frame by frame on the timeline online. On this online editor, you can use the playhead to move to the frame you wish to edit. And then separate the frames using the Split tool and edit them as you wish. After splitting video frames precisely, you can adjust volume, speed, add background, subtitles, and chroma key separately.
You can also adjust the color, contrast, and brightness of each frame. And merge edited frames into a video smoothly with transitions. After editing, you can export the result to the computer, social platforms, or cloud server.
Clipchamp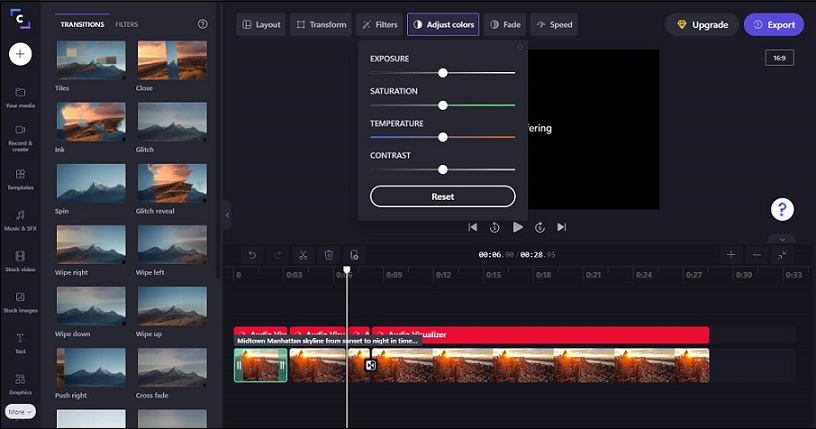 As an online video editor, Clipchamp is a great tool for creating high-quality videos. With it, you can unleash your creativity by editing every frame in your video. You can rotate and flip videos, balance colors, use filters and transitions, add backgrounds, add text and change font, size and color and position, and more.
With a simple and aesthetic UI, you will find video editing become enjoyable. You can browse its fully custom video templates library to get video-making inspiration.
There are the top 9 amazing frame-by-frame video editors that help you edit your video frames precisely.Click to Tweet
Conclusion
To sum up, we have learned the top 9 frame-by-frame video editors. Each one could help you do the precise frame video editing. Just give them a shot to create stunning videos!
You can share your ideas in the comments or contact us via [email protected] if you have any questions while using MiniTool MovieMaker.