Recently, there are a growing number of drone videos that are pretty popular on YouTube, Facebook, and other video platforms. If you have a drone and captured some films of beautiful views, you may need to process these videos via video editing software before you share them.
Let's read through this post and get the 8 best drone video editing software. No matter you are a beginner, an intermediate, or an advanced pro, we've got you covered. Let's explore them one by one.
Best Drone Video Editing Software for Beginners
If you are a newcomer and without any experience or skills in video editing, you can edit your drone video footage easily with the following editing software for beginners.
MiniTool MovieMaker
Operating system: Windows
Price: Free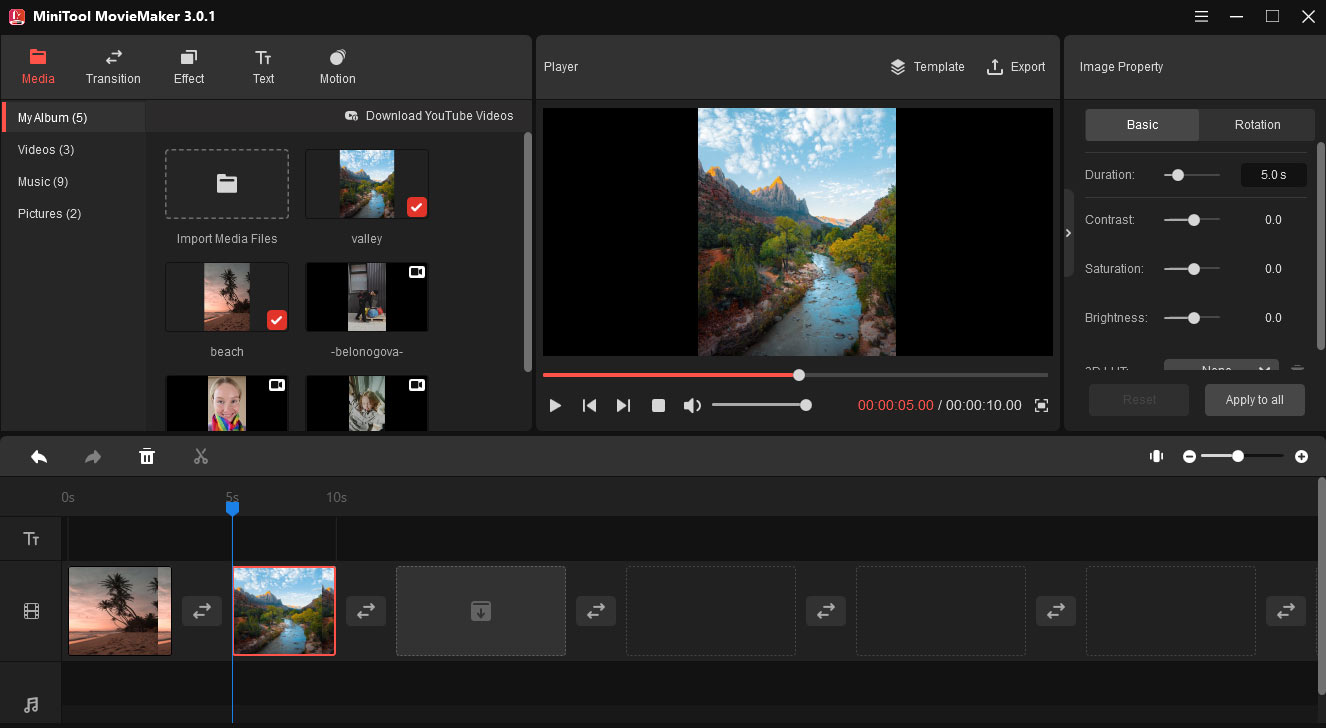 If you want to edit your drone videos with a free and simple-to-use video editor, you can try MiniTool MovieMaker. It has no ads, no bundle, and is the easiest drone video editing software without watermarks. With a simple, clean, and friendly user interface, beginners can edit drone videos without any difficulty.
To help you create attractive drone videos, there are a large collection of stunning filters, transitions, text templates, and motion effects that can be applied to your videos. Equipped with a bunch of basic as well as advanced video editing features, it gives you more creative flexibility include 3D LUT effects, color correction, and the ability to fade in and fade out the audio in your drone videos.
You can also edit your drone video footage by using its tools like video splitter, video trimmer, video reverser, video combiner, video rotator, video flipper, and so on.
It also allows you to change the sequence of the clips by dragging and dropping the target clips on the timeline. You can also control the video speed by slowing down or speeding up. To make your videos more appealing, you can add background music to the videos.
MiniTool MovieMaker is a great free video editing software for drones with many useful video editing tools.Click to Tweet
iMovie
Operating system: macOS
Price: Free
If you want to edit your drone videos on your Apple devices, iMovie is a great drone video editing software for you. As a built-in video editor for iOS and Mac, it has been heard of by most Apple fans. Besides, this drone video editing software for Mac works well on your mobile devices too.
It features a minimalist interface and offers many essential video editing functions for beginners to edit drone footage. It provides two video tracks and two audio tracks, which enables you to combine multiple clips and use split-screen effects and video-in-video effects.
Using this simple program, you will find lots of themes, title templates, transitions, and effects. You can also cut, crop, rotate, and zoom a target area, as well as adjust the playback speed. Plus, you can apply speed settings to get the slow-motion effect when needed or set up the length of transitions between scenes.
Amazingly, it is also a 4k drone video editing software. It works well with most video formats and supports stunning cinema‑quality films if you shoot in HD or 4K.
VideoPad
Operating system: Windows, macOS
Price: Free, $69.95 for advanced features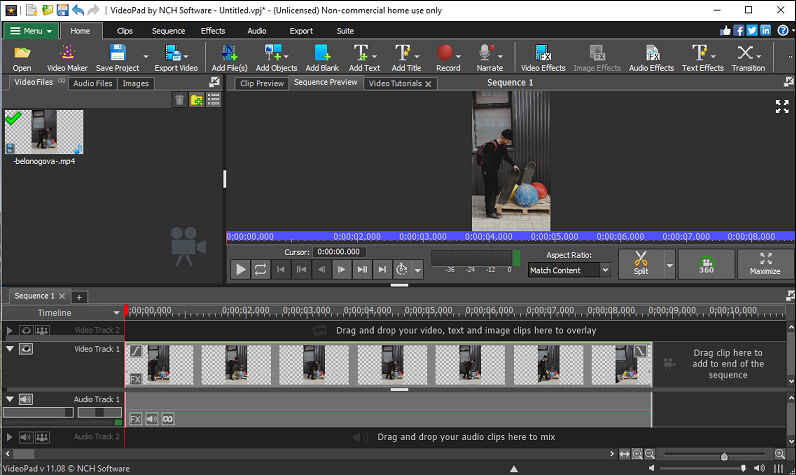 VideoPad is one of the best free drone video editing software designed by NCH Software. It features an intuitive user interface that makes it ideal for beginners taking the first steps in the drone video editing space. With an impressive set of audio and video optimization tools, it makes drone video editing a breeze.
It supports video stabilization, audio mixers, 3D video editing, chroma green screen, text overlay editing, split-screen, and transitions. It also offers tools for color correction, plugin support, and a library of video and sound effects.
In addition, you can drag and drop your drone video footage seamlessly and upload the result videos to YouTube with ease. Furthermore, this software supports almost all the popular video formats and renders outputs at a rapid rate. It will never take long for you to share your creations on YouTube, Vimeo, and other social media platforms.
It has a free version that carries core features and a paid version for more advanced functions. If you want to unlock all features and plugins, you may need to pay a one-time fee of $69.95 for the master's edition.
Best Drone Video Editing Software for Medium Level
At this level, you may have mastered some video editing skills. The following part will introduce some of the best drone video editing applications for medium-level users.
VSDC Video Editor
Operating system: Windows
Price: Free
VSDC is the first program of the best video editing software for drones for middle level users. It is an intuitive yet powerful video editing software designed for Windows. Because it is absolutely free software, you will never worry about the trial period, payment, or subscription.
To make your drone videos more eye-catching, the video effects library offers stunning transformation effects, attractive filters, color correction, special effects, and transition effects. Amazingly, you are able to produce your own custom video effects and filters by combining those available within the software.
It also offers a collection of useful features including a nonlinear editor, masking, video stabilization tool, and support for 4K and HD exports. The non-linear video editing tool can pull up any scene or frame of your drone videos to create a different set of sequences.
The masking feature lets you blur, hide, or highlight objects in your video clips. To enhance the footage taken from drones, the video stabilization tool can help to remove camera shake effects or jitters produced by the movement of the camera.
In addition to editing the visual videos, it also allows you to edit the audio in your drone videos. It features audio editing tools like volume correction, sound normalization, reverberation, echo, and equalizer. You can also add effects to audio tracks in your videos with ease.
Lightworks
Operating system: Windows, macOS, Linux
Price: Free; $24.99/month for Lightworks Pro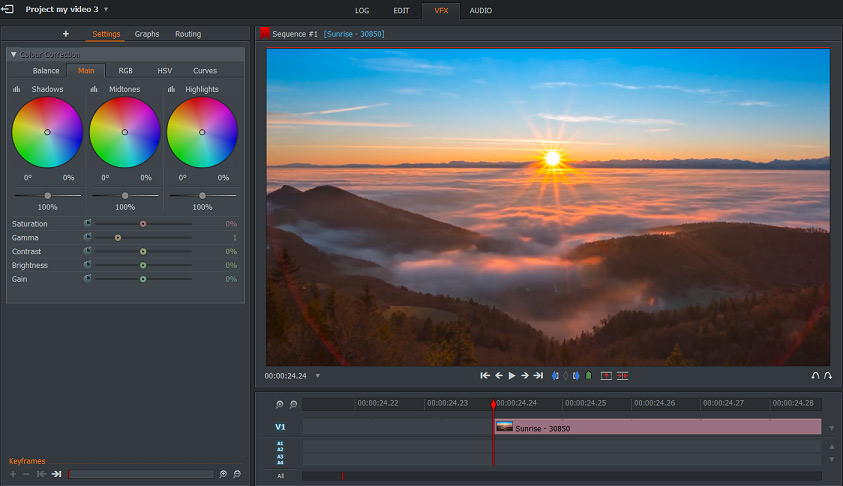 Lightworks is also a great drone video editing software for intermediate-level users. It is popular among beginning video creators and filmmakers. Many filmmakers have used in the film industry including The Wolf of Wall Street, Pulp Fiction, Heat, Hugo, The King's Speech, and more.
Featuring a simple and intuitive user interface, you can make quick drone video footage editing for YouTube, video montage, and publish videos on the web easily. It will give your drone footage a professional look using the drag and drop techniques. With Lightworks, you can use its color grading and blending, real-time effects, advanced audio-editing options, VFX, and more.
It also offers powerful features like multi-cam and multi-track video editing, which allows you to edit clips from multiple cameras into a single project. You can share projects and collaborate with others while editing videos in real-time.
The free version of Lightworks has many useful functions. If you want to unlock more advanced features like 4k quality export, 3D output, timeline rendering, you need to pay $24.99 monthly for the Pro edition.
Best Drone Video Editing Software for Professional Level
At this level, some basic editing features are not enough for your projects. The part below covers some of the best drone video editing software for professionals.
Final Cut Pro
Operating system: macOS
Price: $299.99
Final Cut Pro is one of the best drone video editing applications for professional level users. It has a magnetic timeline using advanced metadata that enables you to move and trim your drone video clips without causing problems for the rest of the video and syncing problems.
To give your creation a professional touch, you can edit multicamera projects with automatic syncing and support for up to 64 camera angles. It also supports 360-degree video editing for VR as well as real-time VR headset playback to see how the modifications work. You can create spectacular VR videos for immersive experiences.
To make your video more engaging, you can insert animated and customizable 2D and 3D titles, beautiful filters, motion graphics, special effects, and more to your clips.
As for editing the audio in your drone videos, there is no need for a separate audio editing program. You can expand and edit multichannel audio files and sync video with separate audio with instant audio waveform matching It also enables you to modify the audio with built-in tools for removing background noise and optimizing sound levels.
Although this professional editor is not free, it does come with a generous 90-day trial period. That is enough to decide whether it is a great fit or not.
Adobe Premiere Pro
Operating system: Windows and macOS
Price: Monthly plan $331.49/month, annual plan $239.88/year, monthly-paid annual plan $20.99/month.
Adobe Premiere Pro is a professional video editor that offers advanced video editing functions with a worldwide reputation. It is also a great drone video editing software for advanced users.
With the robust video editor, you can deal with most media formats. You can work on a large number of video tracks, which can be imported from many sources. It is also capable of processing drone footage in UHD and 4K.
You will have full control over your videos by using its editing and trimming tools in a high degree of precision. This professional drone video editing software allows you to work on multiple projects at the same time. You can switch between projects seamlessly at any time.
The automatic sync is very great when you have multi-angle shots, and it will really make your video stand out from the crowd.
If you subscribe to Adobe Creative Cloud, you get access to Premiere Pro as part of the package, and you will be able to use it with other software, from the motion graphics tool After Effects to Adobe Stock. If you don't want other Adobe apps, Premiere Pro is still worth trying as a standalone application. You can take out a seven-day trial to make sure you like it before committing.
Davinci Resolve
Operating system: Windows, macOS, and Linux
Price: Free, $299
Created by the developer Blackmagic Design, DaVinci Resolve is a non-linear video editor offering advanced color correction tools. It employs powerful tools for editing, visual effects, motion graphics, and audio post-production. It will give you a professional look for your drone video footage.
It boasts professional-quality color correction and audio mastering. The qualifiers, tracking and advanced HDR grading tools allow you to adjust contrast, temperature, neutralization details, saturation, and more of your drone videos. The audio mastering feature also deserves praise. It can process up to 1000 soundtracks concurrently by using the equalizer and positive controls.
This drone video editing software program supports all popular video formats, such as ARI, DPX, MXF, MTS, Quicktime. You can edit your videos with up to 8K resolution. If you want to upload your result video straight to YouTube or Vimeo, the export configurations are confined to 3,840 x 2,160.
Conclusion
If you are looking for drone video editing software, I hope this post offers you some useful information for you to find a suitable one.
If you have other great drone video editors, welcome to share your ideas in the comments area. You can also contact us via [email protected] if you have any questions while using MiniTool MovieMaker.