DaVinci Resolve vs Final Cut Pro: Overview
If you need video editing software to begin your editing process, there are plenty of options to choose from in the market. Two of the most popular video editors could be DaVinci Resolve and Final Cut Pro. No matter what type of project you're working on, these two professional video editing platforms can serve as a great starting point.
However, many people were involved in this controversy: should they choose Final Cut Pro or DaVinci Resolve for beginners? Or which video editor is better than another? This article will help you make a decision between them by comparing them deeply. Let's get started.
What Is DaVinci Resolve
Davinci Resolve is an excellent non-linear video editor that was made by da Vinci Systems and Blackmagic Design acquired it in 2009. It's available on macOS, Windows, and Linux.
DaVinci Resolve started as an advanced color correction application but was redesigned by Blackmagic Design. DaVinci Resolve is now one of the most powerful editing applications, suitable for professional video creators and beginners.
With Davinci Resolve, you don't have to switch software for different tasks. Divided into 6 pages, including Cut, Edit, Fusion, Color, Fairlight, and Deliver, it offers you specific workspaces for specific tasks, and you can quickly switch between different tasks.
In addition, Davinci Resolve features a remote collaboration by using cloud-based workflows. In this way, multiple users can work on the same timeline from different places at the same time. It's really time-saving and efficient.
What Is Final Cut Pro
Final Cut Pro, initially developed by Macromedia and acquired by Apple, is also a professional non-linear video editing software. Now, it's only compatible with macOS.
Final Cut Pro allows users to edit professional videos quickly by using its powerful editing tools. Final Cut Pro offers a precise and intuitive interface to arrange video clips and comes with an object tracker so that you can add dynamic text or color correction to moving footage. With its click-to-track feature, it's easy to change the look of video shots on iPhone 13.
More importantly, Final Cut Pro offers advanced editing features for users who want to create more professional video productions, such as multi-camera editing, green screen, and built-in 3D animation modeling function.
So, what are the differences between them on earth?  Is DaVinci Resolve better than Final Cut Pro? Next, we will compare them in the following aspects.
DaVinci Resolve VS Final Cut Pro: Price
Price is an important factor when you choose a video editor, and the price must be within your budget. Final Cut Pro has a 90-day free trial, and then you need to buy it at $299 on Apple's APP Store. Then, you don't need to pay for updates anymore after buying.
It's worth mentioning that Davinci Resolve has a free version. Can you believe that? Yes, it's true. The free version works with almost all 8-bit video formats. You can take full advantage of its video editing and color grading features without watermarks and a trial period. The free version also allows you to do multi-user collaboration and HDR grading.
Alternatively, a paid version called DaVinci Resolve Studio costs $295. DaVinci Resolve Studio includes every feature in the free version, including support for 10-bit video formats, Resolve FX, noise reduction, stereoscopic 3D, film grain, and much more.
DaVinci Resolve VS Final Cut Pro: Interface
Final Cut Pro vs DaVinci Resolve: another difference we can't ignore is their user interfaces. Both DaVinci Resolve and Final Cut Pro have clean and simple interfaces. Of course, there's a little bit different.
DaVinci supports free-form editing, allowing you to move and put video clips around the timeline as needed. As we mentioned before, DaVinci Resolve's workflow is divided into several tabs named Edit, Cut, Color, Fusion, Deliver, and Fairlight, which allow you to switch to different tasks quickly.
While Final Cut Pro organizes everything efficiently by simplifying them into a single track with a magnetic timeline. With Final Cut Pro, all features and tools are provided in its main editing interface, allowing you to use each feature more conveniently.
DaVinci Resolve VS Final Cut Pro: Main Features
When it comes to Final Cut Pro vs DaVinci Resolve, we can't miss their main features. The first thing to note is that Final Cut Pro is a video editing software for macOS only. So, it's not available on Windows or other operating systems. While DaVinci Resolve is a cross-platform for macOS, Windows, and even Linux.
DaVinci Resolve provides users with extensive editing features. It supports 4K resolution, VST Plugins, Multi-user collaboration, 3D video editing, audio capture, motion tracking, color grading/correction, adding animations/transitions, and more.
On the other hand, Final Cut Pro also offers multiple features, including advanced color grading, VR headset playback, HDR video, motion graphics templates, Multicam editing, and others.
DaVinci Resolve VS Final Cut Pro: Color Grading
Color grading is an incredibly easy way to improve the quality of your video. Thankfully, both DaVinci Resolve and Final Cut Pro equip with built-in color-grading tools to help you.
If color grading is more your thing, DaVinci Resolve might be the perfect tool for you, allowing for super-precise color adjustments. Because DaVinci Resolve started as an advanced color grading application that offers you a wide range of extensive and advanced color grading tools.
Although Final Cut Pro has a suite of color grading tools, including curves, LUTs, color wheels, and many other presets, color grading in Final Cut Pro can't match DaVinci Resolve.
DaVinci Resolve VS Final Cut Pro: Audio Tools
Final Cut Pro vs DaVinci Resolve: which one is the winner in audio tools?
You can do basic audio editing under the Edit tab. Moreover, DaVinci Resolve is equipped with a built-in digital audio workstation (DAW) under the Fairlight tab. With its multi-function equalizers, plug-ins, and automation tools, it's an excellent choice for those who need good audio for their projects.
At the same time, Final Cut Pro makes it easy to work with audio on the timeline. When you import audio into Final Cut Pro, it will automatically remove the background noise. Besides, Final Cut Pro has a feature called Audio Roles that lets you apply different roles to various audio in your video. In a word, Final Cut Pro is simpler than DaVinci about audio tools, so it's better for novice video creators.
We have compared their differences in their price, user interface, main features, color grading, and audio tools. Have you chosen the one that suits you better?
Top 5 Alternatives to DaVinci Resolve and Final Cut Pro
Now, you must have a better understanding of DaVinci Resolve and Final Cut Pro. If you need another video editor apart from them, you're in the right place.
Top 5 Alternatives to them:
MiniTool MovieMaker
iMovie
Camtasia
Filmora
HitFilm Express
1. MiniTool MovieMaker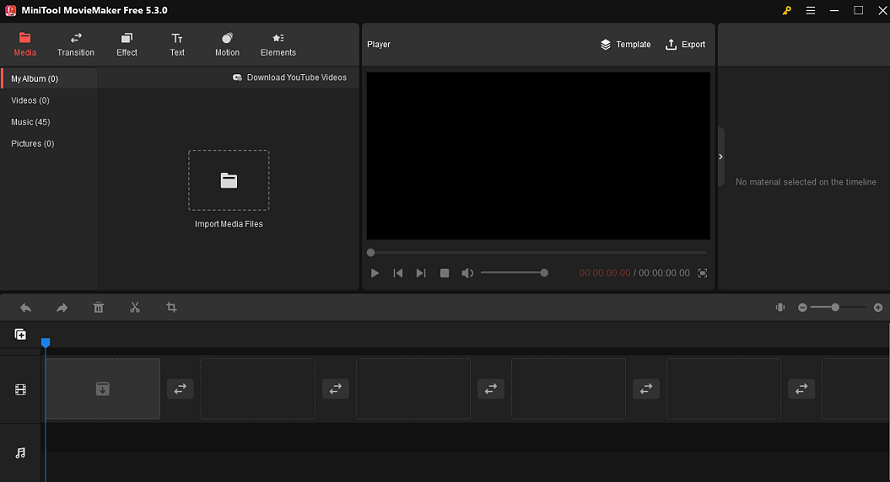 Compatibility: Windows
The first alternative we recommended is MiniTool MovieMaker. Similar to DaVinci Resolve, it also offers a free version to use. Besides, it has three subscription plans, $12.99 for a monthly subscription, $35.99 for an annual subscription, and $59.99 for the ultimate plan.
MiniTool MovieMaker supports multiple video, audio, and image formats. You can import your files to make attractive videos with its video templates with only a few clicks.  Alternatively, you can start from scratch to make videos more stunning.
First, you can zoom in on the video to fit the timeline and edit your video perfectly with precision. Then, MiniTool MovieMaker allows you to split, trim, crop, rotate, flip and reverse your video, change the video speed, and add text, transitions, filter effects, animated elements, and motion effects. Finally, you can export your videos in multiple formats at high quality without a watermark.
MiniTool MovieMaker is an excellent alternative to DaVinci Resolve and Final Cut Pro. I have created many amazing videos with it.Click to Tweet
2. iMovie
Compatibility: macOS, iOS, iPadOS
iMovie is a free video editing application developed by Apple in 1999. It is a simplified video editor that can be used to cut and edit videos, music, and graphics. For users who have no experience in video editing, you can still create videos quickly.
iMovie is a favorite video editor for many amateur users and professional YouTubers. Like many other Apple products, iMovie remains a simple and intuitive interface. It enables users to create personalized trailers in 4K video resolution by using its built-in themes and templates.
With iMovie, you can do all the basic editing tasks, which include cutting, splitting, and adding transitions and text. Apart from these, iMovie also supports advanced video editing, like green screen, color adjustment, background noise reduction, slow motion, and much more.
3. Camtasia
Compatibility: Windows and Mac
Camtasia, developed by Techsmith, is not only a video editor but also a screen recorder. It is a simple and all-in-one video editing software program, designed to help users make tutorials and instructional videos, and many other kinds of videos.
Camtasia offers a 30-day free trial. You can try its free trial before you purchase it. If you're satisfied with Camtasia, you can buy it for $299.99. It's not suitable for those who are looking for free or cost-effective video editor software.
Camtasia is a good alternative to DaVinci Resolve and Final Cut Pro if you have no video editing experience. You could record your screen first, then it allows you to edit, save and share the recording. Or you can create videos easily and quickly using its video templates. Plus, you can add annotations, effects, music, and sound effects to your videos, and use the green screen feature to remove the background.
4. Filmora
Compatibility: Windows, Mac
Filmora is an easy-to-use video creation and editing program developed by Wondershare. Filmora offers a 7-day free trial for users, but there will be a watermark when you export the video. To export videos without a watermark, you need to subscribe. You can subscribe at $49.99 per year or $79.99 for the perpetual plan.
With Filmora, users can turn video clips into works of art with a simple drag-and-drop interface and powerful editing tools. You can trim the video, and add music, transition effects, text, emoji, and filters to create incredible videos in minutes. In addition, it supports using picture-in-picture, green screen, motion tracking, color correction, and more.
5. HitFilm Express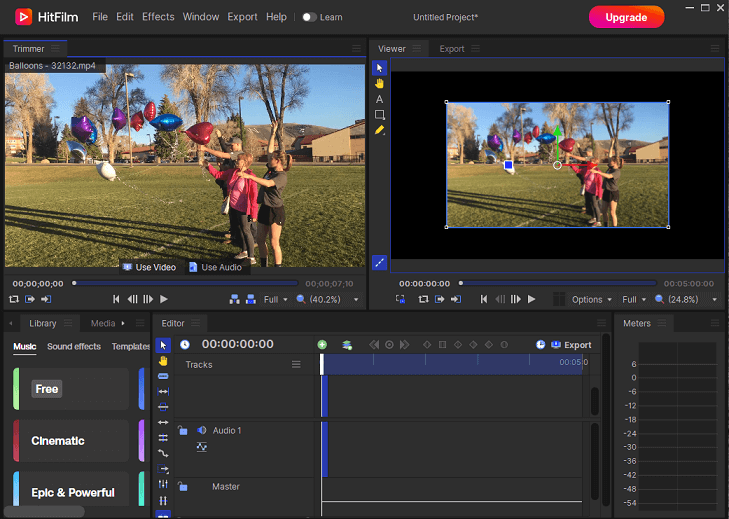 Compatibility: Mac, Windows
Another nice alternative to DaVinci Resolve and Final Cut Pro is HitFilm Express. HitFilm Express is a free video editing software that has many features that can be used to create amazing video content easily.
To help you get familiar with HitFilm Express, it delivers more than 100 hours of free classes and tutorials for you. With HitFilm Express's user-friendly interface, you can drag and drop your video clips into this program. Then, you can use its rich features to edit your video. Moreover, this program doesn't add any watermark to your media content when you export it.
Final Thought
DaVinci Resolve vs Final Cut Pro: which video editing software is better for you? Both of them are professional video editors. We have made a detailed comparison in many aspects. You can make your decision now. Otherwise, you can try some alternatives to DaVinci Resolve and Final Cut Pro.
Finally, if you have any questions or suggestions while using MiniTool MovieMaker, please contact us via [email protected]l.com.