Kdenlive vs OpenShot: which one is better for you? This post from MiniTool MovieMaker makes a comparison between Kdenlive and OpenShot. You can choose the one you prefer based on the comparison. After that, it offers you some best alternatives to Kdenlive and OpenShot.
Many people who often edit videos must have used OpenShot and Kdenlive. Both of them are two open-source and professional video editors. However, every video editor has its pros and cons. Sometimes, when Kdenlive video editor vs OpenShot video editor, you may be wondering what are the similarities and differences between them. Which one should you choose?
To help you choose the suitable one, we will compare them in detail to let you have a better understanding of them. Read on to find out.
About Kdenlive Video Editor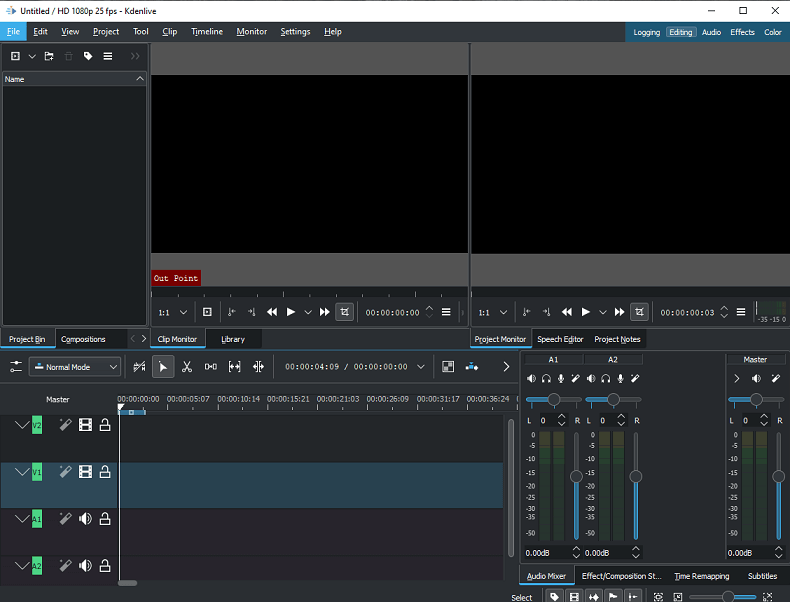 Kdenlive is a free, open-source, and non-linear video editor. It's compatible with Windows, macOS, and Linux. Supported by FFmpeg, it supports almost all video and audio formats and has a wide range of features.
Kdenlive is an easy-to-use and friendly video editor for both beginners and professionals. You can arrange the interface layouts to suit your workflow. With its unlimited number of video and audio tracks, you can use several audio and video tracks to edit videos simultaneously.
With Kdenlive, you're able to create, move, crop, and delete video clips, audio clips, text clips, and image clips. In addition, it offers a wide range of effects and transitions and a built-in audio mixer. When encountering complex editing tasks, its timeline preview feature helps you accomplish video editing more effectively.
Key features of Kdenlive:
Multiple effects and transitions
Non-linear and multi-track video editing
Dark mode
Automatic backup
Keyframe Animation
Timeline preview
Supports almost all video and audio formats
About OpenShot Video Editor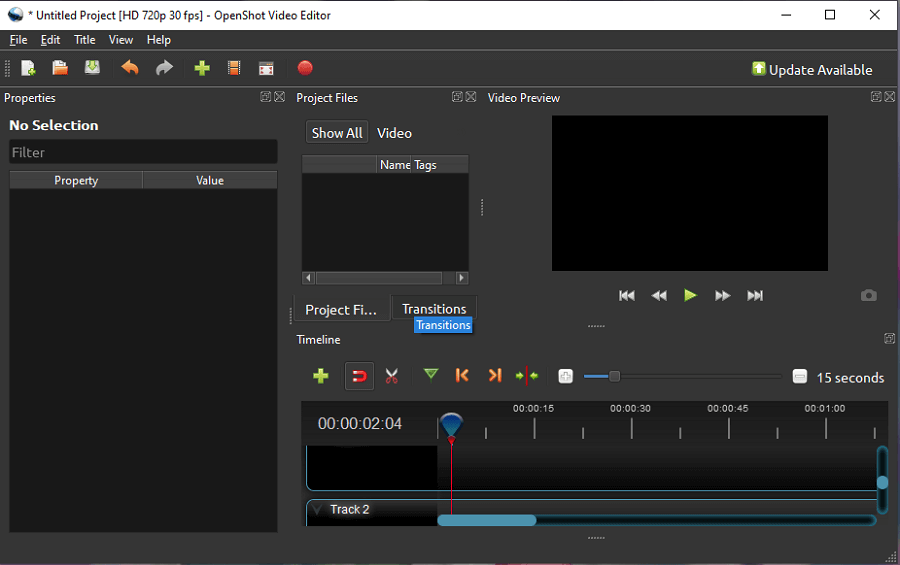 OpenShot is a free, open-source, and cross-platform video editor, available on Mac, Windows, Linux, and ChromeOS. It's aimed at providing a simple, stable, powerful, and feature-rich service for users.
Similar to Kdenlive, OpenShot also supports many commonly used video, audio, and image formats based on FFmpeg. It supports unlimited tracks which means you can add as many tracks as you need. Moreover, it is designed for quick and easy editing. It lets you trim and animate your video objects with its powerful animation framework.
What's more, for advanced video editing, you can add 3D animated titles and effects, display waveforms on the advanced timeline, separate the audio from your video clip, use a green screen, and much more. Using OpenShot's green screen feature, you can read: How to Use OpenShot Video Editor & Its Alternatives.
Key features of OpenShot:
Keyframe animations
Unlimited tracks/layers
Audio waveforms
Chroma key/Green screen
Multiple file formats supported
User-friendly interface
Support 70 + languages
3D effects and titles
Kdenlive VS OpenShot: System Requirements
When we choose a video editor, we must figure out its minimum system requirements first. OpenShot vs Kdenlive: what about their system requirements? Next, we will compare the different system requirements of Kdenlive and OpenShot video editors.
Kdenlive:
Operating system: 64-bit Windows 7 8, 8.1 10, 11, macOS 10.15 or newer, and on M1, 64-bit Linux.
CPU: x86 Intel or AMD; at least one 2 GHz core for SD-Video, 4 cores for HD-Video, and 8 cores for 4K-Video.
GPU: preferably with OpenGL 2.0, you can use a DirectX 9 or 11 driver-compatible card on Windows.
RAM: at least 4 GB RAM for SD-Video, 8 GB for HD-Video, and 16 GB for 4K-Video.
OpenShot:
Operating system: a 64-bit operating system for Windows 7/8/10/11, Mac, ChromeOS, and Linux systems.
Central processor: 64-bit multi-core processor.
System memory: 4GB of RAM (16 + GB recommended).
Internal storage: 1GB of hard-disk space for installation and usage.
Kdenlive VS OpenShot: Editing Tools
When it comes to OpenShot vs Kdenlive, one factor that we must not ignore is their editing tools or features. Both of them are powerful and feature-rich video editing software. But they have some editing features in common and are different.
Editing tools in common:
Kdenlive video editor and OpenShot video editor have some similar editing features. Both of them support unlimited video and audio tracks so that you can add multi-tracks on the timeline at the same time. Besides, there are many other similar video editing features, such as keyframe animations, audio volume adjustment, a razor tool, a caption editor, and much more.
Unique editing features of Kdenlive:
Here are some unique features that make Kdenlive different from OpenShot. Kdenlive allows you to accept, combine, process, and monitor audio with its audio mixer. It also has a color analyzer feature that you can determine if color schemes provide an appropriate level of contrast. In addition, Kdenlive offers an audio editor and recorder tool, effect keyframes, project note options, and more.
Specific editing features of OpenShot:
OpenShot also has many specific video editing features. One OpenShot's specific feature is 3D animated titles. So, you can show the title, key production, and cast members using conceptual visuals and sound. Apart from this, with OpenShot, you can also display the audio waveforms on the timeline, use the chroma key or green screen tool, and extract audio from the video clip.
The 3D animated titles feature requires you to download the latest version of Blender and update the OpenShot preferences with the correct path to Blender's executable.
Kdenlive VS OpenShot: Effects
When it comes to Kdenlive video editor vs OpenShot video editor, another big difference is their effects.
Video effects:
Kdenlive has a lot of video effects, probably more than 200. Some common ones are Mask, Blur, Color adjustment, Brightness, Image adjustment, VR360, and 3D effects. However, OpenShot comes with over 18 video effects, like blur, hue, brightness, and stabilizer. If you need video effects in your video, Kdenlive is more suitable for you.
Audio effects:
Like video effects, Kdenlive has more audio effects than OpenShot. Kdenlive has 67 audio effects, whereas, OpenShot has 9 audio effects, including echo, noise, distortion, etc.
Transition effects:
With OpeShot, you have plenty of transition effects with almost 412 transition effects from classic slides to dancing twirls. On the other hand, Kdenlive provides 38 composition effects, but there are only 3 transition effects among them.
Text effects:
A powerful feature of Kdenlive is its text video editor. This title editor owns rich text editing options, including font, size, color, alignment, letter spacing, line spacing, shadows, backgrounds, animations, and patterns. While OpenShot doesn't have as many text effects as Kdenlive.
Best Alternatives to Kdenlive and OpenShot
After we make a comparison between Kdenlive and OpenShot, here we will select several best alternatives to them. Let's have a look at them.
The Best Kdenlive and OpenShot alternatives:
MiniTool MovieMaker
Shotcut
Lightworks
Olive Video Editor
1. MiniTool MovieMaker
MiniTool MovieMaker is a great alternative to Kdenlive and OpenShot on Windows. It is an easy-to-use and free video editing software without watermarks and ads.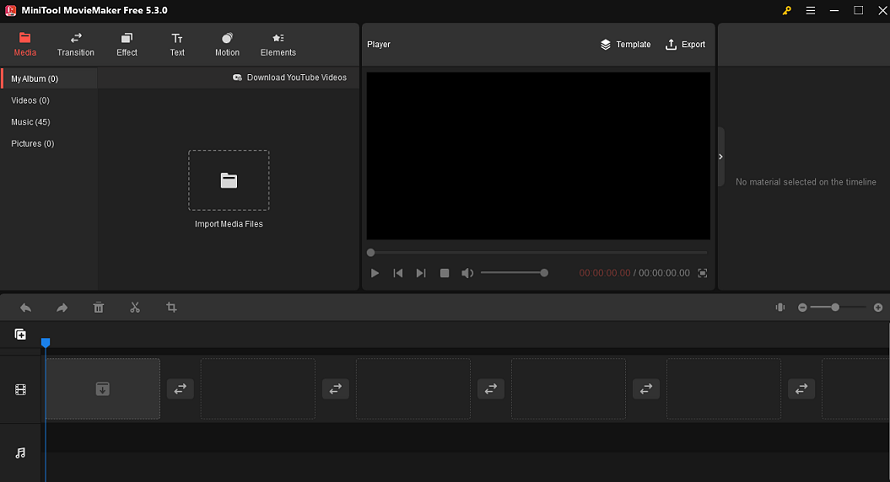 Compared to Kdenlive and OpenShot, MiniTool MovieMaker may be more friendly to beginners. The interface of Kdenlive and OpenShot is a little difficult for one who doesn't have any video editing experience. However, the interface of MiniTool MovieMaker is more concise and easier to use.
With MiniTool MovieMaker, you can import your videos, images, and music to generate stunning videos with pre-made video templates with a few clicks.  Then, with the help of its transitions, filter effects, animated elements, and motion effects, your videos will become more attractive and distinctive.
You can zoom in on the timeline and edit your video perfectly with precision. Then, MiniTool MovieMaker allows you to split, trim, crop, rotate, flip and reverse your video. Besides, it also has a video speed controller and a video text editor. Finally, you can save your videos in standard or HD quality with it. Most importantly, you can export videos in many formats and up to 1080P without a watermark.
Main Features of MiniTool MovieMaker:
Easy-to-use and user-friendly
A variety of features
Support multiple video and image formats
Generate videos quickly with video templates
Free, no bundle, no ads, watermark-free
Split, trim, and crop video easily
Change video quality, bitrate, frame rate, and resolution
I have found a perfect alternative to Kdenlive and OpenShot - MiniTool MovieMaker, an easy-to-use, and powerful video editor.Click to Tweet
2. Shotcut
Shotcut is a free, open-source, cross-platform, and non-linear video editor. It's available on Windows, Mac, and Linux. Similar to Kdenlive and OpenShot, Shotcut also supports various file formats thanks to FFmpeg and adding multiple tracks to the timeline.
Shotcut is a multimedia editing tool with a variety of visual and audio editing features. You can create and edit these files quickly and easily. It's designed with a simple and intuitive interface. Moreover, there are many video effects and filters to enhance your video on Shotcut.
There are also many audio filters available on Shotcut, like Balance, Band Pass, Compressor, Copy Channel, Delay, Downmix, Equalizer, etc. Surprisingly, you can record audio to use as a voice over directly on the timeline.
Unfortunately, it doesn't support animations, and you can't download text animations from any third-party apps yet.
Features:
Wide format support
Webcam capture
Support for 4K resolutions
Audio mixing across all tracks
Video composition across video tracks
Multitrack timeline with thumbnails and waveforms
Network stream playback
3. Lightworks
As a free and non-linear video editing software, Lightworks won EMMY Award in 2017. Over the past 30 years, it has helped countless users create amazing and fabulous videos for social media, 4K film projects, Vimeo, and YouTube. Even it has gained popularity in cinema history because it has created some finest movies in Hollywood.
Lightwork makes it easy to edit videos with its drop-and-drag feature. Then, it enables you to split and trim video, adjust video speed, add video effects, and add text to video to create high-quality videos.
Apart from some basic editing, it supports color blending and grading, effect keyframes, keyboard shortcuts, Boris FX plug-ins, and much more. In a word, it takes all efforts to make sure the video files satisfy international delivery standards.
Features:
Storyboard bins
Cloud Connected
Fixed or flexible layout
A wide range of export formats
Optimize proxy files from HD, 4K, and 8K media
Apply color LUTs
Chromakeys/Green screen
Color blending and grading
4. Olive Video Editor
Olive is a free and open-source video editing software for Linux, Windows, and macOS.  It's a great Kdenlive and OpenShot alternative, including all the basic features of video editing. You can split, trim, crop, and rotate videos, change formats, and make other changes to the video without any hassle. In addition, you can add text, effects, transitions, and edit audio.
The interface of Olive is simple but a little bit complicated, thus it may be difficult for beginners to find all tools and use them to edit a video. Before you use it, you should figure out the function of every tool on the interface and what you can do with these tools.
With Olive video editor, you can add multiple audio and video tracks to the timeline and edit them simultaneously. Like Shoucut, it supports recording your audio on its timeline directly.
Features:
Record audio directly from the video editor
Multitrack editing
Keyframe animation
Precise timeline
Non-linear video editor
Custom layouts
We have listed the 4 best OpenShot and Kdenlive alternatives. You can choose one from the list according to your need.
Bottom Line
Kdenlive vs OpenShot: which one is the winner? We have made a clear comparison between them. Both of them have their unique features and you can use the one that suits you best. At the same time, you can try some alternatives to Kdenlive and OpenShot if you find they're not suitable for you.
Finally, if you have any questions or suggestions while using MiniTool MovieMaker, please contact us via [email protected].