Every video creator wants their videos to become viral videos that are widely spread on the Internet, but it is actually difficult to achieve. Fortunately, this guide outlines some tips on making a video go viral and introduces how to make a viral video on different devices, including MiniTool MovieMaker for Windows.
What Is a Viral Video?
A viral video is a video that spreads rapidly and becomes popular through a viral process of Internet sharing, usually through video hosting sites, social media, and email.
Some of the viral videos are original, and occasionally received a lot of attention and reposting to form a viral spread; and some commercial short films caused emotional resonance with the audience through creative packaging, thus achieving viral spread. The latter is consciously created and planned by advertisers.
In terms of production style, viral videos are usually very humorous. In addition to some wonderful original scripts, they also include numerous adapted works.
How to Make a Video Go Viral?
Nowadays, viral videos can be seen everywhere, but it is difficult to determine what makes a video virus. By studying a large number of viral videos, we found that most viral videos have something in common. Here are some practical tips that may increase the chance of your video becoming viral video.
Tips on How to Make a Video Go Viral
Be Consistent with Current Affairs
Give an Accurate Headline
Create an Eye-Catching Thumbnail
Be Creative in Content
Keep it Short and Simple
Elicit High-Arousal Emotions
Add a Call to Action
Publish on Weekdays
Utilize All of Your Platforms
1. Be Consistent with Current Affairs
When making a video, understand what is happening in the world, and then see if your video can be connected to it. Keep up to date with current events, hot topics, and even popular meme formats so that you can stack your content on the trend when relevant content is popular.
2. Give an Accurate Headline
One of the most important elements in a video is the headline. Your video title should be a summary of the video content so that the audience can quickly understand the topic of your video. Therefore, choose a title that inspires curiosity to make sure viewers click and watch your video. If you have no idea, you can consider using a professional video title generator.
3. Create an Eye-Catching Thumbnail
Whether your video is on the organic search results page or the social media platforms that do not use autoplay, all it displayed is its thumbnail. Therefore, your video thumbnail largely determines whether viewers click on your videos. There are many video thumbnail makers on the Internet that you can try. If possible, avoid using fonts that are not easily identifiable.
4. Be Creative in Content
Creativity is a necessity for a viral video and directly affects whether the viewers share it. The more surprising a thing, the faster and more often we will share it with others. Therefore, only creativity can guarantee the widespread and dissemination of a video.
5. Keep it Short and Simple
Do you know? The human attention span is even shorter than that of goldfish! How long does a viral video take to keep the audience's attention while having enough time to convey the message?
Wistia once found that a two-minute video can generate excellent engagement. If you can keep the video duration within 120 seconds, you can attract viewers to the maximum.
Also read: How to Download Wistia Videos
6. Elicit High-Arousal Emotions
Emotions can also help the spread of viral videos. When your video evokes the emotions in someone, there is an unseen bond being established. High arousal emotions (such as happiness and anger) are more likely to be spread than low arousal emotions (such as sadness and boredom). Besides, positive videos are more likely to be spread than negative videos. 
7. Add a Call to Action
Including a call to action in your video is another way to make your video go viral. Whether it is to convey goodwill or express anger, viewers should be encouraged to do something after watching to increase engagement, otherwise, once they watch the next video, they may forget yours. For example, the popular ice bucket challenge was launched in the name of charity.
8. Publish on Weekdays
The timing of uploading your video is significant to make it viral. If your goal is to spread the virus, you may need to post the video on weekdays to give it the whole week to gain momentum. Why choose working days? That's because many people browse the Internet while resting or even working. Also, avoid posting videos on holidays unless your content is related to the holidays.
9. Utilize All of Your Platforms
To make your video go viral, you cannot just post it in one place. Instead, you can use all your social media platforms for advertising. However, you may need to edit the video to match different social platforms, as most of them have their own format requirements.
Related article: How to Make Animated Videos
Best Viral Video Maker
The above has introduced how to make a video go viral. What if you have a great idea but do not have the skills to make a high-quality video. Don't worry. Here are 3 excellent video makers that can help you make impressive viral videos, even if you do not have professional editing skills.
MiniTool MovieMaker
Compatibility: Windows
Price: Free
MiniTool MovieMakerClick to Download100%Clean & Safe
MiniTool MovieMaker is a 100% free video maker without watermarks.
With a simple and intuitive interface, it is designed for Windows users to create stylish videos through its large collection of effects, transitions, motions, texts as well as audio tracks.
The best part of the program is that it provides you with two completely different choices – make a video with its built-in video templates or make a video with your characteristics. Whatever you choose, the quality of the output videos is guaranteed.
Make videos using movie templates is rather helpful for the novice. Just choose a suitable template, import your footage (image/audio/video) and then the program will create a cool video automatically. In contrast, if you are willing to make a video from the scratch, you are allowed to do more customizations.
Features:
Create videos with movie templates
Huge stock of transitions, effects, and motions
Support a wide range of video/audio/image file formats
Split, trim, and combine video/audio/GIF files
Add animated text (titles, captions, and credits) to video
Change video/GIF speed
Reverse, rotate, and flip video/GIF
Fade in/out audio
Add background music to video
Color correction
Change video resolution
Convert video format
MiniTool MovieMaker is the best option for Windows users to make viral videos!Click to Tweet
iMovie
Compatibility: macOS & iOS
Price: Free
To make a viral video on Mac, iMovie is definitely the best option.
It is the video maker tool built-in iOS and macOS, combining professional trailers and themes, abundant special effects, and an easy-to-use interface.
iMovie's drag and drop interface makes it quick to move and edit video clips. One of the most impressive features is its green-screen or chroma-key tool, which allows you to change the video background.
With it, you can easily create Hollywood-style trailers as well as stunning 4K-resolution movies with no hassle. And you can even shoot video footage on an iPhone, edit it on an iPad, and then use Airdrop to wirelessly transfer your project over to your Mac.
Features:
Video effects & transitions
Add animated titles and credits to videos
Built-in music, sound effects, and voiceover recording
Crop & rotate video
Stabilize shaky video
Change video speed
Fade in/out audio
Add green screen effect
Split screen
Detach audio
Adjust video color
Support 4K video resolution
Clipchamp
Compatibility: Web-based
Price: Free & Paid
Have you ever thought to make a viral video online? Then you can try Clipchamp.
Clipchamp is an online video maker without watermarks. You can access it from any desktop device, and there's no need to worry about your device storage. It has almost every video-related feature built-in, so you don't have to go anywhere else to perform other tasks.
It has a user-friendly interface and provides you with a huge library where you can access numerous videos, animated backgrounds, music tracks, and sound effects and use them in your video project. All of these digital assets will appear with a watermark if you access them through a free account.  
Additionally, the site offers several different ratios for you to choose from and enables you to export your project in different video resolutions (420p, 720p, and 1080p). However, you can only download your video at 480p for free.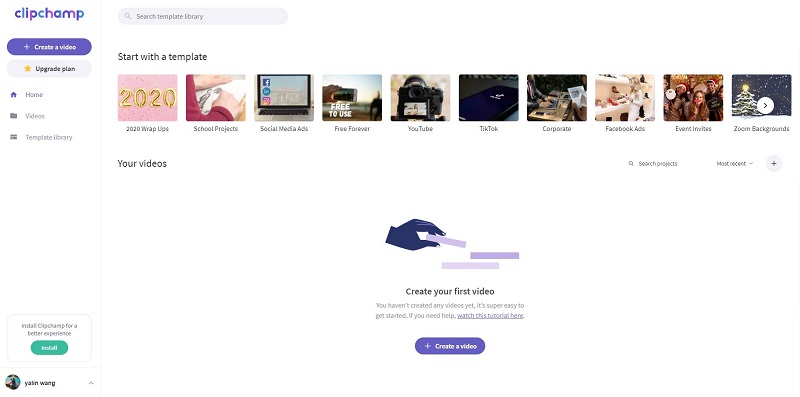 Features:
Work on any computer
Make slideshow video
Create Facebook/Instagram video ads
Trim and cut video
Split and combine video
Flip and mirror video
Rotate video
Crop video
Compress video
Customizable video templates
AI voice over generator
Create picture-in-picture video
Audio visualizer
Video meme generator
Record screen/webcam
Convert video in a flash
Bottom Line
This guide has details 9 practical tips on how to make a video go viral and 3 excellent viral video makers for you to choose from. It's your turn. If you have any questions or suggestions about MiniTool MovieMaker, please let us know via [email protected] or share them in the comments section below.
Viral Video FAQ
How long is a viral video?
Not all viral videos have the same length, but most viral videos are within two minutes. That's because the human attention span is short. If you want your video to go viral, just keep it short.
Where can I find viral videos?
There are many viral video websites where you can enjoy viral videos, such as Buzzfeed, Break, Devour, YouTube, PopScreen, Reddit, RightThisMinute, etc.
How to make YouTube video viral?
Create high-quality content
Control video length
Select the right keywords
Optimize video title
Write video description
Add appropriate tags
Add subtitles
How does a video go viral on TikTok?
Keep it as short as possible
Record voiceover
Add subtitles
Use trending music
Tell a story
Call to action