Wistia is a video streaming platform that provides video-hosting services for businesses. However, there are no download buttons available on most of the videos. How to download Wistia videos? This post will show you how to download Wistia videos easily. Want to edit the downloaded Wistia videos? Try MiniTool MovieMaker.
As a leading video platform, Wistia indeed makes it easy for businesses to manage, create, host, share, and measure videos. How to download a Wistia video? There are a lot of free addons/tools are available that can download embedded Wistia videos. Let's check some reliable tools/sites and start downloading Wistia videos.
Best Wistia Download Tools
VideoProc
Clipconverter.cc
KEEPV.id
How to Download Wistia Videos on Desktop – VideoProc
As one of the best one-stop video editing software, VideoProc allows you to edit, convert, and adjust large/4K videos, audios, and DVDs easily at a fully accelerated speed. Besides, it supports downloading video streams and music tracks from popular social media sites, and save them in different resolutions & formats.
Now. let's learn how to download Wistia videos with VideoProc.
Step 1. Go to the Wistia site, find out the video that you want to download, and then right-click it.
Step 2. Click Copy link and thumbnail from the pop-up options and paste the content to a blank text file, such as Microsoft Word.
Step 3. Copy the video link from the content, like "https://wistia.com/learn/effective-communication-skill?wvideo=o1kvat5mfb".
Step 4. Then launch VideoProc on your PC and select Downloader from the main interface.
Step 5. Click the URL icon to add the Wistia video.
Step 6. Choose a video quality for the downloaded video.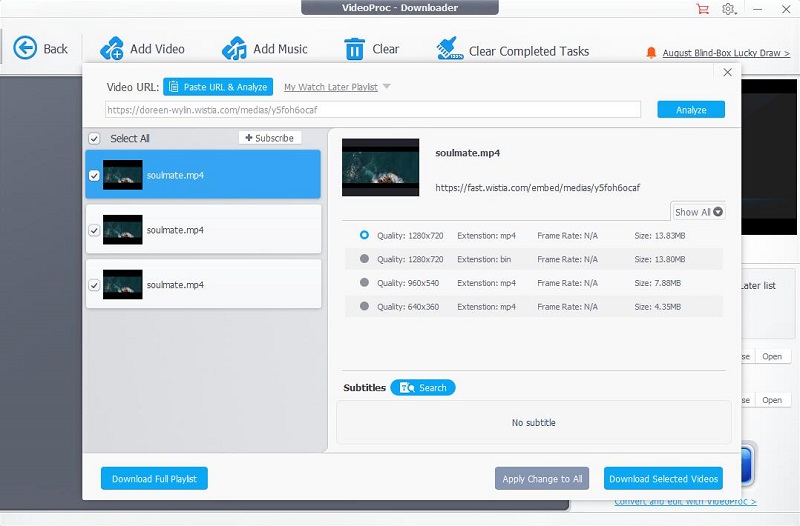 Step 7. Tap on Download Selected Videos to start the download.
Related article: Top 6 Best Tumblr Video Downloader of 2020
How to Download Wistia Video Online
1. Clipconverter.cc
Clipconverter.cc is a web-based Wistia video downloader, which requires no installation or registration. It can grab videos from various websites, including Wistia. Besides that, you can choose the video quality for the video you wish to download. Additionally, Clipconverter.cc also provides an option to extract the audio track from a video.
Here are the steps on how to download Wistia videos using Clipconverter.cc.
Step 1. Access the official website of Wistia and copy the complete video link.
Step 2. Open a new window and enter the Clipconverter.cc page.
Step 3. Paste the URL into the Video URL to Download box.
Step 4. Now, you can choose video quality and change the file name. Here you can also choose to convert the Wistia video to other file formats if needed.
Step 5. Click Start to begin converting and downloading the video.
Also read: How to Download Instagram Live Videos – Ultimate Guide
2. KEEPV.id
KEEPV.id is another online Wistia video downloader that enables you to download Wistia videos in the video quality you preferred. And apart from Wistia, KEEPV.id can also download videos from a huge number of websites, including YouTube, Facebook, Twitter, Instagram, Dailymotion, etc.
Below are the steps on how to download Wistia videos.
Step 1. Get the Wistia video URL that you want to download.
Step 2. Go to the KEEPV.id site on your browser.
Step 3. Paste the URL in the blank box and tap on the Go button.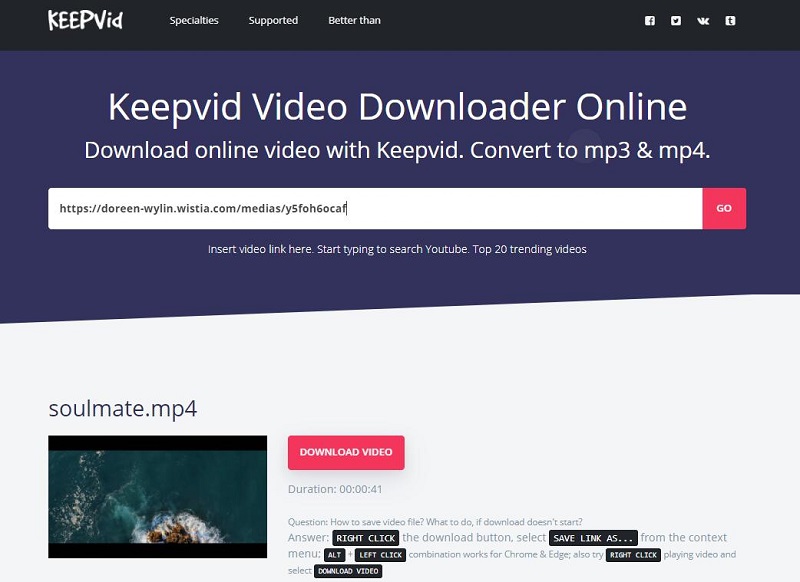 Step 4. Then KEEPV.id will analyze the video link and display the download options in available format and quality.
Step 5. Choose the video quality and format according to your preferences and click DOWNLOAD.
Bottom Line
As you can see, downloading videos from Wistia is not that easy as downloading videos from YouTube, Facebook, or Vimeo, because many tools and adds-on claim they can download Wistia videos, but most of them failed.
However, as long as you follow the above guide in the post step by step, you can finally download Wistia videos and enjoy them offline. If you have any questions or suggestions when downloading Wistia videos, please let us know via [email protected] or share them in the comments section below.